For the fourth year in a row, Western Window Systems, a manufacturer of innovative door systems and windows, made Inc. magazine's list of 5,000 fastest growing private companies in the United States. To accommodate a three-year growth rate of 218%, the company needed to expand into a larger space. With their new space, Western Window Systems seized the chance to create a facility that features the latest in both office design trends and manufacturing technology. The office area caters to the client's vibrant and innovative company culture with a fun, yet technologically cutting edge creative office design. The manufacturing area features state-of-the art CNC's and saws, additional loading docks and an updated cooling system.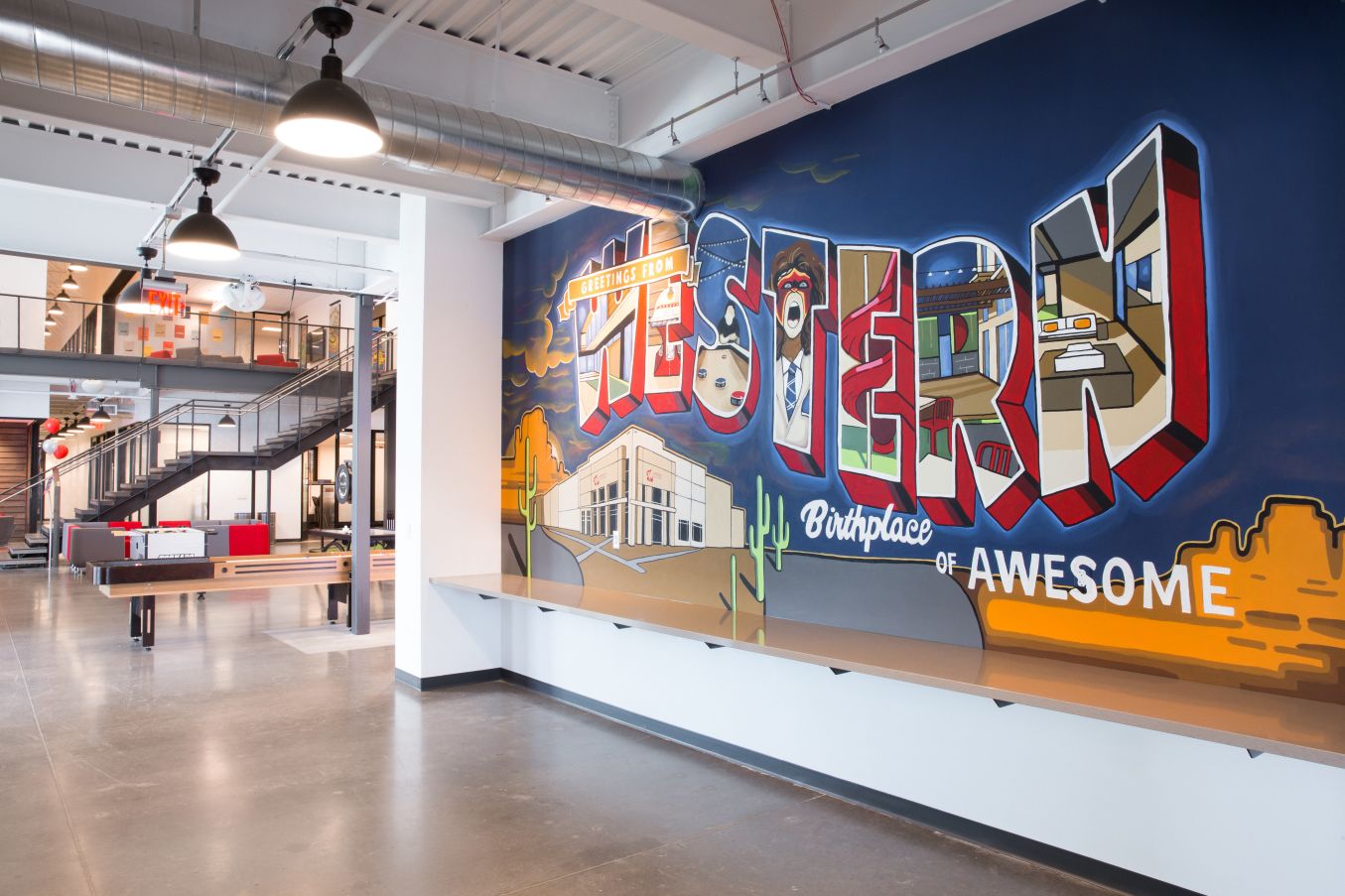 How does this space drive productivity, collaboration, and connectivity?
The main goal for Western Window Systems' new space was to create an environment that reflects a people-first culture, with a focus on creativity and innovation to ultimately drive employee attraction and retention. This was achieved by creating an engaging, branded environment with amenities such as a game lounge, themed conference rooms, and ample areas for employee collaboration. For example: Sliding window systems in the conference areas demonstrated a transition from open collaboration areas to private meeting rooms. Acoustic glass panels maintain visual connections between the office and manufacturing area while blocking noise.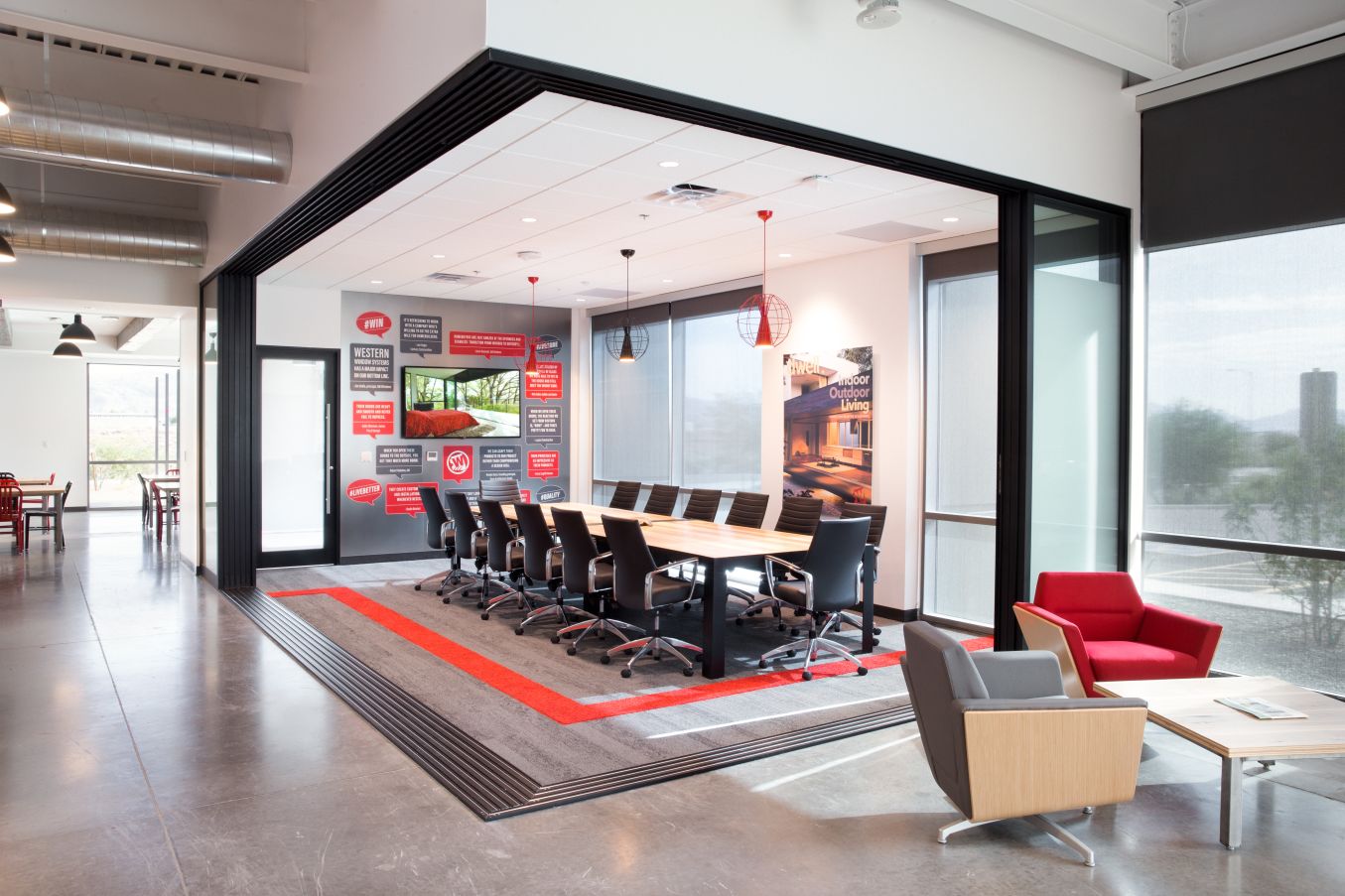 What is one thing that is unforgettable when someone walks through your space?
The fun work environment with amazingly vivid, hand painted murals inspired by popular culture.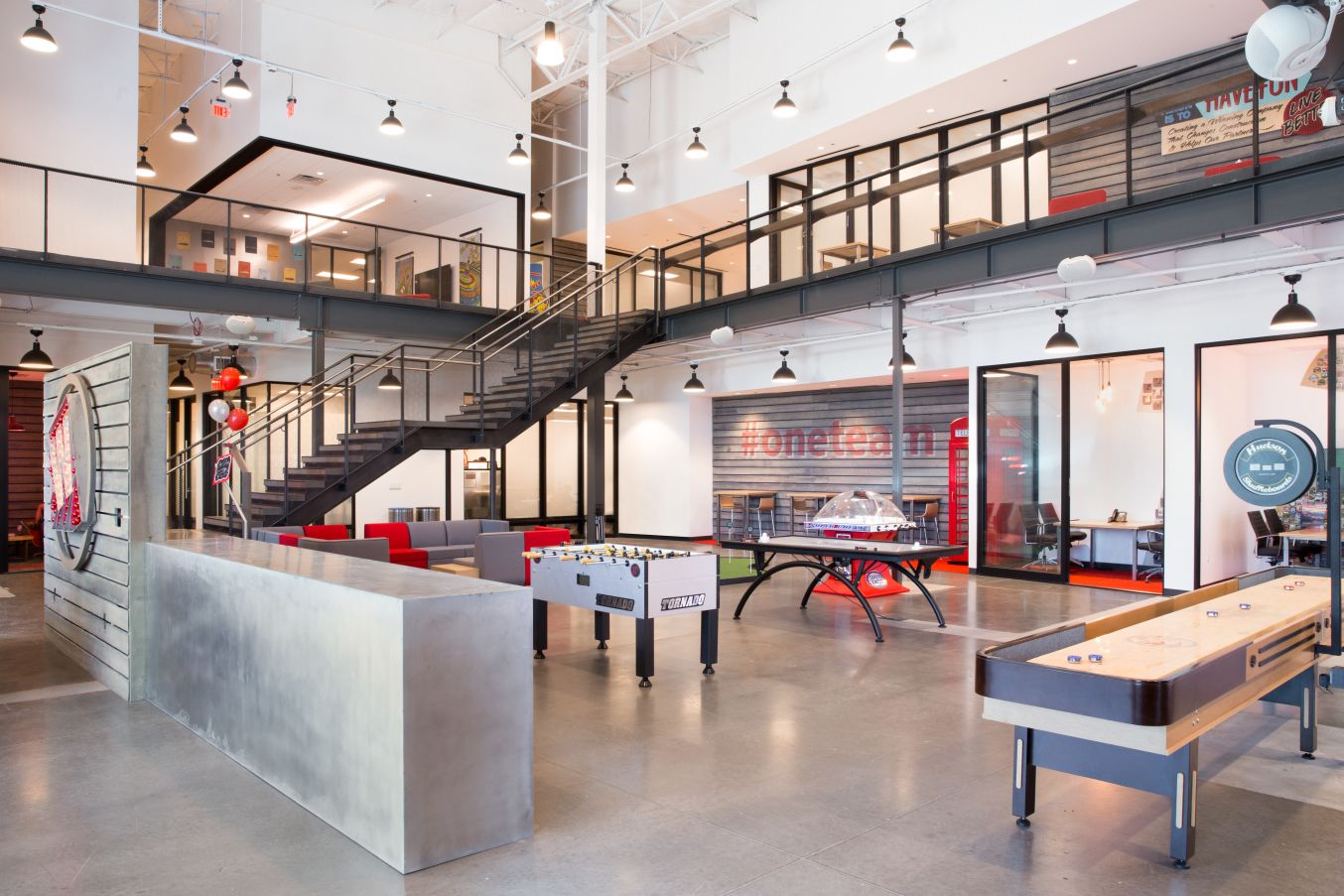 How does your space tell your company's story and reflect its brand?
Western Window Systems' fun and unique brand is showcased in every aspect of the space with their own brand of multi-slide doors and windows prominently used throughout the building. The mix of office, warehouse and manufacturing areas were designed to reflect the company culture and double as a showroom. The manufacturing area features branded graphics that reinforce the client's positive company culture while providing employees with advanced equipment.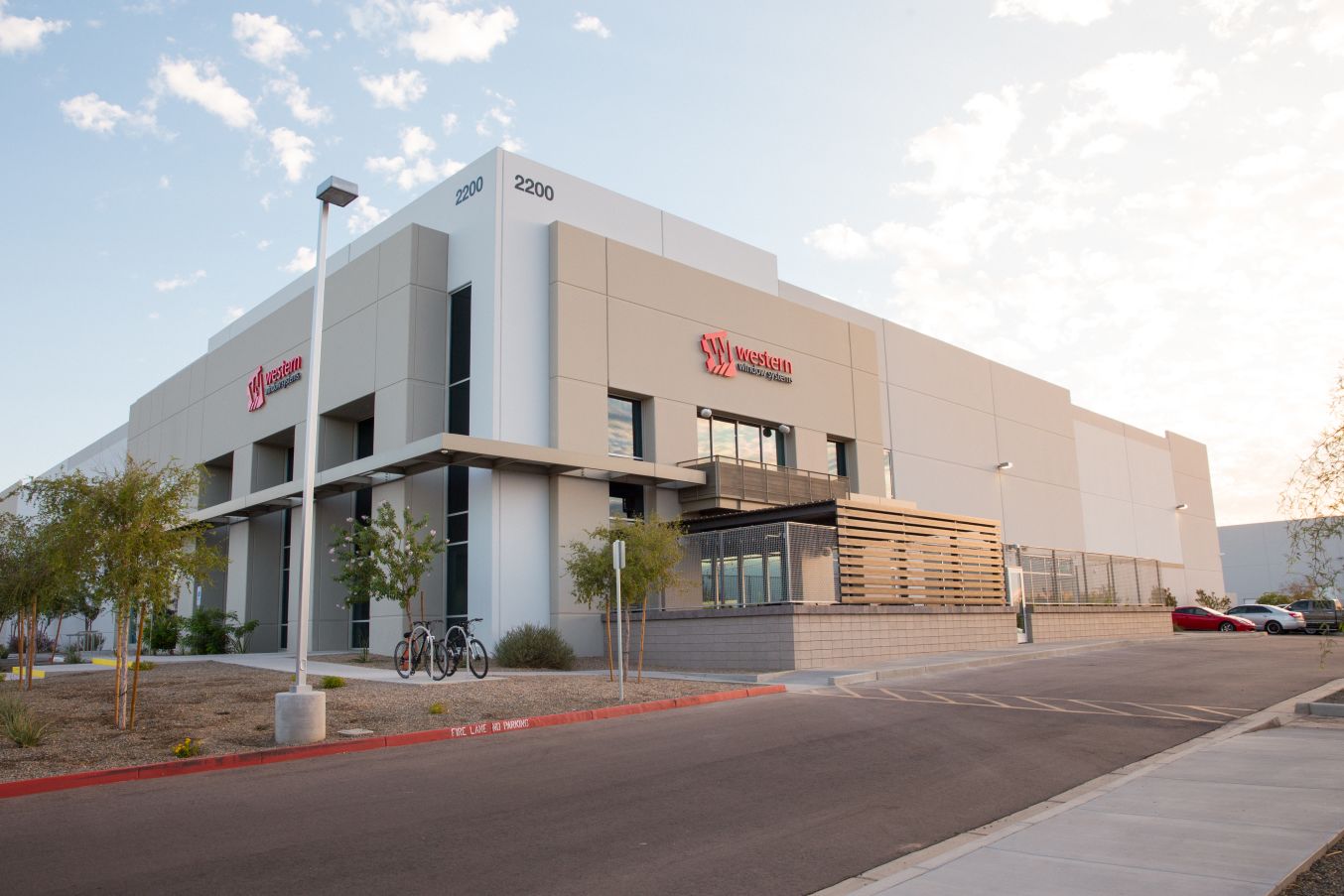 How does your space engage your employee base?
Scott Gates, CEO, Western Window Systems, wanted the new headquarters to reflect a team-oriented, people-first culture where the focus was on creativity, innovation and speed. This was achieved by creating a fun environment with a hand painted mural, lounge area with games like shuffle board, air hockey and bubble hockey, and themed conference rooms decorated with Lego artwork, vinyl albums, and Nintendo games. From the mezzanine you can see onto the factory floor through a series of acoustic glass windows and can return to ground level by way of an adult-sized slide.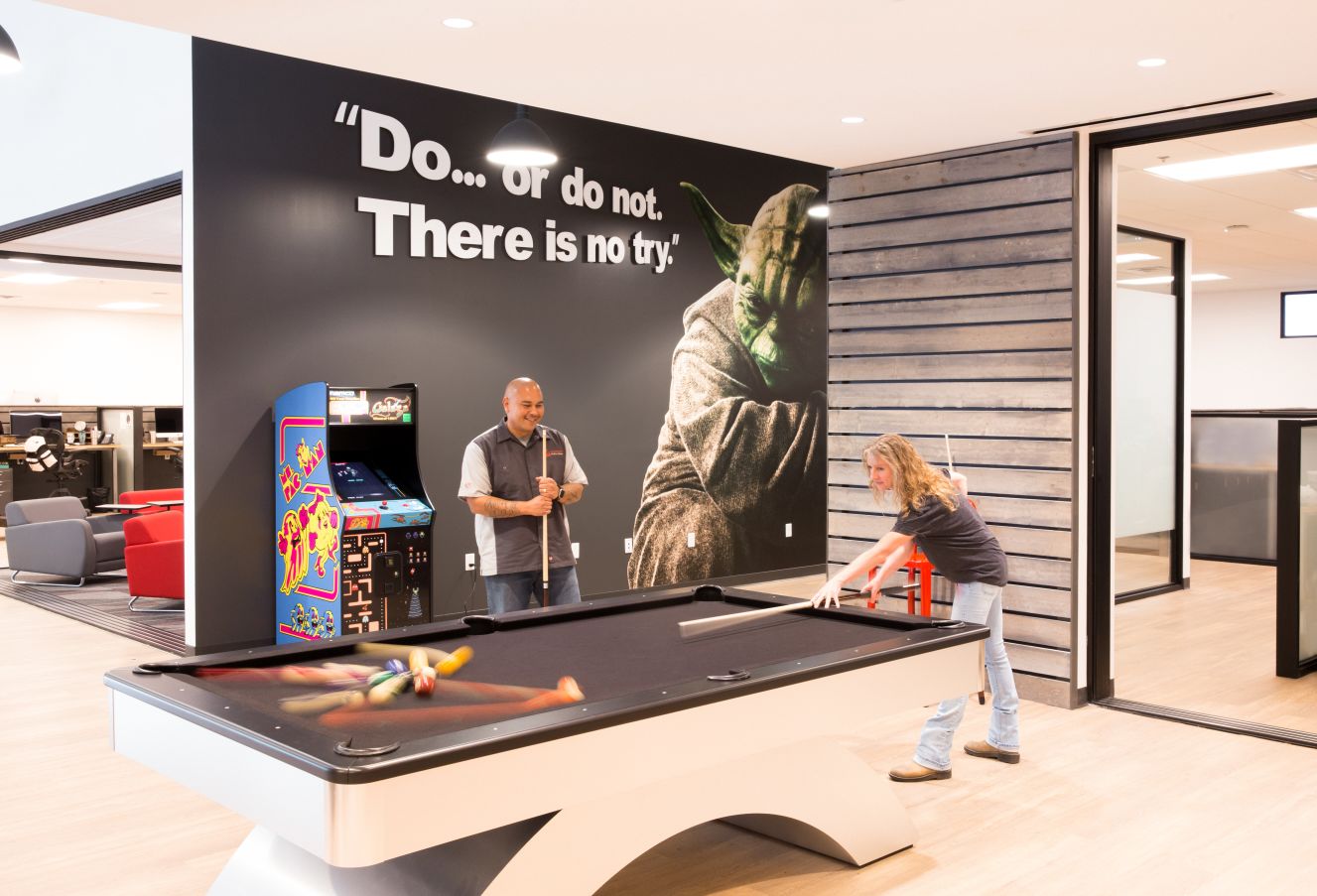 Western Window Systems Headquarters