The Heritage Group is a privately held portfolio of companies focused on creating long-term value by building world-class businesses. Since 1930, it has managed a diverse set of business units involved in construction and materials, environmental services, specialty chemicals, and energy and refining. With operations in North America, Europe and Asia, and a client network that spans the globe, The Heritage Group 's focus is on innovation, quality and service. At the core of this focus is the Heritage Research Group, the world-class research and development facility operating at the cutting edge of new technology to provide new products, processes and training aimed at improving the way Heritage Group companies serve their clients.
How does this space drive productivity, collaboration, and connectivity?
The Center is a place where people come together to be inspired, driving growth across The Heritage Group. Throughout The Center there are intimate opportunities for staff and guests to connect in various work or social modes, embracing new models of collaboration for productivity. Advanced wireless technology throughout The Center further enhances connectivity among employees. The heart of the first floor of The Center is "Fred's Coffee Bar & Café" and "The Hangar" with relaxed lighting and finishes to inspire casual moments of interaction. The first floor also contains a world-class laboratory and a zone of studios that provide flexibility as small meeting rooms or private workspaces, with secondary lounge spaces as additional breakout areas or focus workspace. On the second floor is our "Launch Pad," which is a flex space that caters specifically to developing new ideas among individuals and groups. The Launch Pad transitions from a free-flowing open lounge and work space with mobile furniture, white boards and pin-up space into team rooms with benching and marker walls.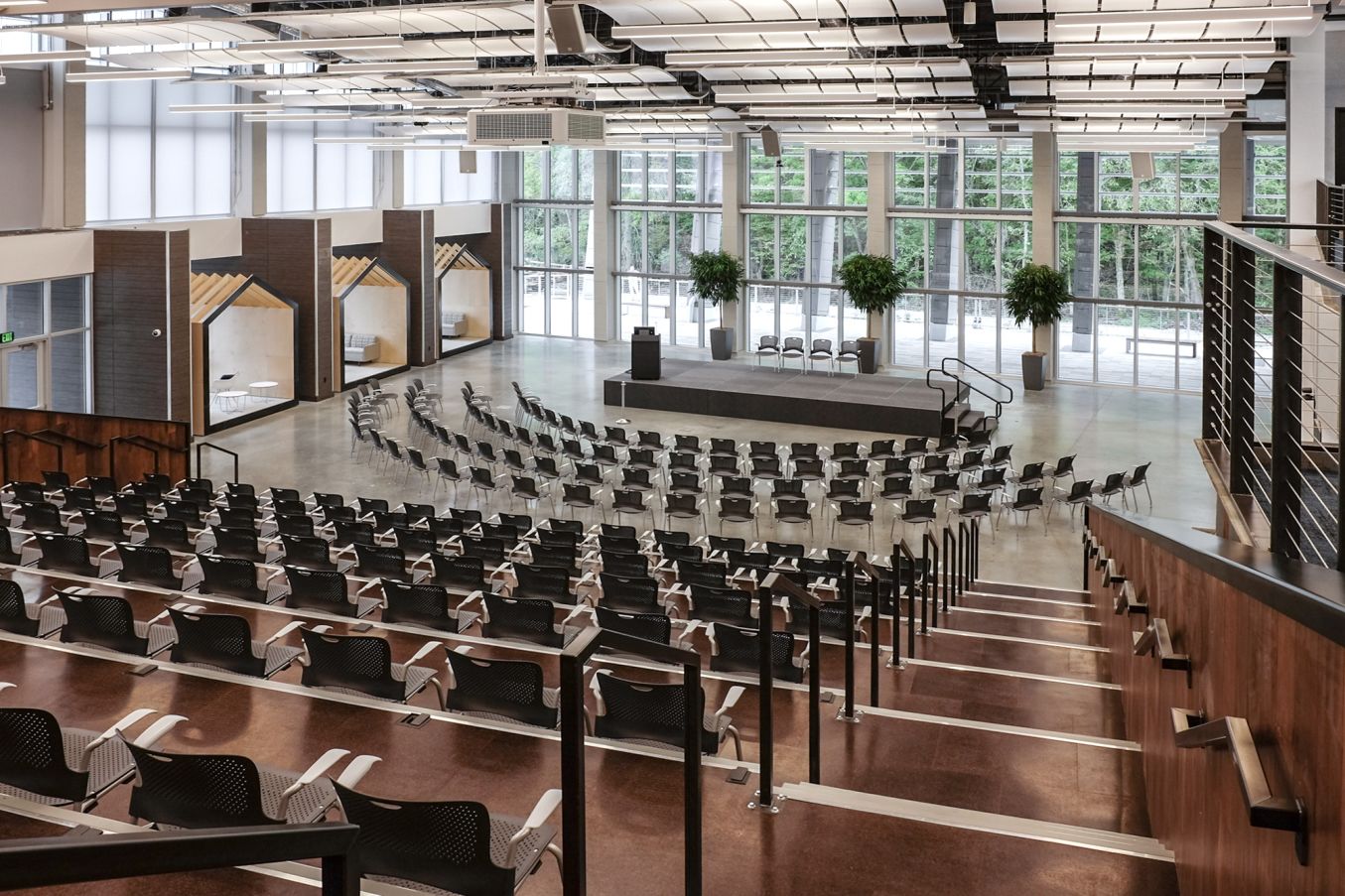 What is one thing that is unforgettable when someone walks through your space?
The auditorium at The Center is a truly memorable space. Our auditorium is the complete opposite of what one expects to see in an auditorium. Rather than a dark enclosed space, the auditorium at The Center is filled with light and views to nature and outdoor collaborative spaces. Our auditorium has three large mobile cabins that can be wheeled out onto the auditorium floor and used as enclaves for different types of events.
How does your space tell your company's story and reflect its brand?
The Center's design and furnishings express our core values and our brand. Our workplace combines expressions of raw construction intermingled with casual, home-like vignettes. The raw construction speaks to our work with construction materials, and casual elements and spaces encourage comfortable collaboration among employees and guests. When guests enter The Center, they are greeted by a friendly face and an experiential exhibit about our company's history and innovations. Guests are also able to peek into laboratory spaces from the lobby to see processes of innovation in action. Our brand is also carried throughout the facility in the colors and room names in signage. Even the décor used throughout was curated with The Center's brand in mind. Being an environmental-focused company, it was also important for the building to be LEED certified. A comprehensive approach to reducing waste and selecting sustainable practices and materials was used for the site design, architecture, interiors, and furnishings. Many of the furnishings were designed and built by local artisans with locally sourced materials.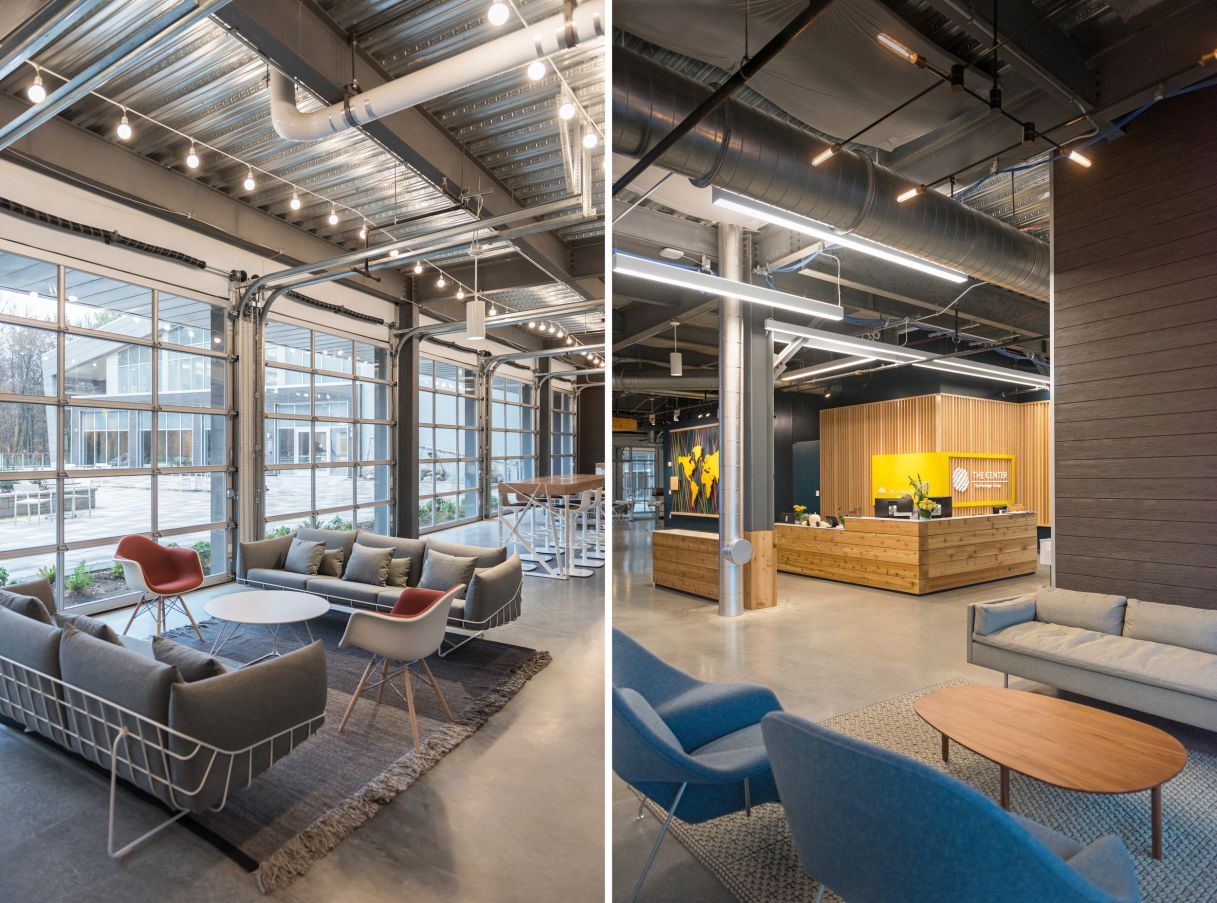 How does your space engage your employee base?
Our employees contributed to the design process to ensure the spaces were designed to accommodate their daily workflow needs, as well as to look into the future on how the space would accommodate and attract new talent. With the lab being an integral part of the company, extensive research and time was spent in the former labs to assess how the new design could better accommodate workflow between functions of asphalt and material design and creation. Employees also have access to multiple amenities, such as the fitness room, mother's room, a fully stocked kitchen and café, an indoor-outdoor lounge, IT Help Desk, and meeting room cabins on the grounds. Workspace mobility is encouraged throughout The Center with numerous undedicated studios, meeting spaces, and lounges. In addition to four classrooms, the 300-person auditorium allows employees to engage with guest speakers, visiting lecturers, and educational seminars.