Spot is a third-party logistics provider headquartered in downtown Indianapolis, at Meridian and Georgia streets. It is one of the liveliest areas in the city, and it complements Spot's fun, hip working environment. When Spot decided to move into the space, the designers already had an established relationship with them. Together, they renovated the second floor in 2016, transforming it into Spot's call center. Then, in 2019, the designers renovated the third floor, giving Spot an additional 18,000 square feet of space. Funky textures, pops of color, and a bowling alley on the third floor reflect the energetic, fast-paced, and playful culture of Spot.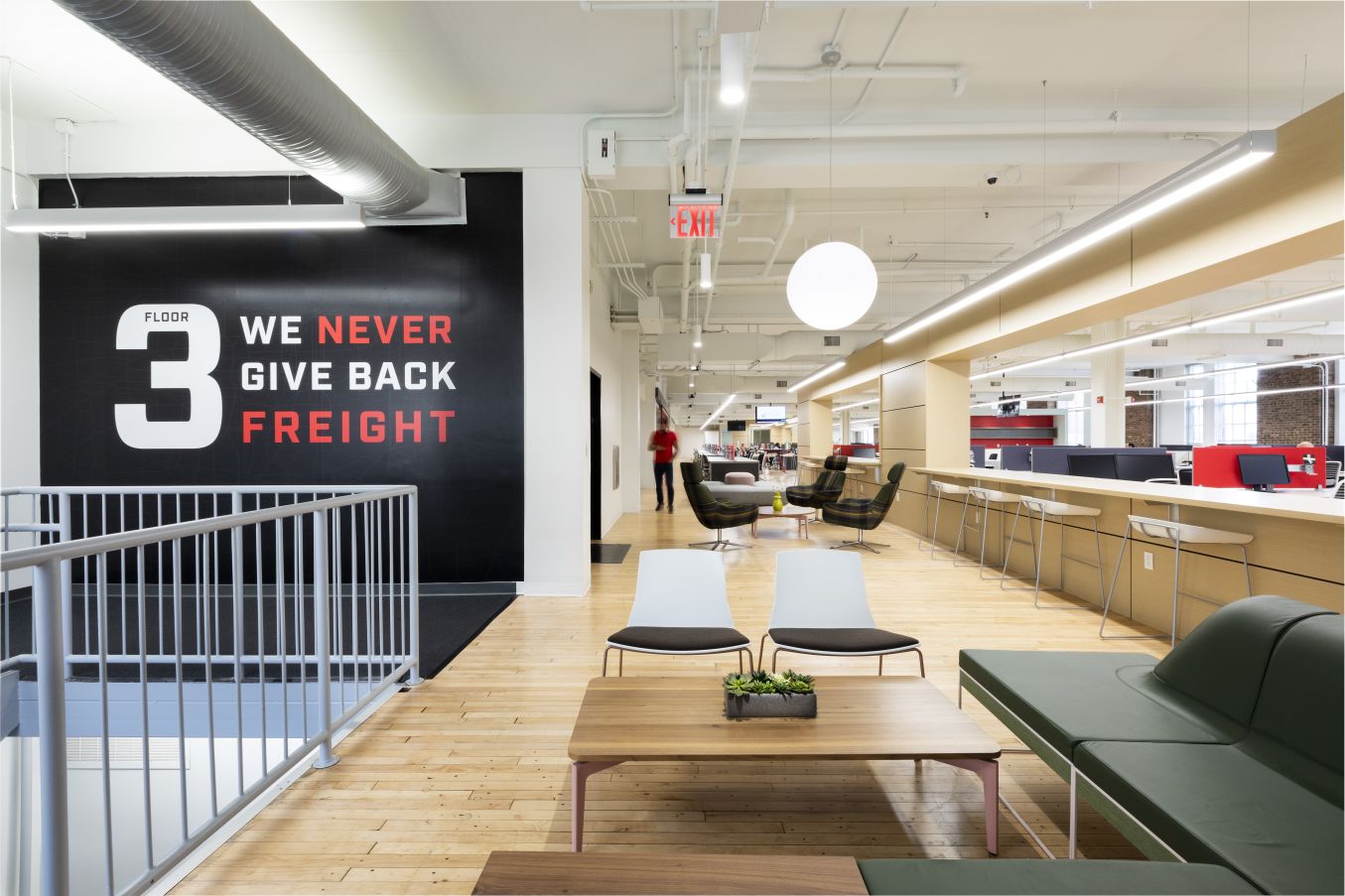 How does this space drive productivity, collaboration, and connectivity?
Since Spot's dedicated employees work hard and at all hours, there needed to be a variety of spaces to support how they work. On the third floor, various seating options promote productivity, collaboration, and connectivity. A handful of private offices, as well as conference rooms, booths, and high-top tables, provide meeting places for Spot's active atmosphere. Workstations on the brick perimeter wall also provide views to bustling downtown Indianapolis. And since the design team had worked on the second floor, they knew that acoustics on the third floor required special attention. To mitigate noise distractions, the design team installed ceiling clouds and created accent walls to "interrupt" the workstations. While the creation of "neighborhoods" distinguishes the third floor from the second floor, similar features and finishes unite the two.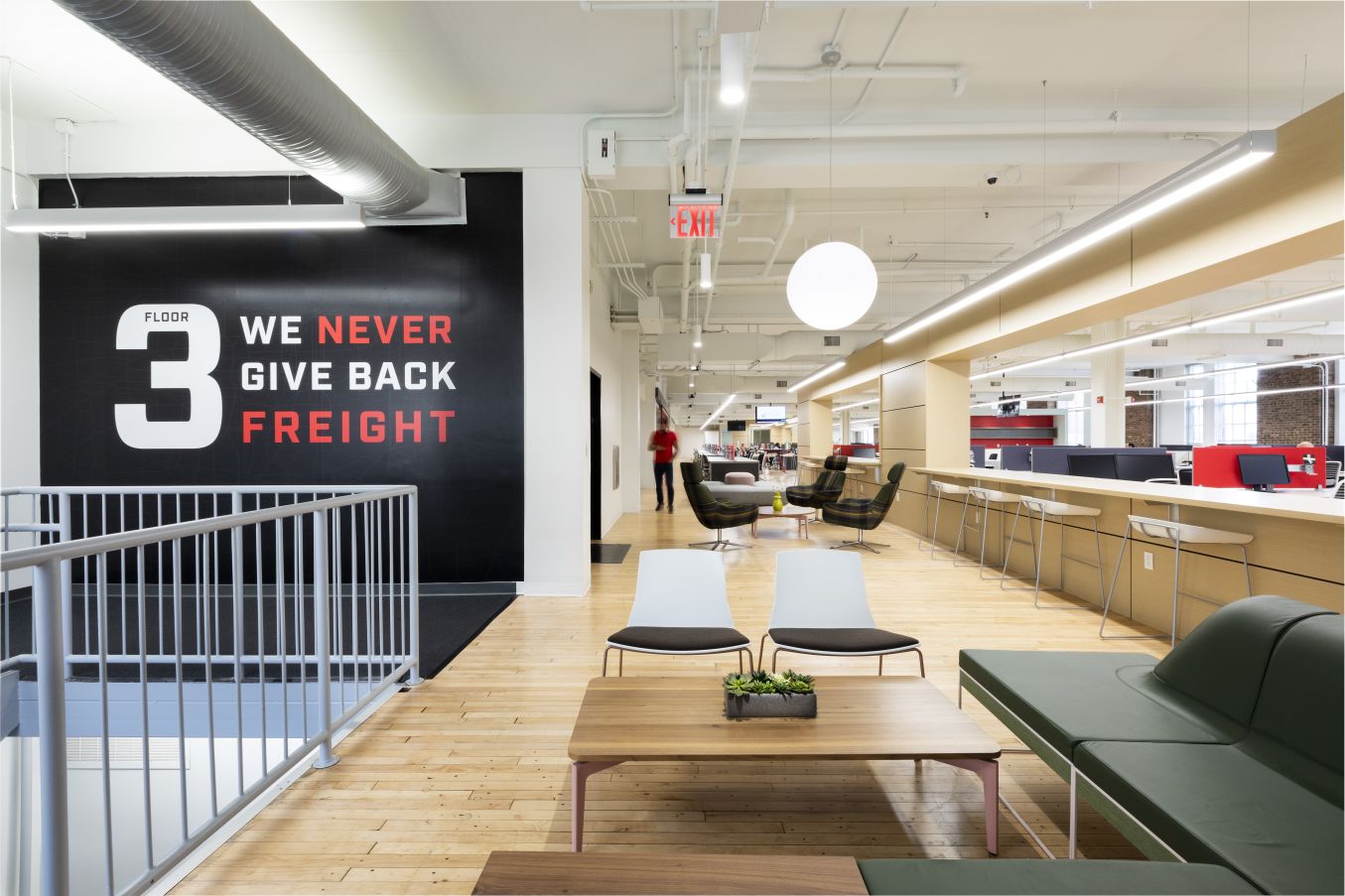 What is one thing that is unforgettable when someone walks through your space?
Spot highly values its talented pool of employees. To give them a place to relax, and to further celebrate their young, energetic culture, Spot wanted to incorporate a bowling alley. This standout feature pays heed to the entertainment facility that previously occupied Spot's office space. The bowling alley also provides a place for Spot employees to wind down at the end of the week. Adjacent kitchen space and seating areas give this part of the office a "hang out there" vibe. A red, custom-made sliding door can be pulled closed to create a space for events or other activities. However, glass panels offer an element of transparency, so the bowling alley and the workspace remain visually connected to one another.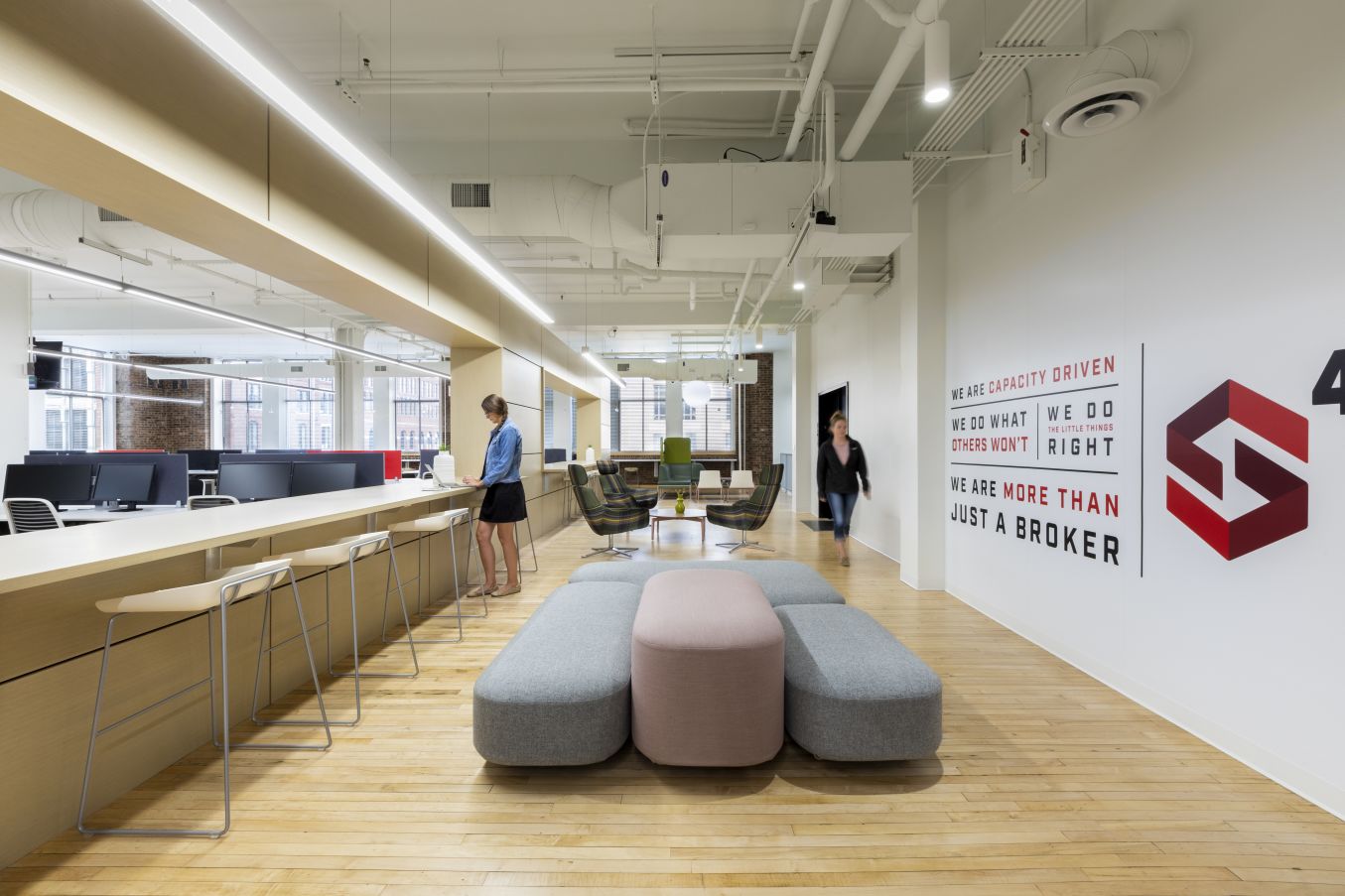 How does your space tell your company's story and reflect its brand?
Spot, founded in 2009, is one of the fastest growing companies in North America. Their culture is energetic, fun, and fast-paced, so the design team made sure the third floor graphically supported Spot's growth as a company. Environmental graphics emphasize Spot's energy, and logos and other signage connect the second floor to the third floor. Funky patterned furniture and a cozy blend of textures also exude a lounge-like, welcoming atmosphere. The bowling alley is also an excellent representation of the work hard-play hard mentality of Spot employees.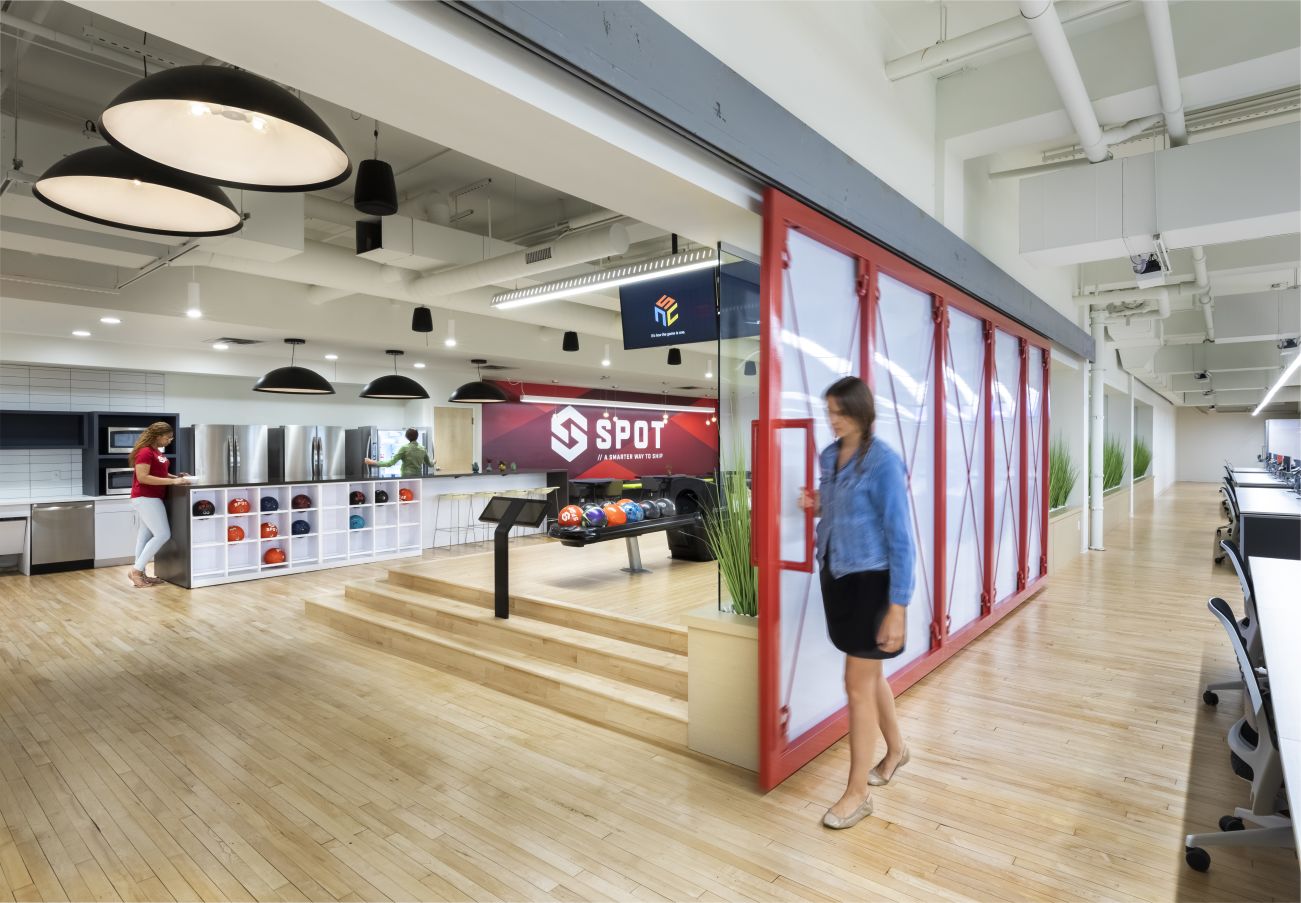 How does your space engage your employee base?
Since logistics can be a desk-heavy job, the design team wanted to provide Spot with benches, lounge chairs, high-top tables, and other seating areas. The variety of spaces gives Spot employees the opportunity to escape their desks for lunch, socialization, or relaxation. Throughout the office, screens feature new employees, share upcoming events, and celebrate sales accomplishments. These announcements change daily, encouraging employees to keep up with company news and support one another in their accomplishments, be it a sales goal or a work anniversary. Bowling tournaments, cornhole tournaments, and other employee events also promote teambuilding.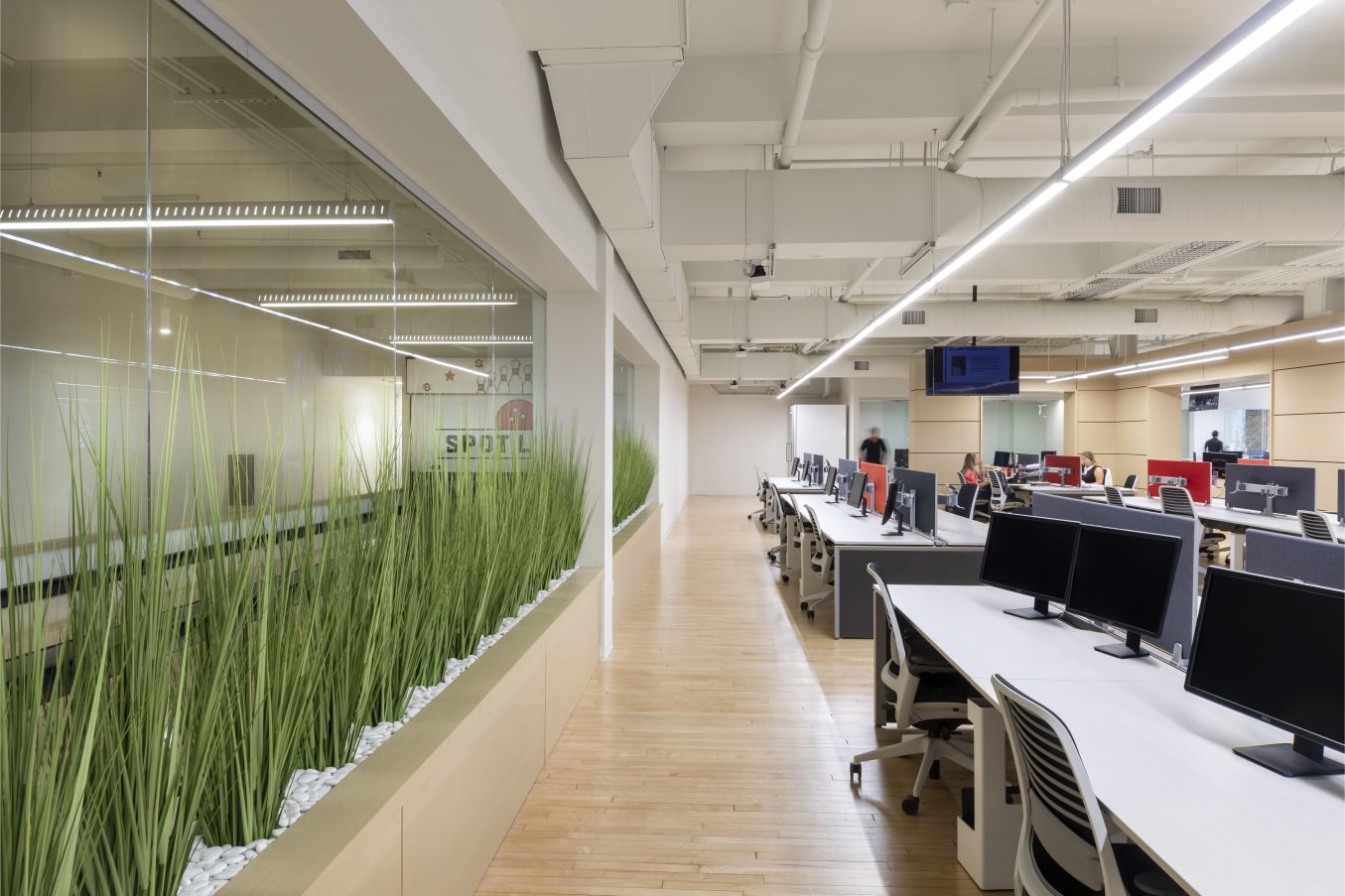 Spot - Workspaces & Plant Wall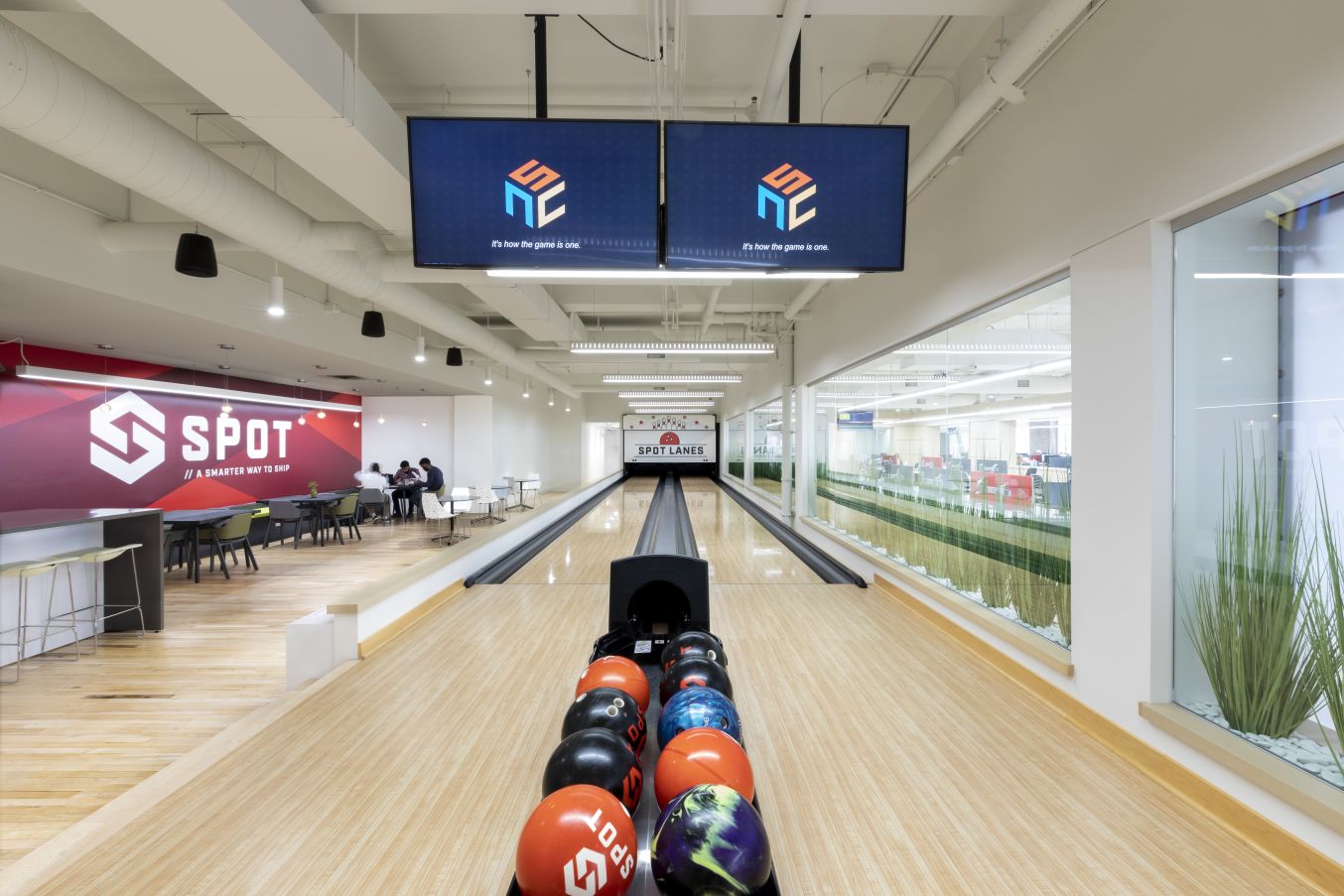 Spot - Bowling Alley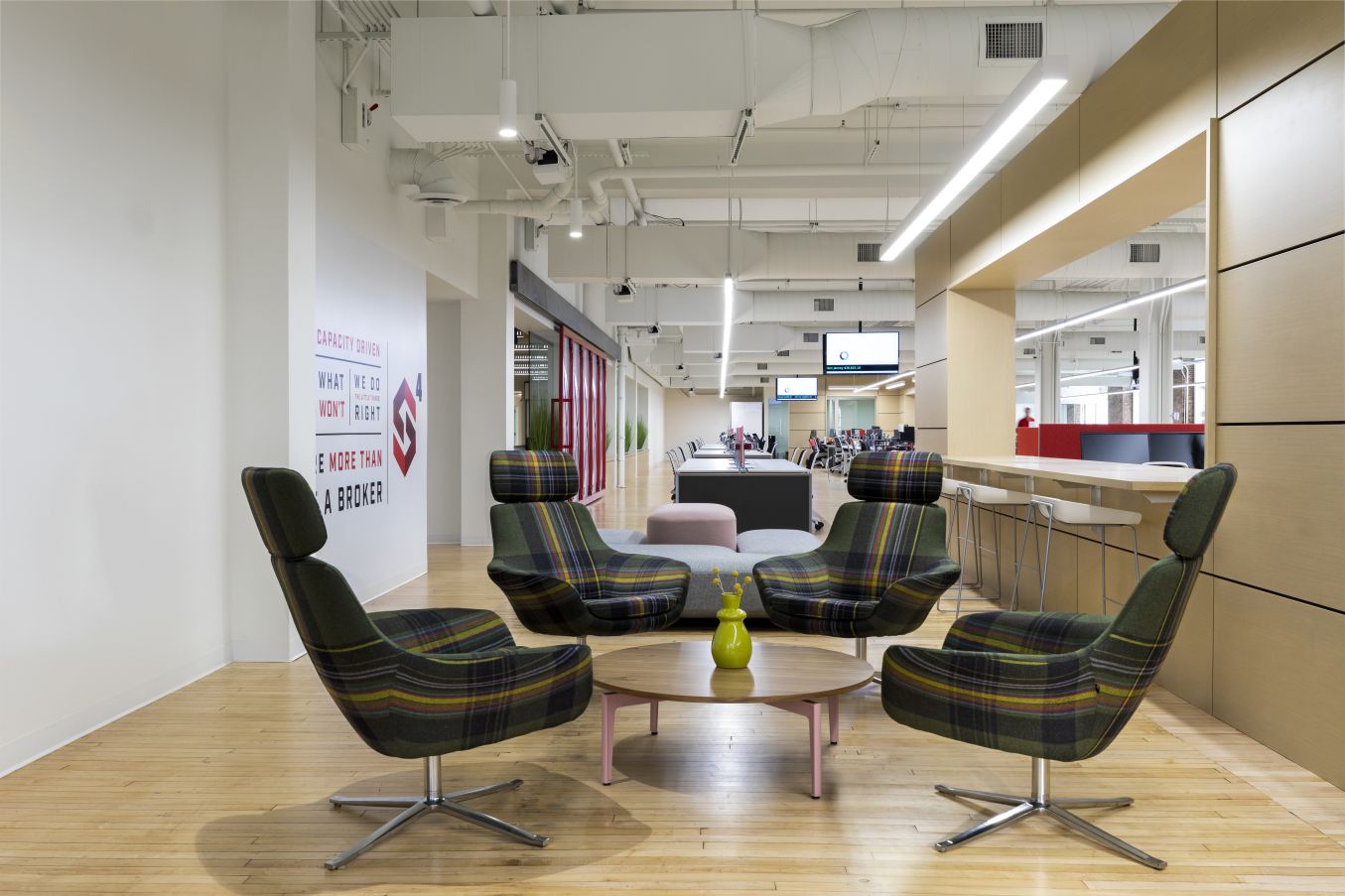 Spot - Lounge Chairs
Spot - Social Hub & Bowling Alley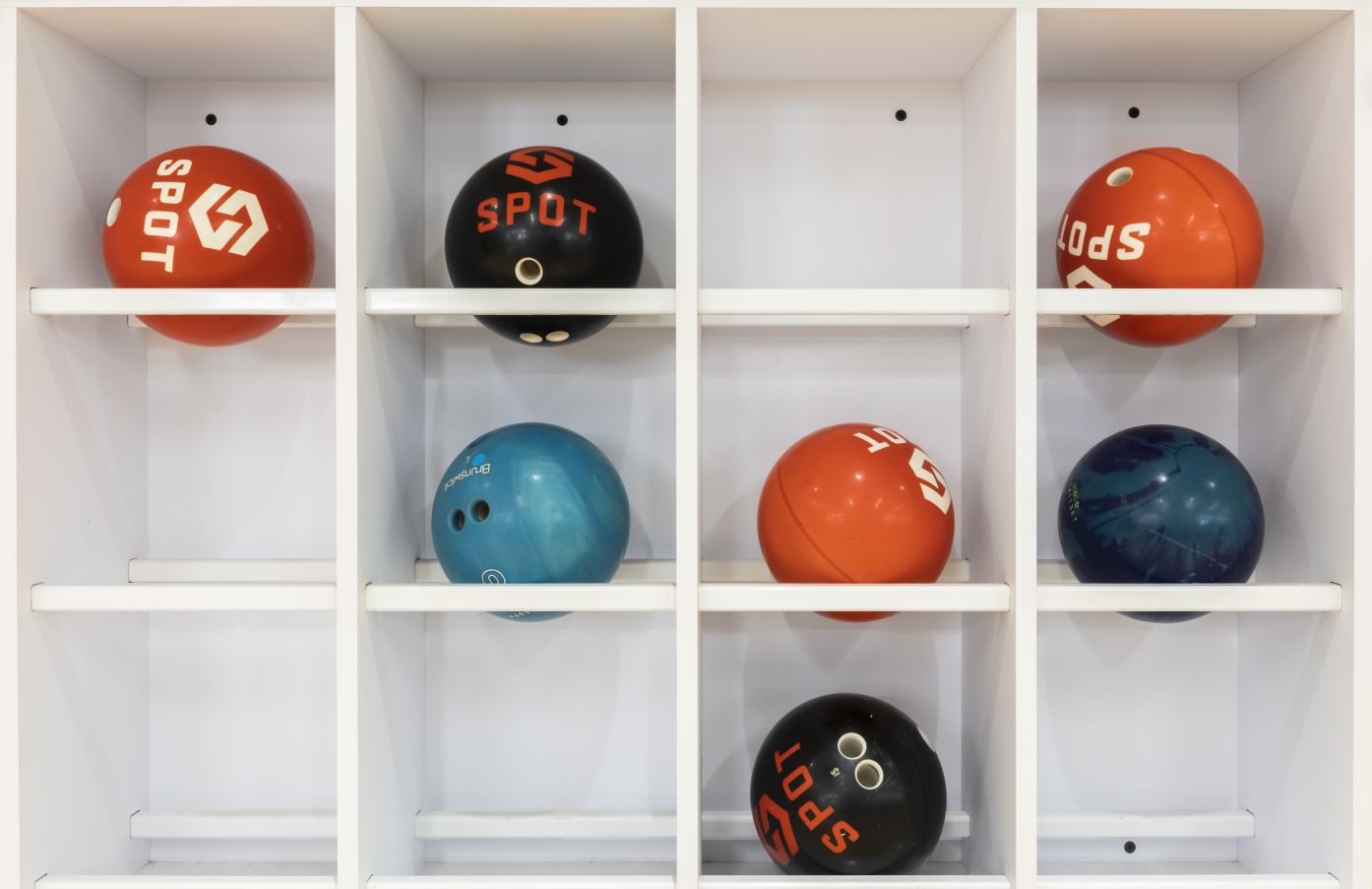 Spot - Bowling Balls Detail