A dramatic lobby with a wood feature and metal signs playing off the Solera logo design. Multifunctional informal and formal meeting and conversation spaces are strategically placed throughout the floor to provide support collaboration and private workspaces. The space includes a library, wellness room, small and large conference rooms, phone booths and a large open community area with a stage for company meetings, events and socializing.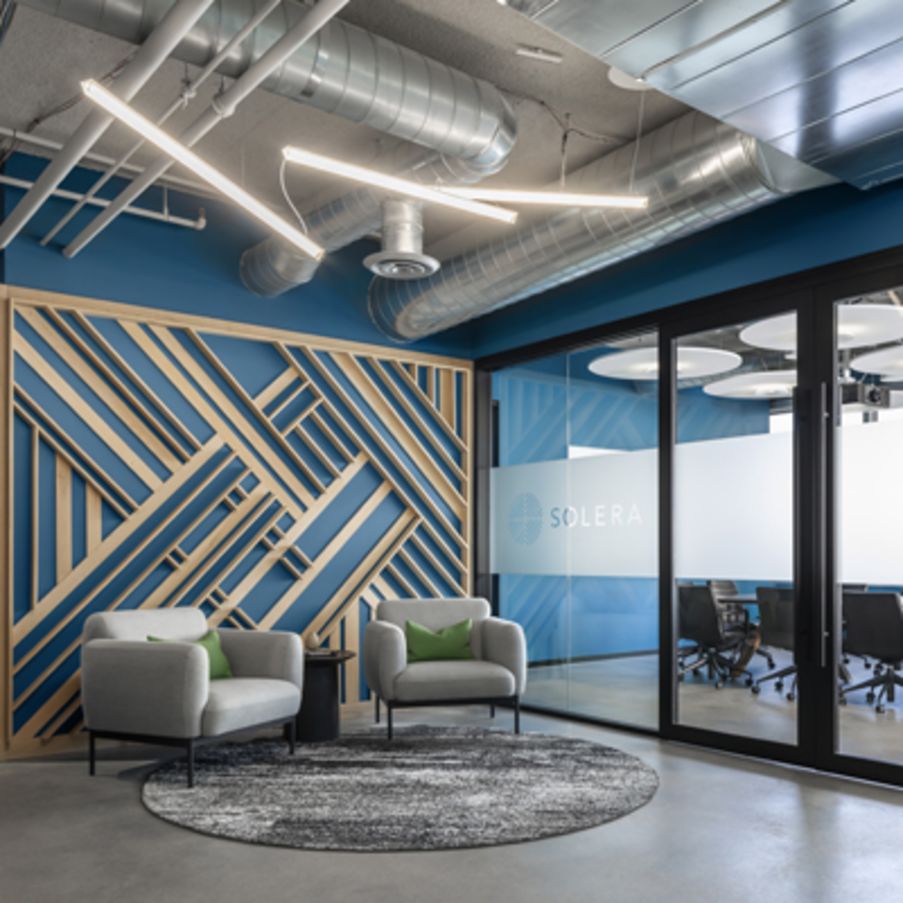 Reception area with custom wood feature and dramatic colors
How does this space drive productivity, collaboration, and connectivity?
Solera space has a place for everyone. The space includes assigned open work areas, felt-lined phone booths, small formal and informal conference rooms, large conference rooms, a library, and a large common space that includes the kitchen, stage, casual meeting spaces and games that opens to a large outdoor patio area. Rooms include white boards to foster collaboration wherever possible and includes video conferencing capability in all conference rooms to foster teamwork with remote employees. The stage area is wired for both audio and video connection with remote employees to participate in all-employee meetings.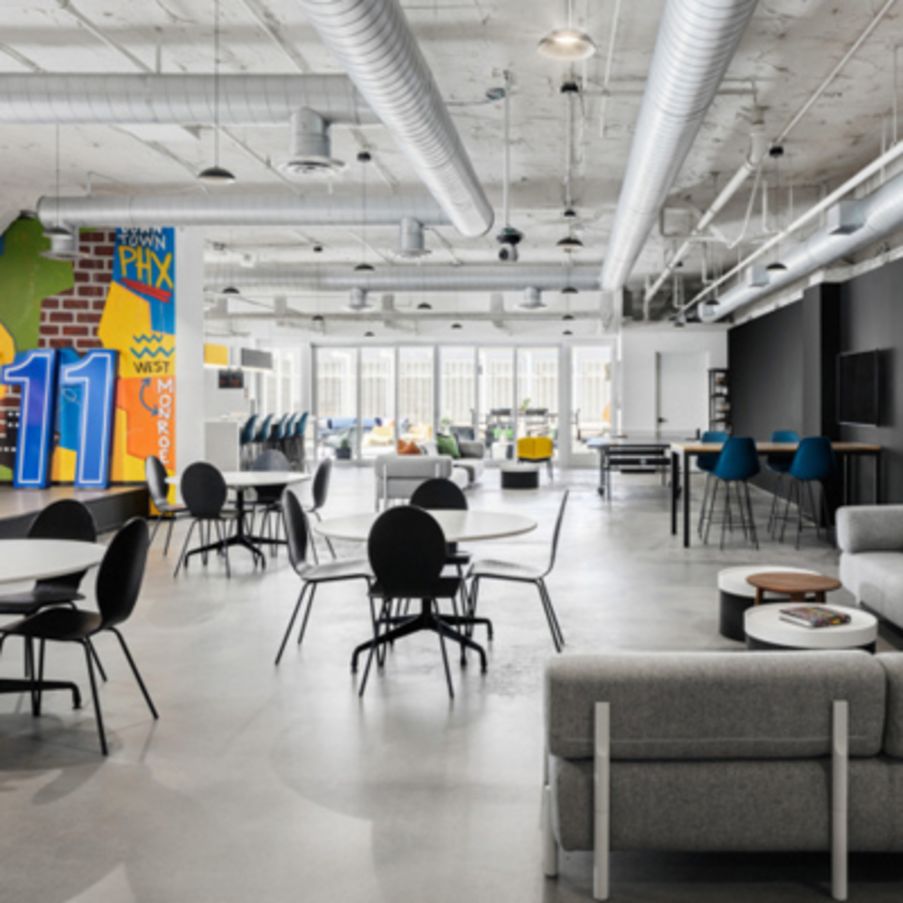 Large open concept common area includes the kitchen, dining area, informal conversation areas, and a large stage. The space opens to a large outdoor patio.
What is one thing that is unforgettable when someone walks through your space?
The stage with the graffiti wall that includes Solera's mission and guiding principles.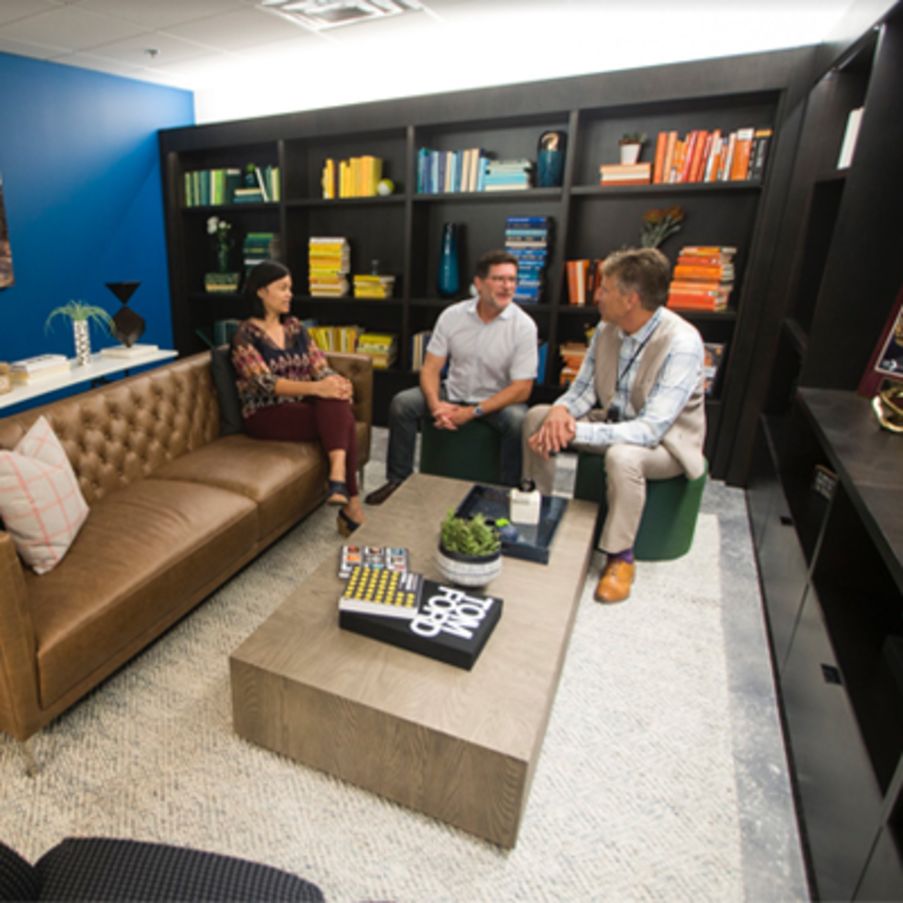 Solera library with books reflecting the Solera logo.
How does your space tell your company's story and reflect its brand?
Solera employees are "boldly shaping, path clearing health champions'. Our bold space reflects the culture of innovation and collaboration while supporting a healthy work environment. Solera's logo colors are used throughout the space including felt-lined phone booths, the outdoor patio area, color-coordinated books in the library and a large graffiti wall with the Solera logo, mission and guiding principles.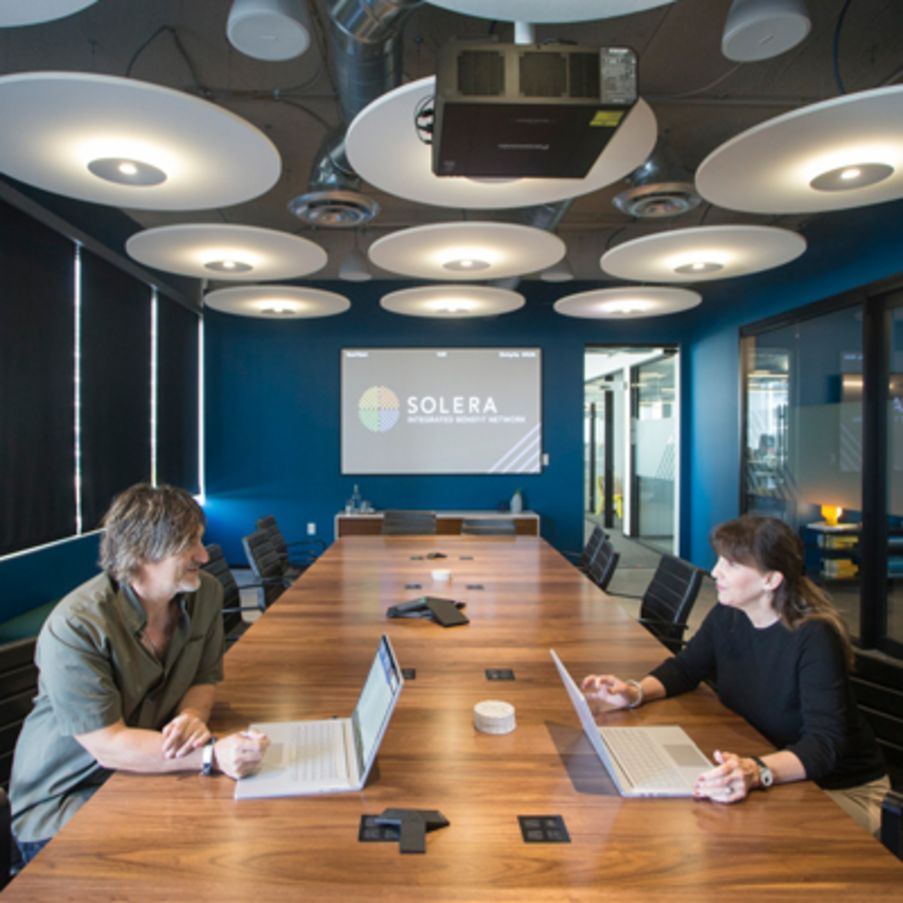 Large board room with videoconferencing
How does your space engage your employee base?
Solera's space layout was designed to foster intentional and unintentional conversations and connections. In addition to multi-functional meeting spaces, Solera's office has several information seating areas and multiple places to relax, talk and play including a library, onsite fitness center, and a large stage and open space with an outdoor patio that allows us to get the entire company together for a meeting or social event. Employees spontaneously play games including ping pong, foosball and corn hole.
Solera Small Meeting Rooms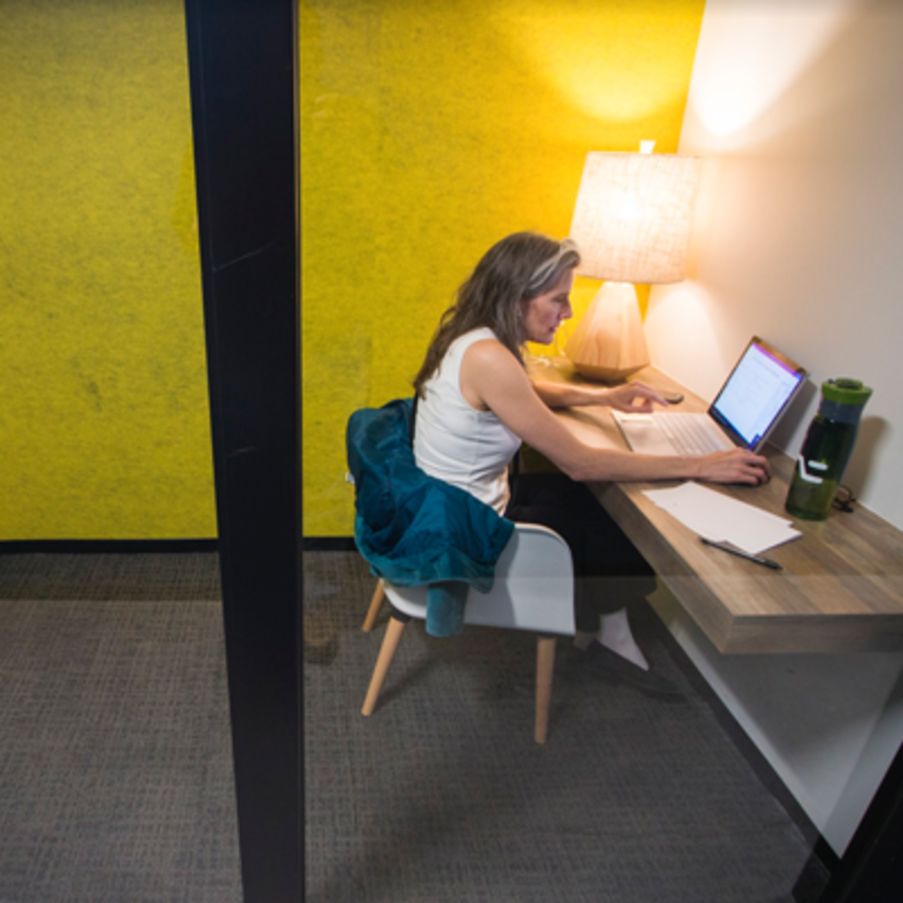 Solera Private Work Space
Game Area with blackboard wall
Solera outdoor patio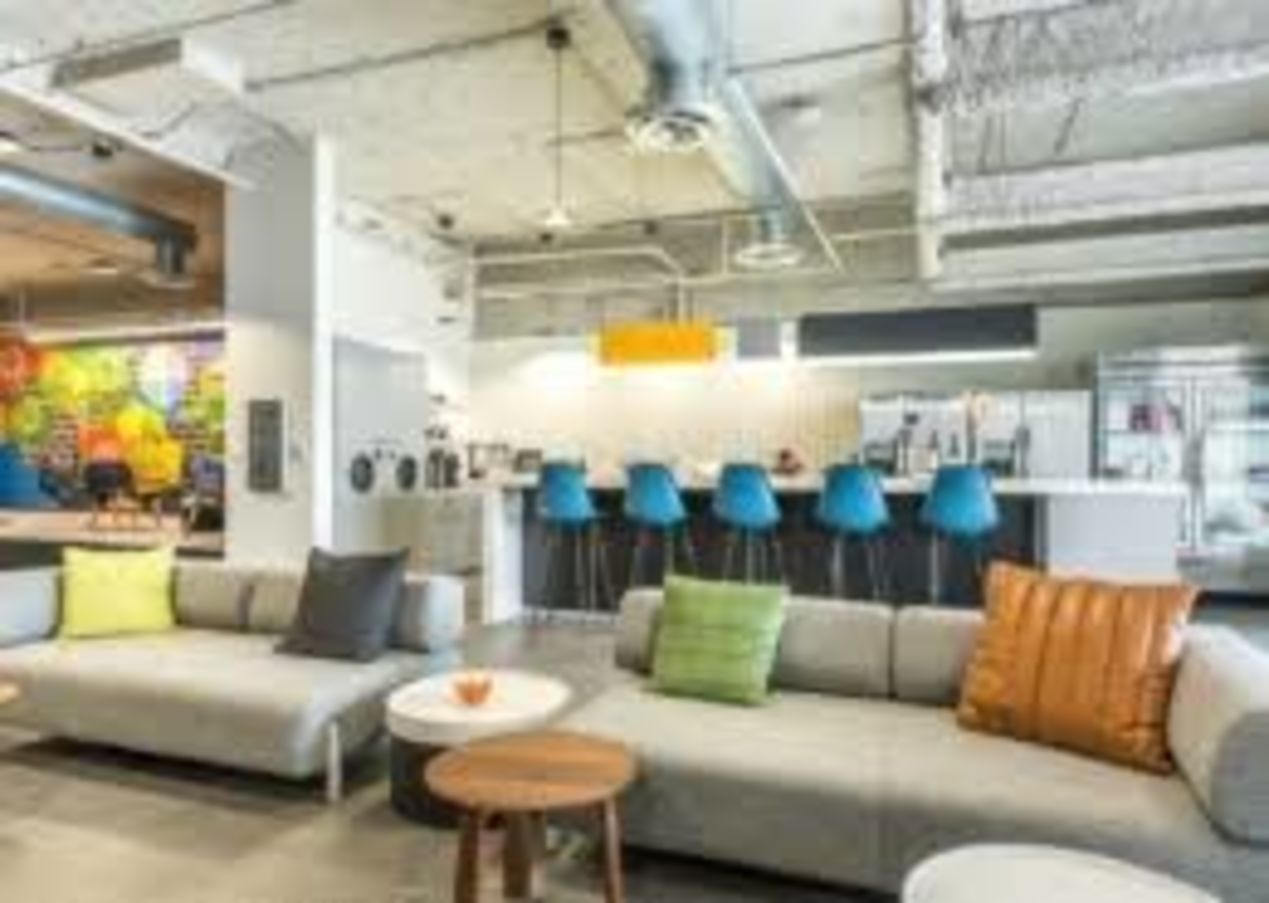 Solera Kitchen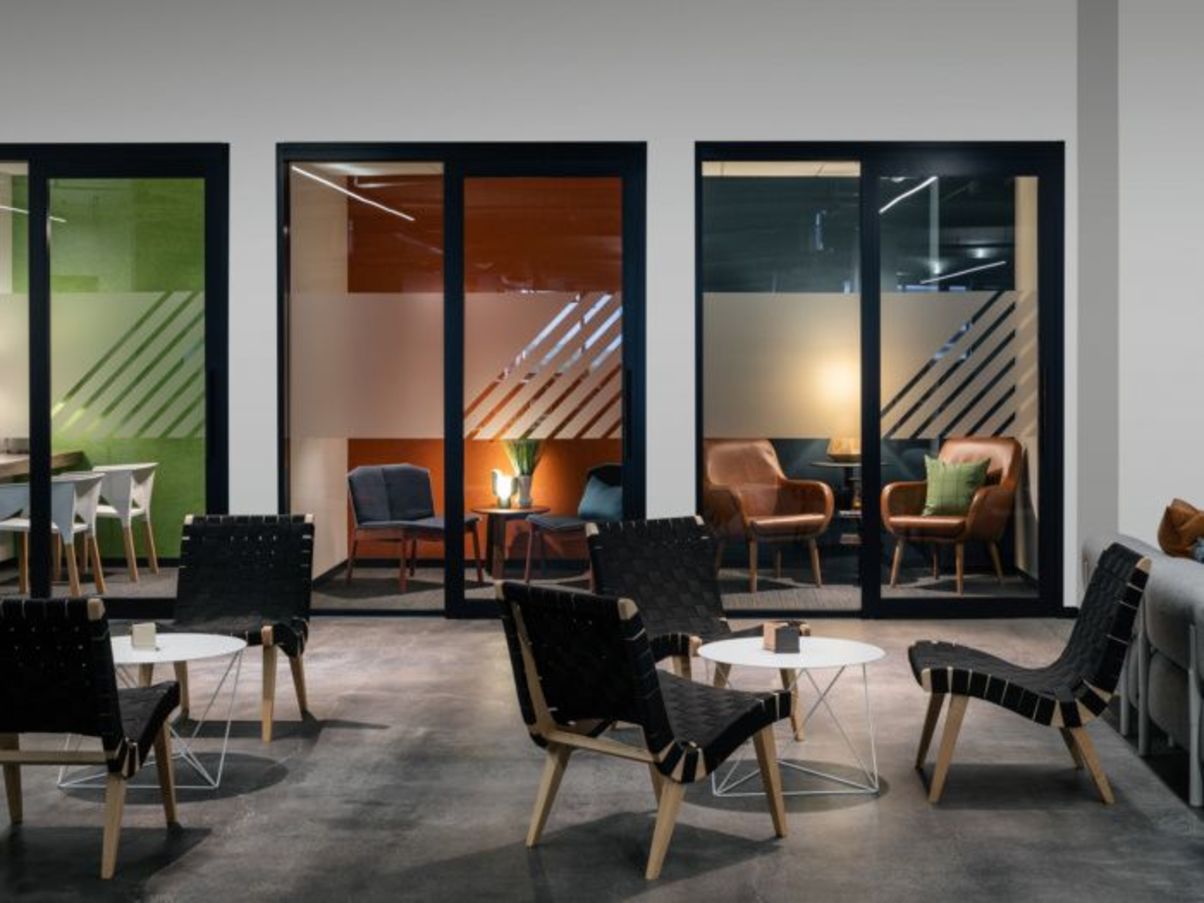 Solera Phone Rooms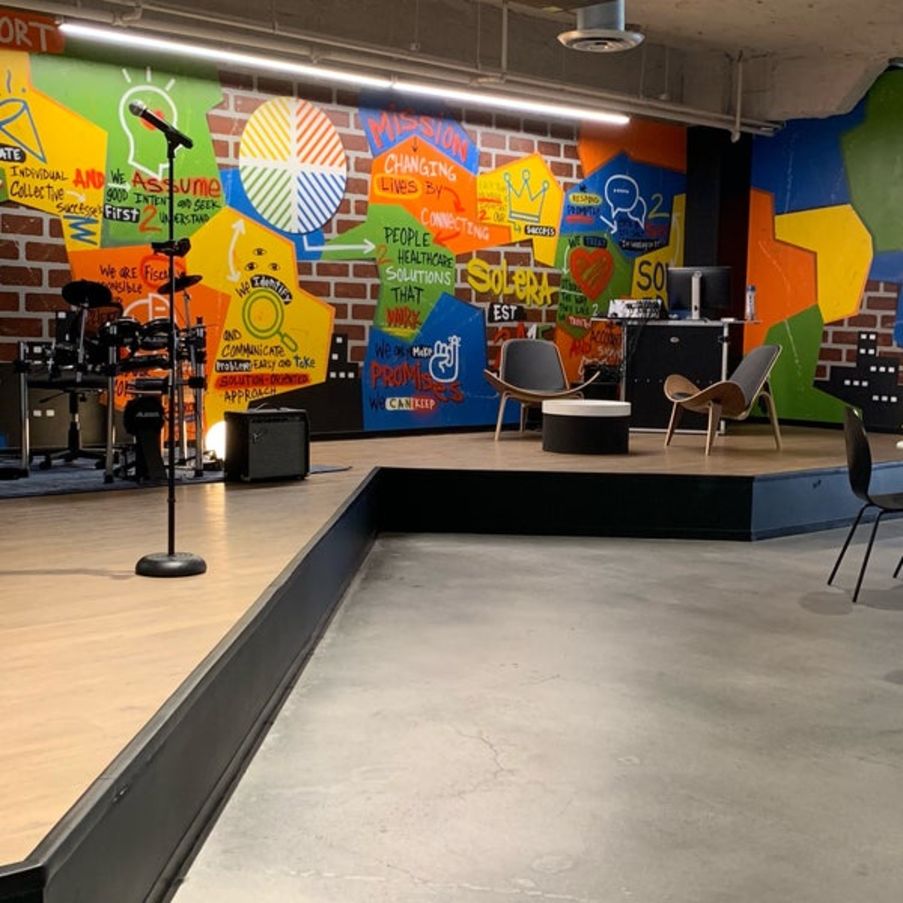 Solera Stage