People see a stylish, modern and incredible open work space that overlooks the valley, with access to dining and shopping under their feet. They will see employees working together while having a smile on their face as their favorite song plays overhead. They will see a space that no doubt is the envy of every company here in the valley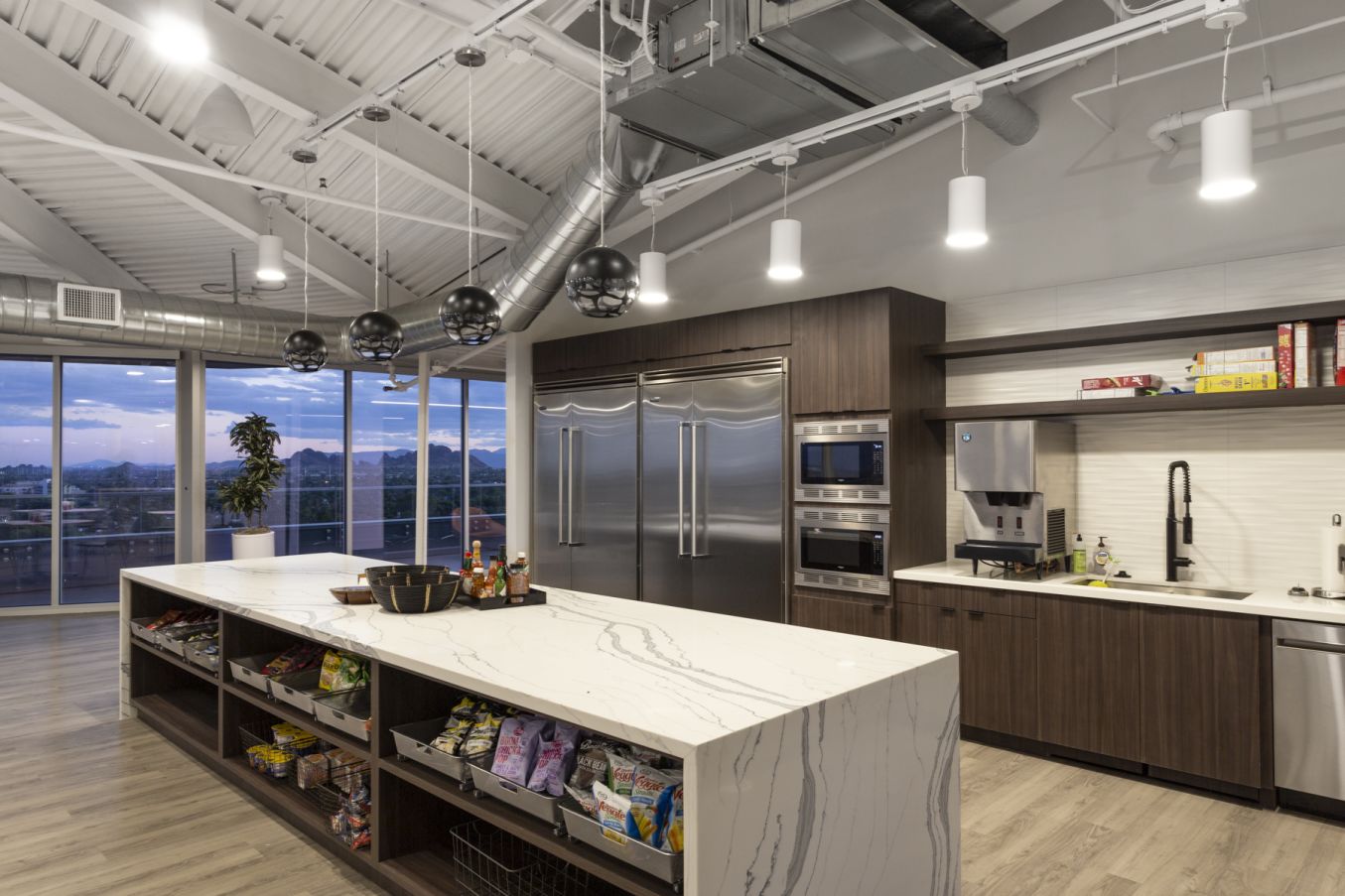 Our kitchen was designed to feed the stomach and the eyes.
How does this space drive productivity, collaboration, and connectivity?
We have deigned the space to flow from work to play effortlessly. Within the space there are multiple areas that employees can work, so everyone is not tied to their desk. With our extra large kitchen, employees interact frequently while enjoying catered lunches and all hands meetings. With an open concept, employees are able to engage other teams just by walking over or having meetings at any of the numerous seating areas.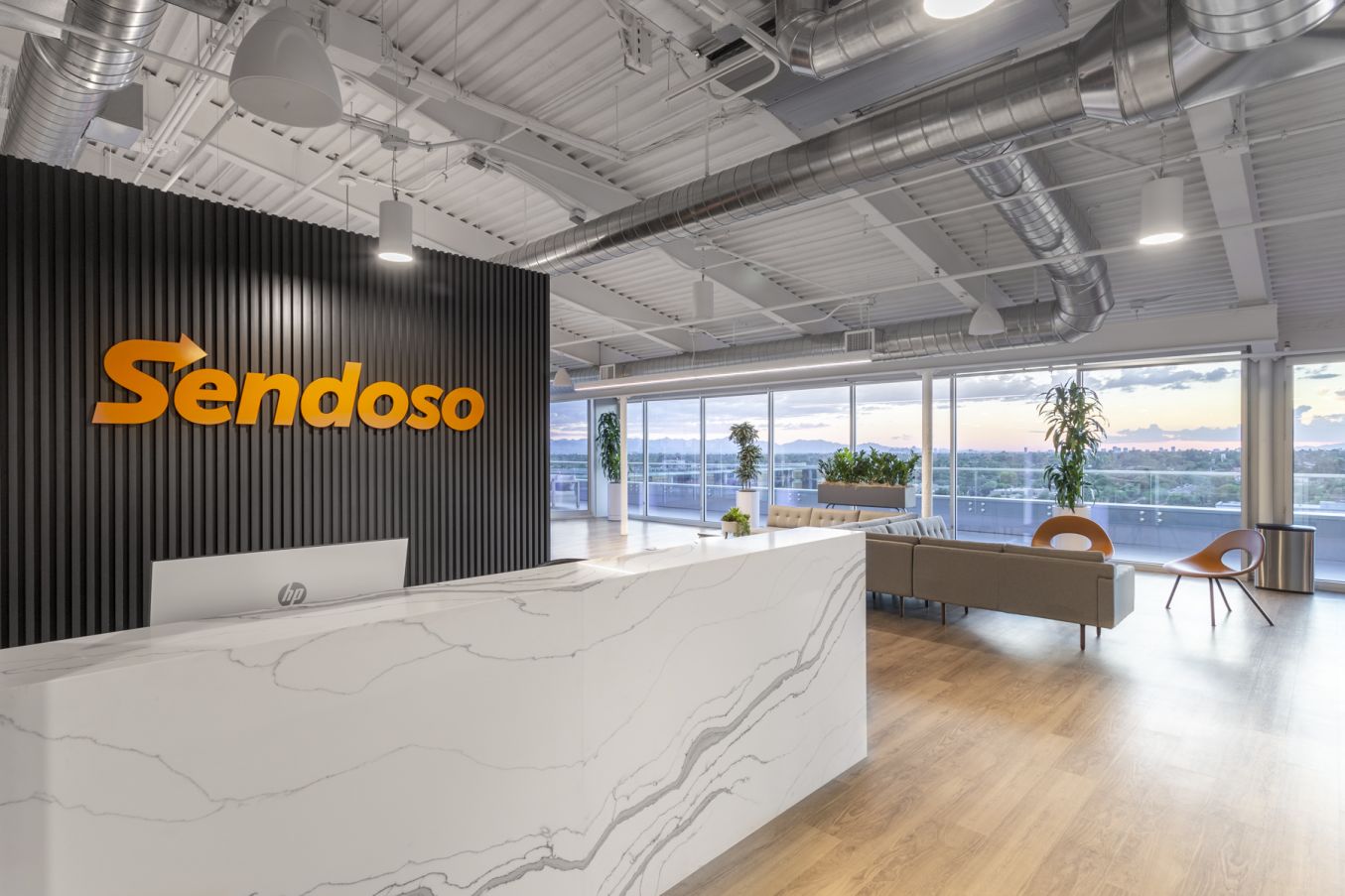 Be received into the world of Sendoso through clean classic lines and a pop of color. Try not to be in awe as the elevator doors open to a view of Camelback Mountain.
What is one thing that is unforgettable when someone walks through your space?
Sendoso pride's itself on making our customer's business lives easier, so we incorporated this philosophy into the suite's design. Each conference room has the highest technology package to make meetings efficient, the kitchen has the space and technology to host the entire company, and to top it off we have music playing from speakers across the suite that makes the day more fun! We also have a huge kitchen that is fully stocked, very unique meeting room names (think pop culture with a sending twist!) and dogs running around! Our employees help our clients everyday, so we wanted to help our employees everyday!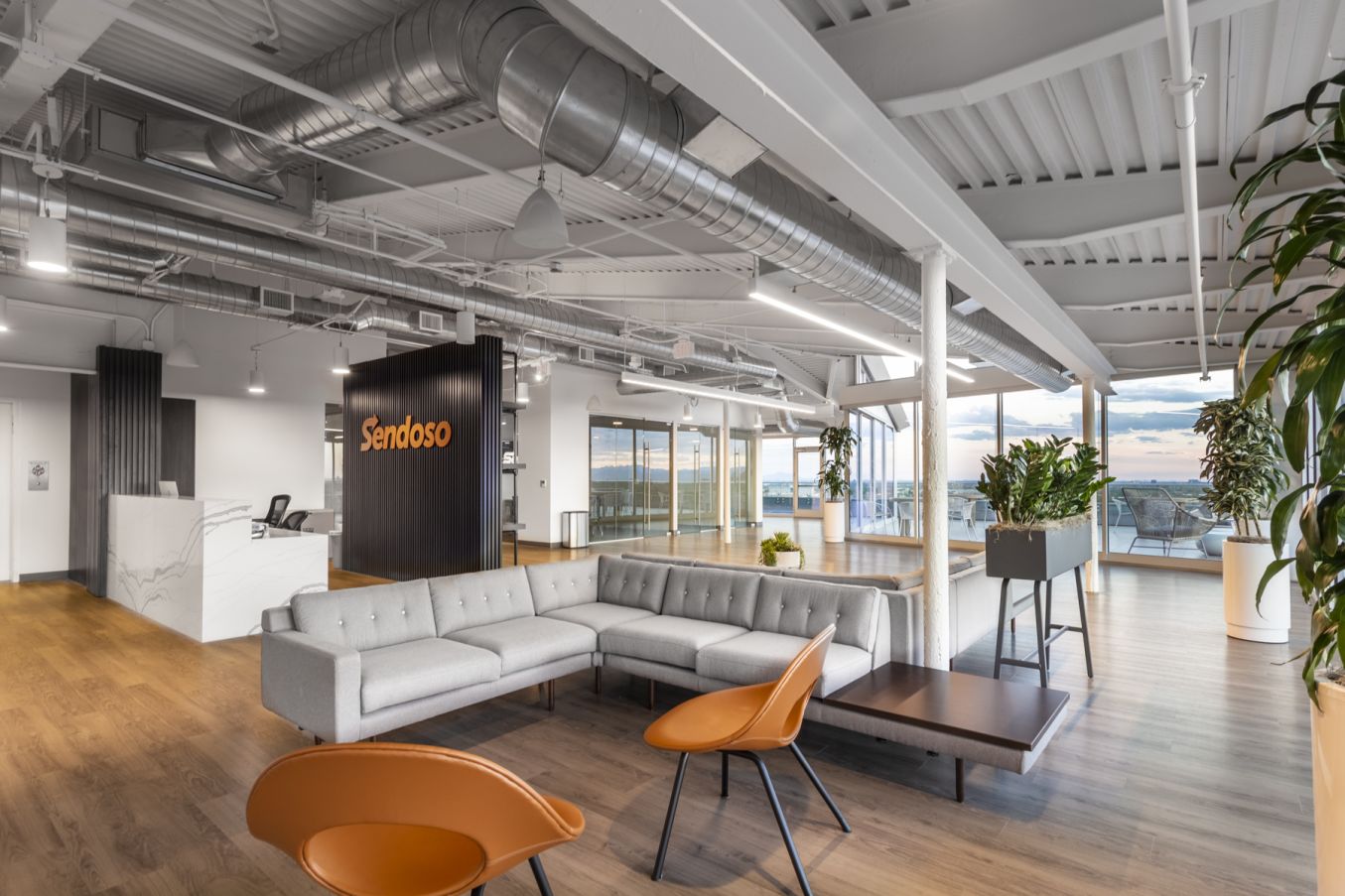 Our office has multiple community areas to promote collaboration and productivity.
How does your space tell your company's story and reflect its brand?
The sweeping views! We have 360 degree views of the entire valley, and you are able to not only see this from floor to ceiling windows, but also still along the wrap around balcony. Employees can also sit on the large balcony to work in the fresh air!
A place for lunch, breakout sessions, or all company meetings. This room features its own sound system and conferencing capabilities.
How does your space engage your employee base?
Our space has unique areas that encourage collaboration within teams. These include high top tables, funky chairs that rock and stylish couches scattered throughout. Being able to seamlessly move from desks to collaboration areas has increased the the teamwork across departments. Also, our conference rooms all have large TVs and cameras so that teams across locations can feel more connected! At Sendoso, nobody has an office, so all employees are able to have access to all levels of the organization at any time.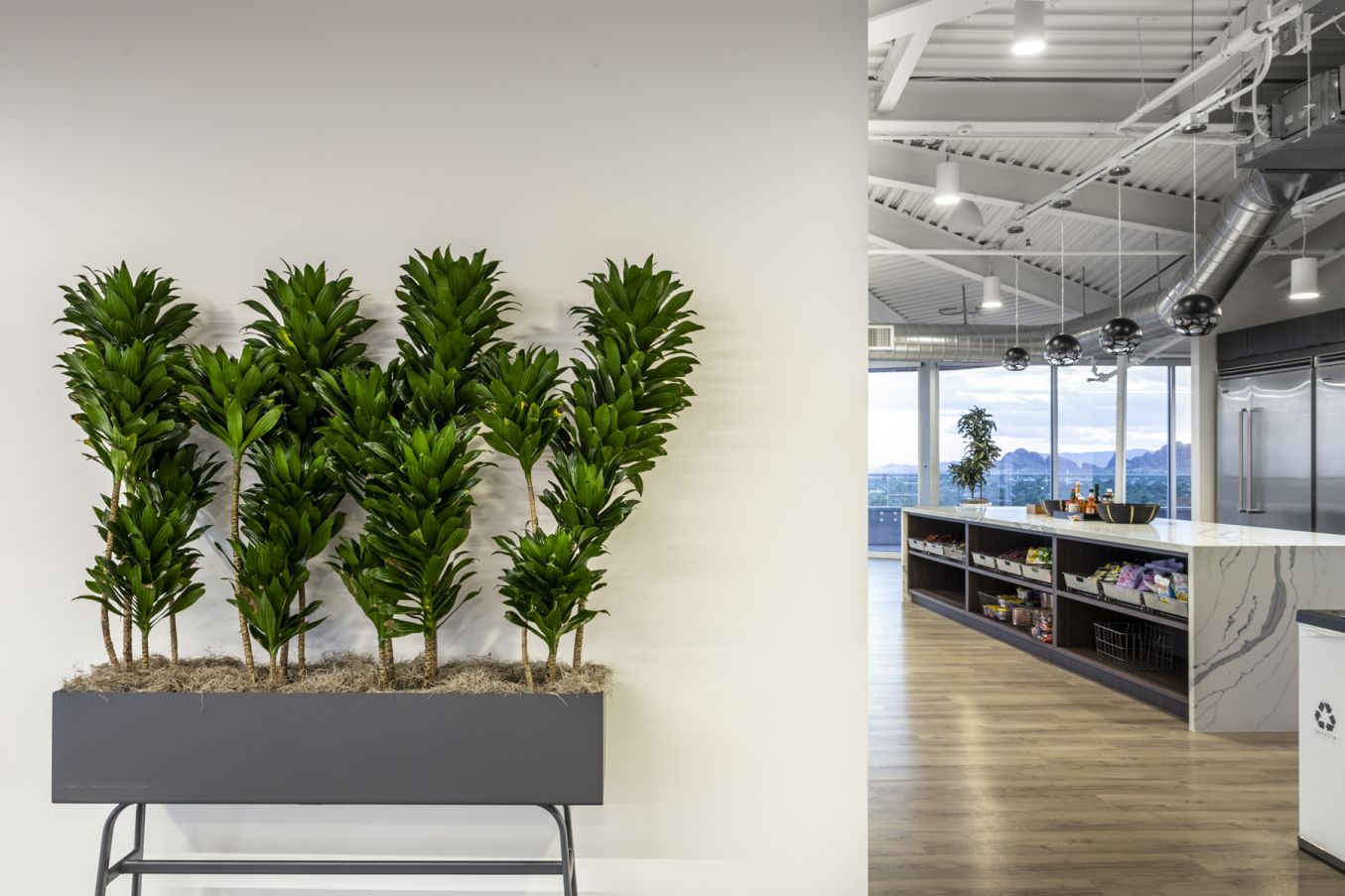 Working for that green
Board Room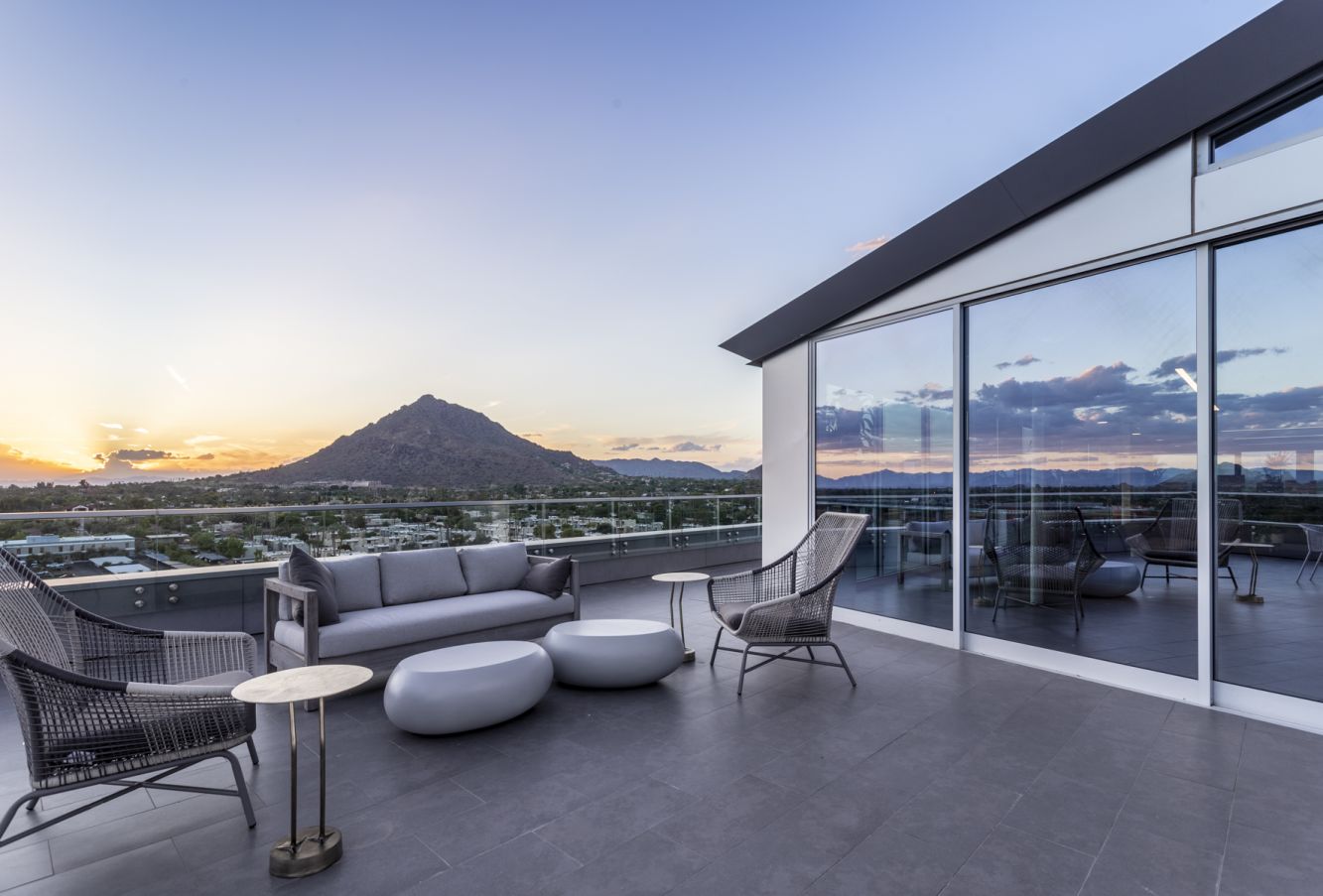 A Patio Like No Other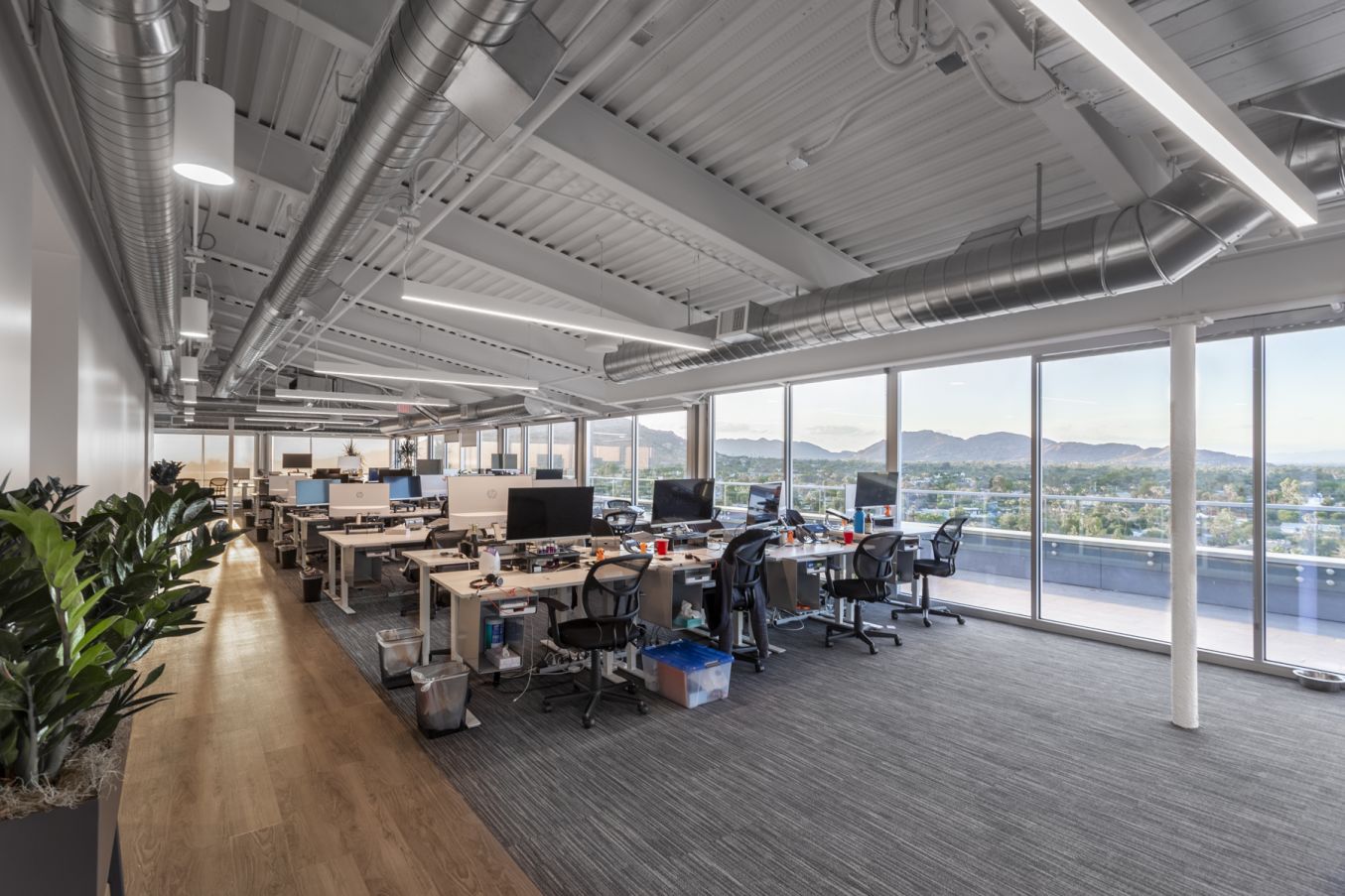 Work Stations