Sendoso's goal of enabling businesses everywhere to make more human connections in a digital world starts with an office space that encourages their employees to make profound connections amongst each other in the work environment. With breathtaking views, an open floor plan, a wrap around patio and so many more employee amenities, Sendoso's new penthouse office in the Camelback Towers is a model for an aesthetically attractive space that promotes employee engagement and collaboration. The penthouse office boasts glass dividers allowing for incredible 360 views of the valley but also provides conference and phone rooms for private meetings. Several open collaboration areas are available for employees to have meetings and the space is outfitted with a professional sound system for employee enjoyment.
How does this space drive productivity, collaboration, and connectivity?
Sendoso's space was designed with productivity and collaboration in mind. The penthouse floor with its open layout, 360 degree windows and expansive views proved to be the perfect location. The space contains no private offices, instead the design focuses on incorporating multiple collaboration areas, open work stations, a gourmet kitchen and a wrap-around patio to foster an environment of connectivity. Phone rooms are available for privacy along with several large and small conference rooms. The space has a professional full sound system installed throughout that offers white noise when needed to support acoustics and also integrates with Rockbot music streaming keeping the office vibe playful and energetic.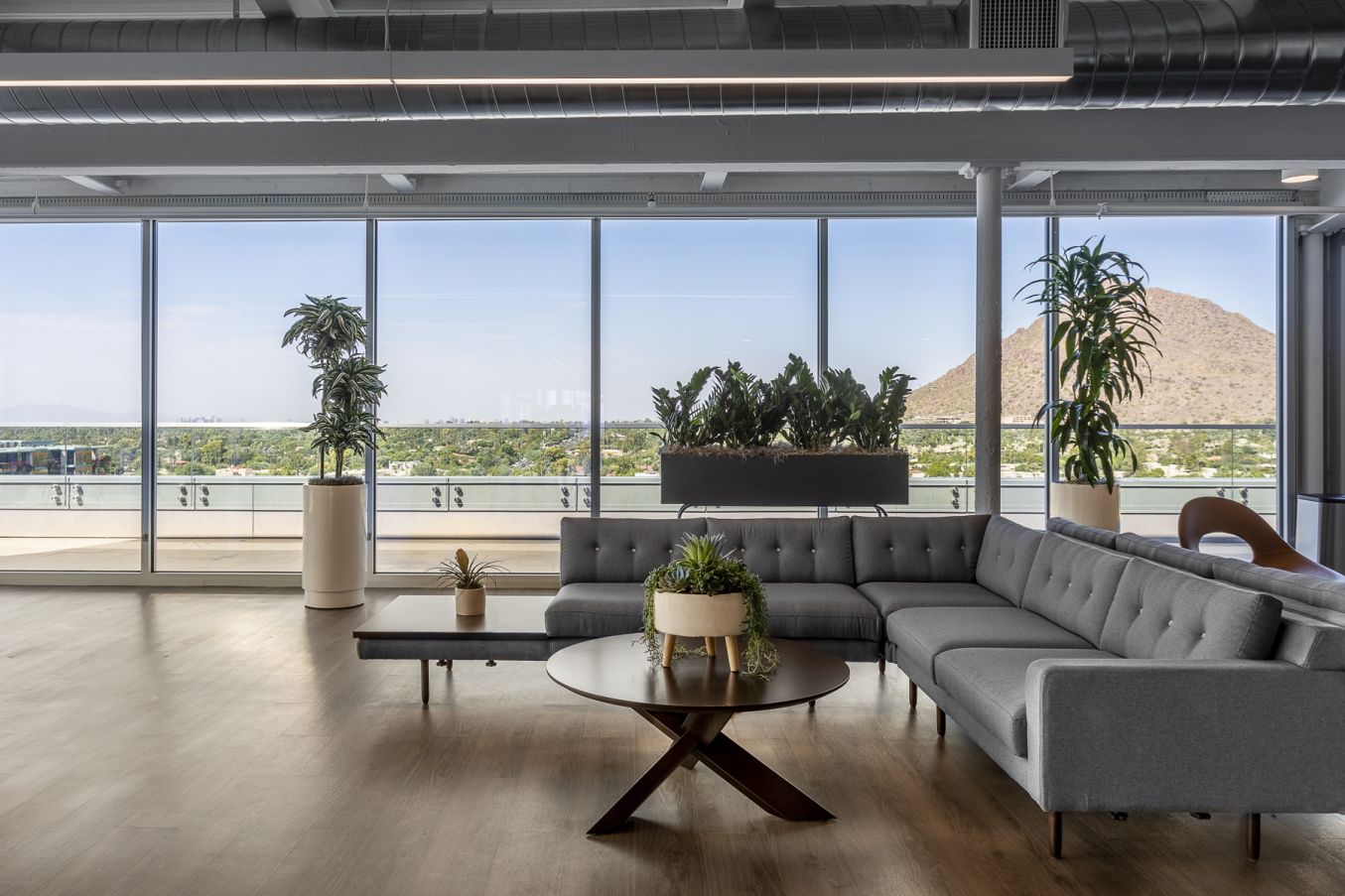 What is one thing that is unforgettable when someone walks through your space?
Sendoso wanted the breathtaking views of the valley to take center stage and be the first thing that visitors and employees see when they walk in through the elevators. Ware Malcomb designed the new Sendoso office with the views in mind by including 360 degree full height glass walls and laying out the reception area so that the entrance flows directly to it.
How does your space tell your company's story and reflect its brand?
Looking around, visitors will notice that the office was designed with a neutral palette, aligning with a more minimal theme. This allowed for their branding to truly stand out within the space. The pops of orange around the office as seen in Sendoso's logo at the reception area and their furniture selection stood out even more because of the palette of greys, whites and blacks.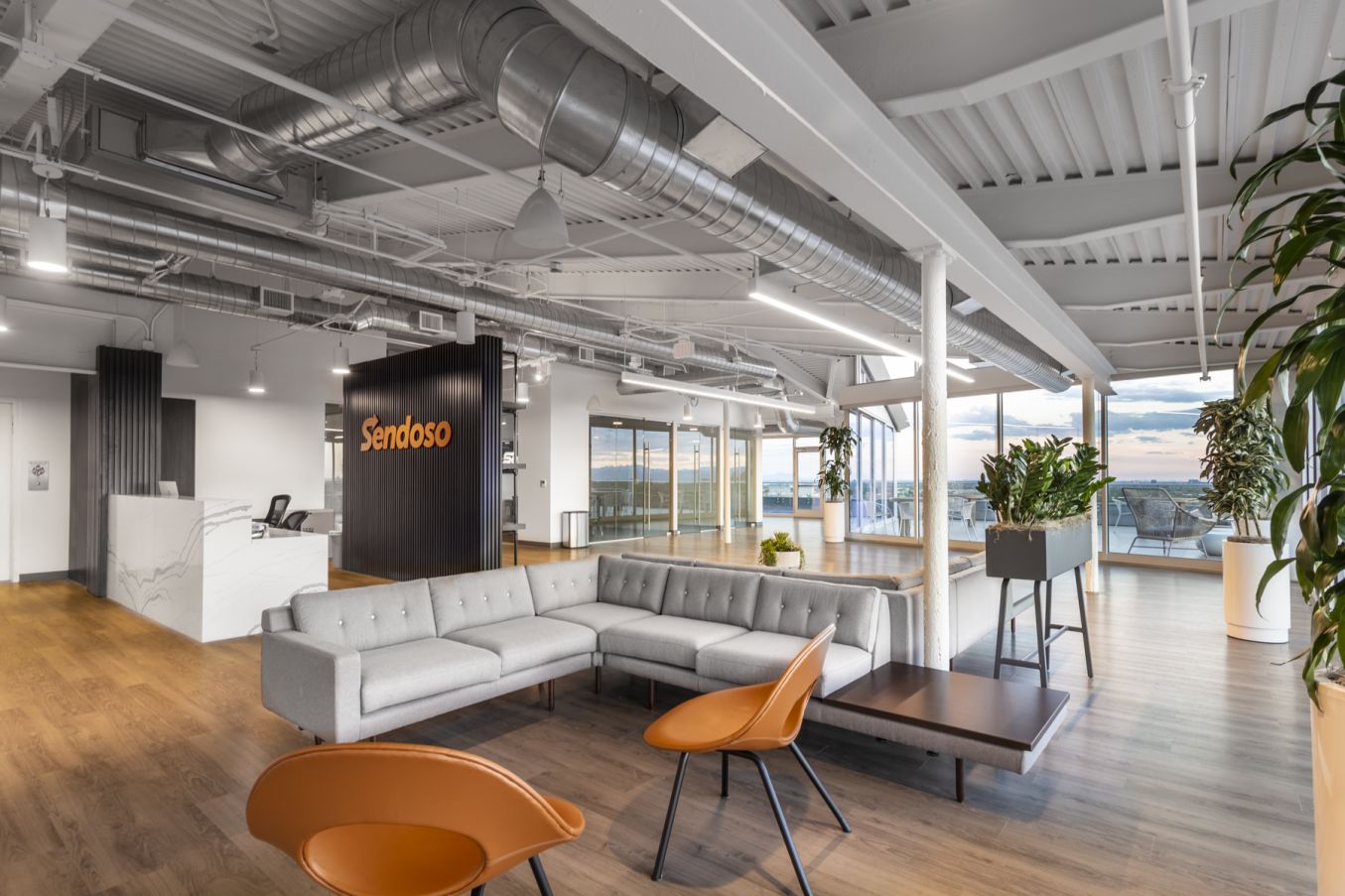 How does your space engage your employee base?
The core of Sendoso's brand is human connectivity. The entire office is open and transparent allowing for ease and encouragement of collaboration. The space is pet friendly and has a variety of amenities including beer on tap and snacks in their fully stocked kitchen. Employees enjoy an open floor concept with multiple collaboration that encourage employee engagement and interaction and access to the wrap around patio where they can freely work or hold meetings.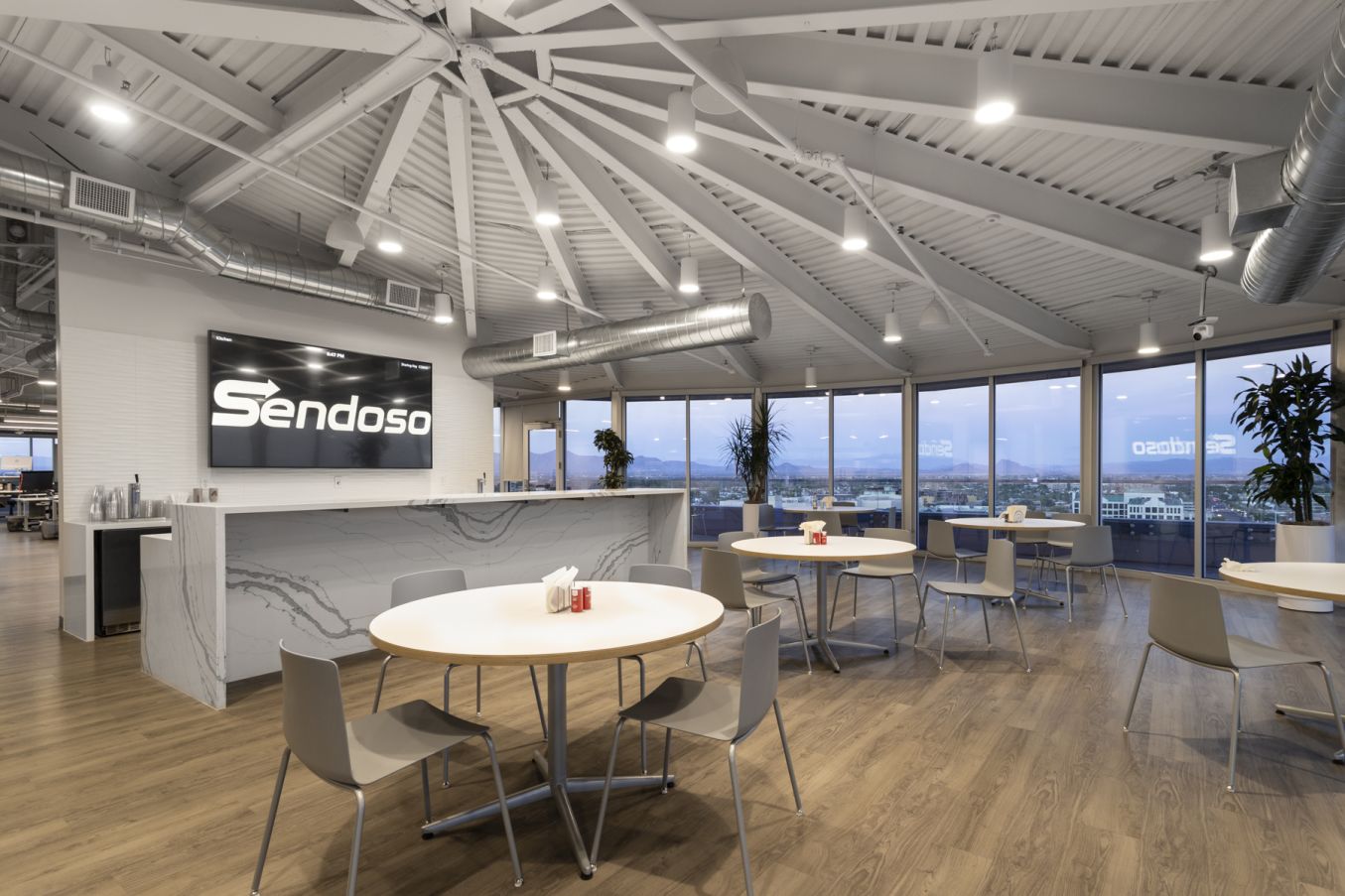 Sendoso