At Microsoft, our mission is to empower every person and every organization on the planet to achieve more. We are grounded in both the world in which we live and the future we strive to create. We live in a mobile-first, cloud-first world, and are driving a transformation that will allow our customers to thrive.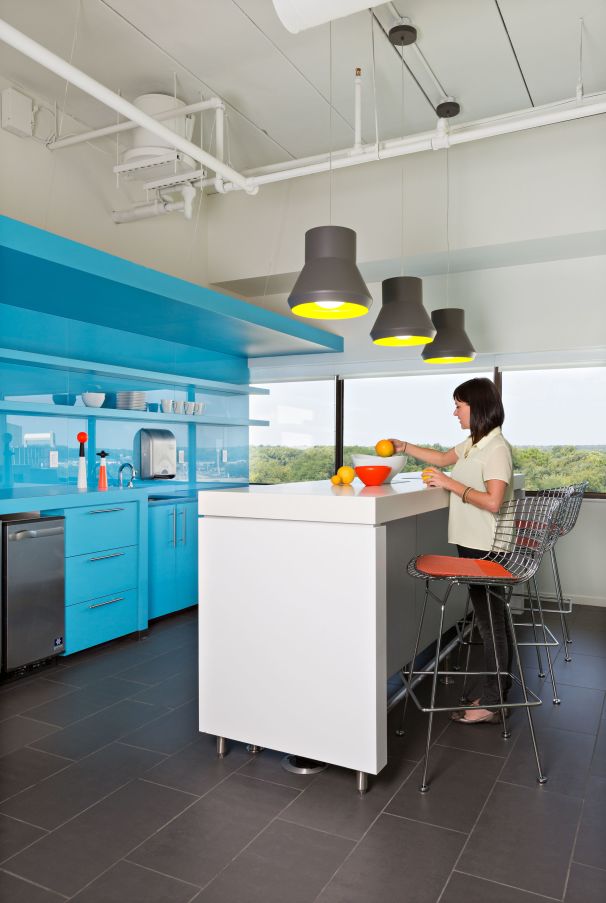 How does this space drive productivity, collaboration, and connectivity?
Mobile technology supports our ability to work anytime, anywhere. Work is increasingly more collaborative, therefore our micro workplace provides spaces for real-time, ad-hoc meetings. Community "bars" and a social hub facilitate meaningful collaboration and foster community and team building, too. And to embrace a sense of connectivity and transparency, our meeting rooms feature glass walls. The entire workplace flows seamlessly from one area to the next – from the multipurpose rooms to the social hub to the service bar, which is stocked with new products to try. The workplace also serves as a stopover for a nearby Microsoft store, furthering our connectivity. But we also know that a healthy work environment includes a variety of spaces, which is why we support and provide opportunities for focused work.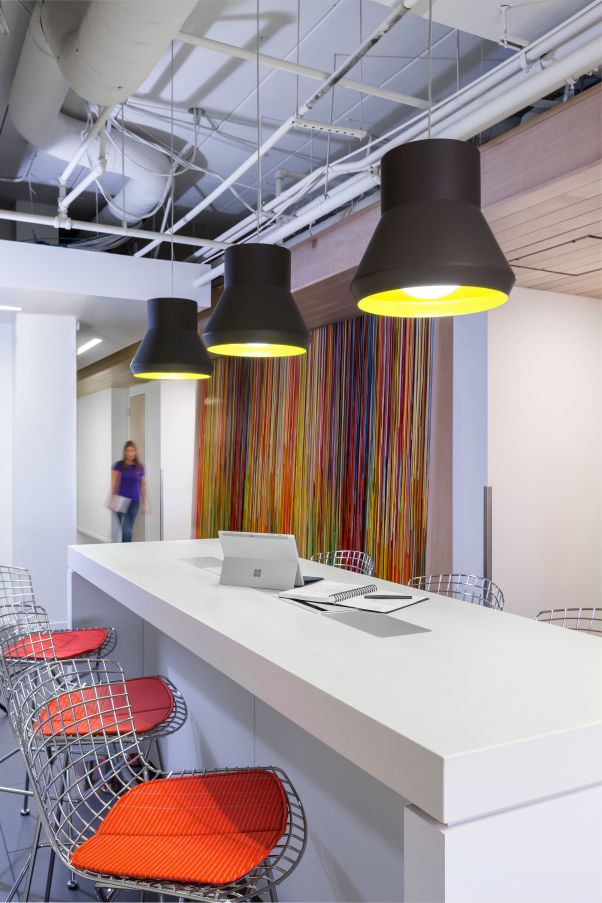 What is one thing that is unforgettable when someone walks through your space?
To make the most of our compact office, we focused on the flow. Every inch of the workplace was used to allow employees to move from one space to the next without hindrance, ensuring that all elements were integrated systematically. For example, the bulkhead over the service bar transforms into a wood ceiling that stretches back to the multipurpose rooms. This uninterrupted display of materials draws the eye through the office. Circulation paths provide direct routes to common areas, reducing traffic and distraction in work zones. But the physical transition from one space to the next is subtle; like the evolution of technology, the flow from common area to quiet zone is seamless and smooth.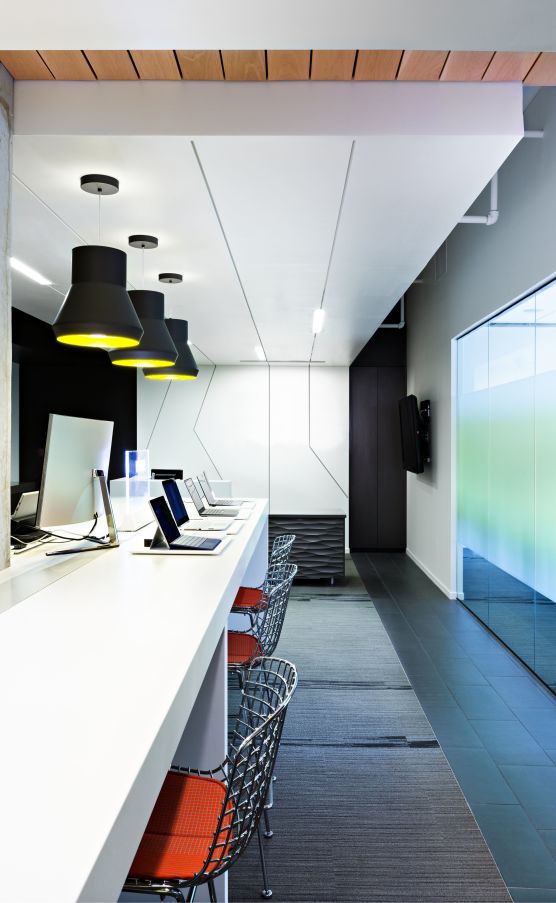 How does your space tell your company's story and reflect its brand?
Microsoft is at the forefront of developing technology that connects people, and we believe our technology should be part of the workplace. Immediately upon entering our office, you encounter a service bar with all the latest products. Employees and visitors alike are welcome to try out each device. Six monitors also showcase Microsoft's brand and technologies and create a high activity, high energy space.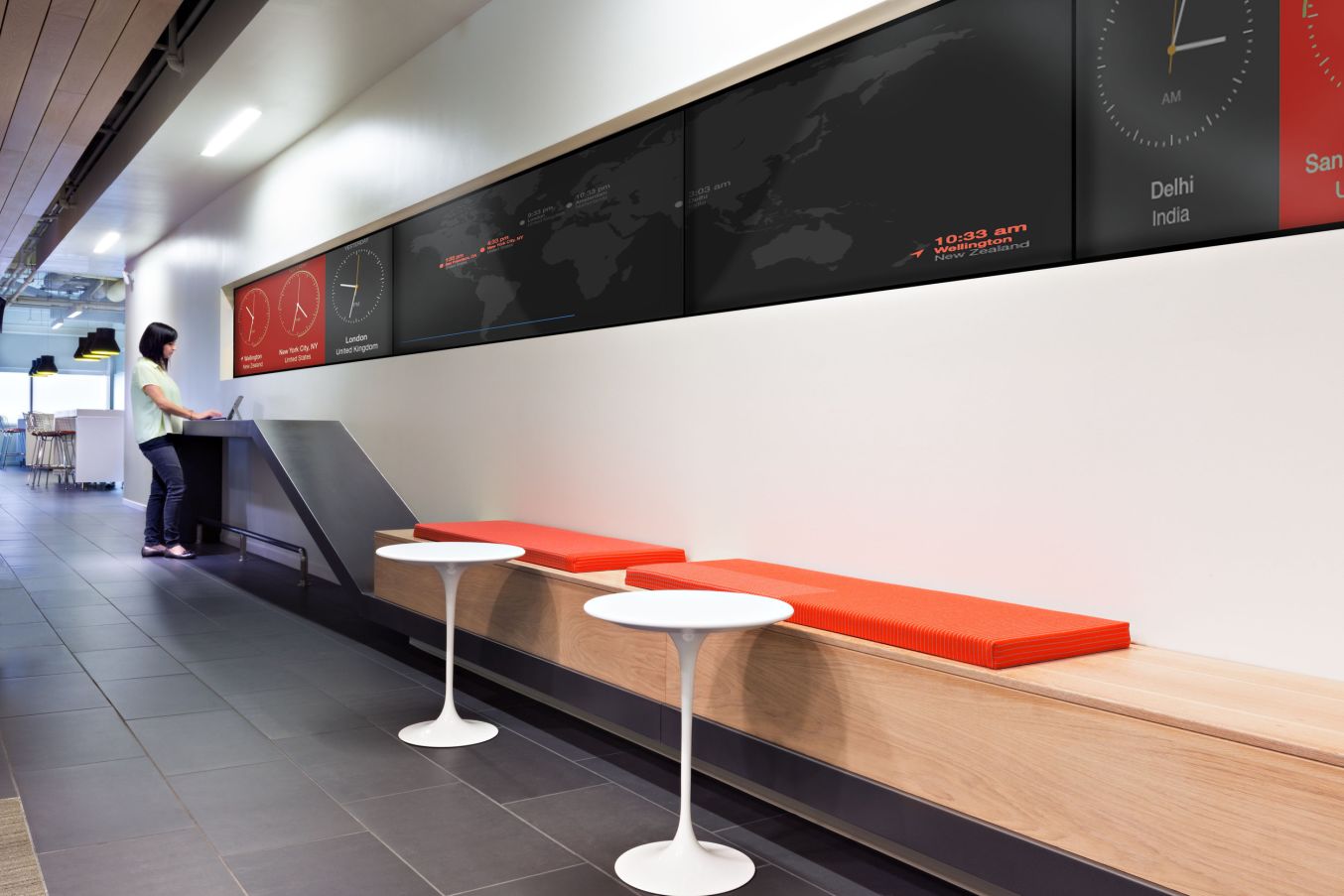 How does your space engage your employee base?
An ecosystem of spaces – including focus booths, meeting rooms, and multipurpose rooms – anticipates our employees' needs. An open plan balanced with quiet or private spaces increases interactions between employees and allows them to solve problems quickly. The timeless – not overly trendy – design also changes the dynamics around recruiting and retention. It recognizes the importance of creating moments of spontaneous interaction and encourages creativity and forward-thinking.