MJ&Associates is a boutique marketing firm, serving select clients in all forms of marketing with emphasis on the integration of traditional, digital and social media. We believe in outstanding visuals and authentic brand voice. For our clients, that means we will push the WOW factor because it drives customer engagement. Our clients are always the final decision-makers, but in addition to solid strategic marketing, we want the work we do to be absolutely beautiful and on brand voice. When designing this office space in The District at Prairie Trail, we wanted it to reflect the transformation from traditional to digital, so you see the combination black and white color scheme and the use of industrial surfaces combined with higher end finishes, formal but modern seating, and natural green plants. The backdrop of floor to ceiling boxes in the small conference meeting area was designed as storage but also reflects the myriad of details, industries, platforms and the many contributors who make this small and nimble marketing team successful.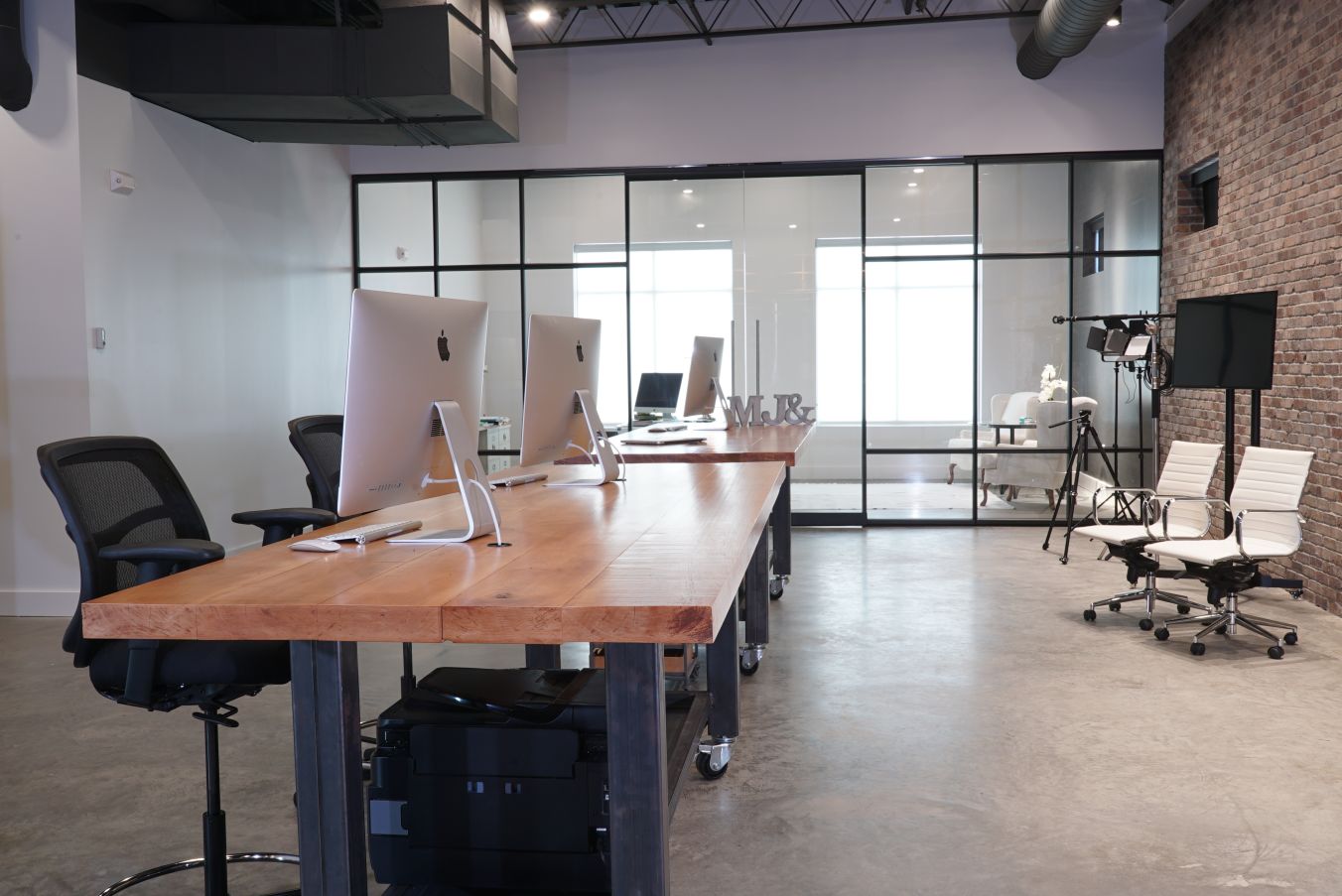 How does this space drive productivity, collaboration, and connectivity?
The space is built to be extremely flexible to accommodate a small work team, but also expands to include a number of collaborators on a project or shoot, so almost every piece of furniture is on wheels. The MJ&Associates brand is driven to be selective and perform at the highest level, so the features and components of the space stimulate the senses on an everyday basis.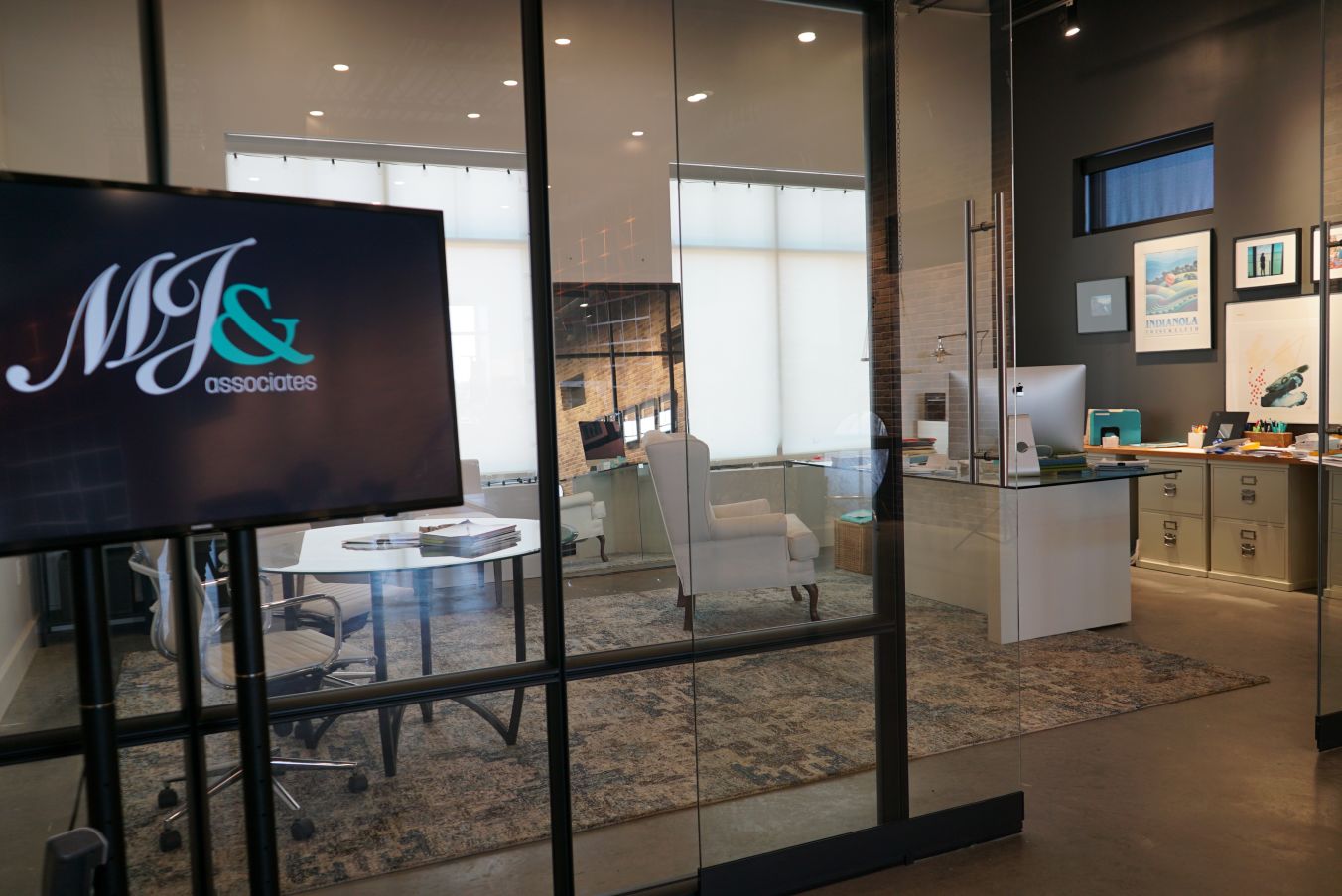 What is one thing that is unforgettable when someone walks through your space?
The combination of materials, the dramatic but simple space design and the overall sense of the brand is literally something you can feel and many people respond to it.
How does your space tell your company's story and reflect its brand?
In addition to the above statement of the space reflecting the transformation of our industry, the use of the materials was important to reflect the MJ&Associates brand: wood, steel, brick, concrete, combined with high end leather, natural fibers, formal upholstered seating, glass, mirrors and natural green plants. The grid seen in the 10ft glass doors, the steel accents and the boxes reminds us that successful marketing efforts mean everything connects for a end user, whether consumer, viewer, or reader and therefore for the success of the brand and business.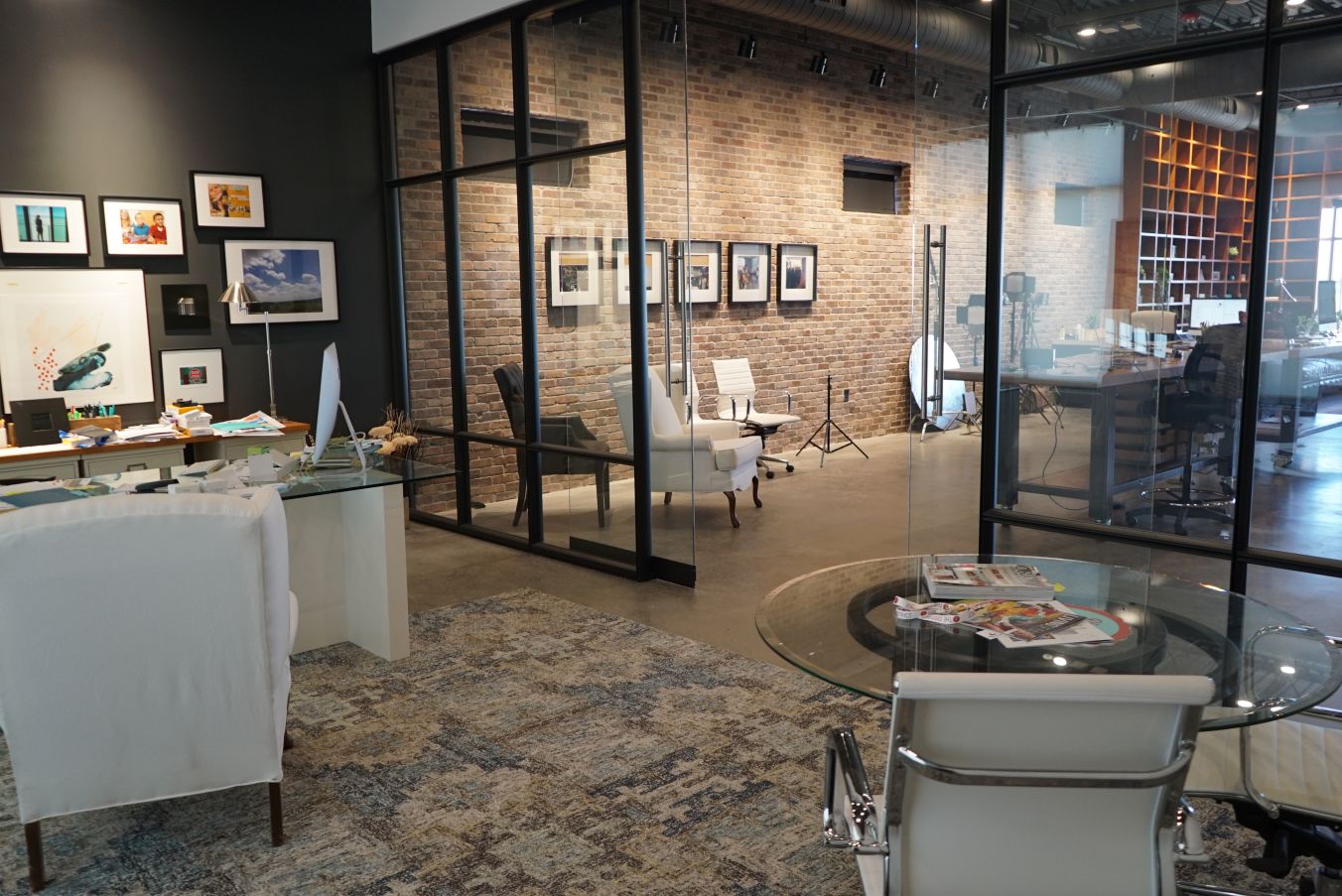 How does your space engage your employee base?
While there are personal workspaces designed into the open air space, it's very convenient to come together to collaborate, which is a daily part of our work whether that's planning a new strategic approach or working on a creative solution to a project. We literally move the space around to accommodate discussion groups, video and still photography shoots, etc.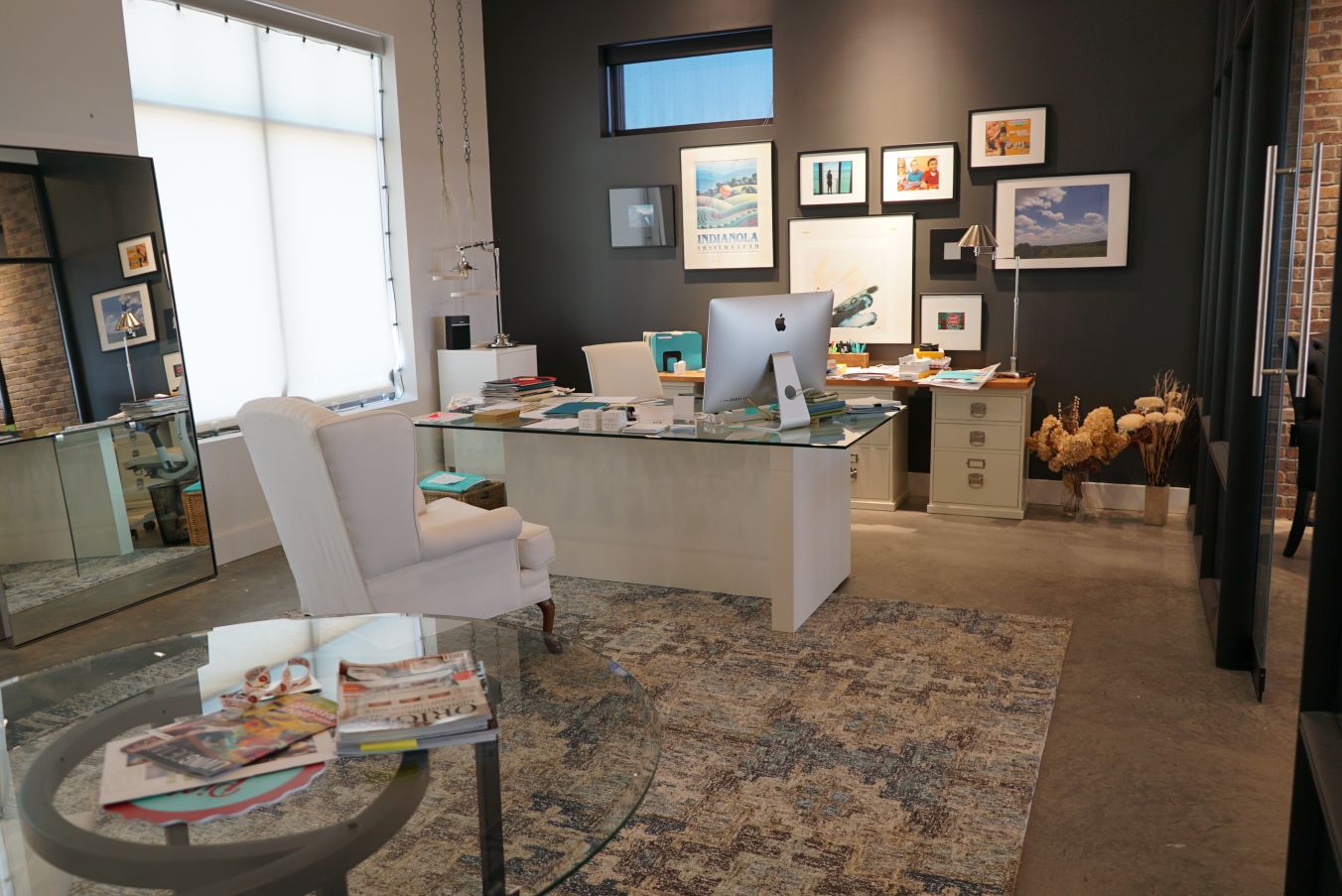 MJ&Associates Studio on Main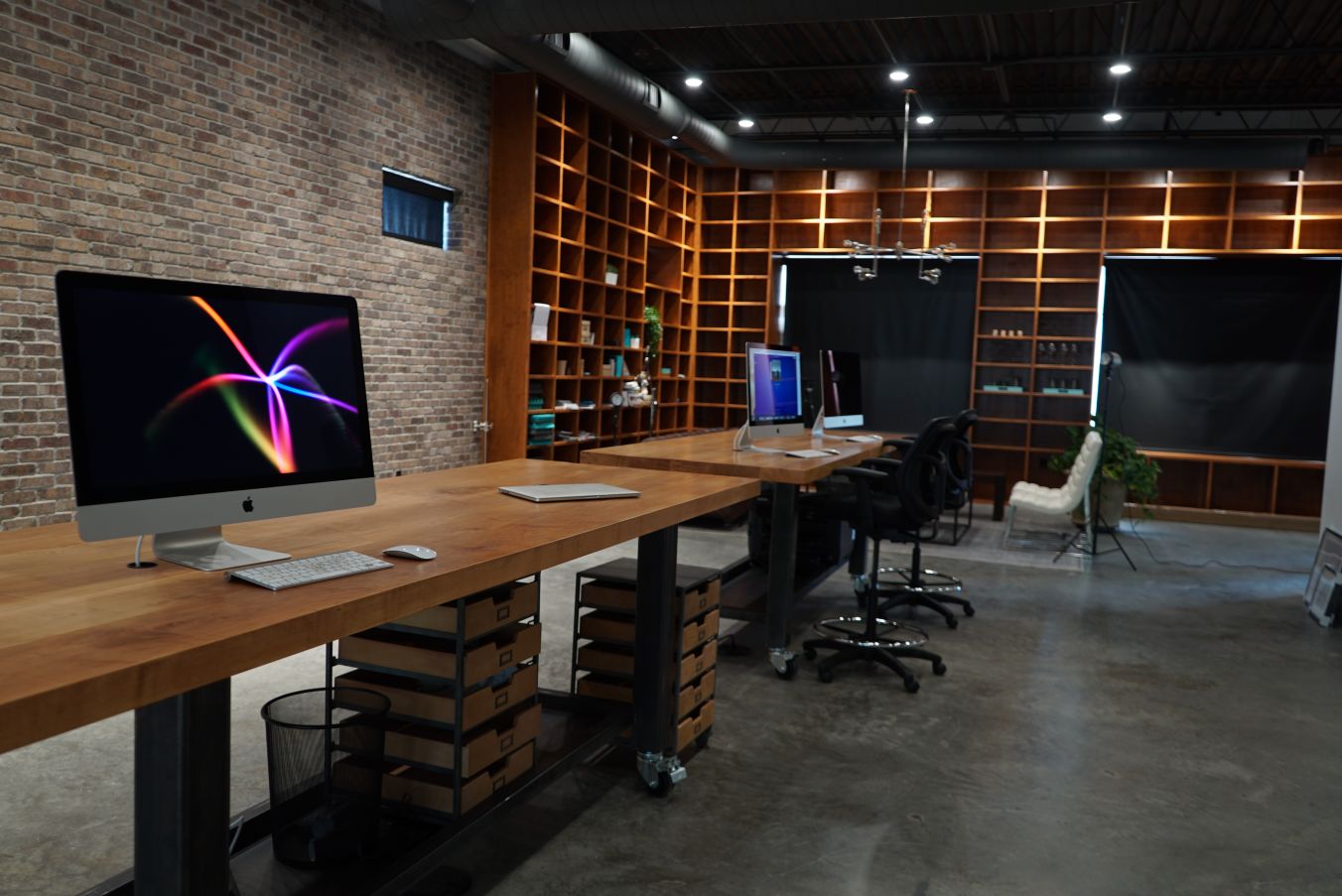 MJ&Associates Studio on Main