KSM Consulting (KSMC) is a technology, data, cybersecurity, project management, and management consulting firm based in Indianapolis, Indiana. Deploying their specialized team of engineers, mathematicians, project managers, data analysts, and experienced business professionals, they get to work tackling some of the most complex organizational problems across both the private and public sector. And they do it through a "humans-first" design process, making sure they know their clients and their culture, on a fundamental level.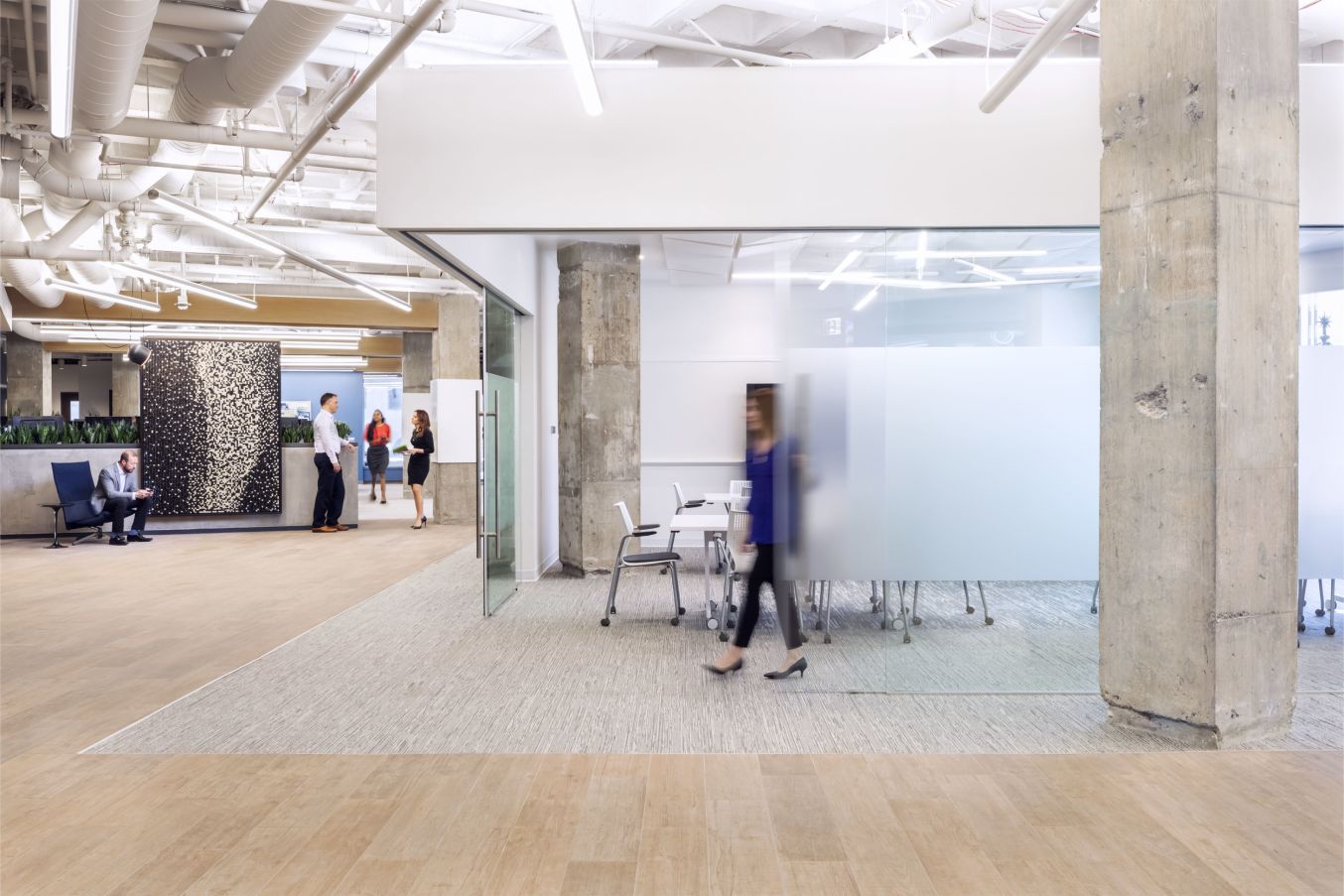 How does this space drive productivity, collaboration, and connectivity?
KSMC lives and breathes innovation. Their new workspace, dubbed KSMC111, is the product of an intensive and methodical research and creative effort to produce an environment that will continue to foster and inspire this innovation-based excellence -- within and outside of its walls. In 2017, having reached capacity in their existing space, they began to grow momentum around the vision of their next office as a destination to bring their clients into the creative process and a vanguard of evolving, collaborative work environments. In an expanding landscape of coffee shops, highly connected home offices, collaborative incubators, and membership based drop-in work environments -- where does that leave the office as we know it? To answer these questions and forge an informed path ahead, KSMC engaged two partners that are leaders in design thinking methodologies: DORIS Research, a human-centered workplace research firm and DELV Design, an architecture and interior design firm that relentlessly seeks alignment between the 'why' and the 'what' of physical environments. Choice Through the design process we learned how valuable choice and flexibility were to employees. "If I could work anywhere, why would I want to work here?" was the question the design was compelled to answer since KSMC has such a large population of 'nomadic' workers. To embrace the diversity of employee preferences, a variety of spaces emerged: from luxe and sophisticated to fun and quirky, and everything in between. The Lounge - directly behind reception, a chic collection of modern furnishings and lighting with a fully-stocked hospitality bar. A spot perfect for a more casual or pop up meeting with a guest or internal team. The Lookout - equipped with a table and media-scape, a whiteboard, and several barstools looking out onto the activity on The Circle below. A casual spot to bring a laptop for an hour and have impromptu run-ins with colleagues passing by. The Corner Conference - this space while it boasts the most formality with its corner view of the city and conference style layout, its custom crafted zebra-wood table and interactive technology make it anything but 'stiff'. The Library - tucked at the rear of the office for added privacy, the Library offers workers a quiet daytime retreat with soft daylighting, while still maintaining strong visual connectivity the rest of the office. Textures, finishes and furnishings throughout offer the warmth, hospitality and comforts often associated with working from home, without appearing overtly residential. There's even a secret pocket door that leads to a cozy, fully private nook perfect for phone calls or creative thinking tasks. After hours, cued by their custom neon-signage, it transitions to a social space, where the team can gather, have a few drinks over vintage games. Focus Rooms - a series of private one-person rooms, each with its own personality in funky pendants, for those tasks that need ultimate focus or privacy. Collaboration Rooms - a series of small casual collaboration rooms for group dialogue or short work sessions Project Rooms - a series of adaptable rooms (flexing up from 3 small, 2 medium, or 1 large space) with working whiteboard walls, dedicated to teams throughout the duration of a specific project.Whether a project team of 4 needs to camp out in a project room for 2 months, or a team of 12 needs to reconfigure walls and desks for a 6 month long project, these rooms embrace flexibility and give agency back to the employees to nuance their space to do their best work. The Loft - hotel-style seating for those who pop in and out, elevated in the center of KSMC111. This space reflects the value of democratic design: the best location and amenities are not saved for executives, but shared with everyone, including employees and clients. The Cafe - packed with style and savory & sweet amenities, the cafe creates the 'kitchen' effect in the office. The place where people gravitate to chat, relax, and refresh. Technology, however, for an impromptu meeting is always in reach, even in the most social spots. It 's merely disguised as artwork until the someone grabs the remote and pulls up a project file. The design balances spaces for open and easy collaboration, social spaces, formal spaces, and spaces tailored to individual, heads down work. The key is empowering workers with choice.
What is one thing that is unforgettable when someone walks through your space?
Due North Originally programmed as the 'ideation and solutioning' room, DELV created a flexible, workshop space, enclosable by large sliding glass doors, to be the dominant element of the space and positioned toward (then subsequently named it) Due North. Its juxtapositioning with the curvinlear building not only helps orient, but is symbolic of KSMC's work: taking clients from complex, hazy problems toward finding their own "true north". Due North was designed to be the ultimate blank page: a glowing white box with embedded tech and a ceiling that resembles crumpled paper, it's the destination clients will remember where they became a part of the action, not just a recipient of a deliverable. Its prominence in the space is a visible reminder of the true value they give clients.
How does your space tell your company's story and reflect its brand?
At the onset, KSMC was intentional that this space would need to tell its story in a meaningful way. Whether to attract new clients and new recruits or reinforcing current team culture, design details were given much attention. It began with the space's layout and the prominent positioning of Due North so that both visitors and employees could always see the activity happening inside. Paying homage to KSMC's deep roots in tech, the design team wanted to create art that played off of the most common interface between humans and technology: a keyboard. A large scale piece entitled "People are Key", was fabricated of 25,000 repurposed keys from 625 keyboards spanning forty years of technology. Hidden within the keys are the company's values, spelled out as if in a gigantic word search. The typically hidden server room was given a glass front to celebrate those tech roots, and give a peek at the inner workings of the space's technology. To express their value of building into the community, the design team engaged local non-profit Purposeful Design, a woodshop whose mission is to come alongside men affected by homelessness or addiction and give them a purpose by equipping them with valuable carpentry skills. The design team commissioned them to fabricate multiple counters, work tables, and a stunning zebra-wood conference table to be a daily reminder of this value. Every detail is centered around creating an innovative space, perfectly aligned with their unique culture and brand story.
How does your space engage your employee base?
Engaged employees are KSMC's most valuable asset. Our design approach began by seeking first to understand, before any sketch was created or assumptions of needs are made, we asked "How do we work now, how could we work, and finally, 'how should we work?' This effort, which included on-site observations, interviews, data gathering, and a test-feedback loop, fostered a highly empathic understanding of the current state. Insights were gathered and pulled through the entirety of the design process through to completion. The design team settled for nothing less than an environment that not only allows, but also inspires employees to do their best work - no matter one's working style or personal preferences. The resultant space in every detail, big and small, is centered around employee engagement; creating an authentically innovative space, expertly aligned -- space, culture, brand, and vision