Kronos Incorporated is the global leader of delivering workforce management solutions in the cloud. Kronos solutions empower organizations of all sizes and around the world to effectively manage their most strategic asset – their workforce. With a near 40-year history as the leaders in workforce management, Kronos delivers software and services in the cloud that enable organizations to reduce costs, increase productivity, minimize compliance risk, and improve employee engagement. Kronos serves more than 25,000 organizations in more than 100 countries, including more than half of the Fortune 1000®, with more than 35 million people use a Kronos solution every day.
How does this space drive productivity, collaboration, and connectivity?
The main goal for Kronos was to create a modern, fresh, high-energy space used to recruit and retain young professionals – which comprise the vast majority of the Kronos Indianapolis workforce. It is a place emblematic of Kronos' award-winning WorkInspired culture, where employees are happy to work in everyday, are inspired to innovate, and excited to show off to their friends and family. To achieve this, the concept centers around a chic interior urban jungle in the inner core that spirals out into an open office with low-walled pod workstations where everyone has access to natural daylight, bold forms and a bright color palette that fosters creativity, interactivity, innovation, and productivity.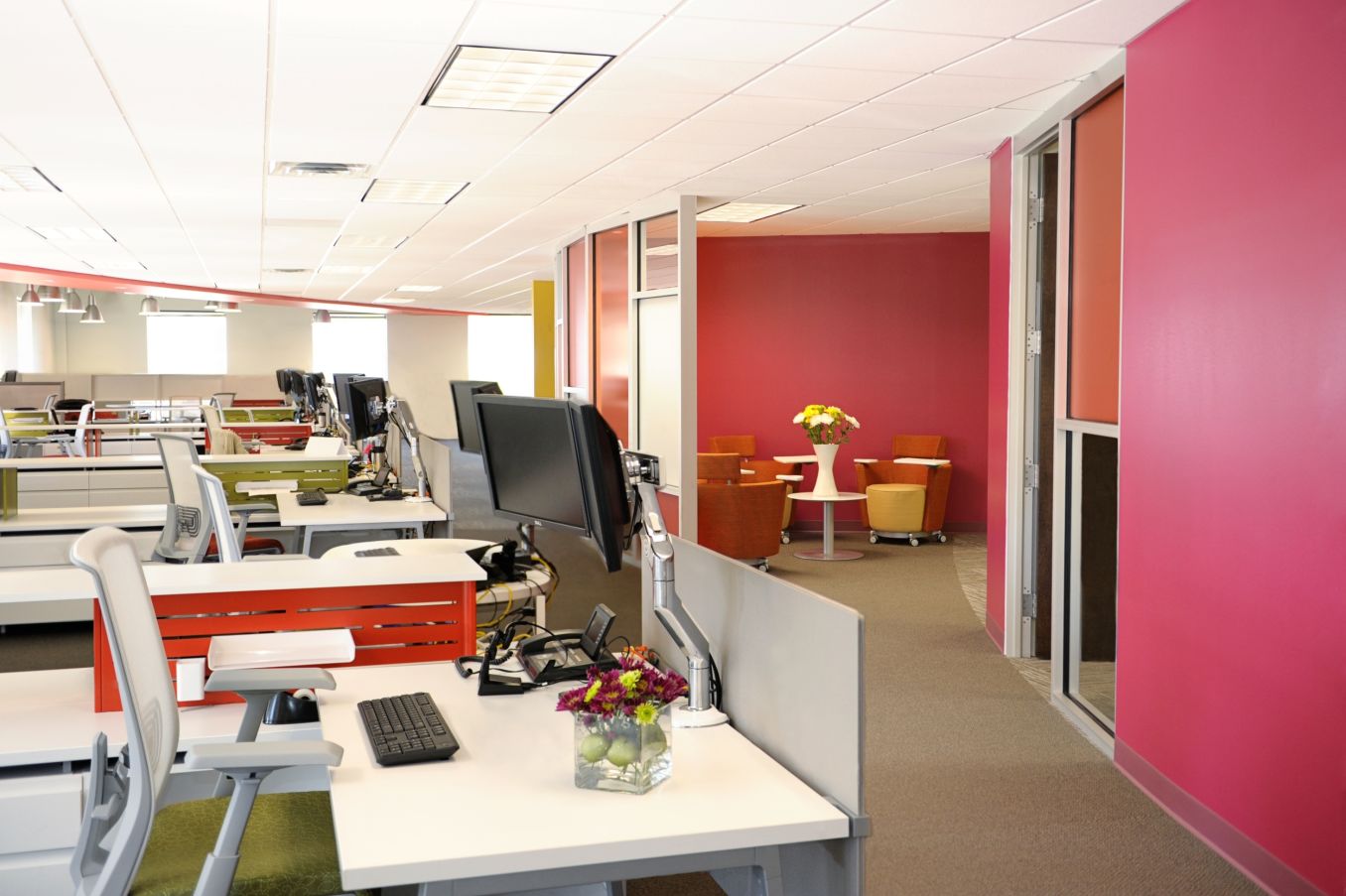 What is one thing that is unforgettable when someone walks through your space?
Permeating throughout the space is a spiral-inspired floorplan articulated with ceiling plane shifts and curved floor transitions. Each layer of the spiral embodies a new interpretation of a stylish urban landscape. The center core has the most concentrated industrial themes, complete with metallic flooring, exposed concrete deck ceiling and suspended industrial pendants. Traveling past the interior core brings one to the intermediate ring of enclosed offices and meeting rooms with glass walls of random orthogonal fenestration such that you'd encounter on downtown streets. The main bulk of the employees work in the final, outer ring of the spiral with direct access to the exterior window walls.
How does your space tell your company's story and reflect its brand?
To facilitate the concept of bringing inner-city life to the indoors, a 25' wide, 14' tall graffiti was commissioned that symbolically illustrates Kronos' nearly 40-year history and helps to capture a high-energy, edgy, start-up culture feel right as you get off the elevators.
How does your space engage your employee base?
Kronos' WorkInspired culture brand promise for employees means that the company will create an environment that 's conducive to the spirit of inspiration and innovation we hold so dear at Kronos. No matter what position the employee holds, they should feel empowered to make a difference. Work at Kronos is infused with the positive energy that keeps teams motivated, energized, and engaged (employee engagement scores at Kronos hover in the mid-80 percentile globally, far and away above industry benchmarks for global IT organizations). The Indianapolis office was purposefully designed to create a space where every employee has direct access to natural daylight and creative interpretation of interior architectural forms. This helps deliver on the WorkInspired promise to generate an employee base of motivated, enriched individuals that are energized by the environment around them, can easily communicate, collaborate, and generate ideas, and are respectful contributors to the success of the company.