The design team set out to create a space built around internal collaboration and a sense of community when approaching JEO Consulting Group's Ankeny office. An airy lobby greets visitors as they pass through the office's tall glass door. Natural light, which pours in through the expansive windows at the building's entryway and rear, fills the space, bouncing off the red accent wall which proudly displays the JEO Consulting Group logo. Navigating the space, your overall sense of excitement grows as you are intentionally funneled through a main hallway. Adorning the walls of this main stretch are photos of some of JEO's finest achievements in Iowa, which serve as a reminder of the work done, and that yet to come. You also see a series of modern meeting rooms framed in glass, several "huddle rooms" providing employees a sense of privacy and escape from the open office environment, and a communal "bar style" area where employees gather throughout the day for meals and breaks. At the end of the main hall lies the heart of the Ankeny office – the work areas. Here, individual workspaces have been laid out to promote team collaboration while allowing for greater interaction with members of other teams. Careful consideration was taken to ensure that each space fit the needs of our technical teams, while also promoting healthy work habits and ergonomics necessary in the modern work era. Visitors are often surprised to see that each desk has sit/stand functionality, and the ample amount of desk space provided for each employee. As you work your way around the building, individual workspaces continue to be the primary focus. Woven into the building are a few offices, designed to flow seamlessly into the main areas of team collaboration. As the tour of the office concludes, you end up right where you started, in a lobby where we proudly welcome you to JEO.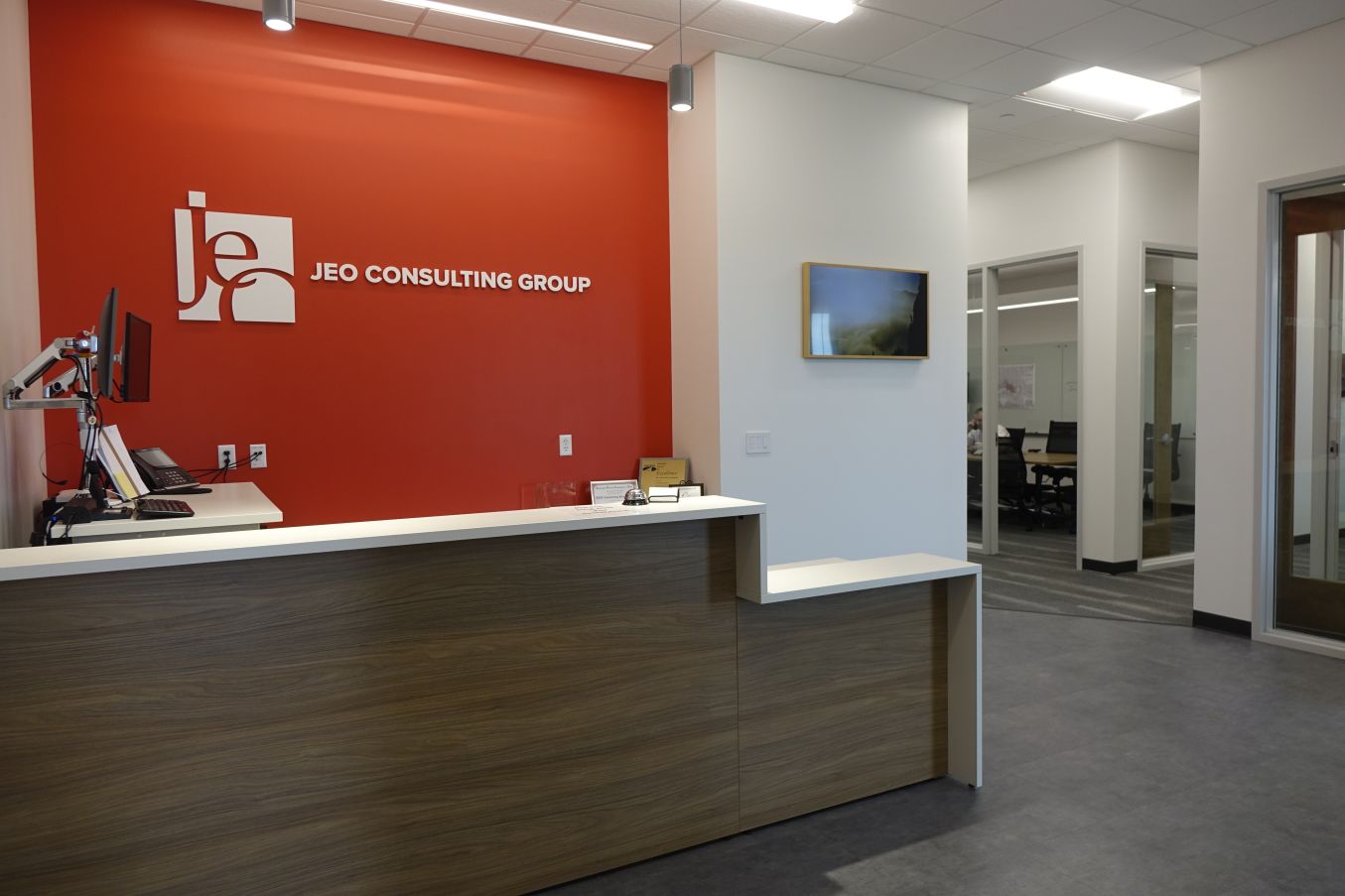 How does this space drive productivity, collaboration, and connectivity?
The intentional clockwise flow of the floorplan encourages visitors to work through the space, increasing social interactions along the way. Open work areas promote a sense of togetherness, while private "huddle rooms" give employees designated spaces to make phone calls or collaborate in a more focused setting. Additionally, each meeting room serves as a collaboration space, complete with the mandatory chalkboard and computer resolution-friendly TV.
What is one thing that is unforgettable when someone walks through your space?
For many, the most striking feature of our office is our lobby area. As soon as someone walks through the doors of our office, they are met with a tall, vibrant red wall that sparks a positive energy carried throughout the rest of the space. It makes for a great first impression that we're proud of.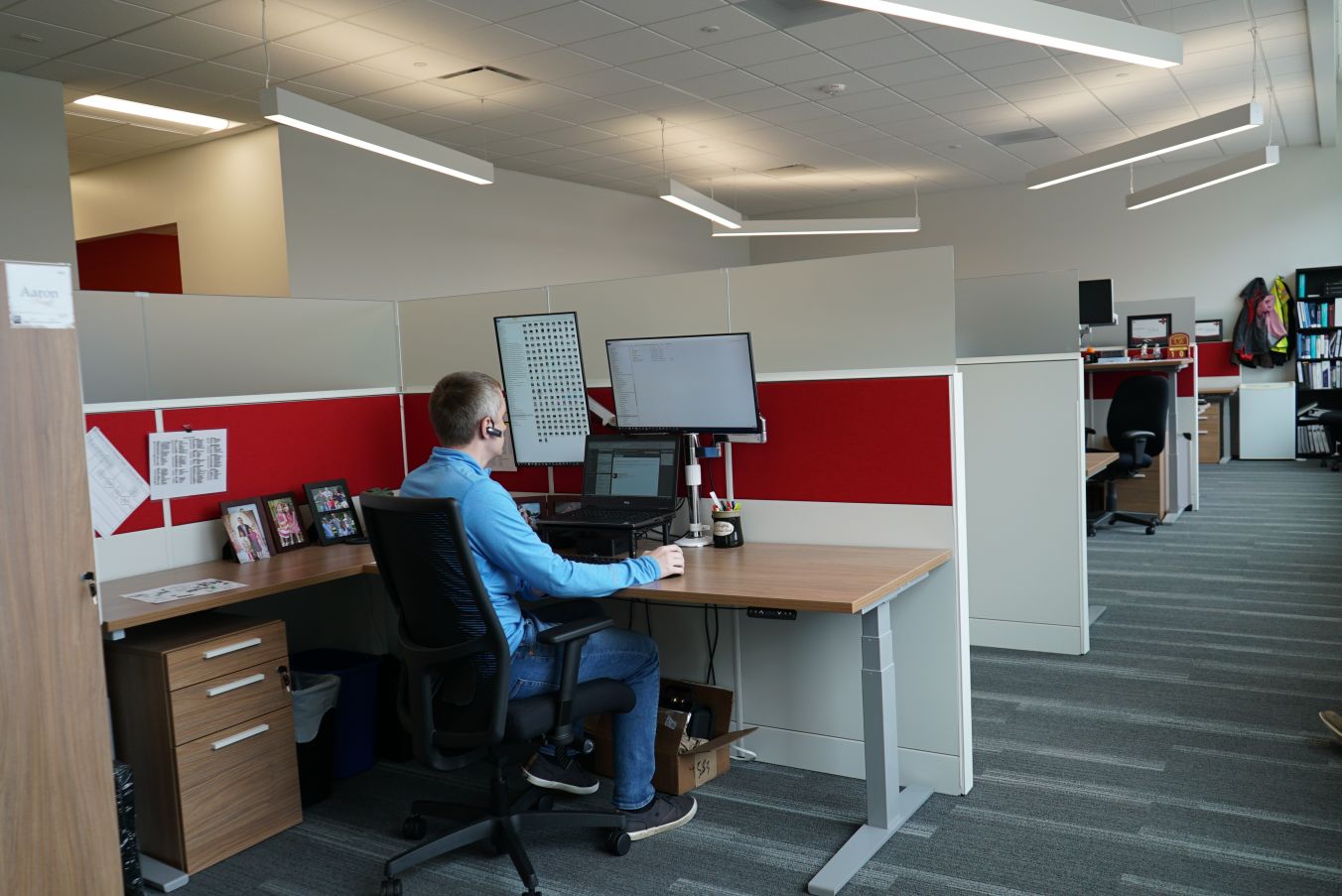 How does your space tell your company's story and reflect its brand?
JEO Consulting Group has built its brand and reputation off of a very simple idea: providing custom infrastructure solutions that best fit the needs of our clients. As a firm, we have taken this same approach to workspace and culture for our offices. This flexibility is built into the fabric of the Ankeny office. Whether you sit, stand, or move around, the office accommodates the changing work needs of our employees every day.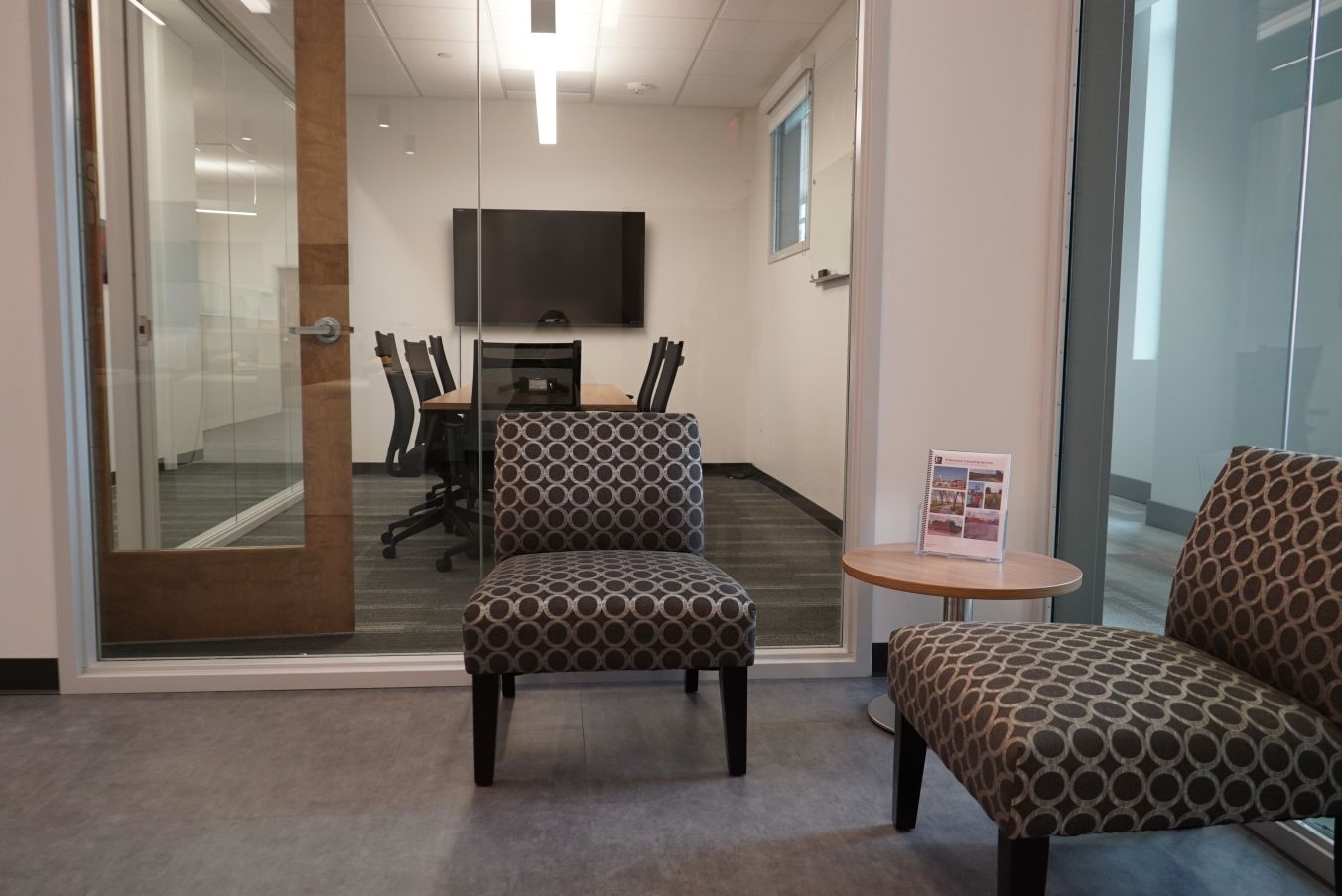 How does your space engage your employee base?
The break, or communal area, serves as the office's social hub. The tall "bar style" dining area intentionally places employees next to one another during meals in the hopes that they will interact and learn from one another, instead of spending time on their phones or eating at their desks. The space design itself also lends itself to employee engagement and interaction. By carefully balancing the benefits of social work environments and our employees' need for easily accessible private workspaces, the office generates a positive social fusion in an organic manner.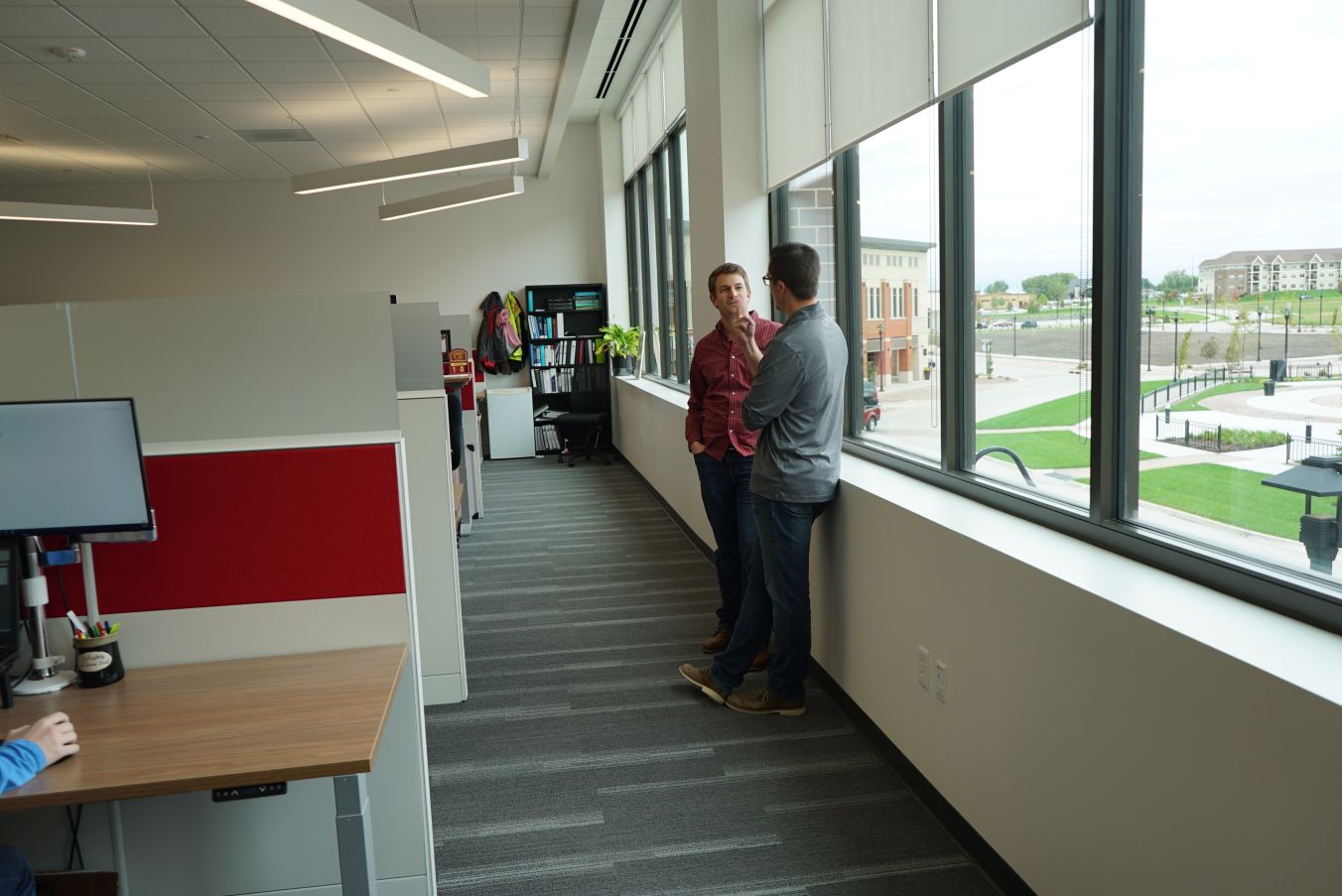 JEO Conulting