Jarden Home Brands is a subsidiary of Jarden Corporation, a leading provider of niche consumer products. We market consumer brands that enhance the quality and convenience of life's everyday events. While you may not have heard of Jarden Corporation before, you know our brands: Ball, Coleman, Crock-Pot, Mr. Coffee, and Yankee Candle.
How does this space drive productivity, collaboration, and connectivity?
When Jarden decided to move its headquarters from Daleville to Fishers, Indiana, it was the perfect moment to bring staff together. Sixty-four-inch workstations dominated our previous office, segregating employees. The environment lacked warmth and energy and was detrimental to teamwork. Our new office incorporates a variety of dynamic spaces that create a sense of energy and passion while retaining a casual, comfortable aura. The space invites and fosters open collaboration, but provides areas of respite where individuals can "get away" for focused work. An open social hub, forum area, and internal courtyard also give flexibility for meetings, be they large, small, or impromptu.
What is one thing that is unforgettable when someone walks through your space?
The architect worked with Project One Studio to create an unforgettable Ball jar wall. The jars – painted to resemble a strawberry patch – have been manufactured in Indiana since 1888. By incorporating them into the design, we are showcasing one of our best-known products while paying homage to Indiana's manufacturing and agricultural heritage. Our space also includes a kitchen, which Martha Stewart's team helped design. Because the kitchen is used to film demonstrations – and highlight our products – it had to be top-notch and camera-ready.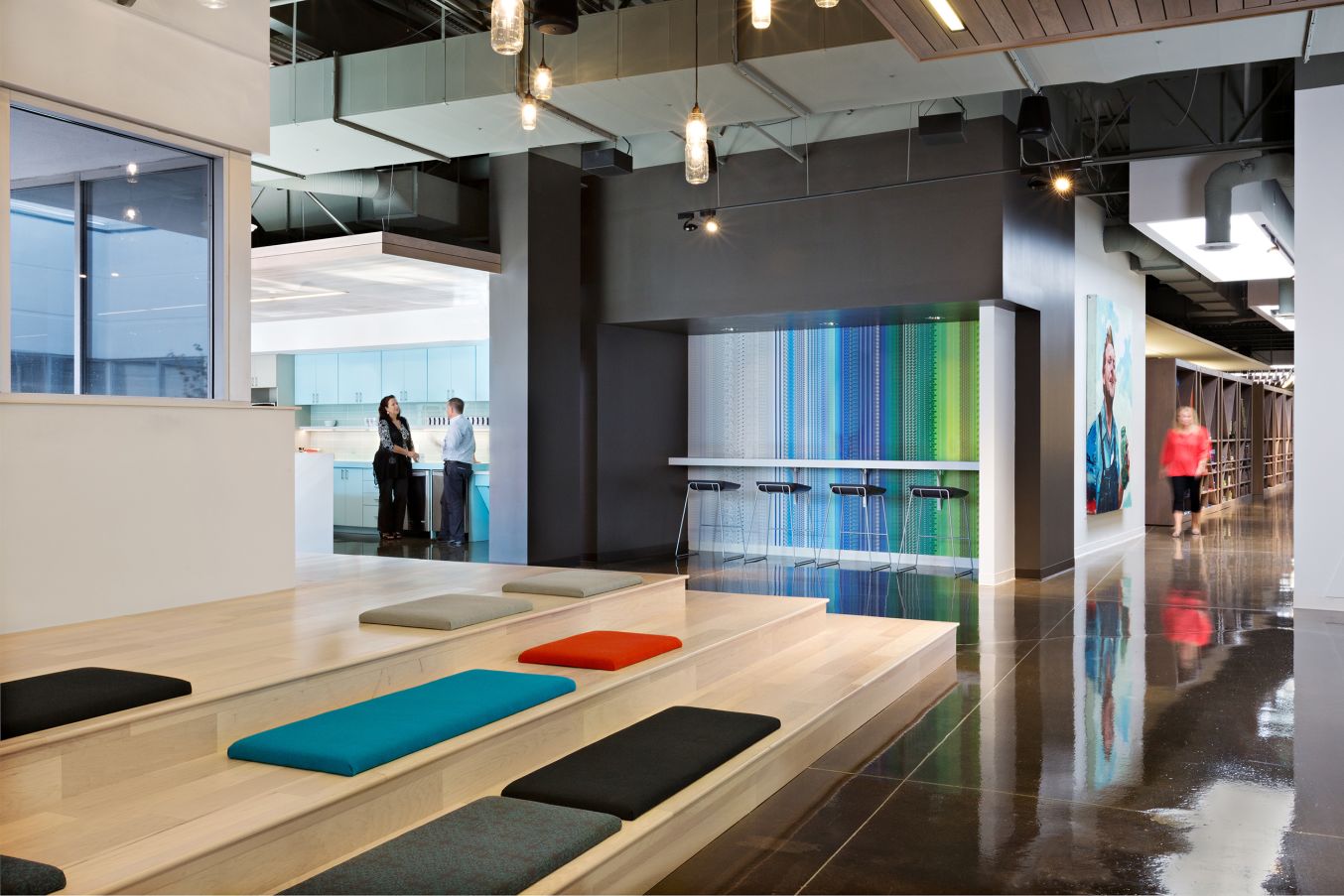 How does your space tell your company's story and reflect its brand?
Jarden was built on the values of honesty, integrity, expediency, quality, and innovation. Our new space brings out the best in our people, frees them from limitations, and inspires collaboration. The design also absorbs and returns creative and productive energy. It is a space that supports innovation and the innovative people who work within.
How does your space engage your employee base?
Approximately 70 percent of Jarden's employees work in the office, while the other 30 percent works from home. When remote workers do come into the office, there is a variety of dimensional, dynamic spaces to work, converse, and hang out. The strategic use of color and texture also add energy to the space, encouraging spontaneous and surprising moments of interaction. And to keep things casual and comfortable, we've ensured that all workspaces are bathed in natural light. Exterior ribbon windows and skylights establish an open atmosphere that remains personal to each individual employee.