When you first enter the front doors of Isos Technology, you are immediately greeted with a modern yet warm and welcoming environment. You will see a large, open space with many collaboration areas. There is a full kitchen, equipped with a fully-stocked refrigerator, coffee station, and snack pantry. A dining area resides near the kitchen where co-workers can dine or work together. There is a pool table for casual play or company tournaments, a large conference room that is equipped with state-of-the-art AV equipment, and several huddle rooms where employees can retreat to collaborate, work independently, or take personal phone calls. As you venture down the hallway, you will see individual offices that lead to an open-air working environment, with sit-to-stand desks, large flat-screen TV's, and modern artwork on the walls. Best of all, there is a "secret room" behind a faux bookcase that resides on a main hallway. As you enter the room, you are immediately transported to a different era. This secret area is decorated in a speakeasy style, with rich colors, comfortable leather chairs, and a fully-equipped wet bar, complete with ample amounts of whiskey and other libations. This area completely diverges from the modern feel of the rest of the office, allowing employees to feel like they've truly escaped work and can sit back, relax, and enjoy a drink at the end of the day.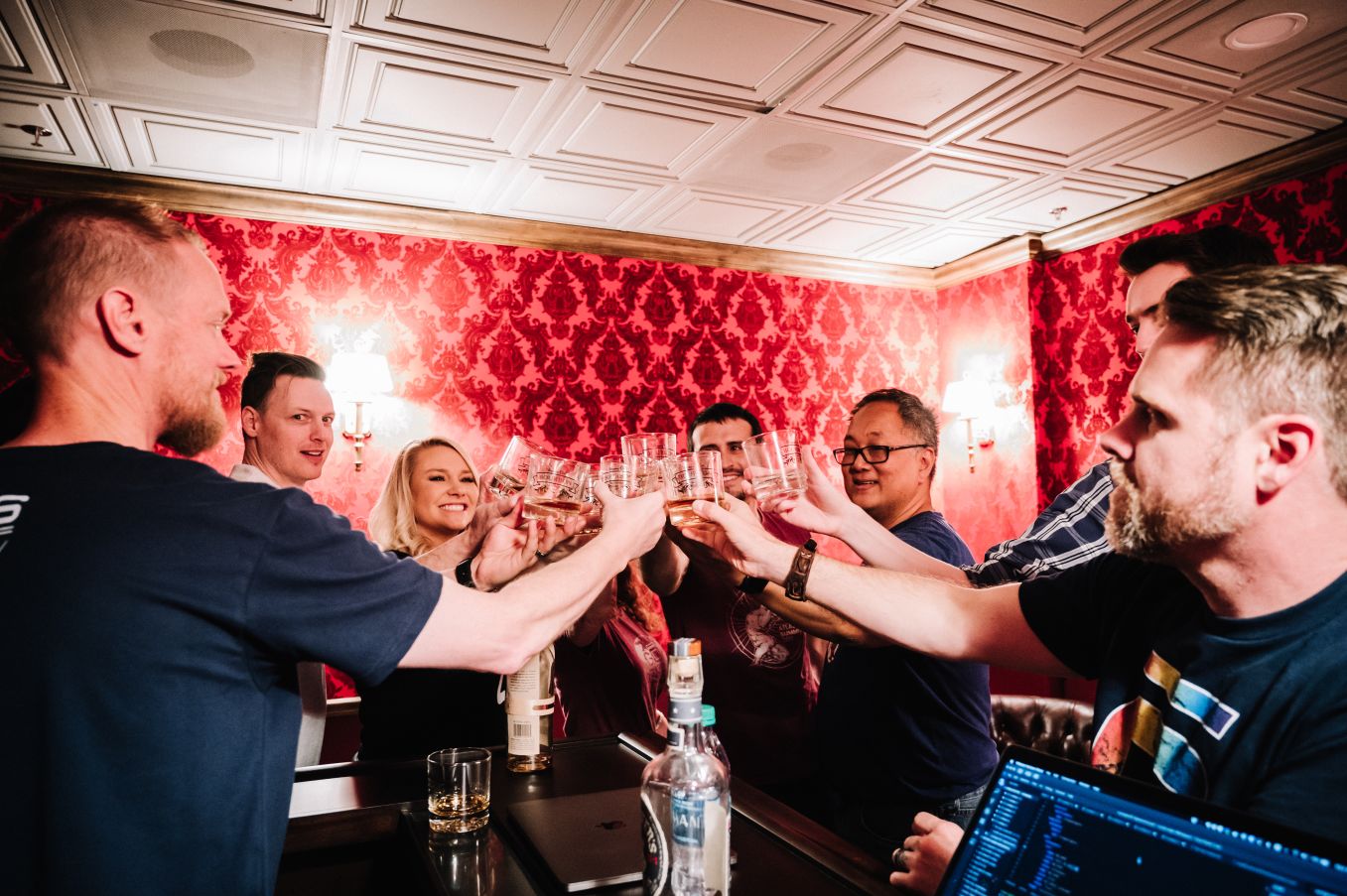 For post-workday unwinding
How does this space drive productivity, collaboration, and connectivity?
At Isos, it is virtually impossible to be unproductive, given the options employees have for where, when and how they work. We have an array of spaces, all a bit different yet designed for any type of work. Here are a few examples: -A large conference room with state-of-the-art audiovisual (AV) equipment. This room also has dynamic tables with flexible configurations for classroom, boardroom, theater, or u-shaped styles of seating. -Small huddle rooms for 3 to 4 people with video conferencing capabilities and comfortable seating. -An open-air workroom with individual stations of sit-to-stand desks, large monitors, and wall-mounted TV for video conferences with other employees or television watching. -A large dining table that seats 12, where people can eat a meal, host a working lunch, or play a board game. -Rooms for single employees who need a quiet, comfortable space to get away from the fray and focus on their work. -A secret room with a fully-stocked wet bar that transports you to a different time and place. Perfect for after-work relaxation.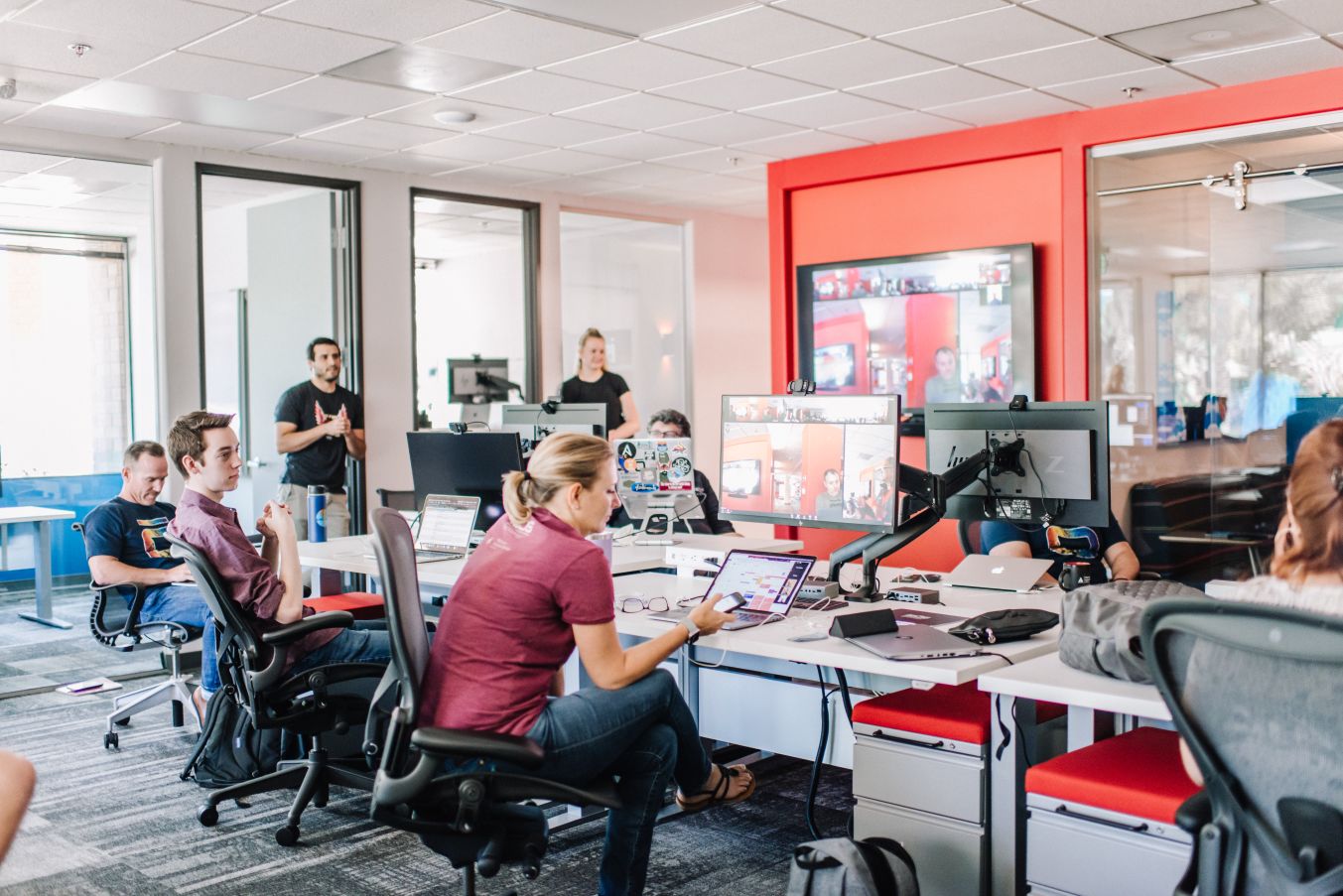 For individual work and/or collaboration
What is one thing that is unforgettable when someone walks through your space?
By far, the most unforgettable thing about Isos Technology's headquarters is the expansive common area at the front of the office. Passersby often mistake it for a café because it is warm, friendly, inviting, and decked out with fancy amenities. The kitchen boasts a fridge with glass double doors, a cold brew tap, a coffee and espresso station, board games, and just about anything you could ever want as far as snacks and drinks go. There are several tables, chairs and other seating areas for friendly chit chat and/or work collaboration. A beautiful mural adorns one of the main walls, and a pool table sits beside the kitchen area. From this area, you will also see the bookcase, which leads to our secret room. The space is truly inviting, and is part café, part pool hall and part co-working space.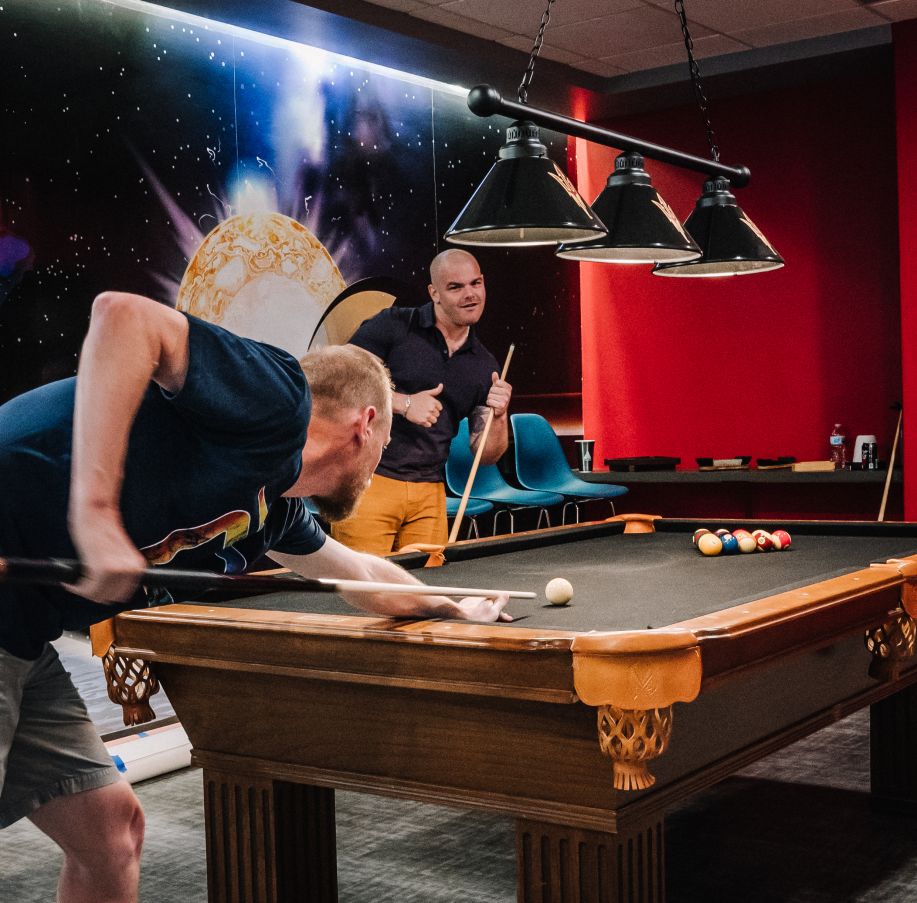 For individual games or office tourneys
How does your space tell your company's story and reflect its brand?
Isos Technology's brand is simple. We are a group of hard-working, innovative, incredibly technical problem solvers! We're also casual and humble (although it doesn't sound that way from this description :-), and we thrive on collaboration and teamwork. Our space reflects our brand because it is very informal and relaxing, but it has the necessary amenities to keep us well caffeinated and laser focused on our work. The biggest way our space reflects our company's brand is that it its technologically very "smart." There are so many TVs, computer monitors, laptops, and iPads in the office that, at times, it looks like an Apple Store. You can wander into any room and be assured that, with the click of a few buttons, you can instantaneously connect to another employee who might be working remotely. Our clients rely on us to work efficiently and quickly. We get the job done by taking advantage of the most advanced technology out there, and by continuously learning and improving upon our AV and IT setups in the office.
For meetings, working lunches, collaboration and socializing.
How does your space engage your employee base?
Here are a few ways our space increases employee engagement: -Several comfortable areas where people can focus intently on their job tasks or relax and socialize with co-workers. -Plenty of options for fun breaks...a pool table, video games, board games, or our secret room for happy hour (or for hiding away for a bit to decompress). -State-of-the-art technology for video conferencing with remote employees. -Isos ensures that employees have the most comfortable, ergonomic desks and chairs, and access to the most advanced technology for their personal workspace.
Reception Area for Guests/Common Area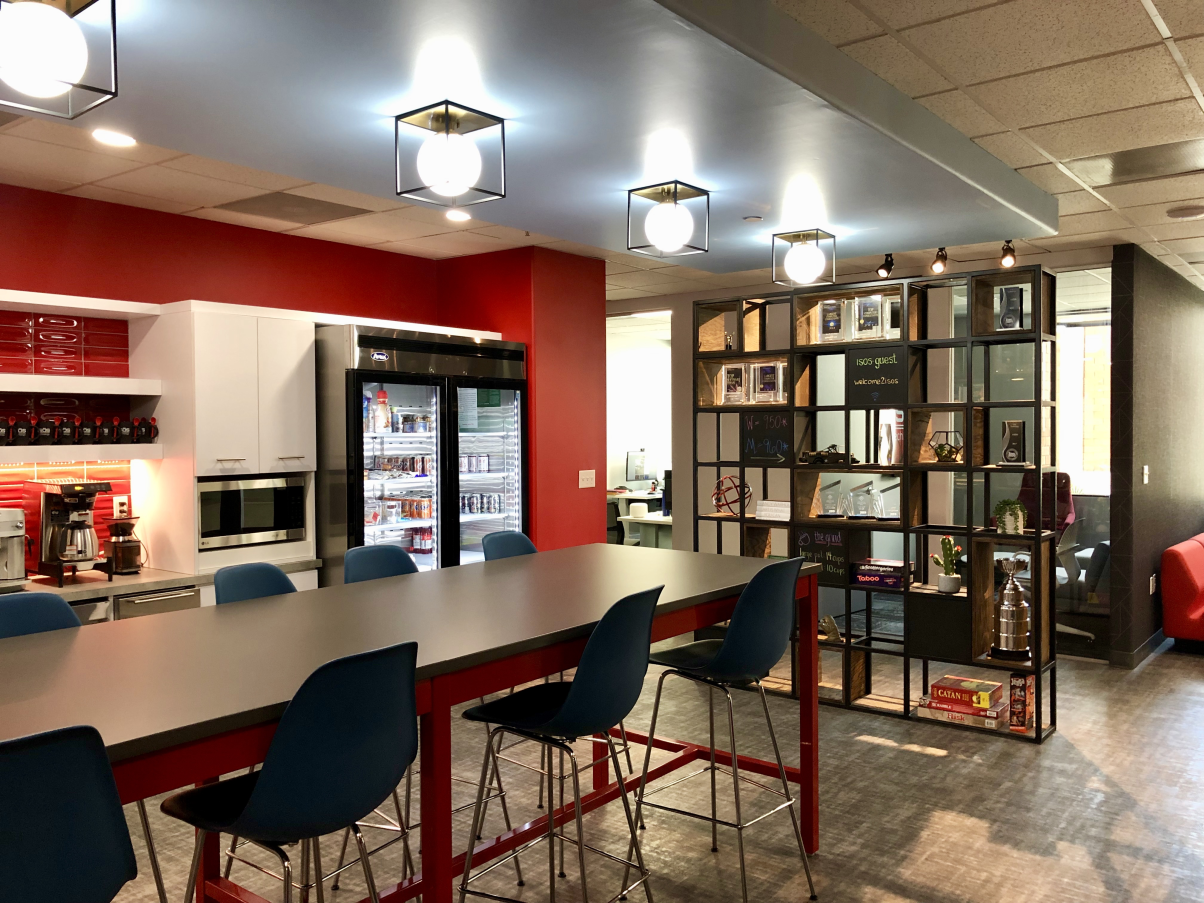 Kitchen