From design and engineering, to site development and construction, our end-to-end service offering spans the entire infrastructure construction process. We offer a full spectrum of delivery models including full engineering, procurement, and construction (EPC), turnkey, design-build, balance of plant (BOP), and subcontracting services. Our areas of specialized infrastructure construction expertise include wind, solar, thermal, petrochemical/industrial, biomass, power delivery, and the original specialty of our organization, heavy civil.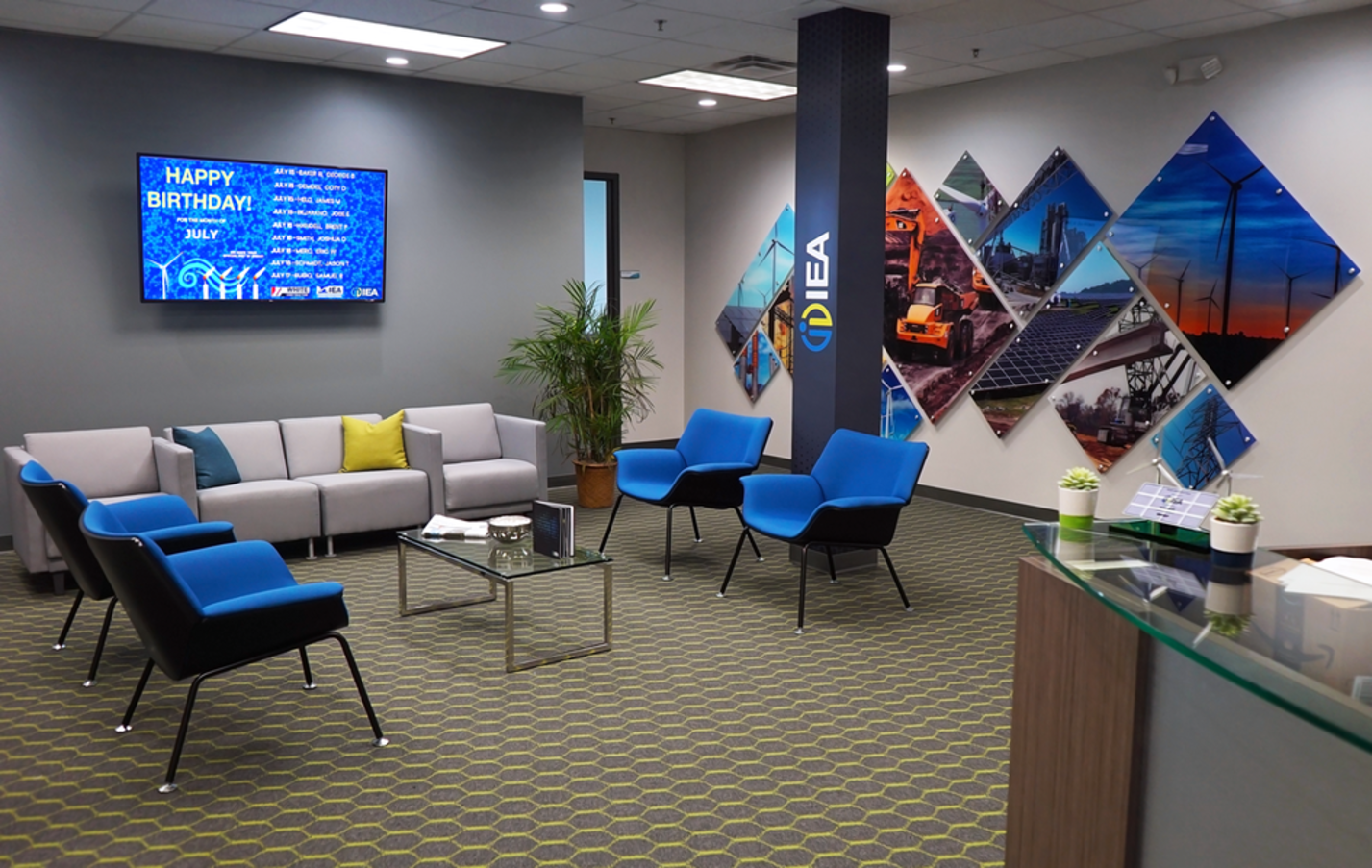 How does this space drive productivity, collaboration, and connectivity?
We have been moving more and more towards technology to get the job done every day. Our space boasts dual monitors connected wirelessly to the computers in each office space and 90-inch displays in our conference rooms so we always get the full picture of what we 're seeing. We are easily able to collaborate with our other office locations through our internal video call system. This allows for more accurate conveyance of ideas and a connectivity to one another we previously did not have. Our open concept floor plan and semi-frosted glass office walls (accomplished by ReproGraphix) welcome employees across departments to collaborate on projects in a way that could not have been accomplished otherwise. We believe all of these elements combined have increased the productivity of our work force like never before.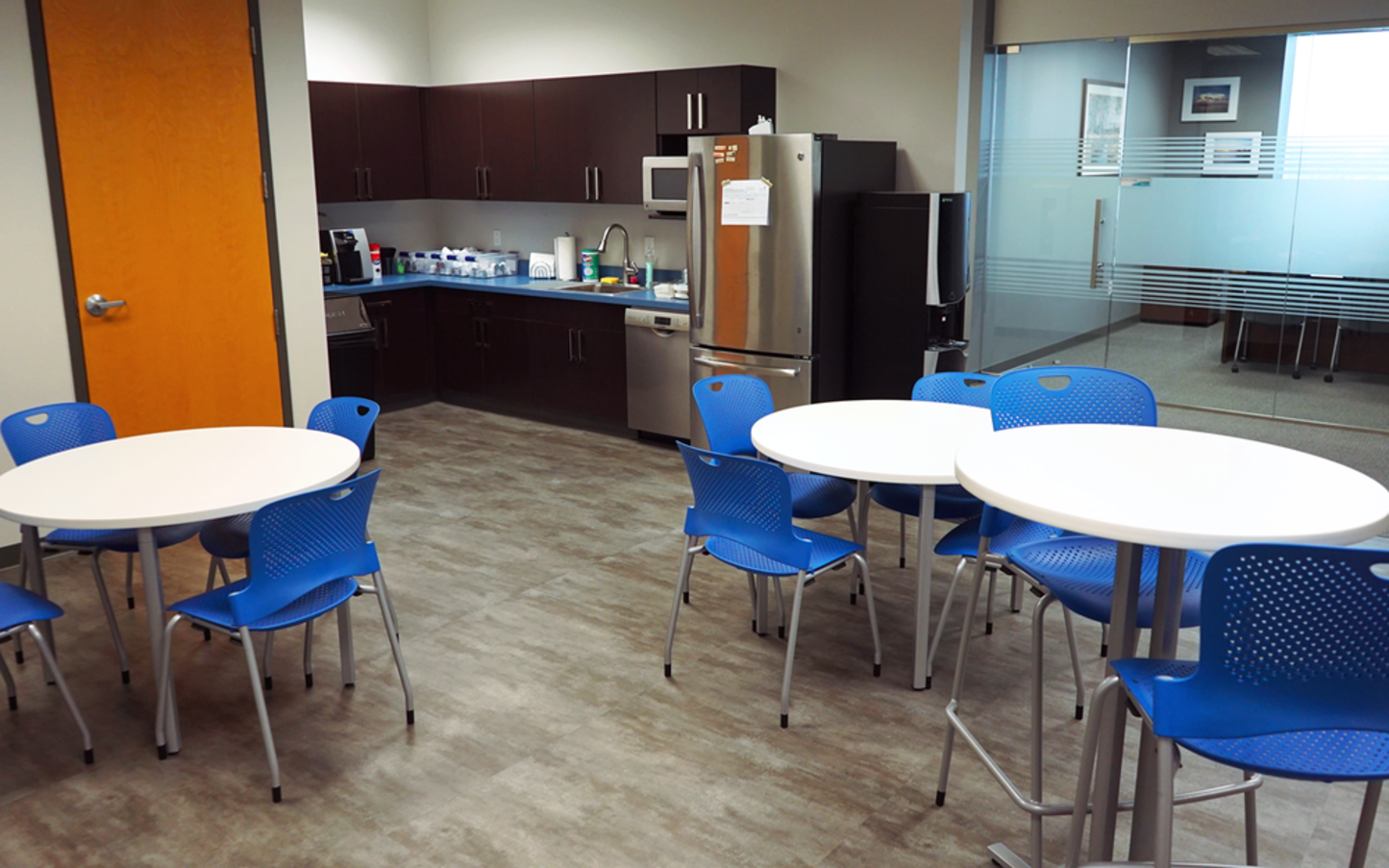 What is one thing that is unforgettable when someone walks through your space?
Visitors typically comment on our space 's welcoming atmosphere, its openness, and its sleekness. We pride our space on making visitors feel welcome while also showing that we can both have fun and get any job done. Our company story and branding colors influenced the bulk of our design choices when creating the space. We started as a much smaller operation all the way back in 1947 and have grown to heights that our founders never could have imagined. We believe that is because of the risks we have taken and the trust we have put into our team. Our awards, images of past projects, and photos of large milestones are placed throughout the office to illustrate how far we 've come and the amazing milestones we 've hit along the way. We wanted to show that we have grown to be a bigger player in our industry but haven 't lost touch of our roots, thus keeping the space a welcoming place to be.
How does your space tell your company's story and reflect its brand?
In the main lobby area, visitors are drawn to the large display of photos from past projects on the far wall. These photos represent the work that we 've done and point to how we intend to move forward. Our IEA colors are used throughout the office to bring our brand home in a way that comes off as consistent and sleek. The IEA blue and green provide both a light and dark color to play with in the space, illustrating our casual atmosphere and professionalism that we put into our work. The seating area in front of our CEO 's office tells the story of when our company went public on the Nasdaq stock market, showing images of when our executive leadership team ventured to NYC to ring the closing bell. We also provide small picture books at each seating area with more images of the same day in our company history. That moment in particular shows how far we have come as an organization in the past 70 years since the company started. All of those elements together tell our company story to us and to all of our visitors every day.
How does your space engage your employee base?
Our open concept break room areas provide great meeting spaces that are away from the typical meeting rooms. Having that space to take a break from work for a meal or to continue to work in a new environment with folks in different departments provides a refreshing way for us to collaborate on projects big or small. We also have the ability to connect to our other office locations via our internal video chat service and plenty of available spaces with the technology to accommodate these meetings. When we want to all get together for fun office events, we don 't have to go elsewhere and rent a separate space to gather. This makes hosting events for the office easier for everyone and therefore more likely to happen more often, kicking up employee engagement to higher than before.