Hoosier Energy is a non-profit generation and transmission cooperative (G&T) created in 1949 to provide wholesale power and services to its member distribution cooperatives. Headquartered in Bloomington, Indiana, the G&T now serves 18 rural electric member systems in southern and central Indiana and southeastern Illinois.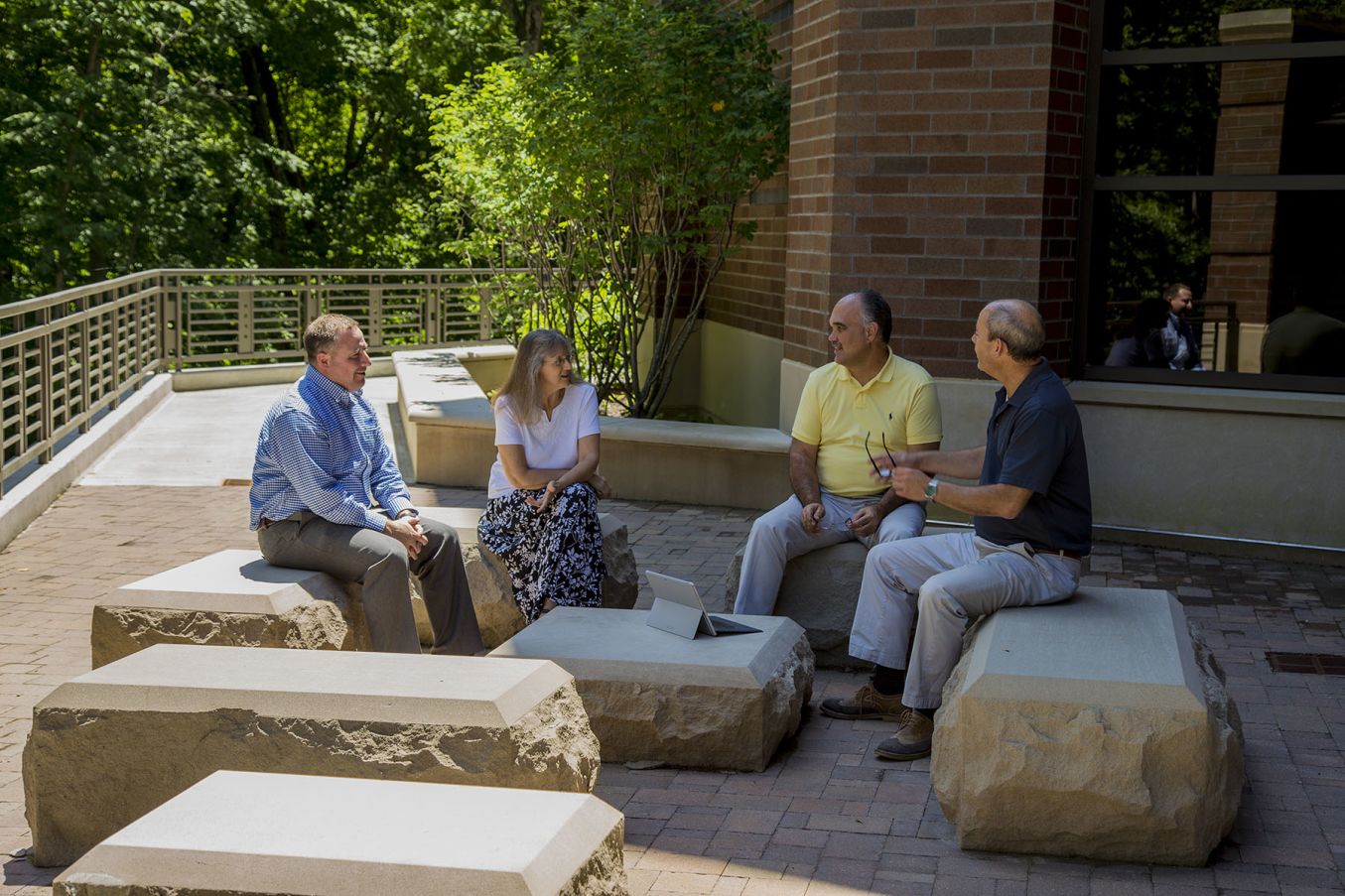 How does this space drive productivity, collaboration, and connectivity?
As a LEED Gold facility, the building has many physical features that maximize efficiency – rain gardens to control water runoff in the parking lot, geothermal heating and cooling and LED lighting that uses half the energy per square foot of conventional buildings, windows that promote daylight harvesting, roof reflectivity and many, many other energy-saving features. But the facility is more than just an energy efficient building. The building's form, function and design combine to create a collaborative work environment. Every aspect of it promotes collaboration, connectedness and innovation. Conference rooms, restrooms and water/coffee stations are clustered in the middle of each floor, encouraging natural interaction and unplanned collaboration. Office spaces and open workstations maximize the use of the windows, bringing the outdoors in. Meeting rooms are centrally located and vary in size to accommodate small-group get-togethers or larger collaboration areas that provide extensive video and audio capabilities. Study and reflection are encouraged to maintain a healthy mental attitude and reduce stress. The fitness room opens out onto a nearby hiking trail that leads to a shelter and floating dock on the lake that adjoins the property. A deck off the cafeteria and sitting areas on the east side of building offer a campus-like setting for employees to work from their laptops.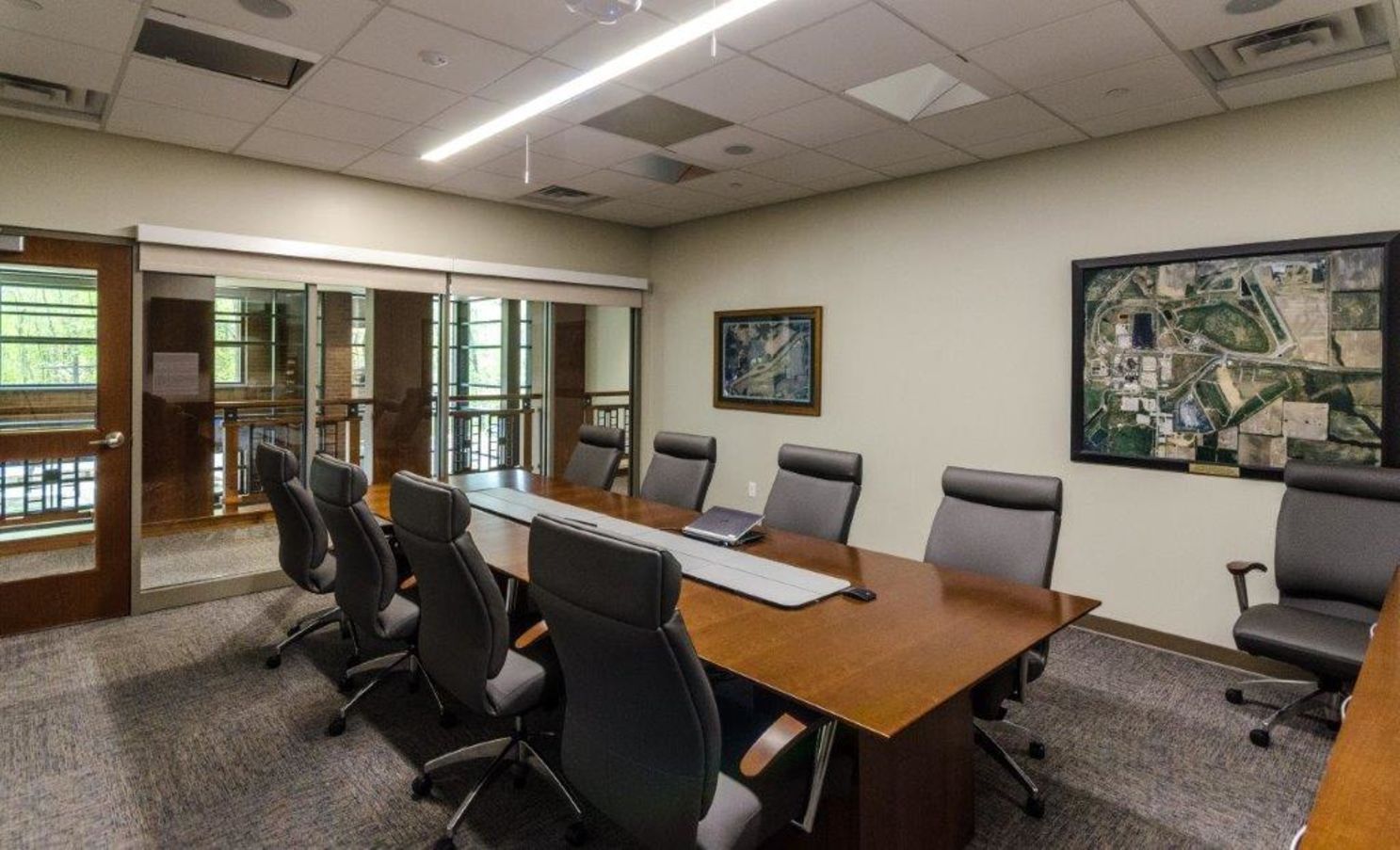 What is one thing that is unforgettable when someone walks through your space?
Let there be light! Sustainability with minimal environmental impact was a key design consideration. Walk into Hoosier Energy's new headquarters in Bloomington and you are immediately struck by an open, airy feel that invites Mother Nature to accompany you on your visit. Look around and you will quickly notice subtle, elegant uses of natural elements – Indiana limestone, reclaimed wood from the building's site and two-story windows that harvest daylight. All reflect the organization's desire to co-exist peaceably within the 10-acre surroundings. As a power supplier, Hoosier Energy is committed to providing affordable, reliable energy and that mindset naturally extends to practicing energy conservation throughout its facility.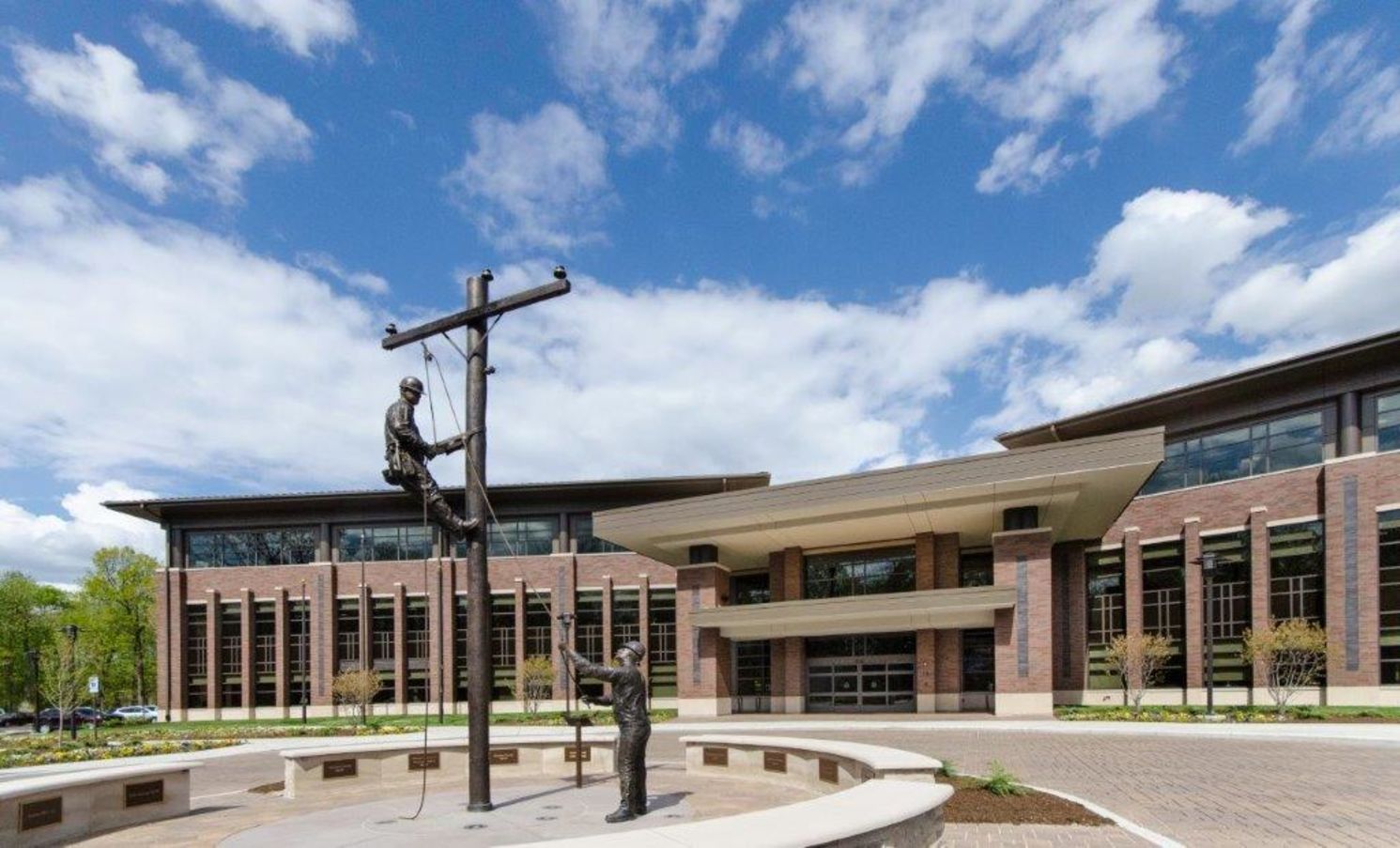 How does your space tell your company's story and reflect its brand?
To Hoosier Energy, branding means more than just putting its logo on the building facade or corporate documents. "Commitment Stands Tall" – the bronze statue that graces the circular entrance to Hoosier Energy – reminds all who enter of the power supplier's mission to work together with member systems to ensure a reliable, affordable power supply. Upon entering the building, the lobby is the first opportunity to share Hoosier Energy's brand story and how the cooperative business model differentiates Hoosier Energy from other power providers. The lobby wall, the focal point of entry, comes to life, using a mix of slow-motion video and still photography to tell the Hoosier Energy story. Print and digital imagery throughout the building reflect the brand – demonstrating how Hoosier Energy values all of its assets, from its people to its facilities. An interactive table in the lobby adds to the brand awareness, containing content on both Hoosier Energy and its member systems/owners. Users of the interactive table can swipe content such as the Annual Report or a photo to their iPads for later use. Just past the lobby is the heritage wall, complete with genuine artifacts mounted in the open. A historical mural with video history footage tells the story of how our past defines our future. Twenty large photo canvases placed throughout the facility represent various assets, including people, power plants and transmission lines. Complementing the large canvases are branded mission and vision statements found in conference rooms, offices and hallways – meeting not only the needs of the space but also the serving as a reminder of the values of the organization.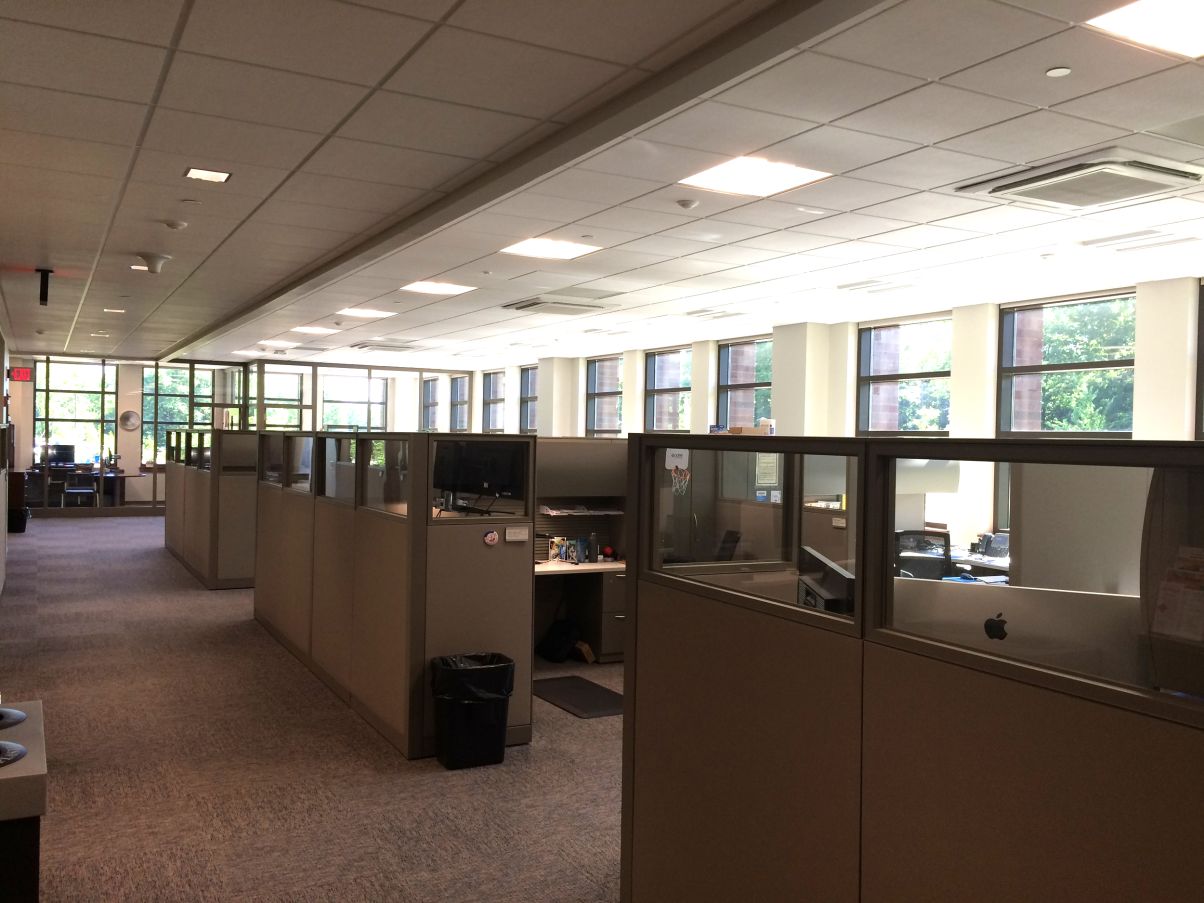 How does your space engage your employee base?
Because the building features many elements that promote connectivity – open air environment, employees get together more to collaborate on business issues. The space naturally promotes a continuous learning environment. Members participating in the Cooperative Academy Leadership Program offered through Hoosier Energy consistently remark how both the indoor and outdoor space promote idea creation, productivity and learning.