FlashPoint delivers creative and measurable solutions that make leaders, teams, and organizations more effective.
How does this space drive productivity, collaboration, and connectivity?
A key part of our design, our new office drives productivity, collaboration, and connectivity through the variety of functional spaces. Each person at FlashPoint has a dedicated space to work on focused items as well as a production room for shared projects, printing, and assembling materials. We designed the individual workspaces to provide a balance between privacy and collaboration, something that is often tricky in open office environments. Individual spaces are organized by team, allowing easy access to others for collaboration. We also have multiple spaces dedicated specifically for collaboration, including a small huddle room and a large meeting room that both foster team project work. We've also provided dedicated space for employees from our other offices to work when visiting. FlashPoint employees can be found regularly enjoying lunch together, planning how to best serve our clients in meeting rooms, or working creatively in a lounge area to brainstorm and problem-solve together.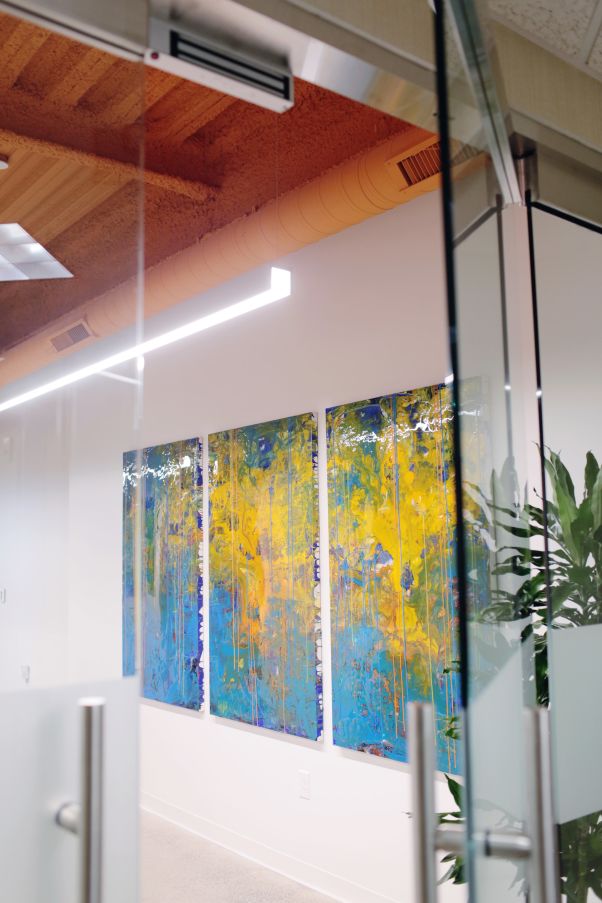 What is one thing that is unforgettable when someone walks through your space?
The most unforgettable feature of our space is the collection of unique art pieces that are featured throughout the office. Each piece was commissioned from a local artist, Jason Zickler. These works bring inspiration and energy to our space with dynamic colors (many in our brand palette!) and movement.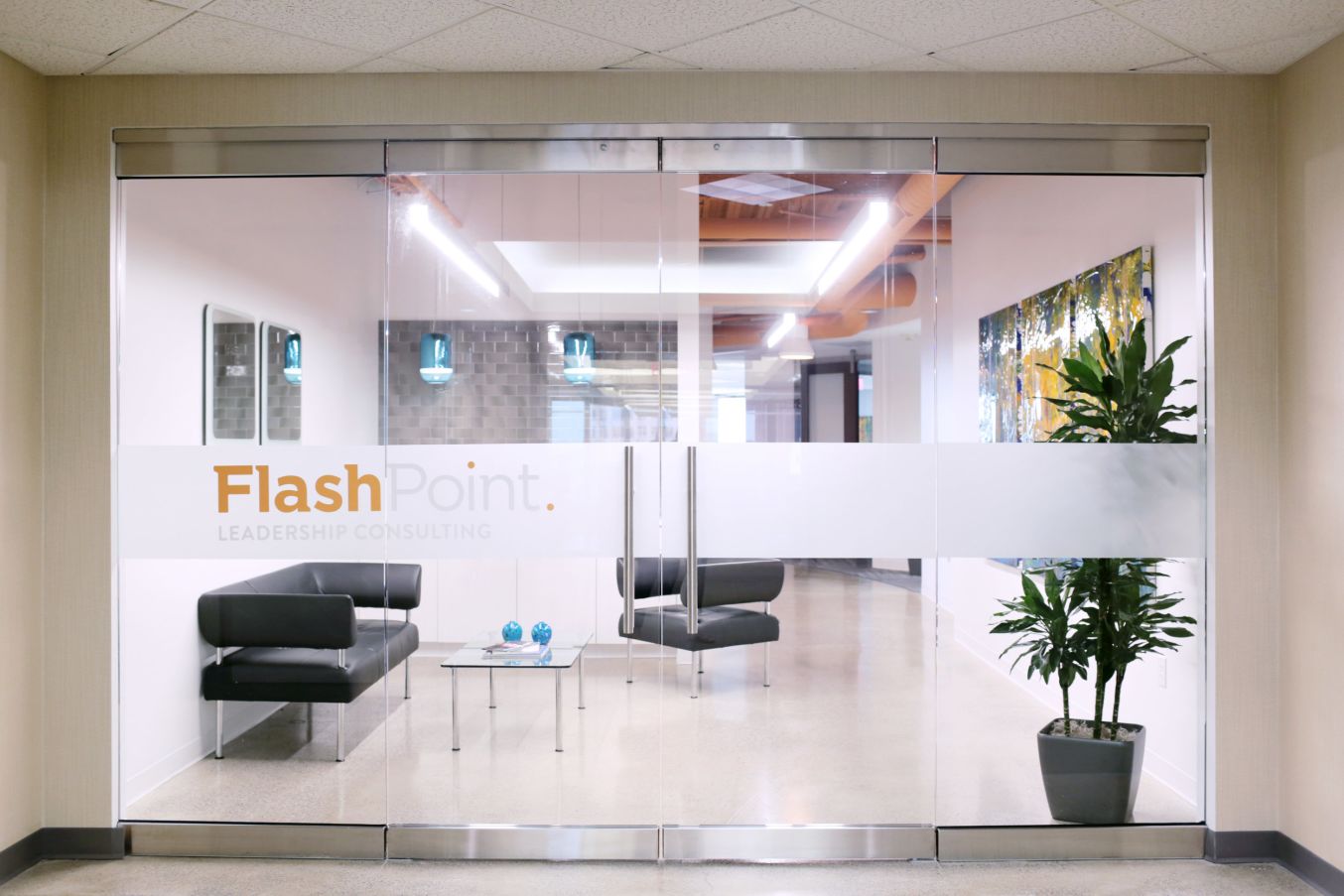 How does your space tell your company's story and reflect its brand?
This space speaks to FlashPoint's brand by doing so much more than just using our colors to show our brand story. We are dynamic, vibrant, lovers of all things local, hardworking, and collaborative. From the pieces of art to the colors of the walls, the space shows that FlashPoint is passionate about the work we do and inspired in carrying out our vision. Our vision is to create meaningful workplaces where everyone can achieve their fullest potential, and that includes our own workplace. The local art featured showcases our connection to the Indianapolis area where FlashPoint was founded in 2002. We hone our craft every day by reading books from the shared bookshelves and materials from our production room. Finally, the variety of team space for meetings and collaborative work underlines one of FlashPoint's core values: "We work as a team (for real)!" Whether employees are based in Indianapolis, IN; Sonoma, CA; Phoenix, AZ; or elsewhere, they are integrated with other team members to deliver to our clients measurable and creative solutions to their problems.
How does your space engage your employee base?
Our space offers many ways for employees to engage, from areas for employees to connect and socialize, including our lounge area and eat-in kitchen, to spaces to be physically fit and refresh mentally, to spaces to collaborate to better serve our clients. Our workplace has the buzz of a busy workshop that keeps our employees coming back enthusiastically day after day.