enVista is a leading global supply chain consulting and IT services firm, delivering innovative solutions that improve profitability, enhance customer service and reduce waste from source to consumption.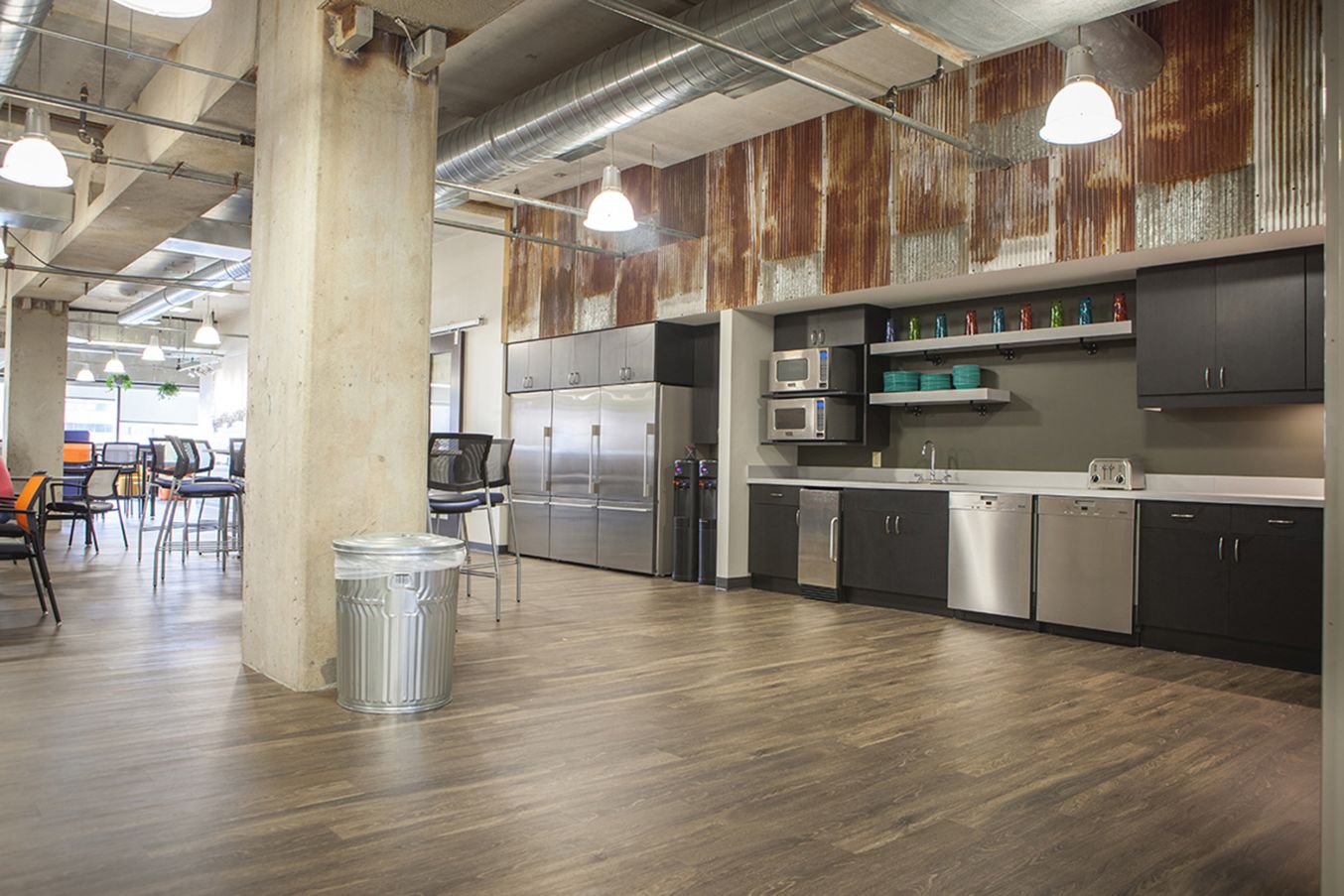 How does this space drive productivity, collaboration, and connectivity?
enVista's office is an open floor plan with a single office for the Human Capital Director. Every other employee from new hire to CEO sits in a bench-style workstation with no partitions separating them from coworkers. This floor plan and desk style has literally broken down the walls between employees and allowed for quicker, on-demand communication that enhances productivity. Teams can integrate work conversations into their operation without having to stop the flow of work. Managers can hear how their employees are working through open issues and offer just-in-time coaching. Further, our associates are better friends due to the increased ability to have conversations with people you work with. Because there is variety to our work there are also a dozen quiet work rooms that employees can utilize at times when they need to focus in a quieter environment and work individually, and ten conference rooms that can accommodate team meetings. As our employee's work environment needs change throughout the day, our office has a solution to enable their productivity and collaboration.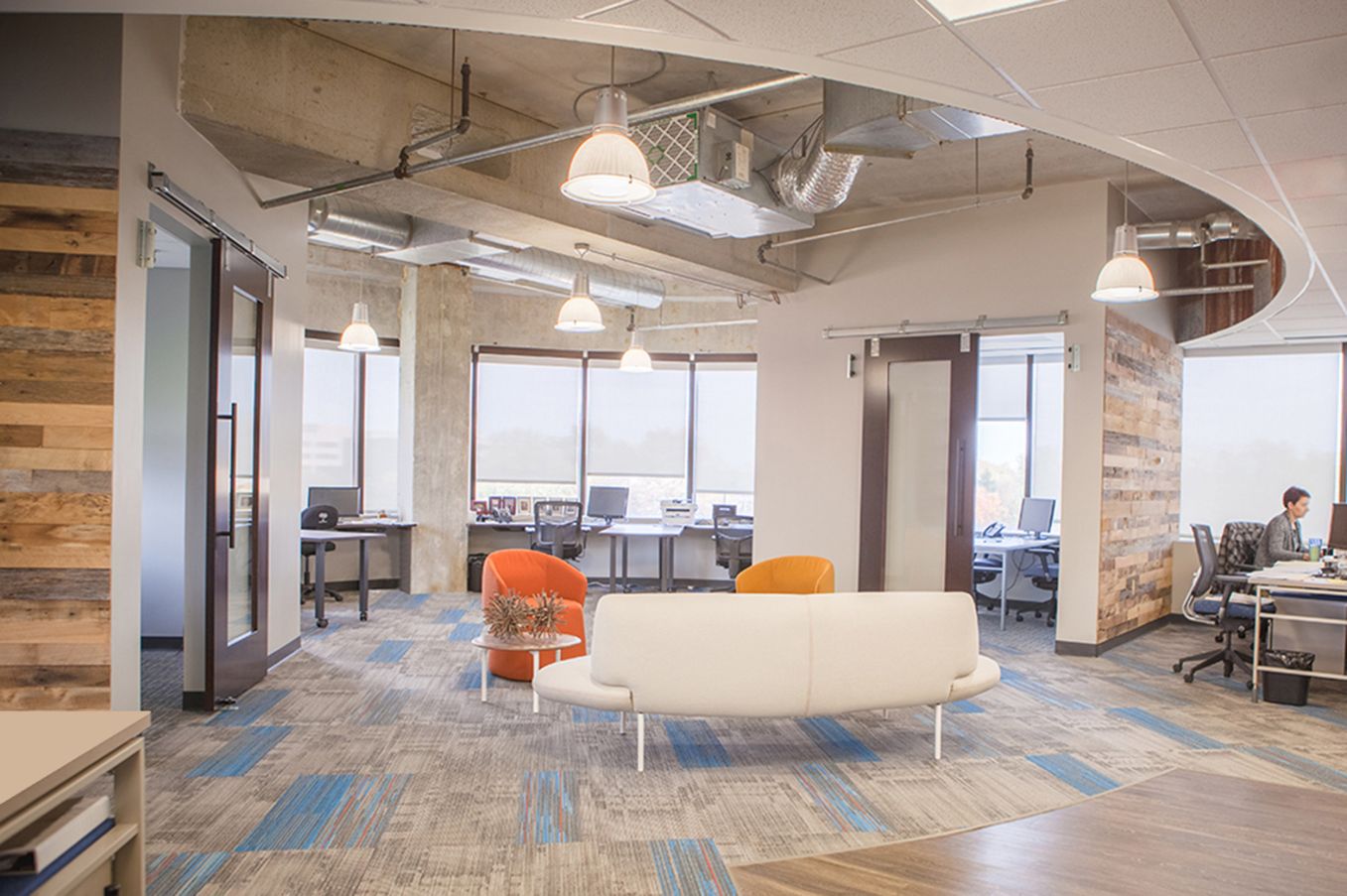 What is one thing that is unforgettable when someone walks through your space?
The backdrop for enVista's lobby is made of two walls of a shipping container, hand-painted with enVista's logo. As the first thing you see when you enter our space, it makes for a dramatic first impression of the overall industrial look and feel of the space and effectively communicates our line of work. Everyone has seen a shipping container, but you probably haven't seen one inside an office.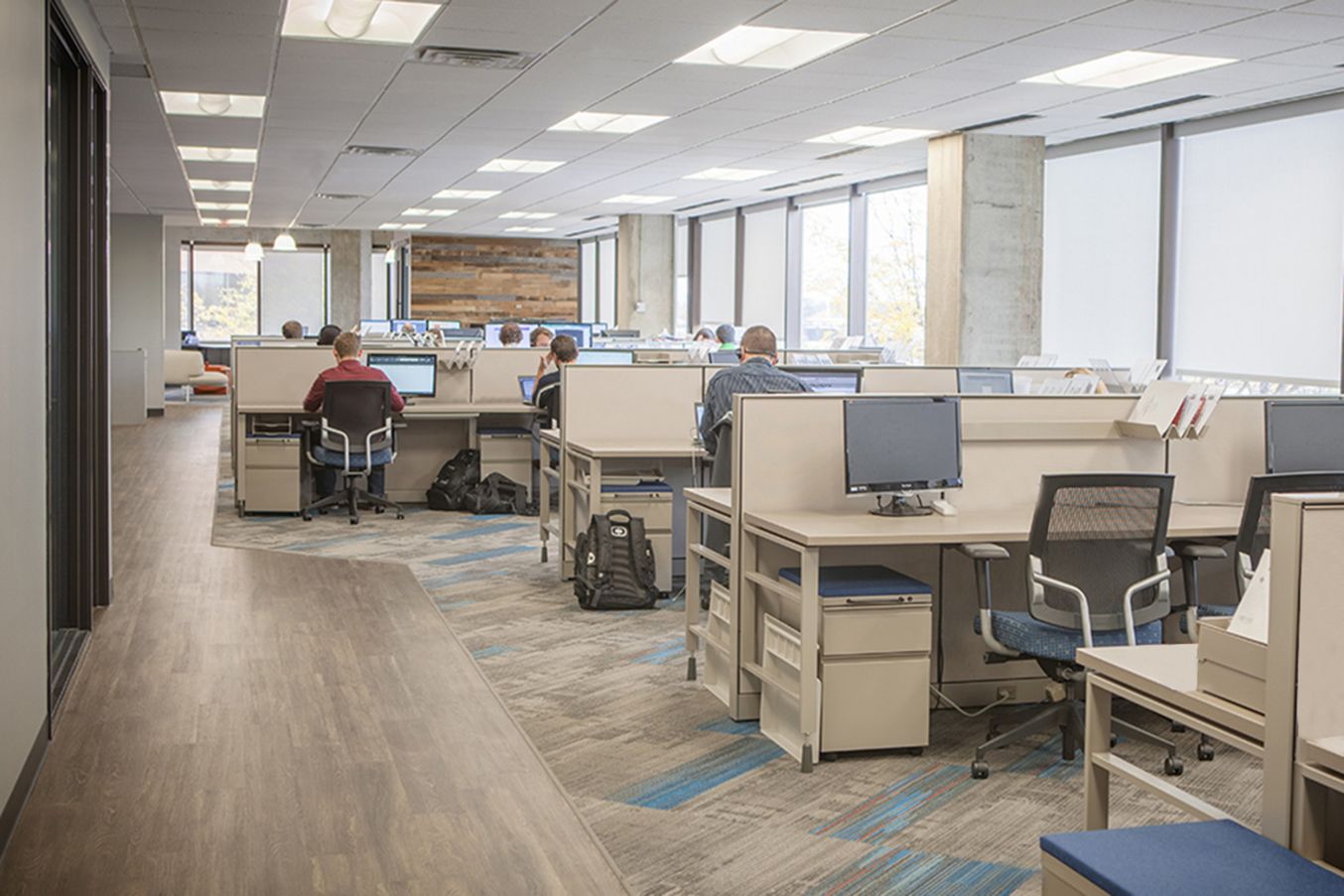 How does your space tell your company's story and reflect its brand?
Our consulting firm was founded by two friends with a vision providing innovative supply chain and IT solutions that enable enterprise commerce. enVista continues to be very entrepreneurial and innovative and our modern office design reflects this cutting-edge spirit. From the exposed cement pillars, to rusted tin bulk heads, to the reclaimed wood panel walls, our office space feels new and distinct from others much like the way we distinguish ourselves from our competitors by providing new and creative solutions. As a services firm, we recognize that building relationships is critical to our success whether that be with our employees or our clients. With that in mind, our office was designed to enable building relationships. You'll find many features in our office that add a warmness which make you feel at home – things like framed artwork, live plants, and wood accents. We have a full kitchen with space and seating that is reminiscent of a coffee shop and invites you to share coffee or a meal with coworkers. And of course, the open floor plan encourages connecting with others.
How does your space engage your employee base?
Our office is oval-shaped with most of the entire outer edge being windows. Our rows of desks are situated along the window edge which makes use of natural lighting to enhance the mood and happiness of our associates. Our space is also flexible to meet the demands of our jobs by allowing people space to be alone, space to collaborate, and space to relax. Throughout our space, you'll find couches and upholstered chairs for taking breaks or getting comfortable. Our large café area with 20ft high exposed ceilings is a great place to step away from your desk for a change of scenery as are the 22 work rooms and conference rooms available for our employees. We frequently receive compliments from candidates and current employees about the quality of our space. The people who get to work here each day have a sense of pride and those that interview look forward to the opportunity.