Element Three is an Indianapolis-based modern marketing agency that specializes in a "Business First" approach to creating discernible brands. Founded in 2006, the agency works with industry-leading brands that want to meet aggressive business goals and crush their competition. The company is a HubSpot Platinum Certified Partner Agency, was ranked in the 2014 and 2015 Inc 5000, and was considered a "Fastest Growing Company" by the Indiana Business Journal in 2014 and 2015. Work has been featured in Fast Company and won National Addys.
How does this space drive productivity, collaboration, and connectivity?
The most exciting aspect of leading Element Three is the diversity of people it takes to be successful at modern marketing. We need brilliant designers who can think big and free, we need top technical minds to do development, we need business strategists who can craft complex marketing plans – and all of these different people require different environments to do their best work. When we were designing our space, we knew that we would need to accommodate quiet spaces for our introverts and communal spaces for our extroverts. We needed small meeting spaces and big areas where client meetings and collaboration could occur. We occupy two floors and they have very different personalities to help create environments that help people do their best work. The top floor is very quiet, and it has small meeting areas and a larger flex area that can hold up to 50 people or can be configured to allow for private work spaces. The lower floor is where the commotion takes place. Most of our client meetings take place on this floor, along with the executive offices and the kitchen. This is definitely the floor that is more likely to "hummm" throughout the day. And in some late afternoons, the ping pong table is in use. We have adopted an open concept floor plan to help us collaborate throughout the day – and to help form relationships with one another. People who like each other do better work together.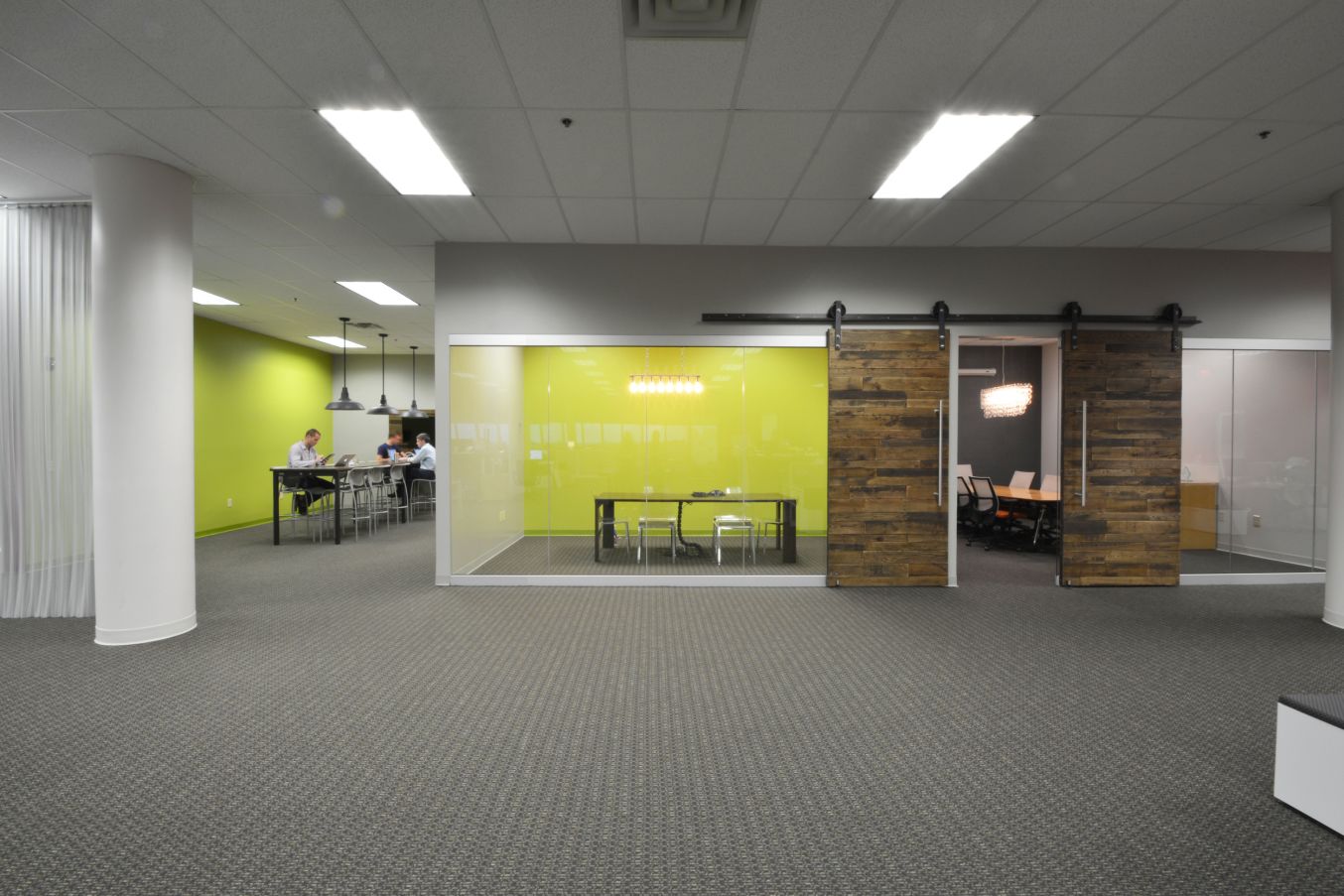 What is one thing that is unforgettable when someone walks through your space?
People respond very positively to the energy that is in our space. We have worked hard to create privacy without losing the line of sight that showcases the best parts of our building. We are in the Pyramids – two (2) sides of our space is floor-to-ceiling windows, which creates a very open and vibrant atmosphere. Strategic use of color, glass walls, and chain-link dividers also help assist with this feeling of openness and creative energy. Our custom-made barn doors and collaboration table are also great conversation starters.
How does your space tell your company's story and reflect its brand?
Our values are the soul of the company, and we have worked to integrate them into our space to hold us accountable to living them every day – and to showcase them to visitors who come and want to know what we are about. As an example: Business First is a key value of Element Three. We have turned an entire wall into a chalkboard where we track the quarterly business goals and publish our progress to the entire company. Our space also aligns well with our company "WHY," which is to Tell Bold Stories. Our space is constantly evolving as we create new ways to tell our own bold story and to encourage our employees to tell theirs. We even feature artwork created by each employee to encourage them to showcase their own bold stories.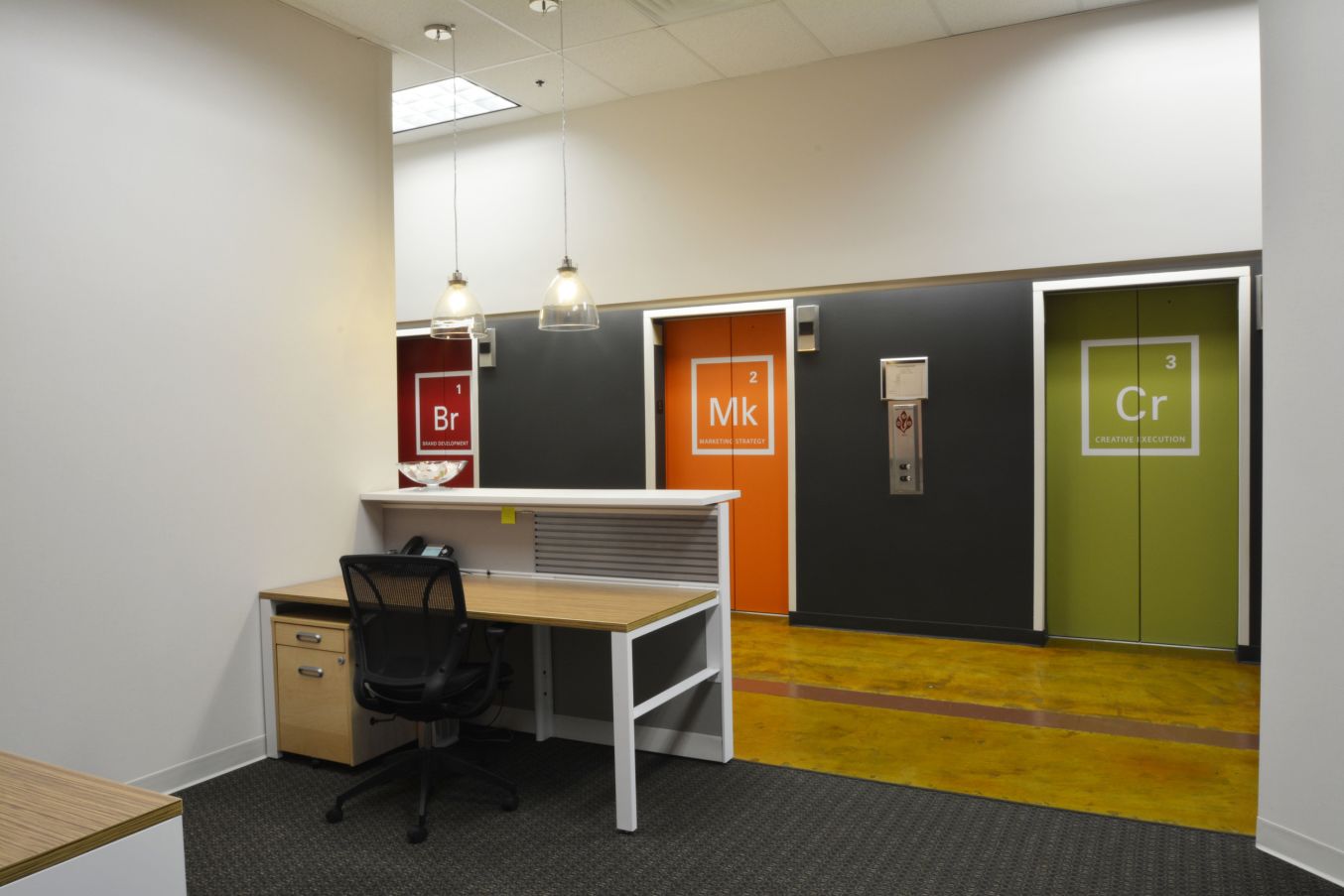 How does your space engage your employee base?
Comfortable spaces with a casual dress code allow people to express themselves physically – even if it means lying on the couch to process your new idea. Our open kitchen, stocked with food and drinks, invites employees to gather and engage professionally and socially. Our ping pong table invites some friendly competition. Beer on Friday afternoons creates the environment for friendships to begin to occur and to debrief the week together. We very much have a "together" culture. Even though we are working on different things at times – and as we've grown new people have joined us – we are very much in it together. Our open concept layout, conference rooms with glass walls, communal tables and lots of seating areas have helped continue to keep the "together" culture alive as we grow.