DELV is an architecture and interior design studio that helps leaders discover and realize visions. They know that success does not happen by chance. This is why from day one, their craft has been built around a process, rooted in design-thinking, and not a particular client or project-type. They come alongside people and teams, understand their unique dynamics and create brand-authentic environments that propel them forward.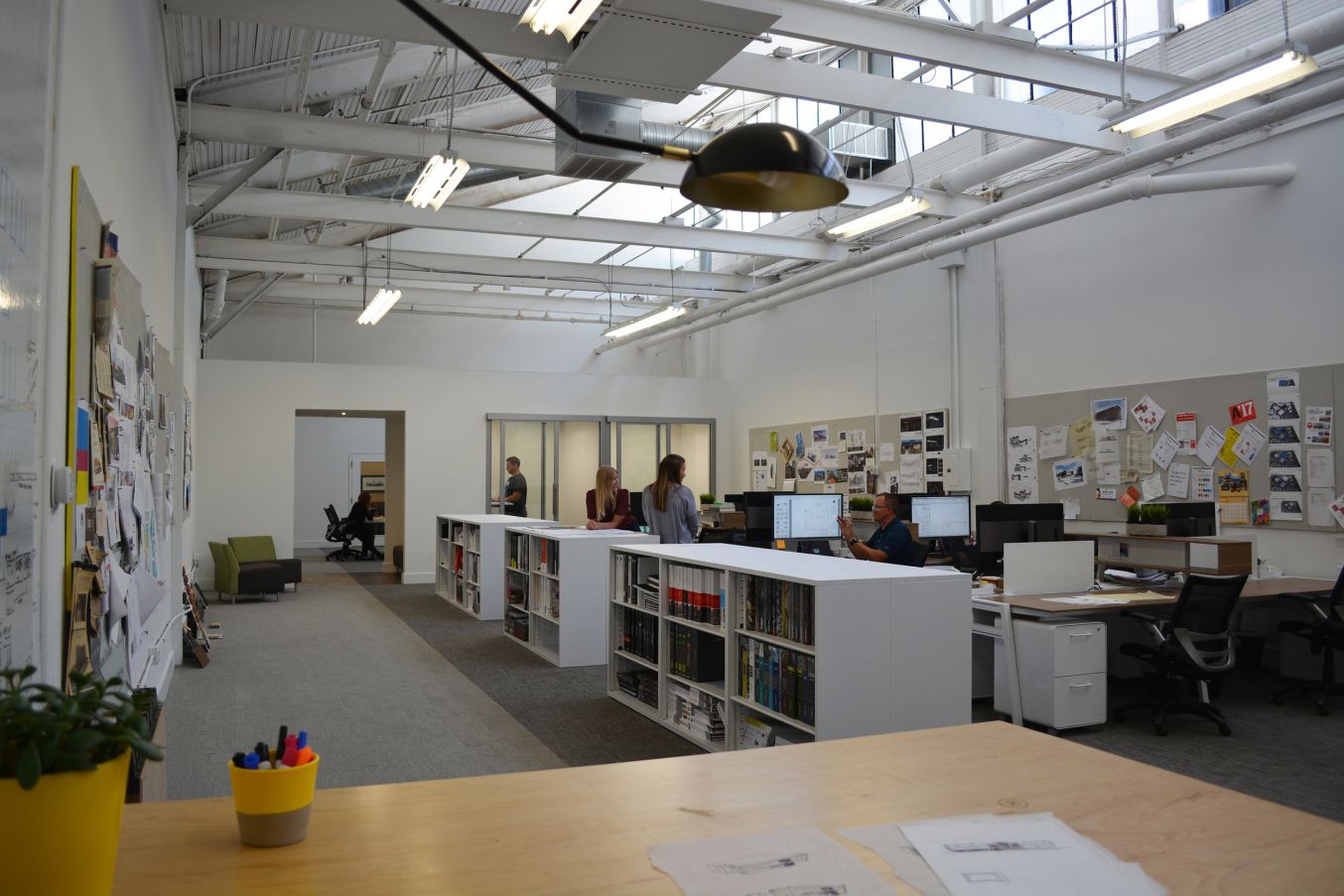 How does this space drive productivity, collaboration, and connectivity?
Our team of people have high cross-functional needs. This means architects, interior designers, brand strategists and project managers all engage with one another in their day-to-day roles. In response to this, we created a place where collaborative interaction can happen easily; spontaneous or formal, tech or tactile to support a smooth and efficient work flow.. In order to promote open communication without the "focus" detriment that's often a symptom of an open-office, we designed a hybrid layout with a variety of zones. This gives our team a freedom of choice of working in an area that's most conducive to the task they're trying to accomplish. If they need to work in proximity to their team, they work at their semi-open workstations or if they need heads down focus time or to take a phone call, they can pop into one of our focus rooms for more acoustical privacy. When they need to host a client they can choose from our semi-enclosed, conference area or our ideation space if they need a larger more acoustical private option. We bring clients from vastly diverse industries into our studio for workshops, so our environment needs to be one that spurs divergent and creative thinking --a place where ideation and diverse challenges can thrive. This is why we created a highly adaptable environment that has high ceilings and is flooded with natural light. Our bright, crisp, white and raw finish palette allows us to keep a blank-slate approach, always looking at problems with new eyes. This enables us to have fresh, continuous adaptation or 'coloring' of our space with our current work.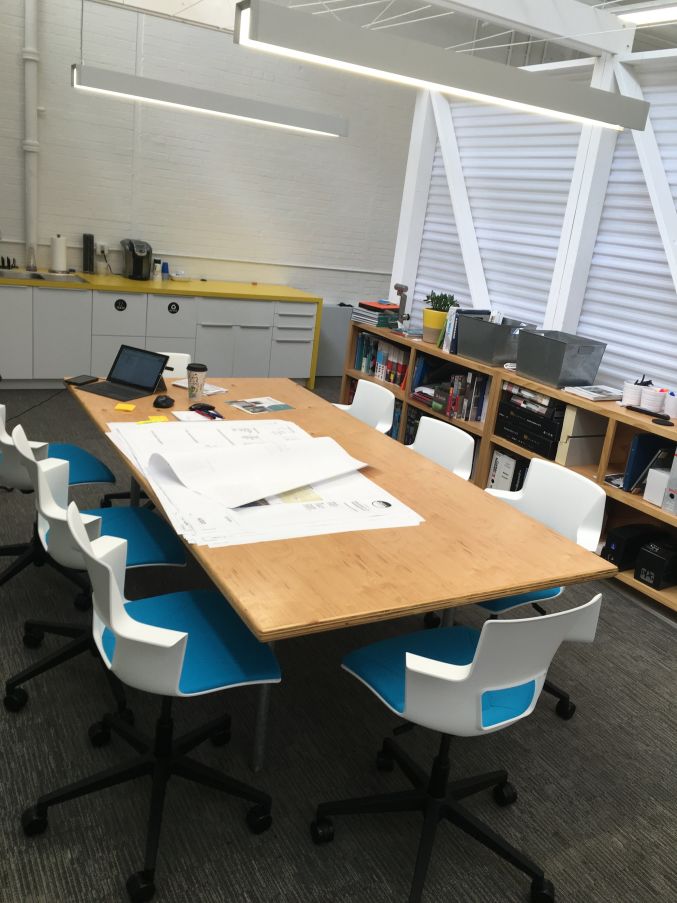 What is one thing that is unforgettable when someone walks through your space?
One of things that is most distinct or unforgettable is the context of our space. Our studio is embedded inside a turn of the century auto factory, the historic Stutz Building, where founder Harry Stutz built and headquartered the Stutz Motorcar Company famously known for the 'Bearcat' that raced in the first Indianapolis 500. Hang around anyone at DELV long enough and you'll notice that we care about stories. So much so, it even had influence in our choice of deciding where we wanted to "go to work" everyday. The building's distinctive vibe, now housing a community of creatives from many industries, drew us to choose this location for our design studio. Because we care immensely about context and brand-authenticity in the spaces we design, we approached our own space in the same manner, keeping a sense of rawness of the original factory present for inspiration. This translated to letting the original ceiling mechanics remain exposed, designing and hand-constructing raw wood and steel furniture, and echoing the Stutz factory by creating a series of strategically connected zones, designed around our output process.
How does your space tell your company's story and reflect its brand?
Because DELV is a process driven design firm, we designed the space so that from the moment you enter, you sense energy and activity, front and center stage. Instead of stories about us and our awards, you immediately see walls covered with our clients' stories, visions, and challenges, the true 'feature' of our space. Color in our studio is utilized in small, but bold doses to correlate to the DELV brand palette but not overpower the ever-evolving work within the studio. Its openness reflects the informality of our culture and allows any visitor front-row access to the passionate approach our designers have to their work. Like our brand, our space offers approachability, transparency, and curiosity. For example, at our entry where a divider was needed from our conference area, instead of enclosing it, we wrapped a corrugated translucent material around a simple timber structure. This allows the natural light to pass through, offers a textural interest upon arrival and creates immediate curiosity as to the motion and activity behind it. Inside our conference area, we designed a rope installation overhead as an abstract gesture to the complex nature of solving design problems; the untangling of symptomatic issues and 'delving' into their root source and connections.
How does your space engage your employee base?
Design work is anything but stagnant and this is why we created a variety of opportunities for our people to interact and have a high level of control over their own environment, one of the primary keys found to incite employee engagement. To support a freedom to choose where they work in the studio, we've leveraged technology to create a seamless work experience. Regardless of whether our people are at their dedicated workstation, a conference area, our design library, or a focus room, they can work from their mobile device or tablet. They can even control via an app, the music in their environment. In addition to mobility, we've created nodes where employees can pin up things that inspire them, in and outside of work. Sharing these things sparks new creativity and fosters camaraderie and unique appreciation for why people want to work at DELV.