Delivra provides digital marketing software and services proven to help businesses better communicate with their customers, employees and key constituents. Their software platform provides organizations the tools to engage audiences across multiple channels including email, social, and mobile. Delivra's consultative approach gives these same clients the knowledge, confidence, and support they need to maximize their impact. Consulting services offered by Delivra range from simple consultation on best practices to full program management; and include: design, deliverability, strategy, production, data integration, testing, measurement, content, etc. Their clients have access to different levels of the Delivra.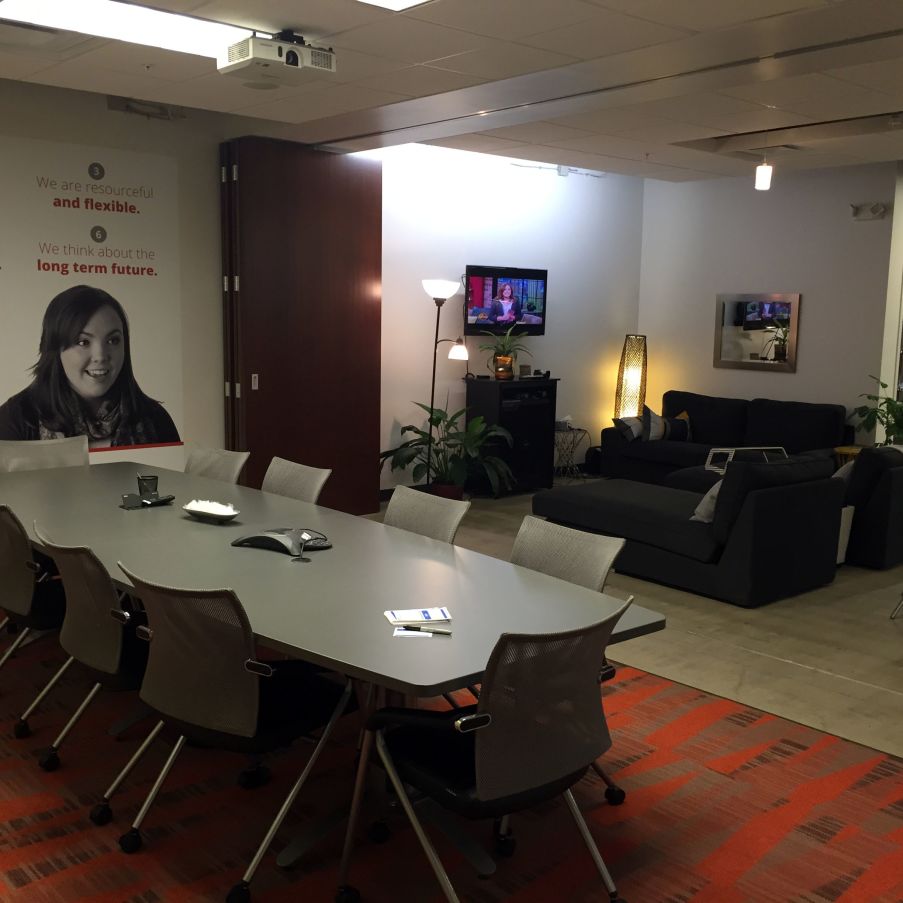 How does this space drive productivity, collaboration, and connectivity?
Our desire was to create a fun, cheerful, techy, open and collaborative environment. We wanted to make our staff comfortable to work in a variety of places to foster creativity and encourage impromptu cross departmental interaction. Each day you will find staff working in the café, on the couch, on the patio outside, in meeting room or at their desk. Sometimes an incidental conversation around the coffee bar or the toaster in the mornings leads to a much needed breakthrough later in the day. We created several small meeting rooms for privacy if needed and designed a "Dog Bone" team desk area for work within our department as well. Our staff often say the office feels like home – comfortable with options to work within many parameters allowing for creativity, connection and productivity.
What is one thing that is unforgettable when someone walks through your space?
People often tell us they "feel" the culture when they walk through our door. The warm greeting from our our "AllyKat " Administrative team, our guests name on our Welcome Board and an inviting yet cool techy space reflecting casual and comfortable communication. We want people to feel like they are part of the Delivra family and feel right at home.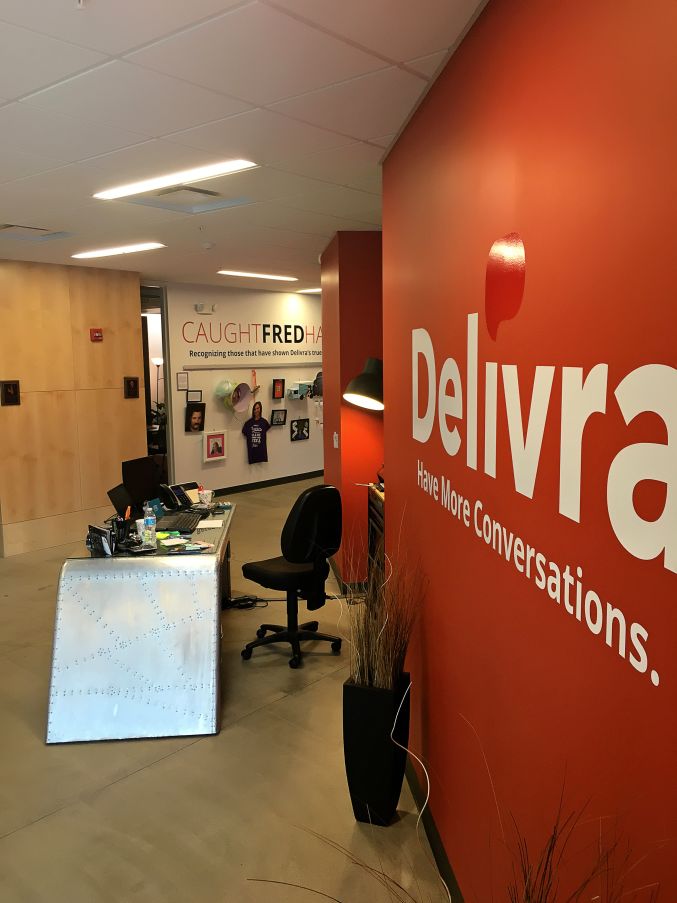 How does your space tell your company's story and reflect its brand?
Our vision and values are an integral part of our culture and our branding. We take them very much to heart at Delivra - they are "our story ". We hire, award, review and live by these values. They are as follows: • We are comfortable being ourselves* • We are best when we work together • We communicate with openness and candor • We exist to serve our customers • We are resourceful and flexible • We think of our long term future( they are so important to us we have them printed on our main conference room wall)
How does your space engage your employee base?
It is imperative our space reflects our vision and our values. Hence, an open kitchen with snacks and beverages provided, a café, a TV room with couches and lounge areas, a kids room for days when you need to bring a child to work, a mothers room for new moms adorned with canvas photos of their new little one to soften their return to work, a pet wall displaying our other children, a private patio for fresh air, as well as a place to grill out during our Friday All Staff lunches each week. We created a special Fred Delivra (who is Fred Delivra ? – check out our faux historical wall) Award wall with fun departmental designed creative awards reflecting the spirit of the person in which the award was given, a Welcome to Delivra Greeting Board, etc. All of this speaks to our culture and branding – we truly are a family.