Danco Roofing Services, Inc., founded in 2006, is a full-service roofing and sheet metal company that specializes in low sloped roofing applications as well as specialty steep sloped roofing systems. Their customers include commercial, industrial, and institutional clients within central Indiana and the Midwest Region. Danco Roofing has been nationally recognized as one of the largest commercial roofing contractors in the country and has received multiple industry quality awards. At Danco Roofing, they take pride in keeping their customers covered with Quality, Integrity and Professionalism. Every project, every time.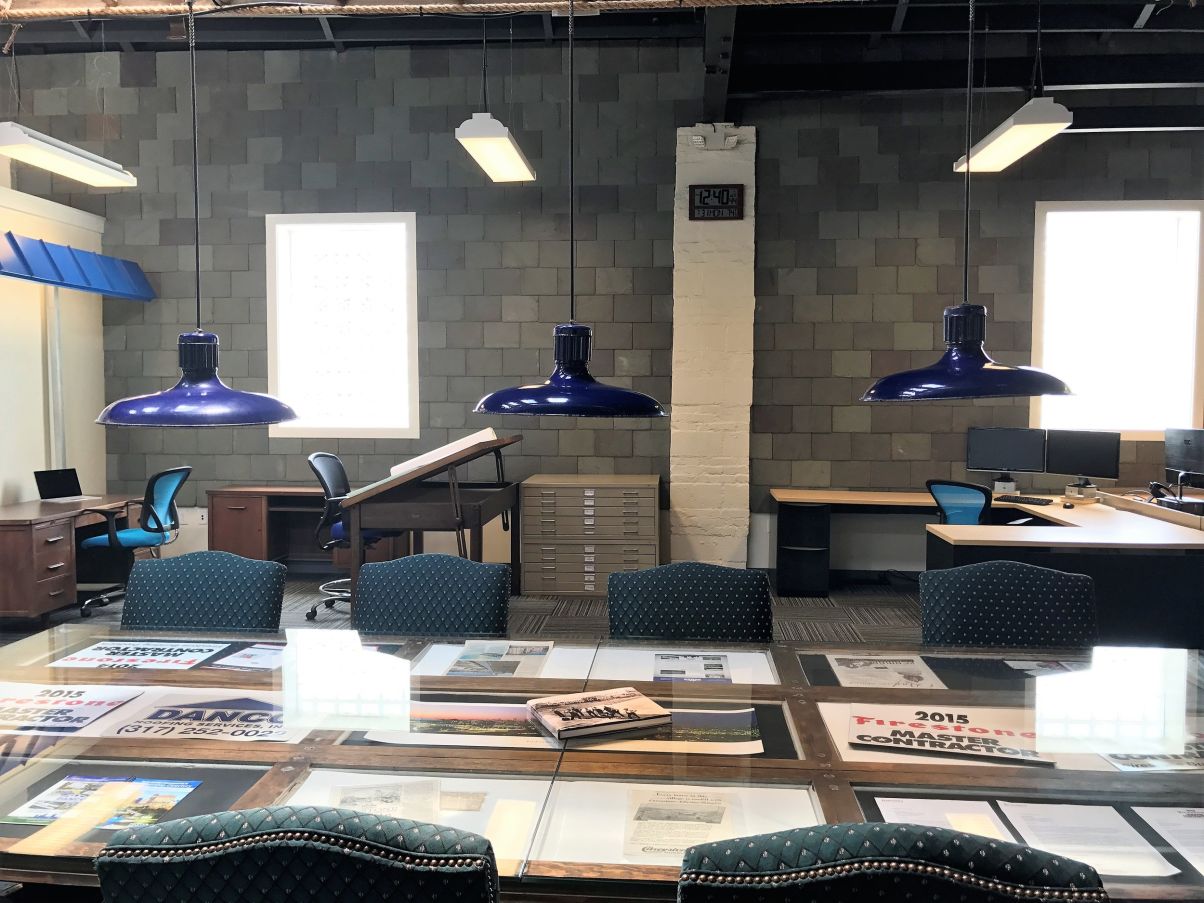 How does this space drive productivity, collaboration, and connectivity?
Our office was designed intentionally with private offices for most employees, having glass doors and windows that face toward a large open workspace. This private office design allows for personalized critical thinking space, while still allowing a visual connection to the team as a whole. The open workspace contains our common business functions such as printing/reading blue prints, training stations and our conference space. Productivity is enhanced through the use of both the private and common space to strike a balance between the need for private time and team collaboration.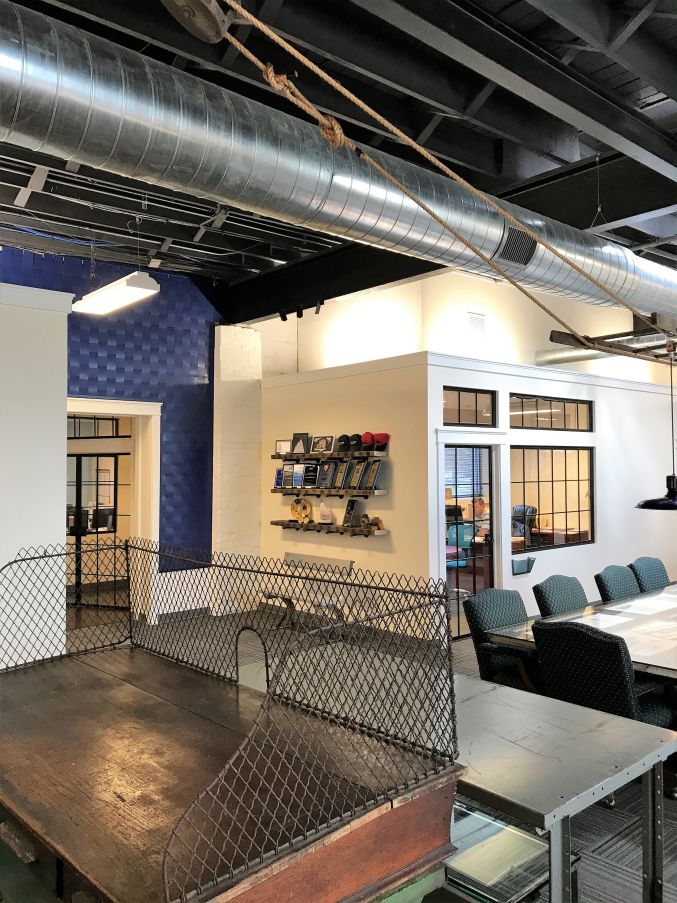 What is one thing that is unforgettable when someone walks through your space?
Most first time visitors immediately notice the old wooden ladder and retro blue lights that hang above our handcrafted conference table, which was the original 1930's garage door for the warehouse. The exposed beams, roof deck, skylights and HVAC ducting create a unique space allowing both visitors and employees to enjoy a comfortable and open environment in which to gather. We have also purposely brought materials traditionally installed on the exterior of buildings to the inside our office, such as the large slate tile wall and sheet metal basket weave wall. Finally, the interior windows have been framed with custom steel grids to complement the industrial décor of the office space.
How does your space tell your company's story and reflect its brand?
Not only are we a roofing company putting roofs on buildings, but we are also a building owner that strives to create a space that engages our employees and puts our customers at ease. We want our customers to know that they are dealing with a contractor well versed in attention to details. Our promise to our customers is: Keeping you covered with Quality, Integrity and Professionalism. Every project, every time. We want our space to convey that exact sentiment.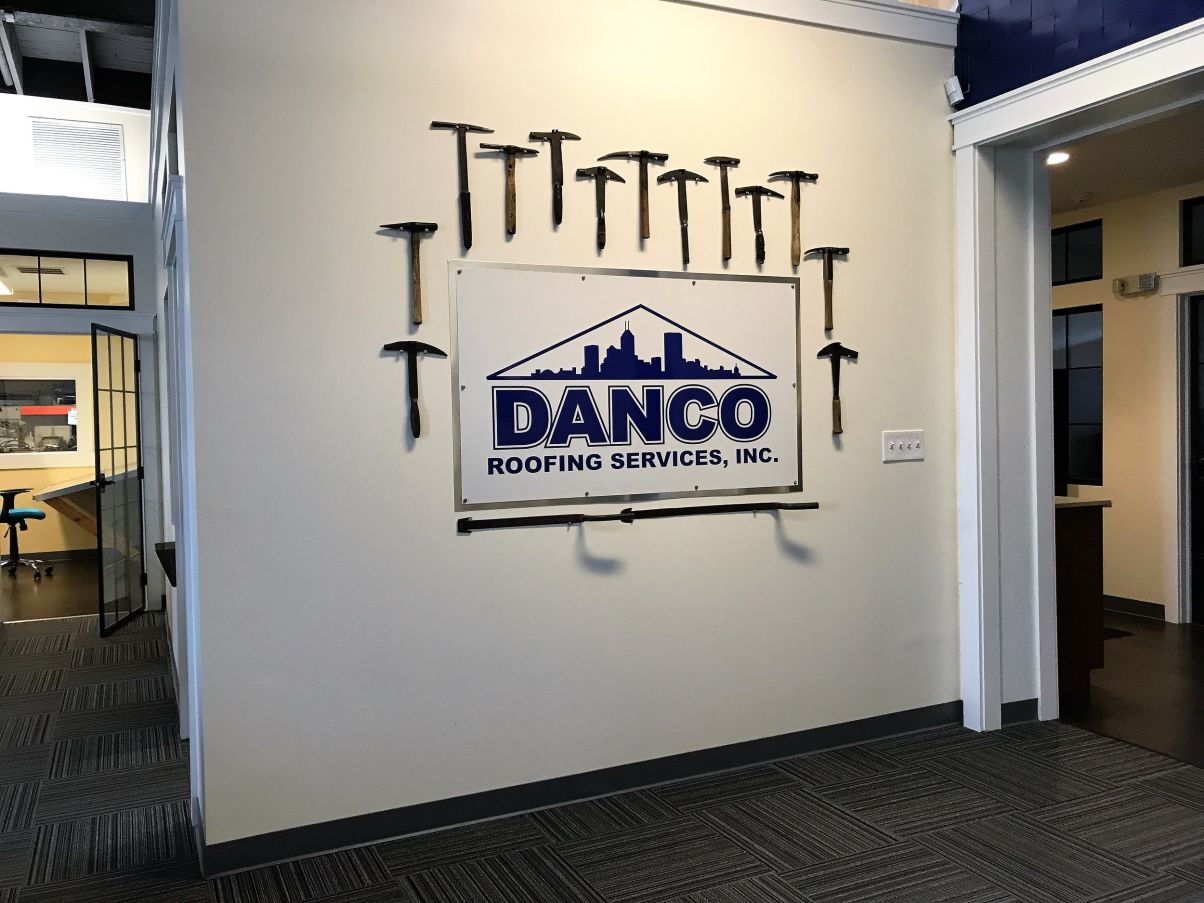 How does your space engage your employee base?
One of our company objectives is to attract and retain high caliber employees with a passion for our industry. We want to lead our industry in professionalism and empowering our employees is one way to do that. We encourage our employees to make their space their own – from walls filled with barn wood shelves to walls with magnetic and dry erase paint. We want our employees to feel at home while at work. Our open space encourages employees to have spontaneous meetings and engage freely in conversation. We are a strong company with a dynamic team, and our office space reflects that.