Bradley and Montgomery, better known locally and nationally as BaM. They are a creative agency for big brands seeking innovative and fresh ways to reach their consumers, build loyalty and create brand affinity. They call this Share of Culture. Their clients call it impressive. Share of Culture finds the intersection of your brand's cultural identity and your consumers'. It's at this intersection where affinity, action and consumer engagement lie. It's why they've worked with big brands like Microsoft and JPMorgan Chase for nearly two decades. It's why an Indianapolis-based agency has built a reputation with brands like MTV, VH1, Xbox, Weebly, Betabrand and Mastercard. Building Share of Culture is core to who they are and how they partner with their clients, and they look forward to demonstrating how Share of Culture can work for your brand.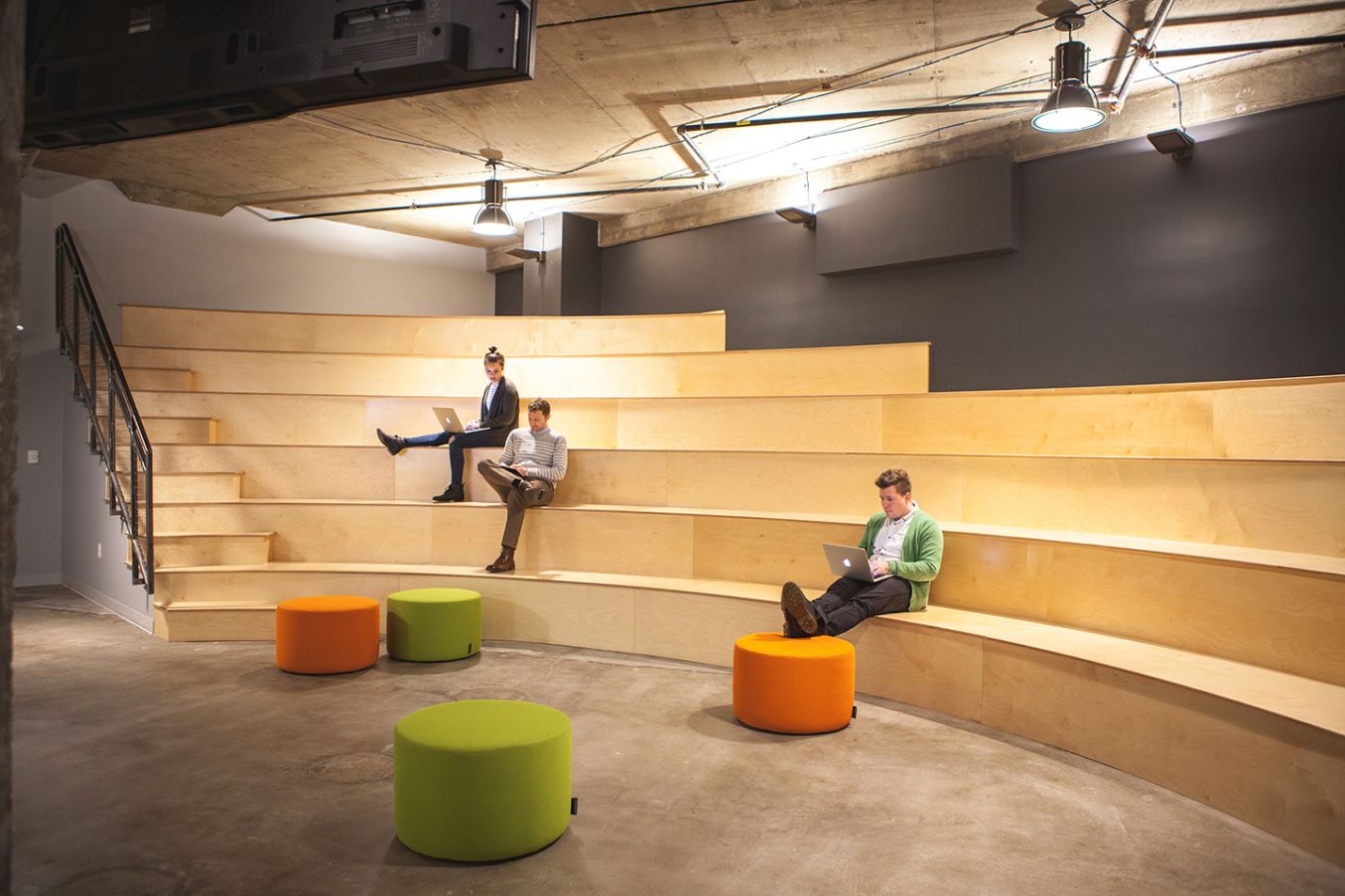 How does this space drive productivity, collaboration, and connectivity?
Culture moves fast, which means that we need to be innovative, responsive and nimble. Our space was designed with this in mind. The open concept allows for quick conversations, fast sharing and review of ideas and execution across large teams to increase speed and efficiency. We've intentionally designed different meeting and gathering spaces throughout to accommodate different work and concepting needs – from a large whiteboard room and town hall lecture space for large team presentations and information sharing to meeting nooks, couches and phone booths for more intimate meetings and heads-down work. Photo studio and video edit suites were built to accommodate in-house work for our team. All of this increases our speed in delivering creative work for our clients, builds efficiencies in getting campaigns to market and gives our team space to play and test the latest in technologies and trends to continue to innovate and engage consumers.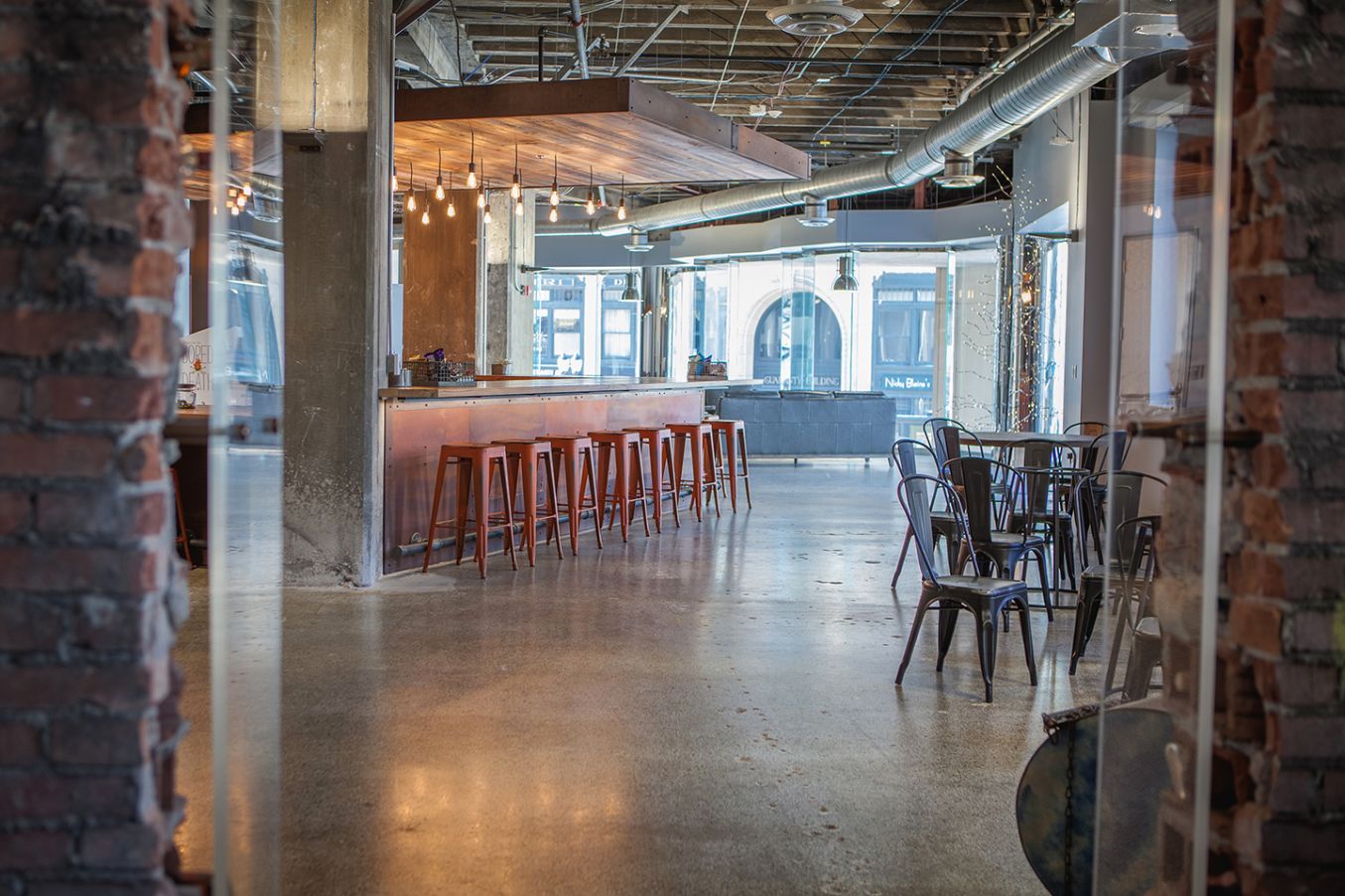 What is one thing that is unforgettable when someone walks through your space?
We put a lot of thought into the design of our space. Every inch, every material, every color is very intentional, authentic and raw. One of the highlights of the design speaks to the history of the building. In cutting through the building's original wall from the 1950s, we discovered whiskey bottles tucked into the caverns of the bricks. These whiskey bottles were dated from the late 50s and were placed there by construction workers who would drink these as they worked. We loved this piece of history and wanted to keep it preserved. Our goal with any work that we do for clients is to find their authentic voice and story. These whiskey bottles are authentic and part of the story of our space – we had to keep them and celebrate them.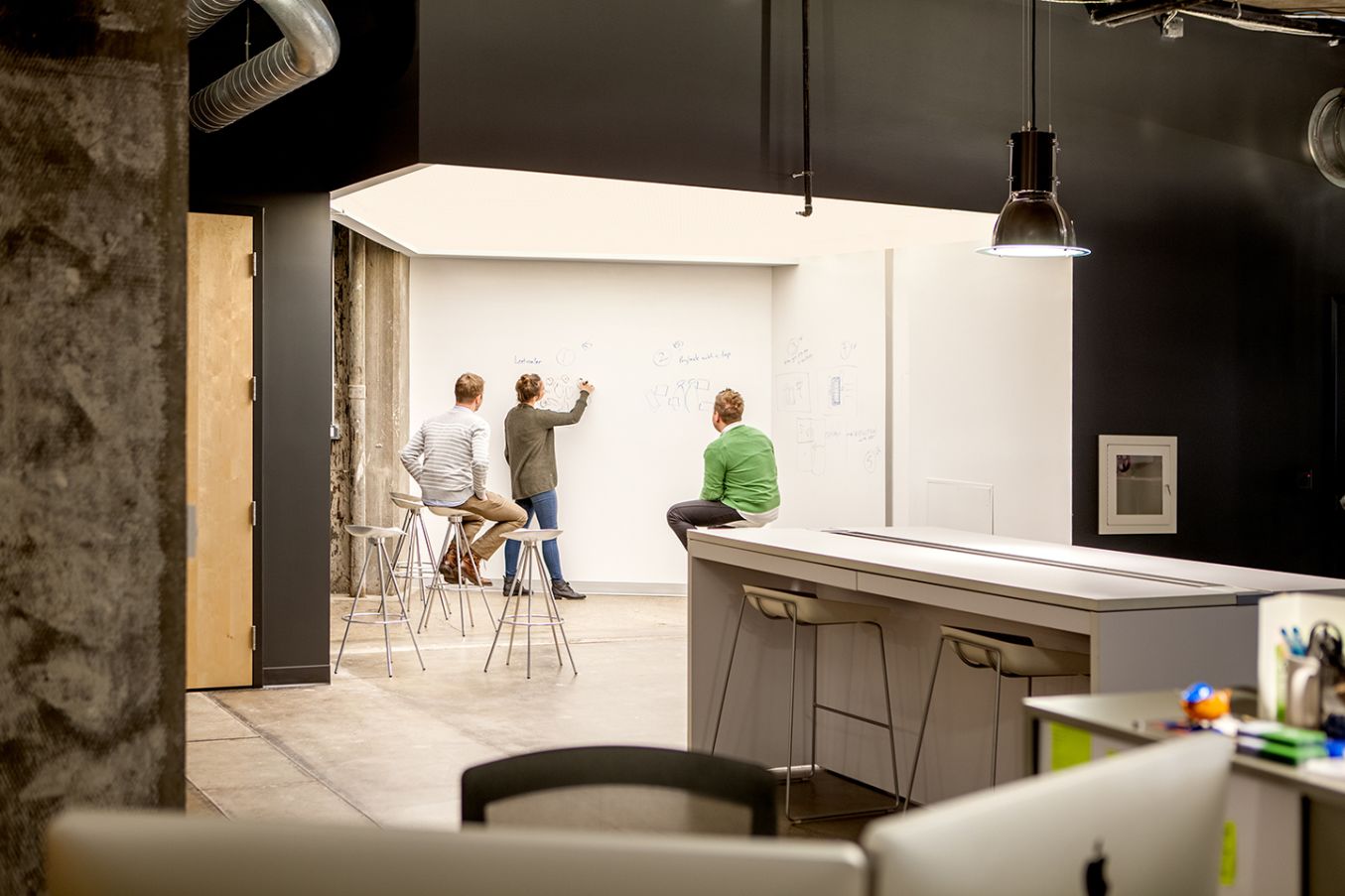 How does your space tell your company's story and reflect its brand?
We designed our space to inspire our team to believe that anything is possible. We've brought in old materials, kept their natural texture and used them in surprising and unique ways – a subtle nod to the innovative thinking that we bring to our work and to our clients. We kept a lot of the natural textures and details of the building, from the concrete floors to the exposed ceilings to the chalk details on the exposed walls – these are all stories of our space and ones that we want to preserve and celebrate. The choice of material was authentic, which reflects the culture we instill throughout our agency – unpretentious and honest with a twist. We believe work that is crafted in an inspired environment is work that is creatively more innovative, creatively more beautiful and creatively more original. You can learn more about our brand's reflection in our space here: https://www.youtube.com/watch?v=y733nVT3Tsk
How does your space engage your employee base?
Our teams are nimble. They change based upon project need, client campaign and/or speed to launch. Our space enables teams to quickly come together – whether that be in meeting spaces, open gathering spaces or huddled around a computer. Since our move to the new space in November, we see more teams getting together to discuss ideas, spreading creative work out across large work benches to review, jumping to white boards to chart out customer journeys and playing around with new technologies like virtual reality. Our teams are more accessible to each other for work, for play and for bonding. We believe play is just as important to the creative process as sitting at your desk and we've designed the space to allow teams to play together – to try out new ideas and experiment. Across the board, employee engagement has increased. New ideas produced have increased and employee morale is through the roof.