Welcome to the Pittsburgh office location of Bounteous! Located in the historic South Side, this space is an homage to our city while encompassing the Bounteous spirit of collaboration. Take a seat in the lounge, stand at your desk, or enjoy a swing in the hammock while you visit "The Foundry."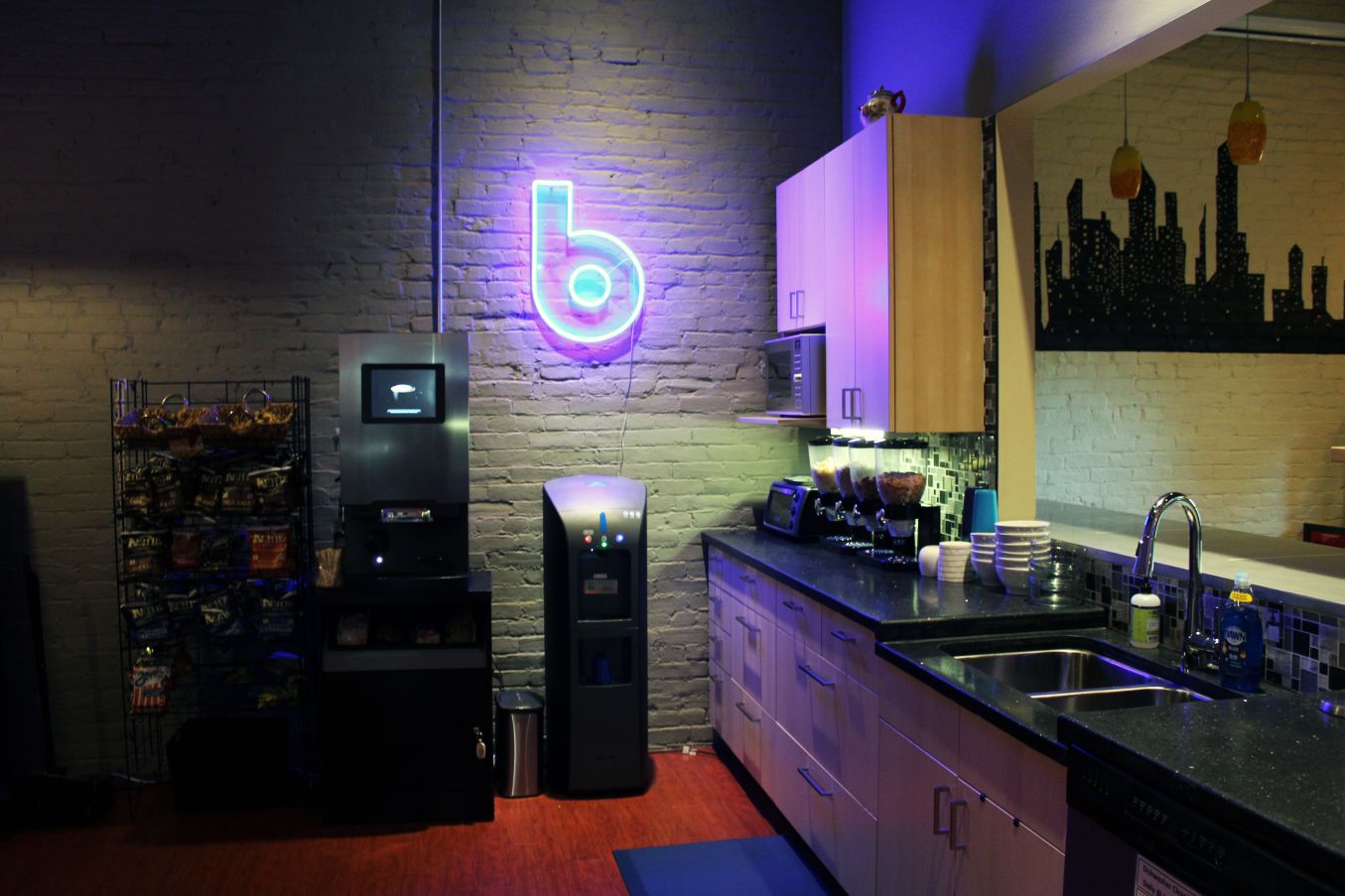 What's a better start to the day than with a mug of coffee and bowl of cereal. Our breakfast bar gets everyone going for the morning.
How does this space drive productivity, collaboration, and connectivity?
Through our remodel and expansion to two floors our building in 2015, Bounteous has really made a commitment to dynamic workspaces. With two floors we've quadrupled our meeting space and office space for upper management, as well as created numerous "fireside chat" spaces for small conversation that do not require rooms. The buildout also meant that desk design was refreshed - we recognized that our people like to move and incorporated standing desk options for everyone. With robust wifi capabilities we also made it possible for people to work from any point in the office whenever they'd like.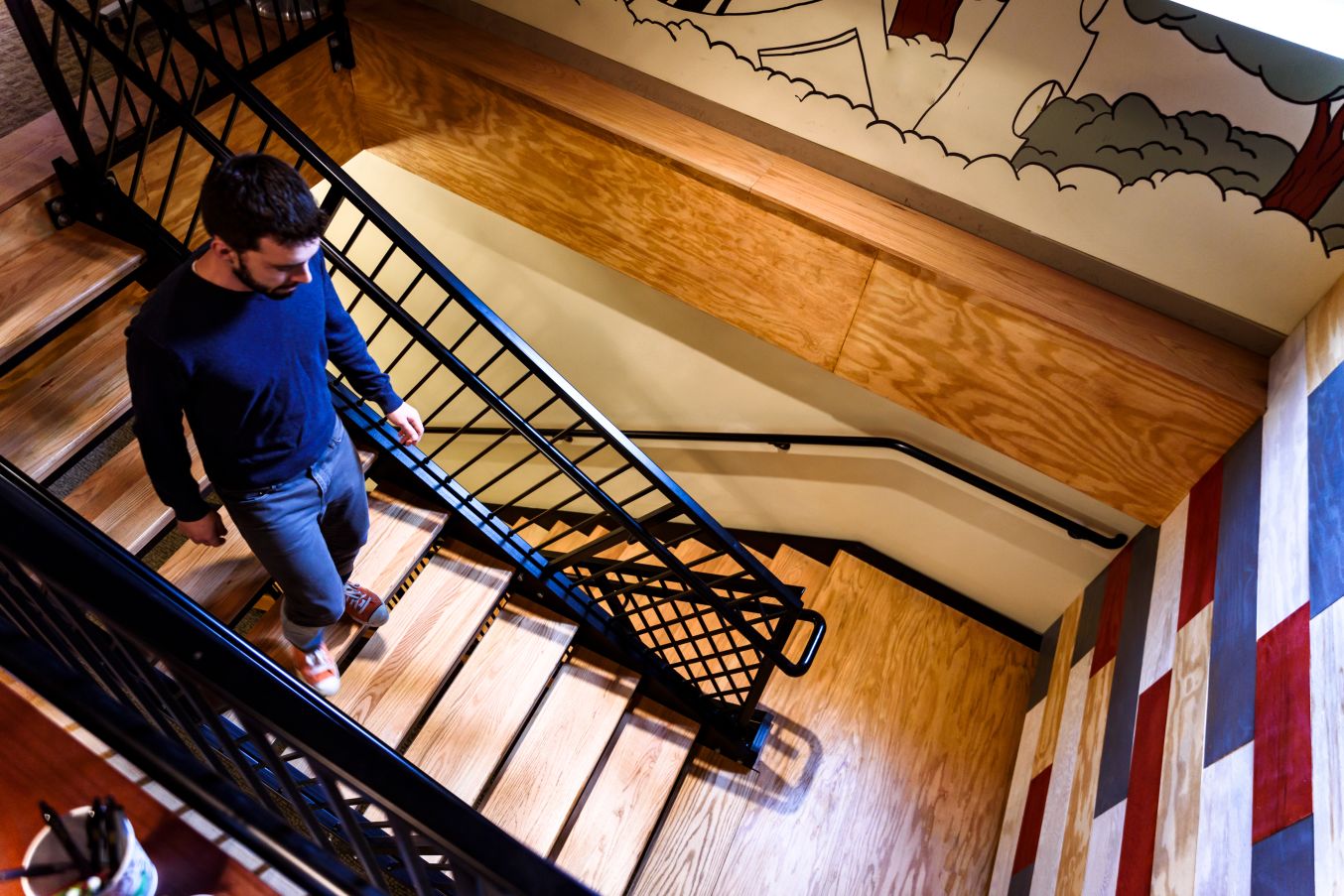 The last step, literally, of the 2015 buildout was uniting the existing first level office space with the new space. By opening up the second floor and building a custom staircase employees are able to seamlessly go between floors without using the external elevator.
What is one thing that is unforgettable when someone walks through your space?
The lounge area on the first floor is our signature space in the office. Every time a client or visitor comes in the immediate reaction is "Wow! I wish our office had a space like this." It's a great space to have a larger meeting without being around a boardroom table, and still have access to A/V. Utilizing that piece to greet people as they walk in the door, rather than a reception desk, really sets the tone for the rest of the visit.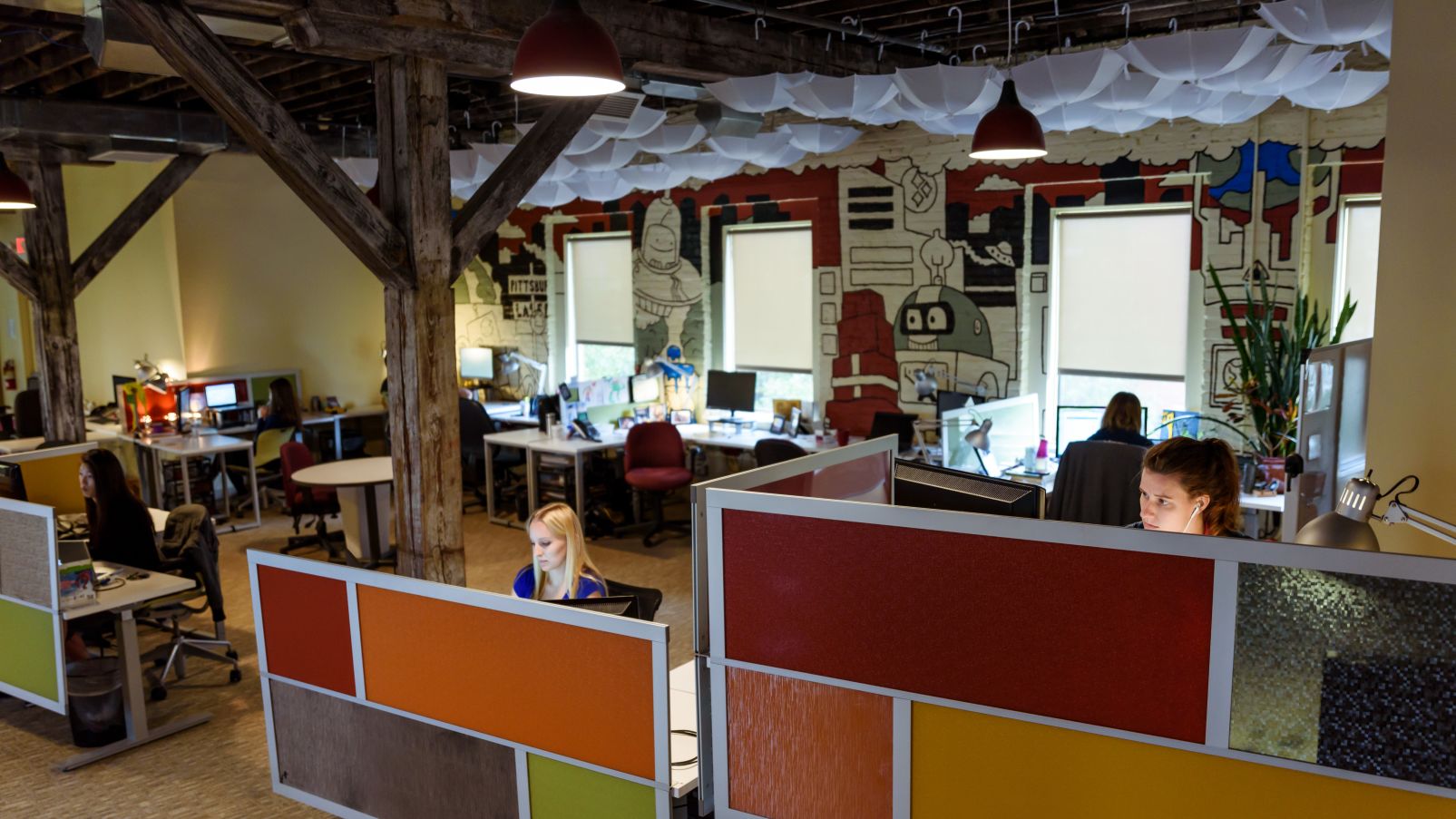 The buildout of the second floor, completed in 2015, includes standing desks for 30 employees, 3 offices, 3 meeting rooms, and a handful of one-on-one meeting spaces. It was important to match the aesthetic upstairs and the artist who completed the murals for the first floor in 2010 was asked to return to complete the space.
How does your space tell your company's story and reflect its brand?
The Pittsburgh office reflects our brand through it's unashamedly bright and collaborative aesthetic. One of our primary focuses, and something we pride ourselves on, is that we try to integrate ourselves as much as possible in our clients' workflow to understand their challenges and provide the best service. Our open floorplan and many areas for one-on-one conversation help enforce this naturally in the office.
The lounge in the entrance of the building is by far the most used, and most loved, feature in the office. With A/V capabilities, it's a breeze to host casual meetings in this area rather than one of the meeting rooms. This is also the scene for many beer o'clocks and trivia nights.
How does your space engage your employee base?
The theme of our space is collaboration. We believe that using an open office format, and a pick-your-desk seating plan, there's an organic and optimal chance for colleagues to not only focus on their work in a comfortable environment but also collaborate with other departments. We also need to have some fun while we work and make sure new arrivals receive a NERF gun for those Tuesday afternoon battles, there's mellow music in the first floor lounge to get creative minds going, and games in work spaces to allow for a few minutes of downtime.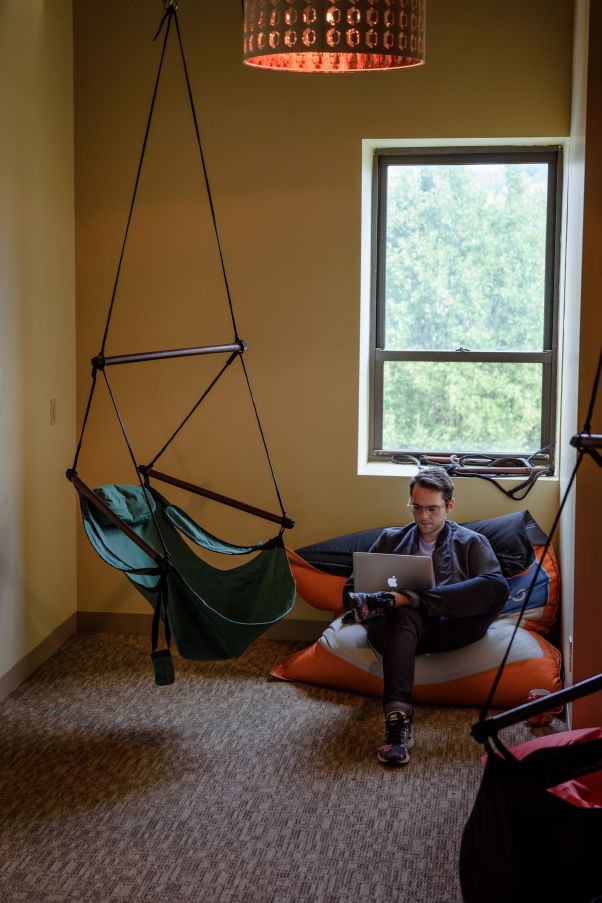 Beanbags Belong In The Office!