Founded in 1984, Borshoff has grown from a three-person public relations firm to a full-service advertising, brand development and PR agency 50 strong. Located in Indianapolis, they have maintained continuous independent operations as their client partnerships and capabilities have grown. Today, they give their undivided attention to delivering fully integrated communications, drawing from multiple disciplines to provide clients with strategic, creative solutions that help them achieve their business goals. They mindfully maintain a broad and deep level of industry expertise, partnering with clients in a variety of sectors and sizes from health industries and manufacturing to sports and entertainment to education and nonprofit associations.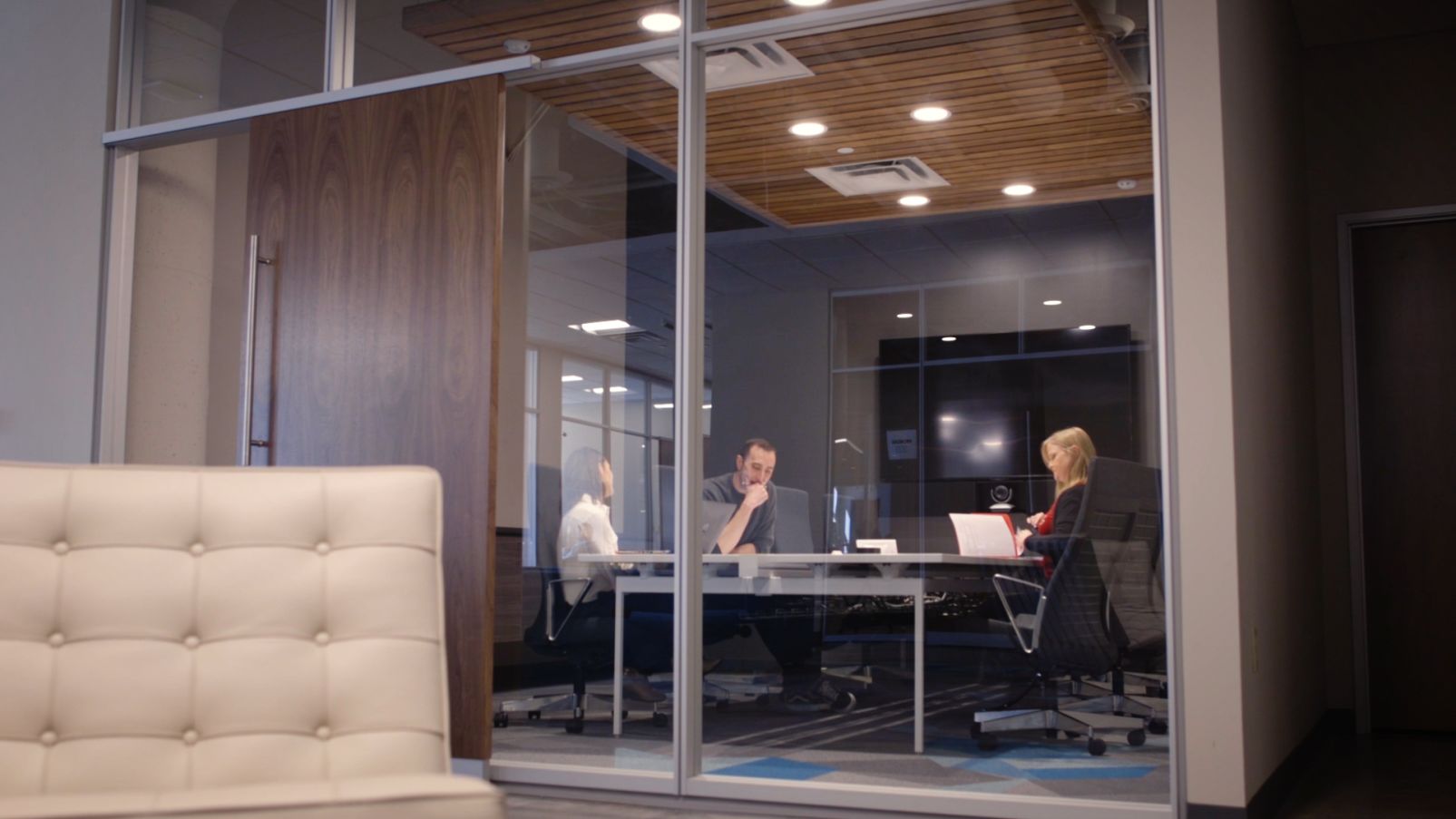 How does this space drive productivity, collaboration, and connectivity?
When we moved to the Majestic Building in 1998, we had 17 staff members and occupied one floor. The downtown Indianapolis location served us well and allowed us to expand as we grew. But by 2016, with 50 employees, we experienced challenges working together as the creative team and project managers were located on the 4th floor, account managers were on the 5th and the administrative team was on the 6th. In our line of work, our teams need to collaborate with each other and clients, and our former office wasn't conducive to that. Including staff in the process of designing our new space was key. We always tell our clients that it's important to the culture to involve your employees with any major initiative. We genuinely wanted our staff to tell us what they needed and to help create a space that would inspire them and better reflect the way we work. To understand our needs, we partnered with DORIS Research to analyze our workspace and observe how people moved, worked and interacted in the office. The DORIS team learned that our ideal work environment is an open floor plan with lots of options –quiet offices, collaborative spaces and formal and informal meeting areas. They also learned that our staff craves natural light, exercise and green spaces, as well as an eat-in-kitchen where we can socialize and spend time with one another. When we received the findings report, the leadership team knew we needed to move. Our architect, Rod Collier of Rottmann Collier, was involved from the beginning of DORIS' process and created a custom-designed workplace implementing solutions recommended by our staff and crystallized by DORIS that literally checks every one of our wants and needs. The brightly lit space removes the physical barriers, offers plenty of quiet areas and meeting spaces, and features state-of-the-art collaborative technology and a first-rate video edit suite. A large café is in the heart of it all. Plus it offers amenities we didn't have, like free parking for clients and outdoor space. It's an office environment where people can constantly grow and share. It's inspiring for our team and our work and will be a pivot point for our future growth.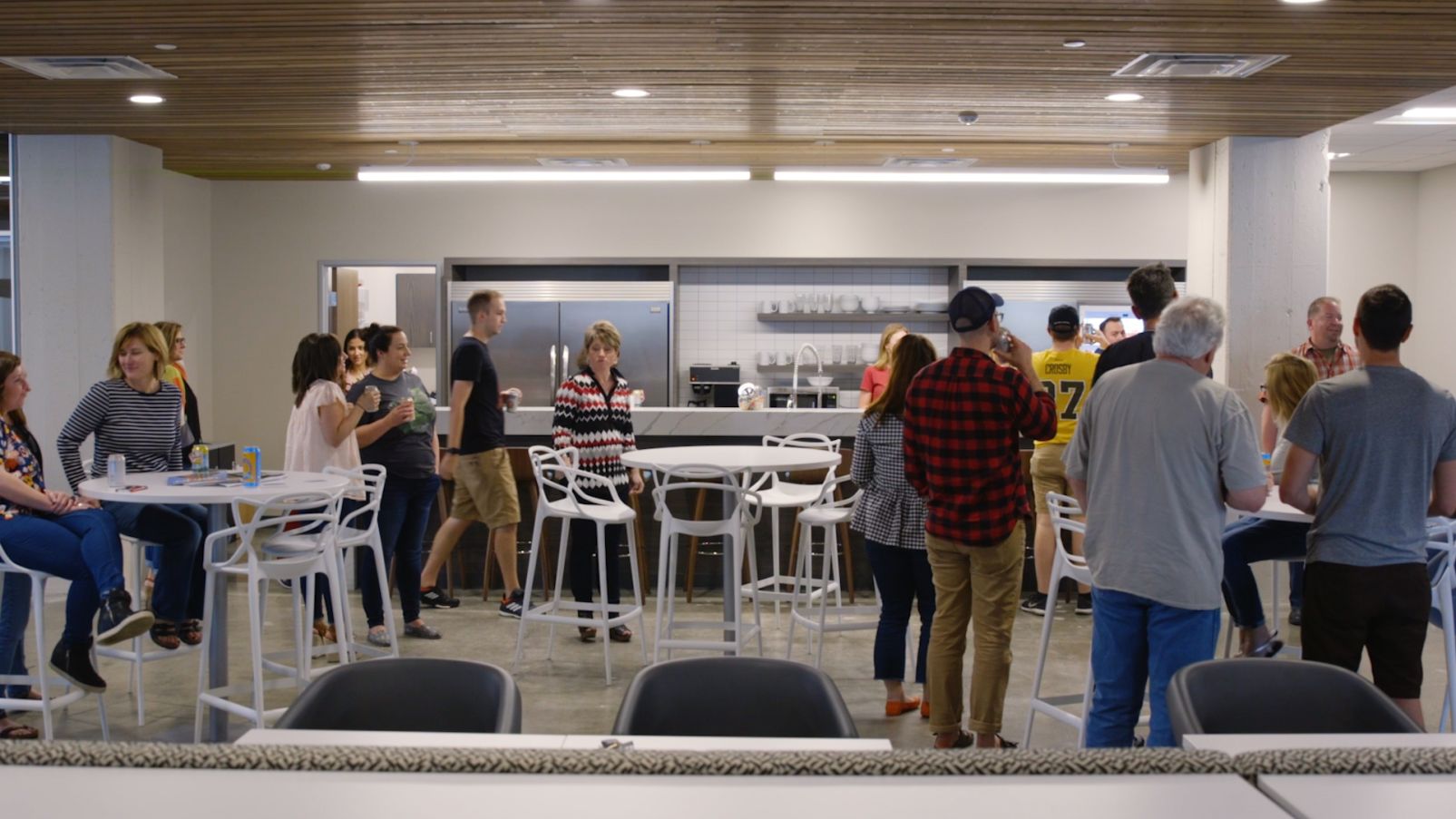 What is one thing that is unforgettable when someone walks through your space?
When you enter our space, you are met with a stunning, living plant wall that frames a digital video display featuring our work and welcoming our guests with creative messages. It is inviting and reflective of our agency personality.
How does your space tell your company's story and reflect its brand?
Our new space aligns with our brand because we solved a real problem in a customized, well-designed and functional way. It 's a perfect blend of old and new with a nod to the past and a contemporary aesthetic for the future. It highlights the building 's historical aspects with updated and functional furniture and all of the amenities needed to have an effective, inspiring work environment. When we visited Lockerbie Marketplace, 333 N. Alabama, you could feel "a vibe." Located on the Cultural Trail steps away from the 300 and 400 blocks of Massachusetts Ave., the former Sears Roebuck building is abuzz with activity. After touring numerous downtown high rises, we fell in love with the panoramic views from the third floor of Lockerbie Marketplace. It has such a unique view of downtown, offering a human lens to many historic landmarks in the arts and cultural district. The location was outside of the original search area but fit our desire to be close to clients and high-energy gathering spaces. Proximity to Georgia Street, Monument Circle, and Mass Ave. is not coincidental, it's key to who we are – dynamic, creative and inspiring.
How does your space engage your employee base?
One of the main features is a large café in the center of our space. It's a constant hub of activity and provides a casual atmosphere to hang out for lunch, meet about a new campaign, get a change of scenery to check email, host a staff meeting or gather for Friday Beer :30. It 's the same square footage as our previous space, but the single floor plan, glass walls and open environment set the stage for dialogue, teamwork and continuous flow of ideas and sharing. Some of the comments we've received from our staff include: "We felt our voices were being heard and that the things being implemented were a direct result of what we said. This resulted in a seamless move. Now, people are happier and our space better reflects the type and quality of work we do." "Consolidating from three floors to one floor and changing from mostly private offices to an open office plan was a big change, but it has made our work more efficient. We save on office supplies since we're all on one floor, and people spend less time on email since they can communicate face-to-face so easily."