As a giant in the travel industry, it was important that Booking.com's new office represent the many reasons why people love to visit Arizona while also providing a great work environment for their employees and a welcoming meeting space for partners. Visitors are greeted in the lobby with materials representative of Arizona, including door frames made from locally-sourced reclaimed mushroom wood and custom saloon doors, a sly play on the wild west history of the state. The break room includes a lucky penny wall punctuated with commemorative Arizona State quarters. This striking wall is an intriguing nod to copper, historically one of the state's main exports. A chalkboard wall, featuring a colorful desertscape, enlivens the open office environment. Historic elements of the building were retained wherever possible: restoring the vintage hexagonal mosaic tiles and refurbishing the windows to once again be fully operable.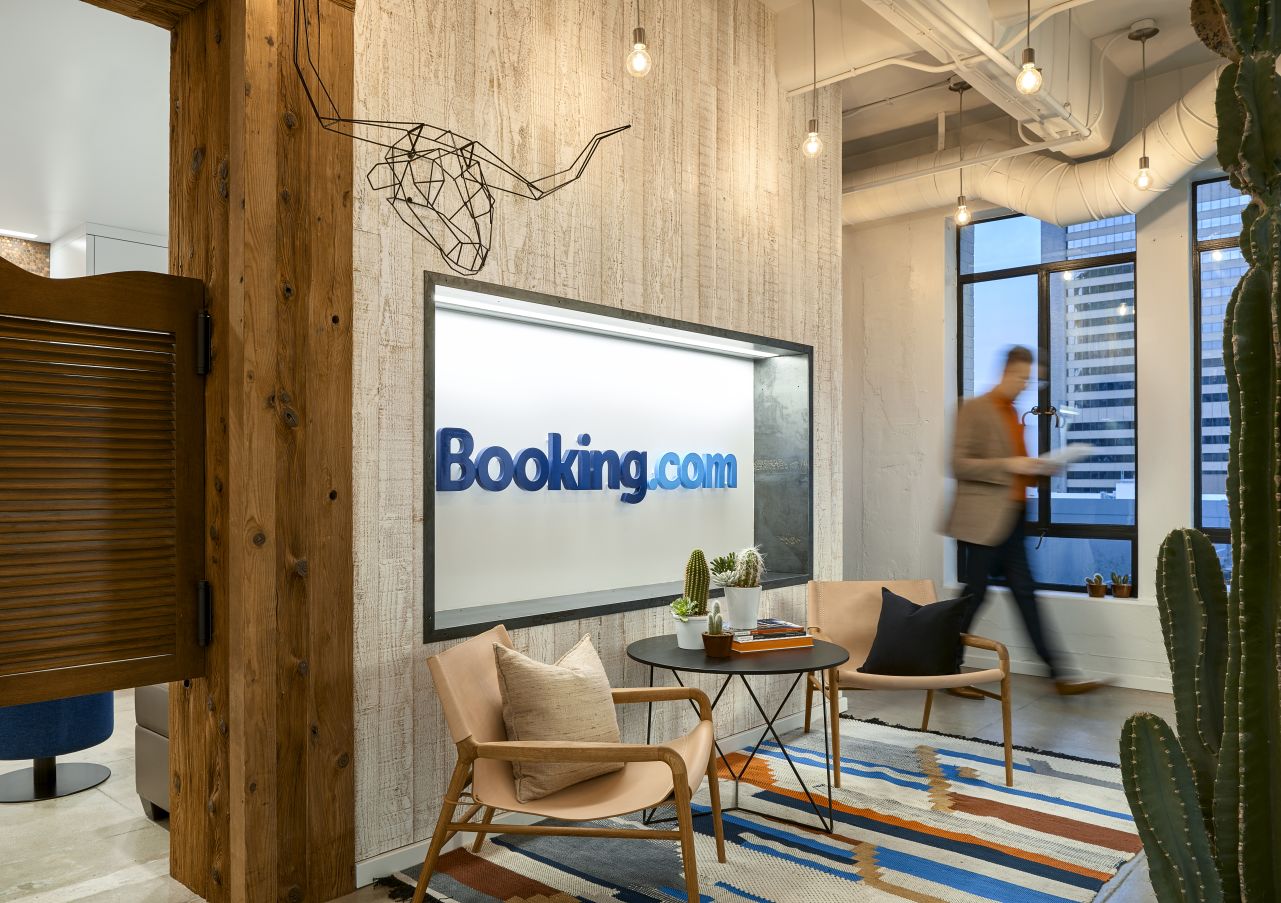 Reception and employee entry
How does this space drive productivity, collaboration, and connectivity?
Leveraging the smaller floorplate in the historic Heard Building, open collaboration spaces open dialog and discussion among the team. Employees are able to swiftly convert their individual workstations into collaboration zones to tackle any office project. The large chalkboard wall acts as a company messaging board to keep everyone up to speed with current goals, office news, and help cultivate a culture of connectivity and inclusivity.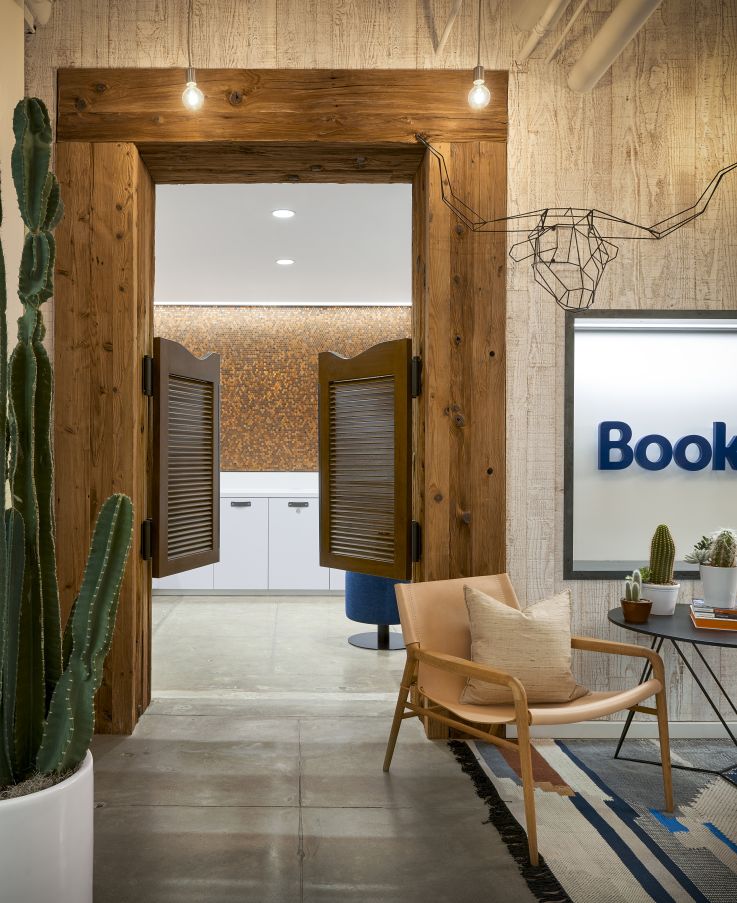 Employee entry and break room portal
What is one thing that is unforgettable when someone walks through your space?
Booking's space is undeniably Phoenix. They strategically occupied space in the heart of the urban core and within an iconic building to quickly embed themselves within the Phoenix culture. From the moment you enter the office you are greeted by western inspired interiors and they infamous salon entry way which connects the lobby to the heart of the office.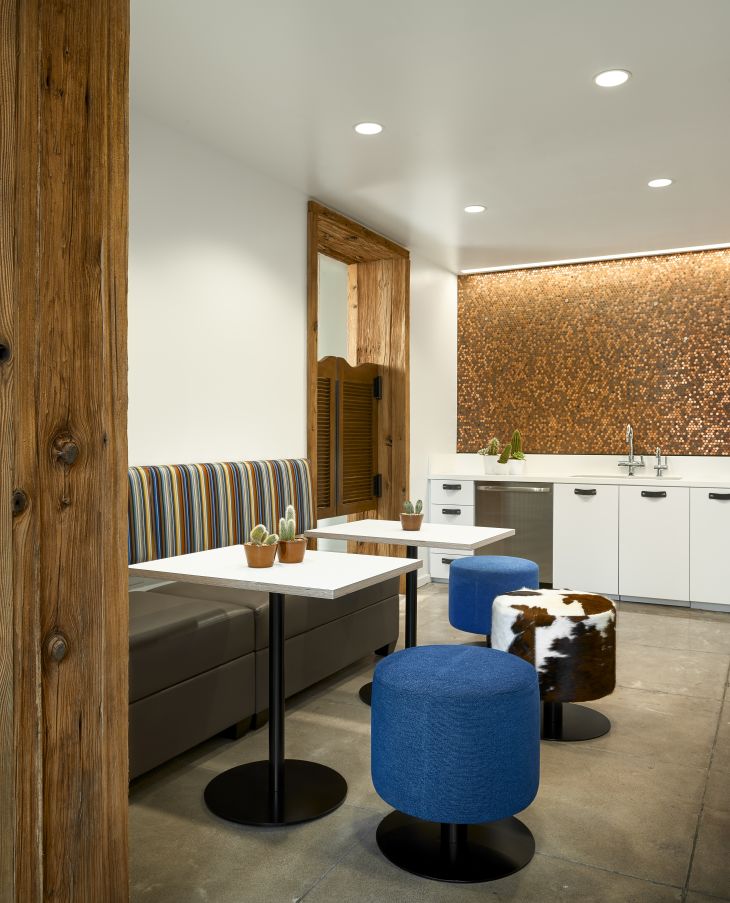 Break room and working cafe
How does your space tell your company's story and reflect its brand?
Booking.com may be a Dutch company, but they believe in 'empowering people to experience the world'. With offices around the world it's important each one reflects the unique local context and captures the spirit of the city. The Phoenix office does just that through use of locally sourced materials and whimsical western aesthetics.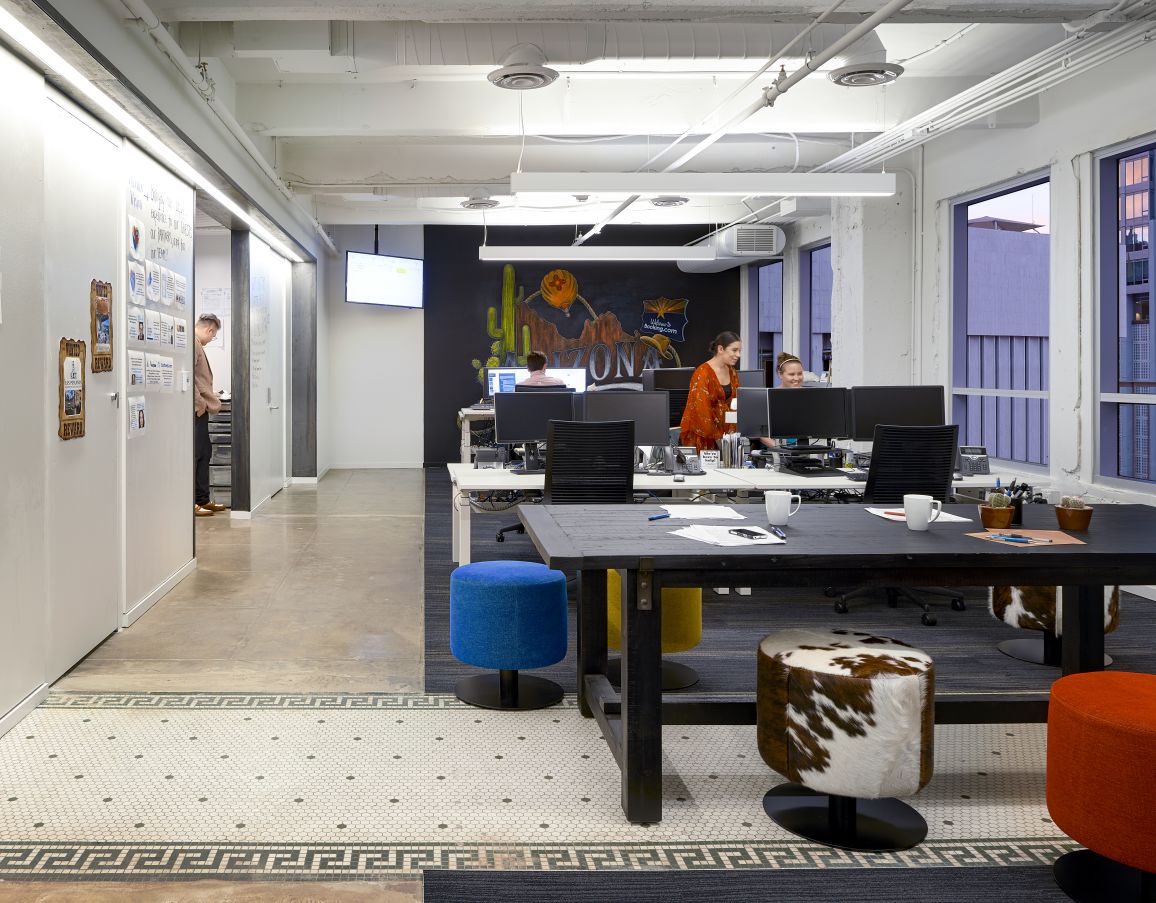 Open office
How does your space engage your employee base?
Collaboration is highly encouraged in the Booking office. Employees who work at Booking do so because of the collaborative environment and emphasis on social connections. With just over 2,000 square feet, the Phoenix office naturally creates a familial type space which allows for employees to feel safe to create, innovate, and collaborate daily with their counterparts. The workstations can be used for both head-down focus work and team oriented projects. When employees are in of a more collaborative zone they can turn to the conferring desk and work café which promotes higher levels of team engagement.
Booking.com