The Board of Certified Safety Professionals (BCSP) is recognized as the leader in high quality credentialing for safety, health, and environmental practitioners, protecting people, property, and the environment.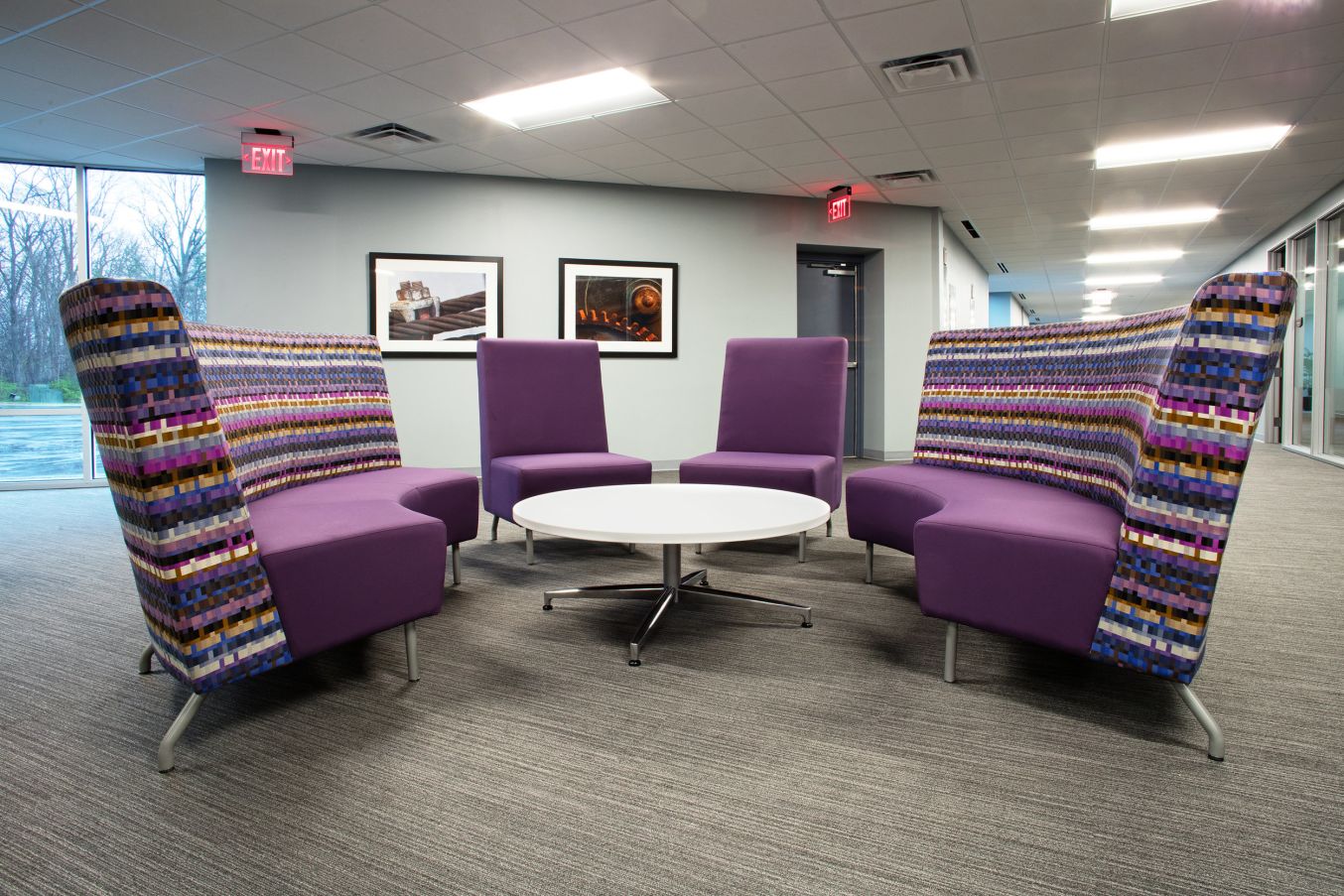 How does this space drive productivity, collaboration, and connectivity?
We keep a very open and welcoming feel here at BCSP. All offices and meeting spaces have glass fronts, emphasizing our open-door policy and encouraging conversation amongst all levels of employees. The building is organized by department, so we encourage collaboration by providing areas of soft seating that invite our employees to meet or relax in a shared work space.. Building-wide WiFi, multiple meeting spaces where people can hook up their laptops or tablets, and large, screen-cast enabled televisions provided in each of these spaces allows mobility and keeps us connected. If someone needs a little peace and quiet, we offer quiet rooms and a wellness space for anyone that needs to step away and refocus.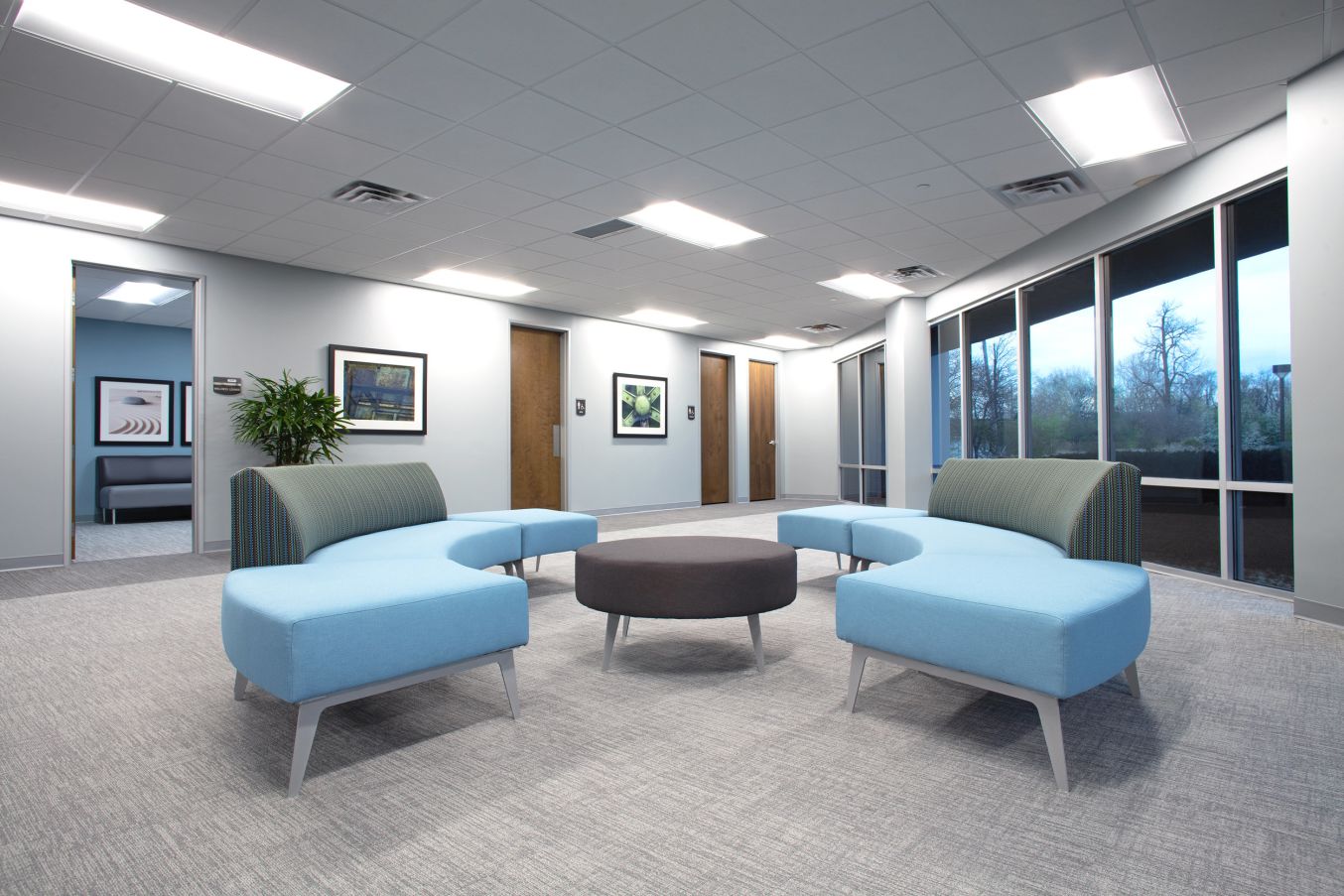 What is one thing that is unforgettable when someone walks through your space?
People are always commenting on the artwork. We tried to keep a flow going from one space to the next. In the lobby, people like to stop and read our Mission, Vision, and Core Values that hang on the wall right when you walk in the front door. Following these, we have a gallery feel with multiple black and white photos of men and women working in industrial spaces. Our office space is large, but the color scheme and the theme of the artwork is fluid. We keep the industrial feel throughout most of the building. In our workroom, we have a display of hardhats that feature logos from a few of the schools that are a part of one our certification programs. In another area of office, where we often host visitors, we have three pieces featuring the actual metal logos that hung on our two previous office buildings. This is always a topic of discussion for visitors, especially for those that are familiar with the history of BCSP. Whenever anyone new comes to tour the building, the artwork is definitely a focus.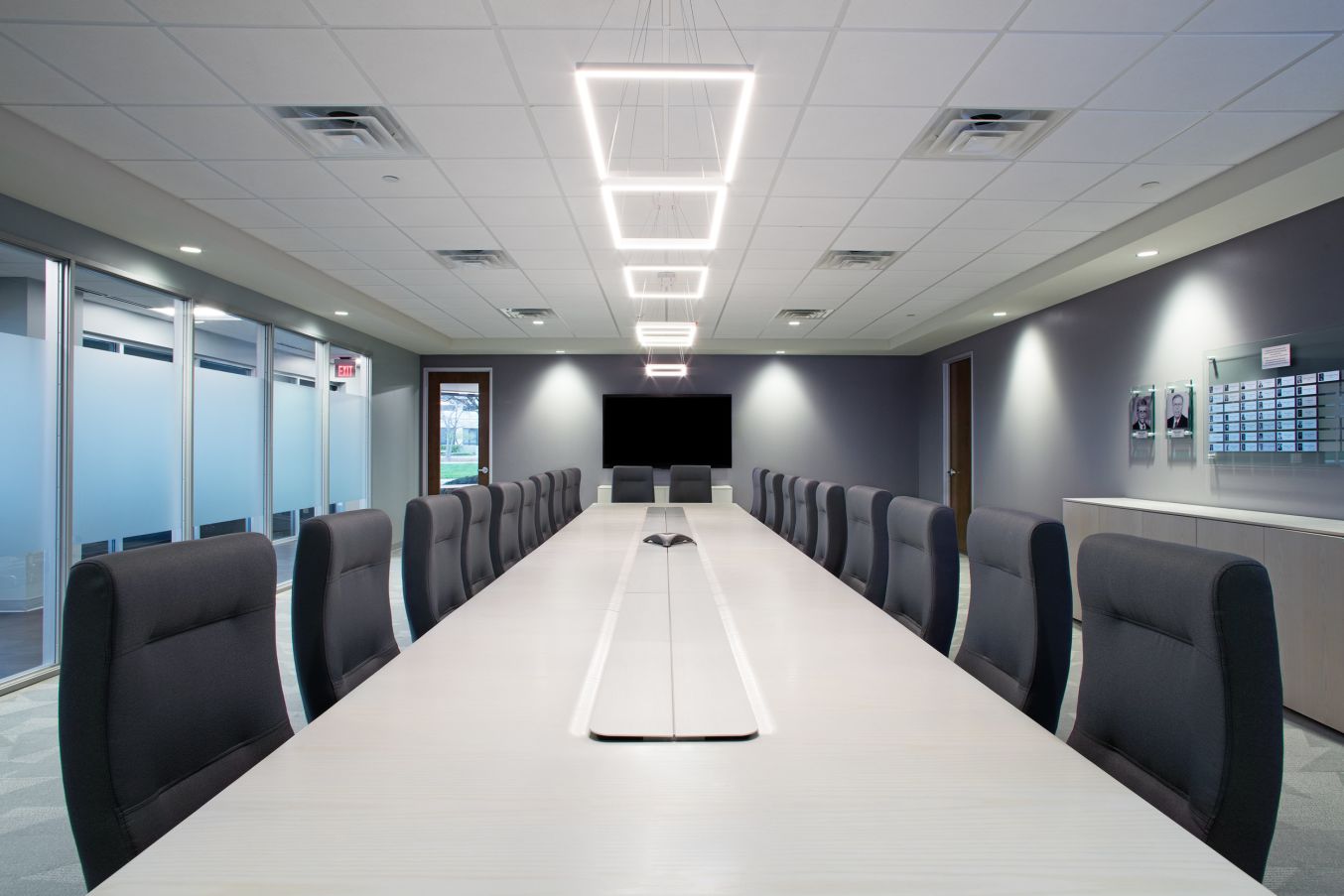 How does your space tell your company's story and reflect its brand?
The artwork is a big part of this. The industrial pictures in the lobby are from a time before safety was a huge element in the work place. BCSP works hard to ensure that people in the safety industry take precautions against risks in the workplace, risks that these photos clearly demonstrate. We also have other pieces of artwork that reflect different industries in safety. BCSP has four main conference rooms that are named after influential people in the safety industry. Outside of each room, we have a plaque with the person's name and the area of safety that they are most known for. When you walk into the front door of our building, we have our company logo, if you look to the right, we have our Mission, Vision, and Core Values hanging on the wall. Under our logo, it says "Since 1969". These Core Values and our Mission and Vision, has been around for almost 50 years, we work very hard every day to ensure they still mean something far into the future. We like to be reminded everyday of what we do and why we do it.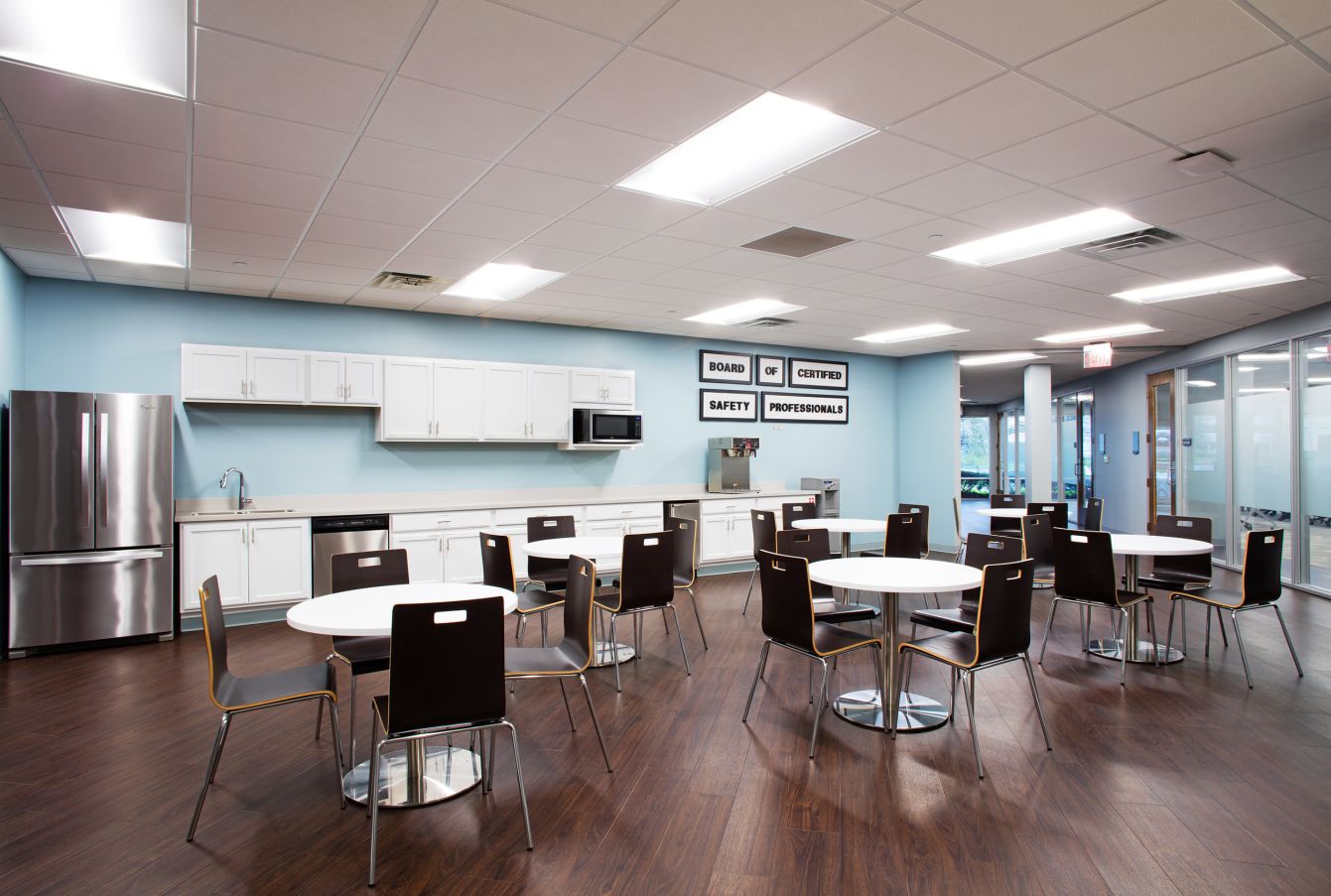 How does your space engage your employee base?
We like to think of ourselves, at BCSP, as a family. Some people have been working here for more than two decades, others for only two months. No matter how long, we work together like a well-oiled machine. Our space is a huge part of that. We have an open and airy kitchen that allows everyone to sit and eat at once. The cabinet space allows us to provide coffee and tea to be used by employees at any time of the day. It also allows us to provide a space for ice cream socials and impromptu gatherings. Our multiple conference rooms allow meetings to go off without a hitch and our many soft seating areas allow small meetings to occur without a formal setting. We have two quiet rooms for employees to use if they need a moment alone or need to take a private phone call. We also have a wellness room that allows new mothers to nurse in private and employees a space to relax and refresh. We have so many multi-functional spaces that we can host panels and guests on one side of the building without it affecting the work of those on the opposite end of the office. When our Board of Directors come into town, we are able to host them in the Board Room and use our catering pantry as a separate kitchen area so we do not disrupt a normal work day for everyone else. We have so much counter space, we can offer fruits and vegetables and other wellness snacks to everyone in the office and still have enough room for people to prepare coffee and lunches. The office space has enough private areas that we can offer employee chair massages with minimal distraction. BCSP uses our space to take care of our employees. When our employees are happy, we thrive.