BlueSky is an eCommerce consultancy, offering a full range of solutions and services including Platform Implementation, Custom Development, Managed Services, Digital Marketing and Creative Services.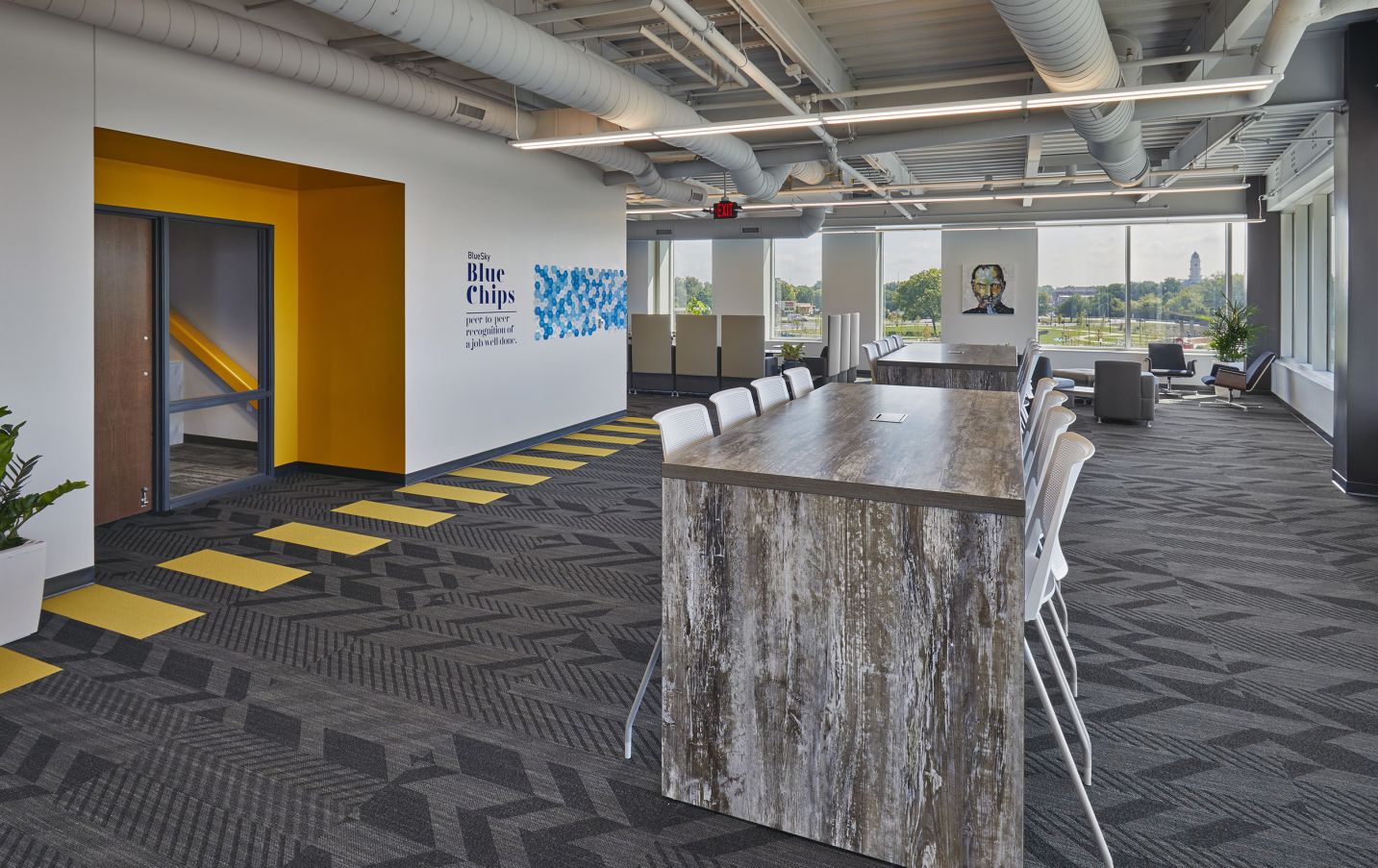 How does this space drive productivity, collaboration, and connectivity?
The space was planned and built out to optimize productivity and connectivity. The planning effort began with a discovery phase on work dependencies conducted by American Structurepoint, the architect firm for the building. The resulting layout nailed the best work efficiency with natural collision points throughout the space. The departments that tend to work more frequently with other departments are right next to each other. Project Managers occupy offices on the interior of the building while business analysts, developers, solution architects and creative personnel work on the exterior of the building in open, highly-efficient pods. There are numerous soft-seated collaboration spaces arranged throughout the space for scheduled or one off meetings. Plus, there are rooms dedicated to collaboration that are literally called collaboration rooms. For more formal meeting space there are 5 conferences rooms available for use with state of the art audio/video capabilities. Each office, collaboration room and conference room has been painted with a 5 foot tall swatch of white board paint for brainstorming, note-taking and solutioning purposes. Furthermore, to maximize productivity we invested in electronically adjustable standing height desks.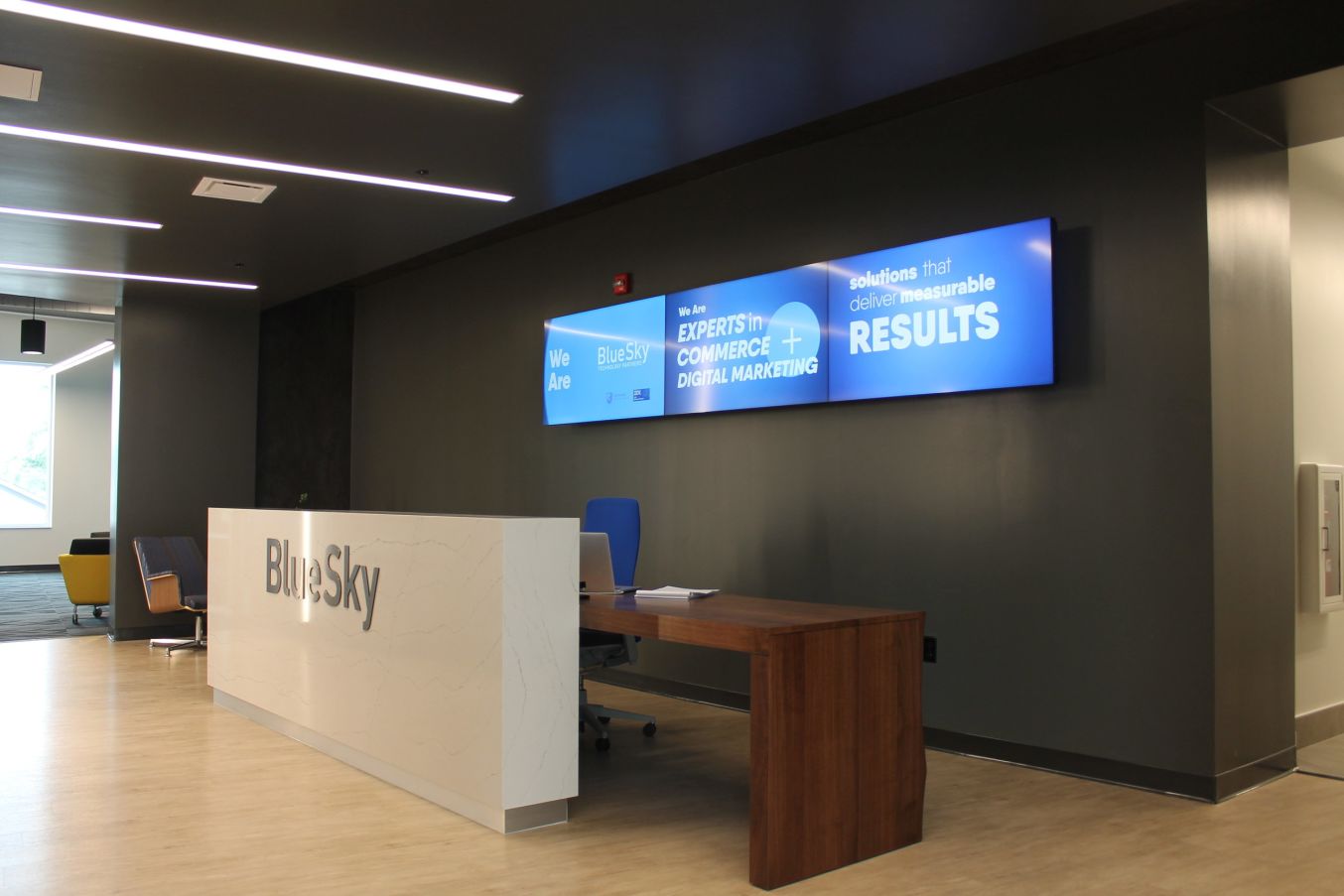 What is one thing that is unforgettable when someone walks through your space?
The 4th floor terrace overlooking Federal Hill Park and downtown Noblesville from the west side of the White River is the most alluring aspect of the building. The terrace includes several outdoor seating options from individual lounge seating to group collaboration nests to sit-down and bar height dining. It is common place to see multiple people using the terrace from morning coffee over email to full team meetings at mid-day to end of day happy hour briefings. The terrace is great for networking with colleagues or partners as well as entertaining clients.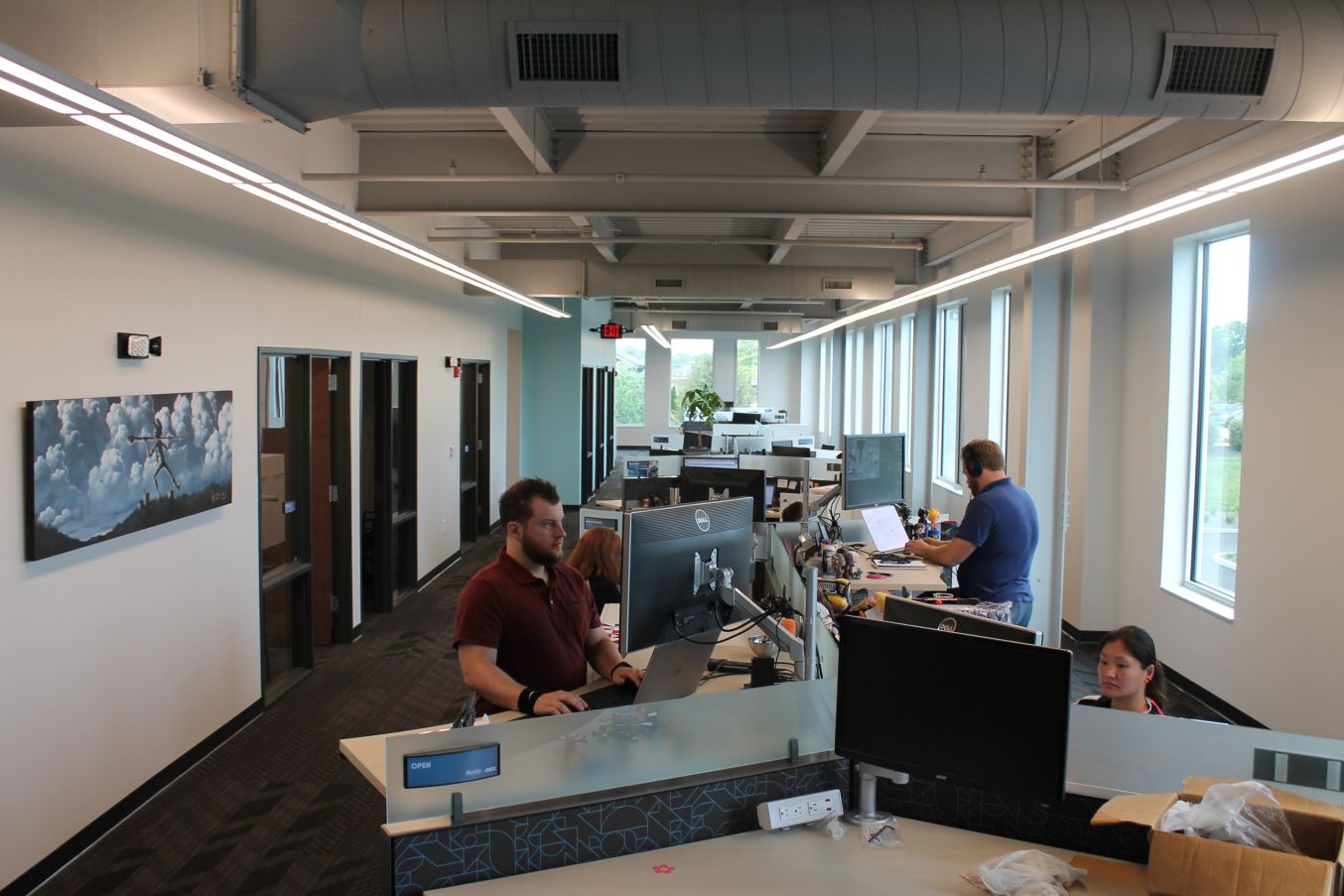 How does your space tell your company's story and reflect its brand?
We have dedicated numerous areas of the space to reflect the companies history, guiding principles and to further accentuate BlueSky 's brand. We have a section dedicated to family pictures along with pictures of past BlueSky events which helps promote the "Our People Matter " guiding principle while reflecting the company history. On the adjacent wall we have hung banners signifying BlueSky 's selection as a Best Places to Work in Indiana. These two sections wrap the kitchen and bar area of the space. We also have a "words " wall as the first visible wall as one exits the elevator and enters the 3rd floor at BlueSky. The "words " on the wall call out our guiding principles in a 3 dimensional contextual layout. Adjacent to the "words " wall is our awards section. Together these sections accentuate the BlueSky brand message of high quality consultants delivering high quality services and solutions.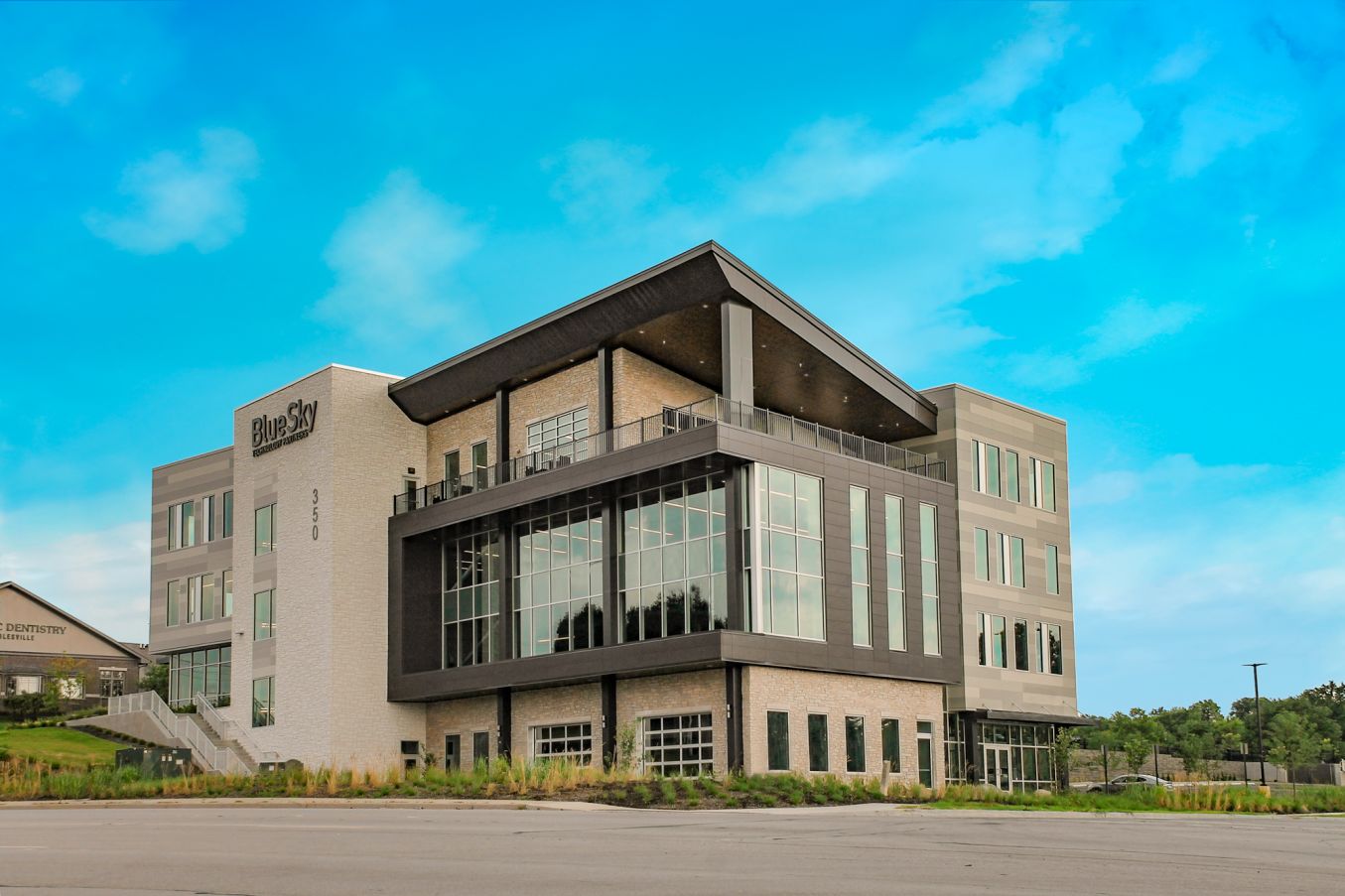 How does your space engage your employee base?
There are multiple TV 's throughout the space used for company messaging, welcoming guests and promoting achievements. There is a game room that includes a pool table and video game unit (60 unique classic video games) that promotes engagement for team collaboration. Another part of the building has a fuse ball table for the same purpose. We have a pair of treadmill desks to promote exercise while one might take a phone call or want to discuss a project with a colleague. We have a work out facility in the 1st floor of the building right next to an indoor bike storage wall outfitted with 5 bikes available for use by associates and racks dedicated to associates that bring in their own bikes. Next to the work out room are a men 's and a women 's locker room including lockers and private showers. The bar and terrace areas are used frequently for activities throughout the day. On Friday 's the bar is the place to be at 4:30 for happy hour.