Blue & Co., LLC, ranked as the 56th largest CPA firm in the U.S. by Inside Public Accounting, was founded in 1970. The firm currently has 13 offices in 4 states (IN, KY, OH, and TX) and over 400 professionals. Blue is proud to serve clients in Construction, Manufacturing, Distribution, Healthcare, Agribusiness, Financial Services, and Not-for-Profit industries.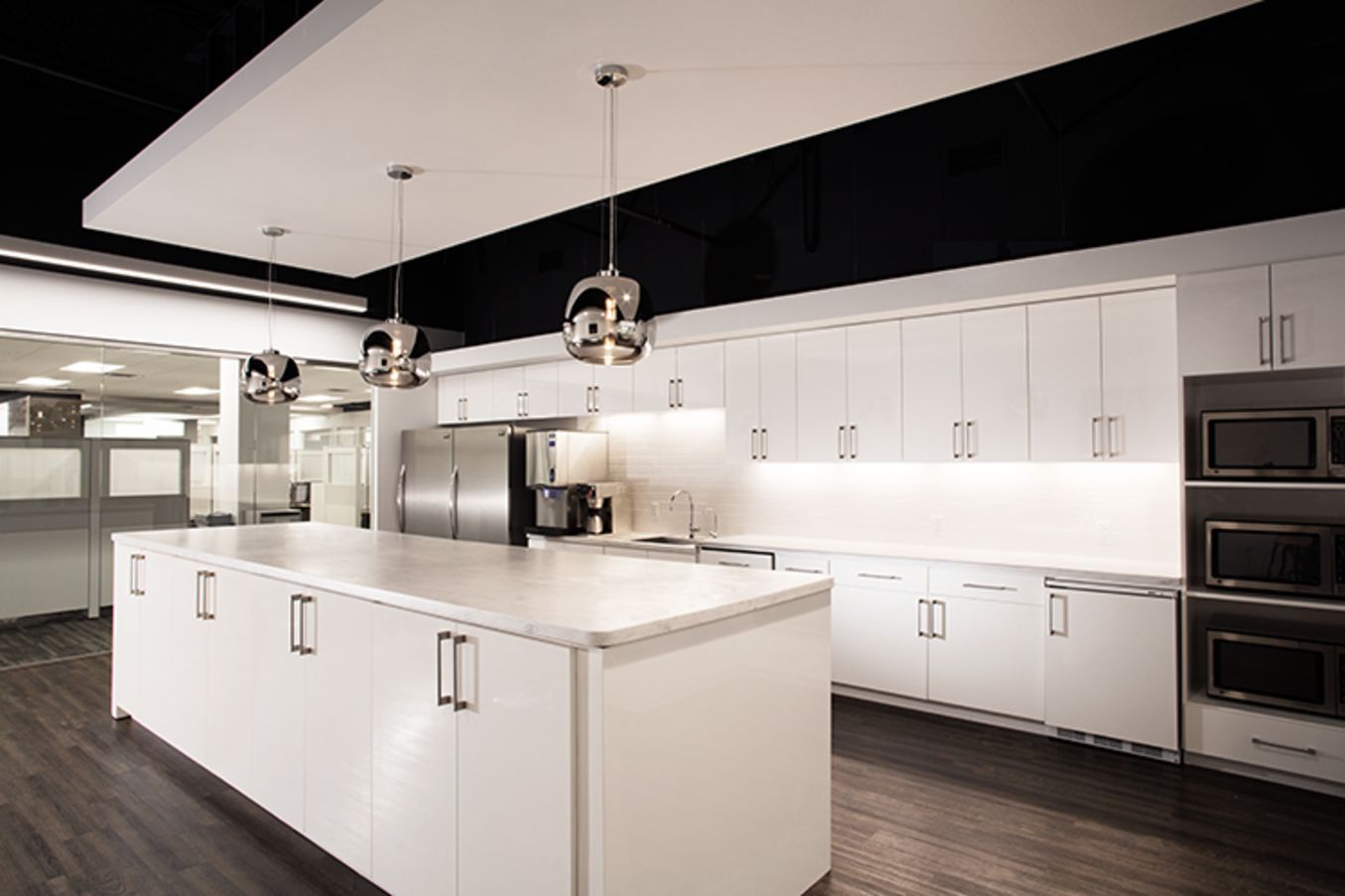 How does this space drive productivity, collaboration, and connectivity?
Our office provides ample space for our employees to meet and work together. The North Collaborative Area provides a large table with seating for 8. The table is wired with electricity enabling employees not need to worry about laptop battery life. The South Collaborative Area provides three work areas. A table and chairs for small groups up to 4 to meet. Additionally, this space provides a workstation and seating along the back wall for additional team members if needed. In the center of the office is a large café. The café provides seating for 4 at two different table and booths as well as seating for two at a smaller round table. Additionally, team members can sit at the island. Throughout the office there are additional meeting spaces available next between the shared managers offices. These spaces are great for small groups of two or three to work together. For team meetings requiring more privacy or larger space for eight or more, our space provides a large conference room. Additionally, there is a larger training space and a smaller conference room adjacent to our office which we share with our neighbor. To further enhance the functionality of our space, we have wireless connectivity throughout our space. We additionally, have video conferencing available in our conference room and the shared training space. We also have new copiers located around the office and in the workroom. The employees are able to use their security badge at the printer of their choice to print their work. This saves paper and also keeps the employee from losing small print jobs in the middle of larger ones.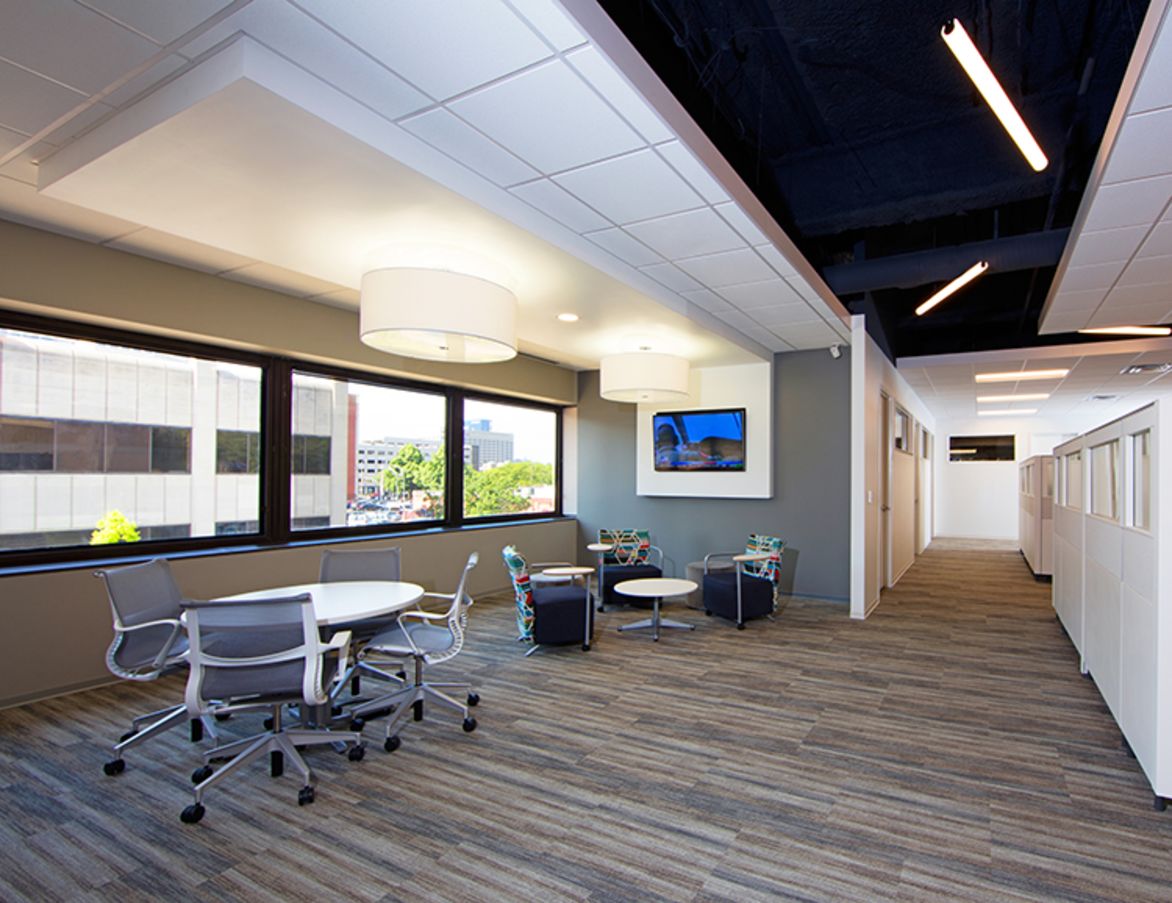 What is one thing that is unforgettable when someone walks through your space?
The color pallet, artwork and design is what makes our space unforgettable. The space is warm and inviting yet professional and modern in design.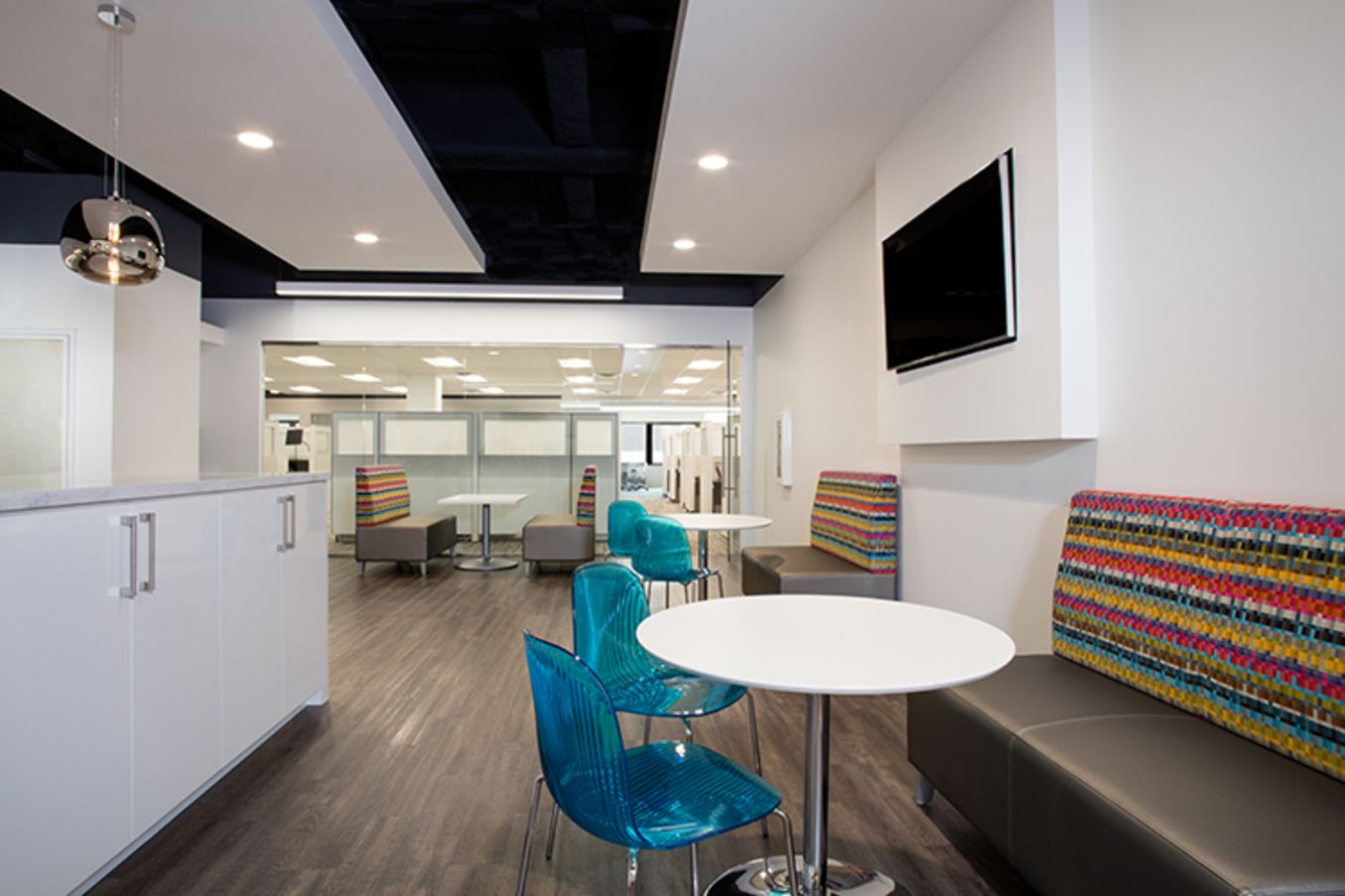 How does your space tell your company's story and reflect its brand?
Our firm endeavors to be cutting edge and uses technology to further our brand. The space reflects this in the modern touches such as the wireless technology, meeting spaces and collaboration areas. Additionally, just walking through the office one can see pops of blue as well as other primary and secondary colors used throughout Blue's branding.
How does your space engage your employee base?
The space is modern and has a comfortable feel. The lobby, two collaboration areas, and café each large flat screen televisions with cable TV on all day. This helps the employee by engaging their interest while still stimulating their productivity. For instance, during March Madness, we provided snacks and had the basketball games on. The employees were able to work in the office and still watch the games. Additionally, with the larger café with a great layout, more employees are having lunch in the café and visiting with co-workers.