Bloomerang helps nonprofit organizations to reach, engage and retain the advocates they depend on to achieve their vision for a better world. Their cloud-based donor management application is rooted in principles of philanthropy, simple to use and focused on empowering their team to achieve remarkable results through enhanced donor loyalty.
How does this space drive productivity, collaboration, and connectivity?
Our space's unique blend of exposed beams and duct work, colored offices, and open, bright collaboration areas all work to foster creativity and connectivity. The office walls are painted in bright hues of yellow, orange, or green. Red and blue exposed beams, gray walls, and accents of green through the office create a unique space and utilize the power color has on our mood. The orange and yellow office accent walls foster energy and innovation and are associated with happiness, creation, and creativity. The greens, blues, and grays in our space are calming, soothing, and relaxing, while the red brings out warmth, excitement, and passion. The windows and high, exposed ceilings throughout offer tons of natural light to promote calm, happy, and creative thoughts that help with collaboration, which is especially prevalent in the Launch Cause coworking space. Each department has its own space, but they're all interconnected. Plus there's plenty of places where we can all come together-- in fact, it's encouraged! Who wouldn't want to have a meeting reclined on a comfy, leather couch? The design of our building simultaneously encourages hard work and idea sharing.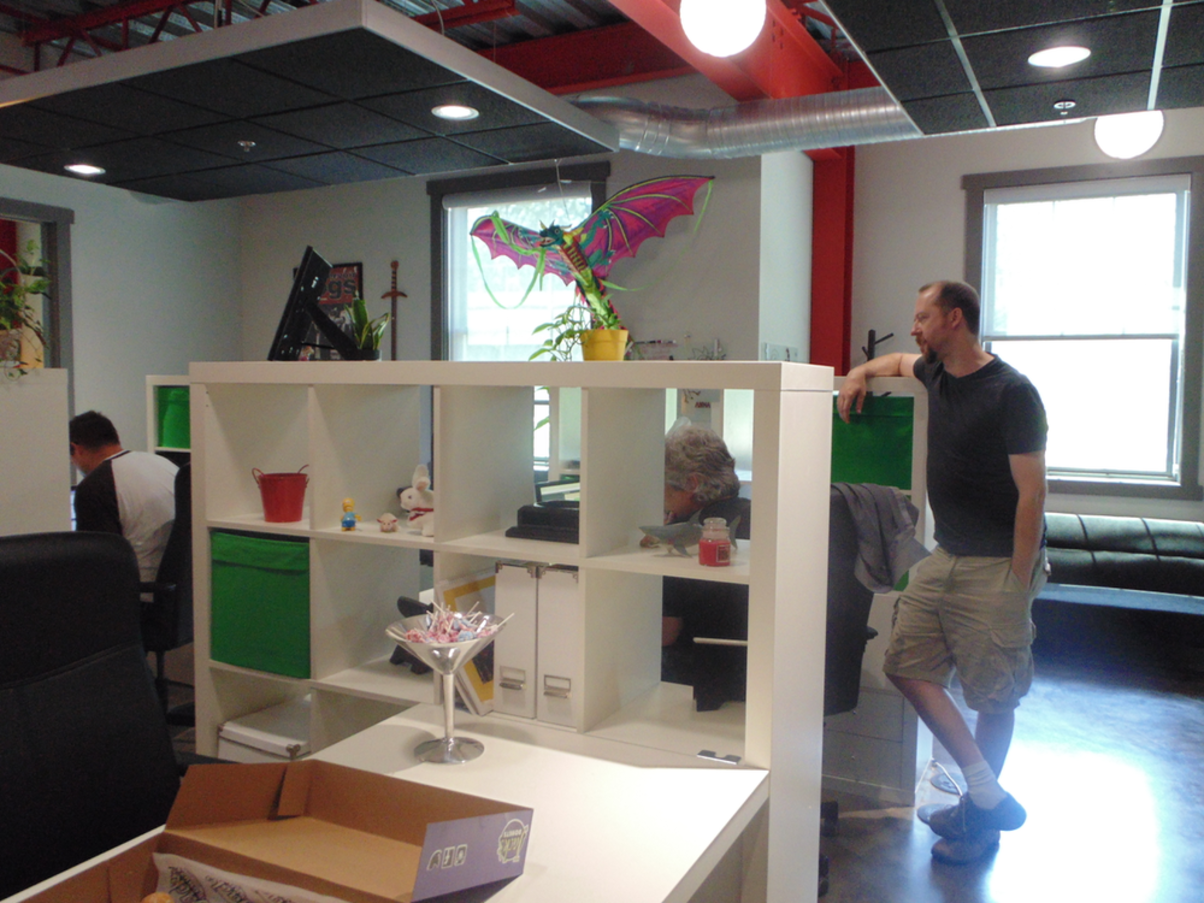 What is one thing that is unforgettable when someone walks through your space?
The hall of partners. It's easy to point out our ping pong table, workout room, and colorful walls -- lots of modern spaces boast these amenities. But what sets us apart is our devotion to the nonprofit sector. We're so devoted, in fact, that our building even conveys it. We've committed ourselves to connecting with nonprofit leaders, consultants, and non profit-oriented companies that can provide value to our nonprofit customers through our recommendations. When you walk downstairs in our building, you'll see our hall of partners. All of our hundreds of partners are framed and displayed proudly on our walls. As you walk through, colorful partner logos stand out on either side of you. The offices, departments, and employees on that floor are all centered outward around the hall of partners.
How does your space tell your company's story and reflect its brand?
We're known for our mission and our culture, and you can see this as well as our personality in our building. It's a blend of old and new. Our modern building is complemented by each employee's personality in their space-- some choosing to set up standing desks, others adding plants and pictures as homey touches. Similarly, Launch Cause is a new space (one of the first of its kind) that utilizes donations of old office furniture and supplies. The red brick exterior of our building and solid concrete foundation show our stability and how we've established ourselves as thought leaders in the nonprofit world. But the modern inside of our building showcases our innovation and drive to always continue changing and improving. Our brand is reflected through the colors in the space. Our walls are lined with plaques, awards, newspaper articles, and pictures of volunteering and company events-- all pieces that show how far we come and our plans for continued growth. The open space in Launch Cause is ideal for workshops, lunch and learns, and nonprofit happy hours, which reflects the organization's mission to help nonprofits take more action and be less passive. Its versatile office space and programming strives to give nonprofits the resources they need to succeed.
How does your space engage your employee base?
Our space is optimized for our culture. Employees gather in sitting and collaboration areas. Games are played every day at lunch in the downstairs common area. Yoga classes are held in our workout/exercise room. Meetings and bible study are held in our various conference rooms-- complete with whiteboards, projectors, and phones. Impromptu meetings are held on red leather couches. Fort Benjamin Harrison Park passes hang on our walls. Paper lanterns are built over our hanging light fixtures. A colored hanging dragon guards our Customer Support area. Culture events utilize the space almost weekly. Movie nights are projected in the board room. Paper airplane contests are held in upstairs in Launch Cause. Mini golf courses are created using the unique office space and each department's creativity. Lunch and Learns are hosted in the downstairs kitchen area. Most importantly though, the space allows employees to thrive and grow in the learning environment that works best for them.