Bedel Financial Consulting is a comprehensive, fee-only wealth management firm, dedicated to helping you achieve financial security. We understand that you may not have the time, energy or expertise to manage it all yourself. You don't have to. From the time Bedel Financial was founded in 1989, we knew the key to success was to put your interests first. As a Fiduciary, we've held ourselves to the highest standard of care since the firm was established. Our client-first approach is built on transparency and trust—no commissions, no products to sell, no conflicts of interest. Just confidence and peace of mind, so you can focus on the moments.
How does this space drive productivity, collaboration, and connectivity?
Because we work in an industry that deals with confidential client information, it was critical for those working directly with clients to have private spaces in which to discuss client matters and dig into their workload with a minimum of distraction. We knew we would need to provide these folks with private offices, but also had the challenge of keeping the feeling of openness and collaboration for staff members. We partnered with RJE 's DIRTT team to create a solution - partially-frosted DIRTT glass walls for all conference room and office fronts, lending to an open, collaborative feel. We also have three shared office spaces; these would be occupied by staff members that work in a team, such as marketing. This would allow greater collaboration amongst the team members. We also designed certain areas within the office to serve as "landing spots " - areas where staff could congregate and work in collaboration when needed. We have a huddle area with chairs, laptop tables and powered coffee tables; a stand-up collaborative island for impromptu meetings; an open space with room to bring in mobile tables and chairs for staff meetings; and a large, open kitchen with seating banquette perfect for working lunches or firm pitch-ins. Lastly, we knew we 'd be in our new space for quite some time to come and needed to work ways into the space to accommodate future staff growth without having to undertake major construction. Working with RJE, we designed an interior "pod " comprised solely of DIRTT walls. This pod is currently comprised of two conference rooms and three offices. However, if needed, this pod could be removed and the resulting space could accommodate another eight cubes. While we have a staff of 21 at the moment, we know our firm will continue to grow, and consequently, so will our staff size. We have the capacity to hold 34 employees in our current space, if we were to remove the entire DIRTT pod. This proactive planning will hopefully eliminate growing pains for us in the future.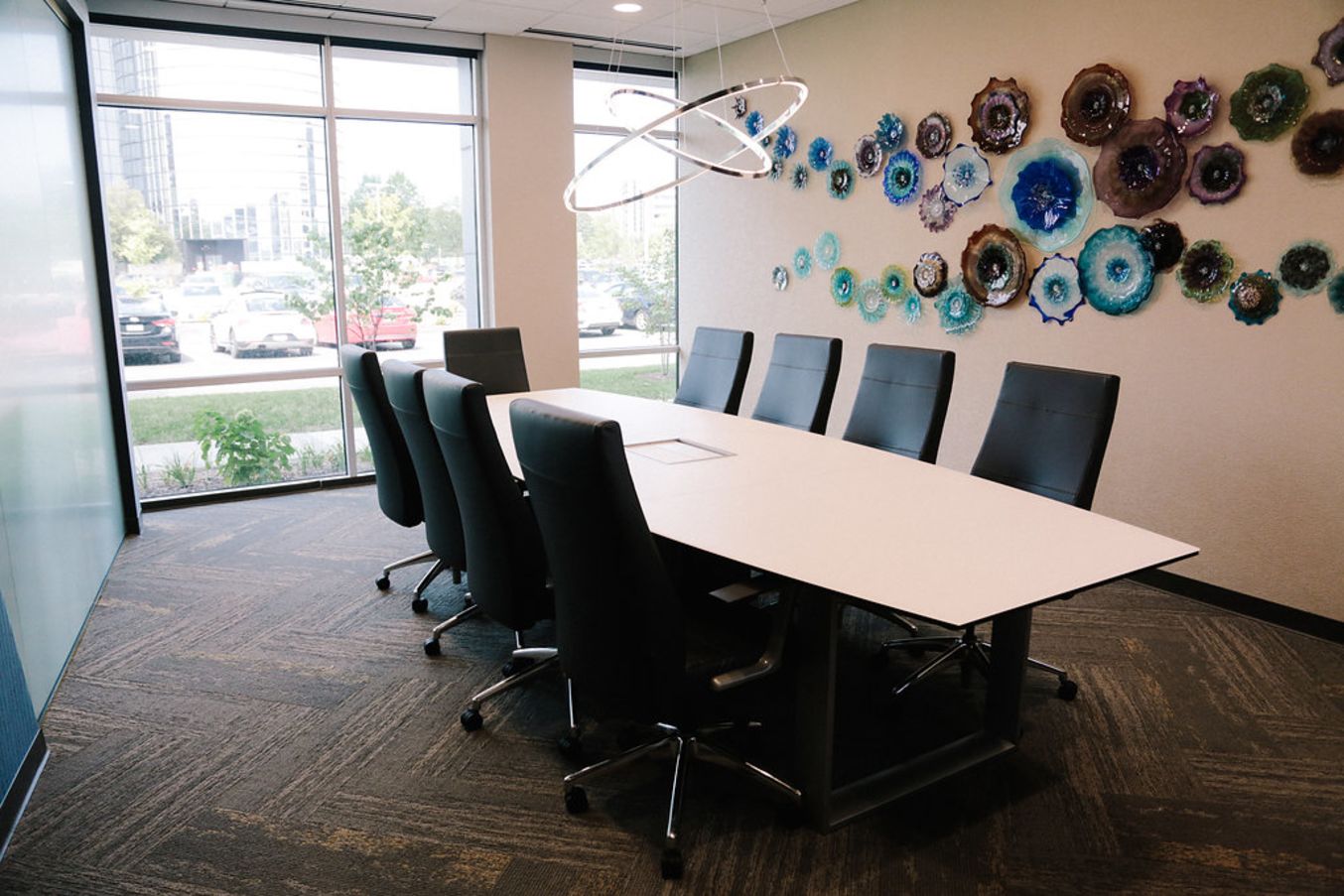 What is one thing that is unforgettable when someone walks through your space?
Our guests and clients have most commonly noted how light-filled our space is, further magnifying the open, airy, soothing feel of the office. Our conference rooms and private offices run around the perimeter of the office, but each one has a glass front to allow the natural light to flood into the outer, open space of the office. We also strategically placed overhead and task lights to ensure that all areas are well-lit, while also including dimmer switches on task lighting to accommodate various lighting needs. Our visitors have seemed especially taken with our lobby, which has a full wall of windows, and our kitchen/banquette, which is enclosed on two sides by windows. As one staff member said, "There 's no way you can have Seasonal Affective Disorder in this space! " Even on the darkest days, the office just has a warm, cozy and inviting feel to it, thanks in part to the lighting design.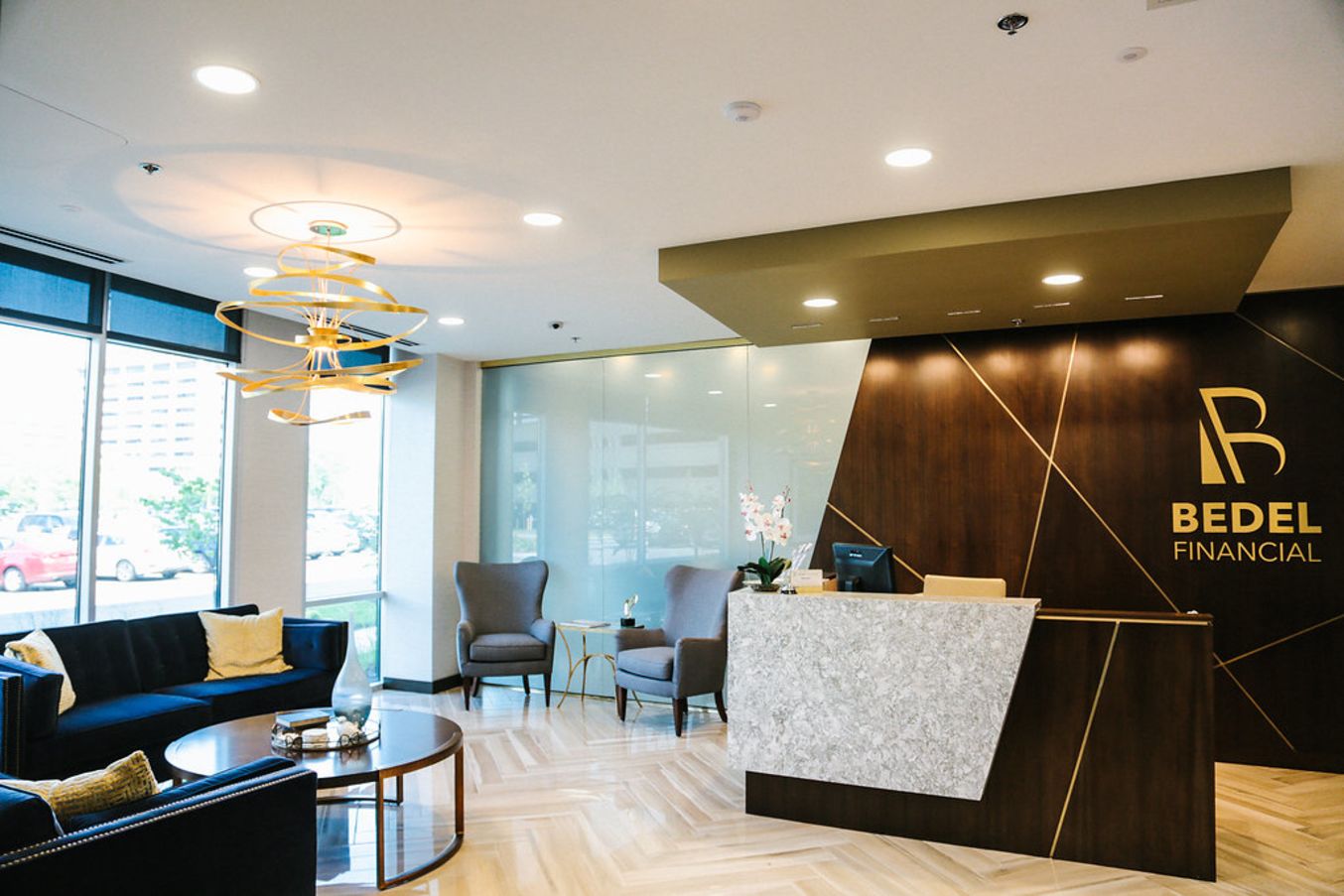 How does your space tell your company's story and reflect its brand?
We have a unique brand - we value tradition and history, while always working to stay ahead of the curve in our industry. We 're known as being thought-leaders in the wealth management industry while also maintaining a feeling of comfort and familiarity for our clients - more what you 'd call a forward-thinking traditional firm. As a result, we chose finishes and furniture that combined both classic and modern style. Working closely with Mallory at Schott, we chose more modern, slightly funky light fixtures to bring interest and fun to the space, while keeping many of the furnishings a bit more traditional but with a contemporary twist. We cater to multiple generations of clients and our timeless materials, contemporary fixtures, and plush furnishings ensure that all clients feel welcomed into our space. It 's our hope that our clients and guests find it professional yet comfortable and soothing, and that it inspires their trust and confidence in us.
How does your space engage your employee base?
We came from an office where our staff was divided - the majority in our main office space, and a handful in a separate space we took over as the firm grew. When we planned the move to a new space, we knew our #1 priority was creating a space that connected all staff and allowed us to collaborate. We have a lot of flexibility built into our workspace, which allows our staff the freedom to choose where and how they work - the staff can work nearly anywhere in the office; we have options for seated work vs. standing work; staff can work in the inner, open area of the office or could choose to work at the kitchen banquette and have a view of the outdoors; we 've provided quiet spaces for those that need to hold private conversations or focus on heads-down work. Since moving into our new office space, we 've found that the staff enjoys and appreciates being able to choose how they work within the office. Since one size doesn 't fit all, the staff is empowered to work in the way that 's most productive for each of them. Adding into that our focus on bringing natural light into the space, we 've found the staff is more comfortable and engaged in the new office