From providing the IP for the chip to delivering the cloud services that allow organizations to securely manage the deployment of products throughout their lifecycle, ARM delivers a complete internet of things solution for their partners and customers. ARM chose McCarthy Nordburg to design it's new offices in the Park at San Tan in Chandler, AZ. Arm relocated and redesigned the 19,700SF space to accomodate its business. The new office is comprised of an open environment with several styles of meeting rooms and collaboration spaces. The client allowed the design team the freedom to push the boundaries and create a design that speaks to its culture and brand. The new design incorporates bold and vibrant colors, innovative collaboration zones to foster community, an oversized employee lounge used for town hall meetings and unique interior architectural elements. Features include customizable LED and decorative pendant lights, a custom wood slat feature in the entry, acoustical plant wall elements and a wellness wall with an interior walking track that all provide a tech-inspired ambience. There is a mix of private meeting spaces and collaborative work environments to incorporate the company's branding, colors and graphics in a manner that reflects their business.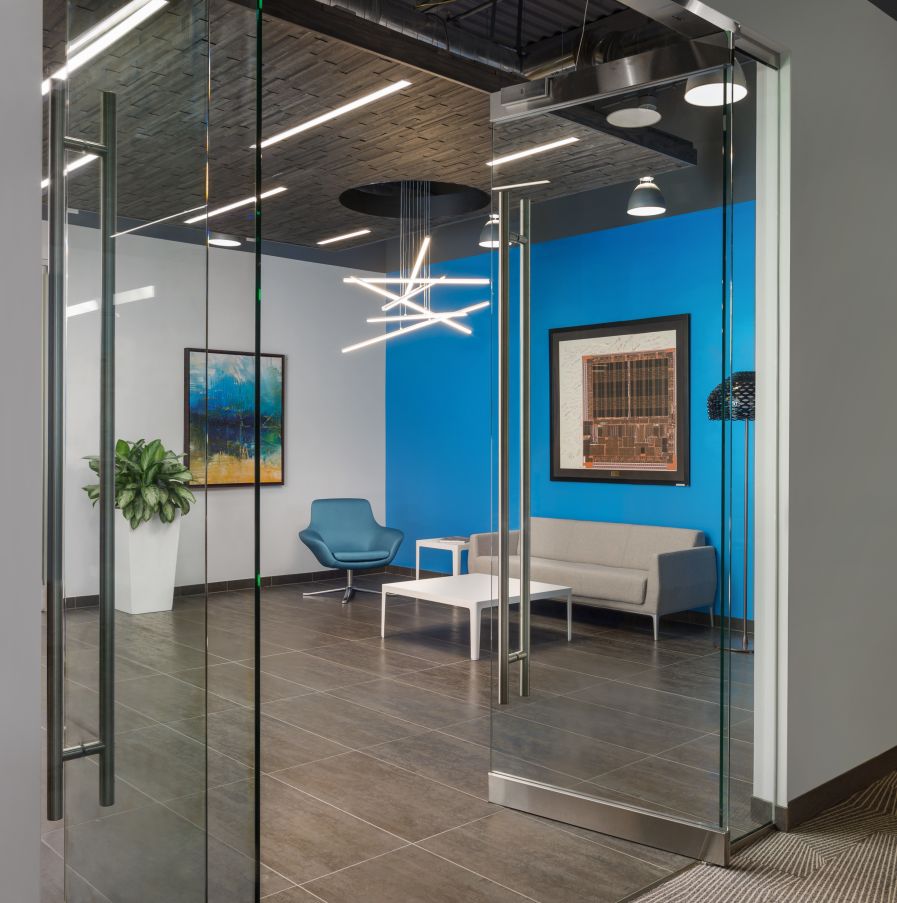 Main secured reception area
How does this space drive productivity, collaboration, and connectivity?
This space is open, collaborative, flexible and multipurpose to encourage productivity and connectivity. The main employee lounge serves as a central hub for main employee dining and playing ping pong and doubles as the "all hands" meeting room for larger groups.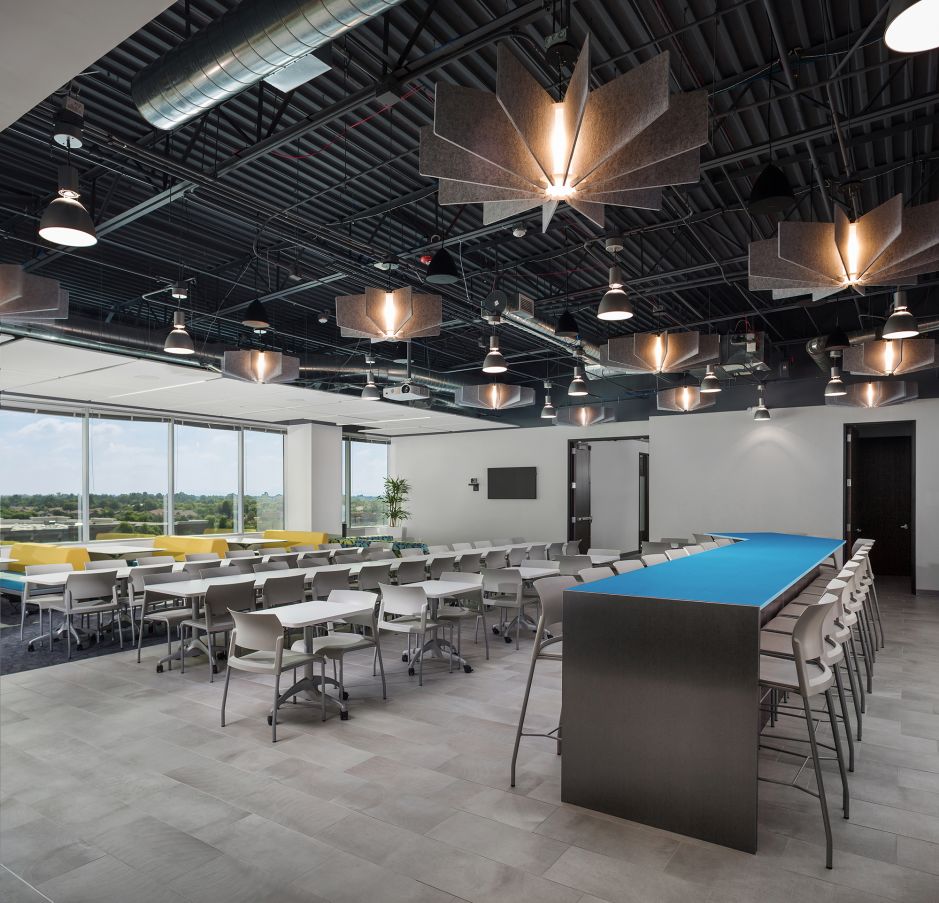 Employee lounge for employee dining, ping pong and all hands meetings.
What is one thing that is unforgettable when someone walks through your space?
The unique bold and vibrant graphics are unforgettable with the display of energetic characters, it truly reflects their high tech business.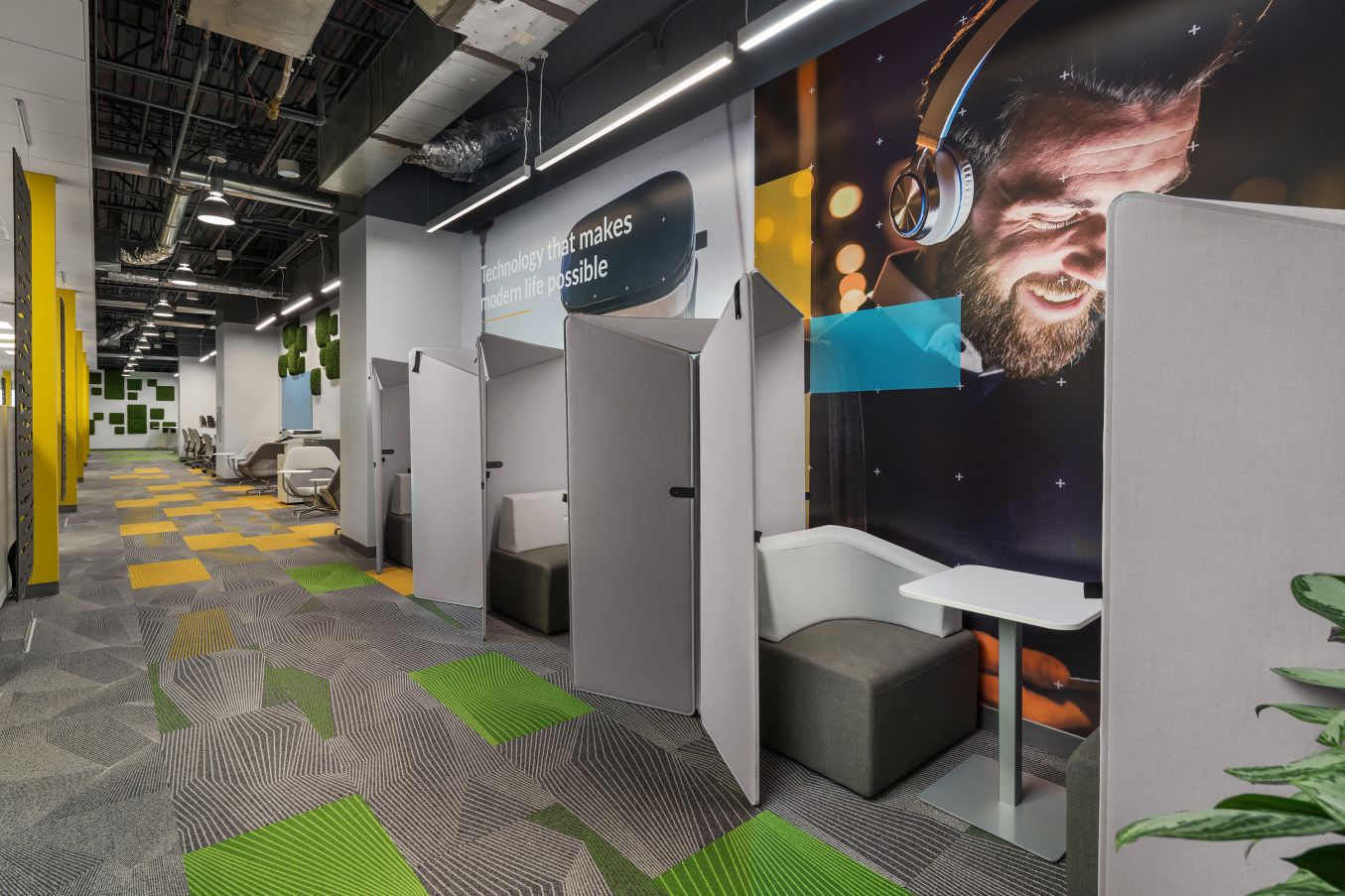 Bay of touchdown private spaces, adjacent to the open workstation area.
How does your space tell your company's story and reflect its brand?
This client allowed the design team to create a design using bold and vibrant colors, a mix of open and private offices for both collaboration and privacy, a variety of huddle room shapes and sizes, that all reflect this high tech company's brand and culture.
How does your space engage your employee base?
The main employee lounge, open workstation environment and variety of small huddle spaces for quick touchdown meetings, all encourage employee engagement.