Ardagh Group is a global leader in glass and metal packaging solutions for the world's biggest consumer brands. The unprecedented growth of their business over the past decade has been driven by their unrivaled expertise and commitment to innovation. They support their customer's drive to differentiate their products, providing innovative shaping, decoration and convenience features. Along with innovation, sustainability is hugely important to them and they only supply materials that are 100% infinitely recyclable. Collection and recycling infrastructures are well established for Glass, Steel and Aluminum and they utilize these to the full in all of their markets.
How does this space drive productivity, collaboration, and connectivity?
As the headquarters of Ardagh Group, Glass – North America and the home of shared services (Metal and Glass) for Ardagh Group – North America, it was critical that the office feature open workspaces that cultivate a collaborative environment. For the first time, this space brings together employees from three divisions, as well as the various functions that support the glass business. The huddle rooms that allow for impromptu discussions, as well as the informal meeting areas with comfortable/functional seating for small groups encourage further collaboration and connectivity with a diverse group of colleagues in an open concept design. Additionally, the use of glass walls for the huddle rooms and formal meeting areas, combined with the use of full-length windows for all exterior walls, maximizes the natural light throughout the office. Within each functional area, the centralized filing cabinets also feature a surface that can be used for small gatherings to review documents or plan the day. Since no individual has an office, all employees intermingle, and the use of the centralized cafeteria/kitchen areas on each floor encourages employees to interact with one another during break times.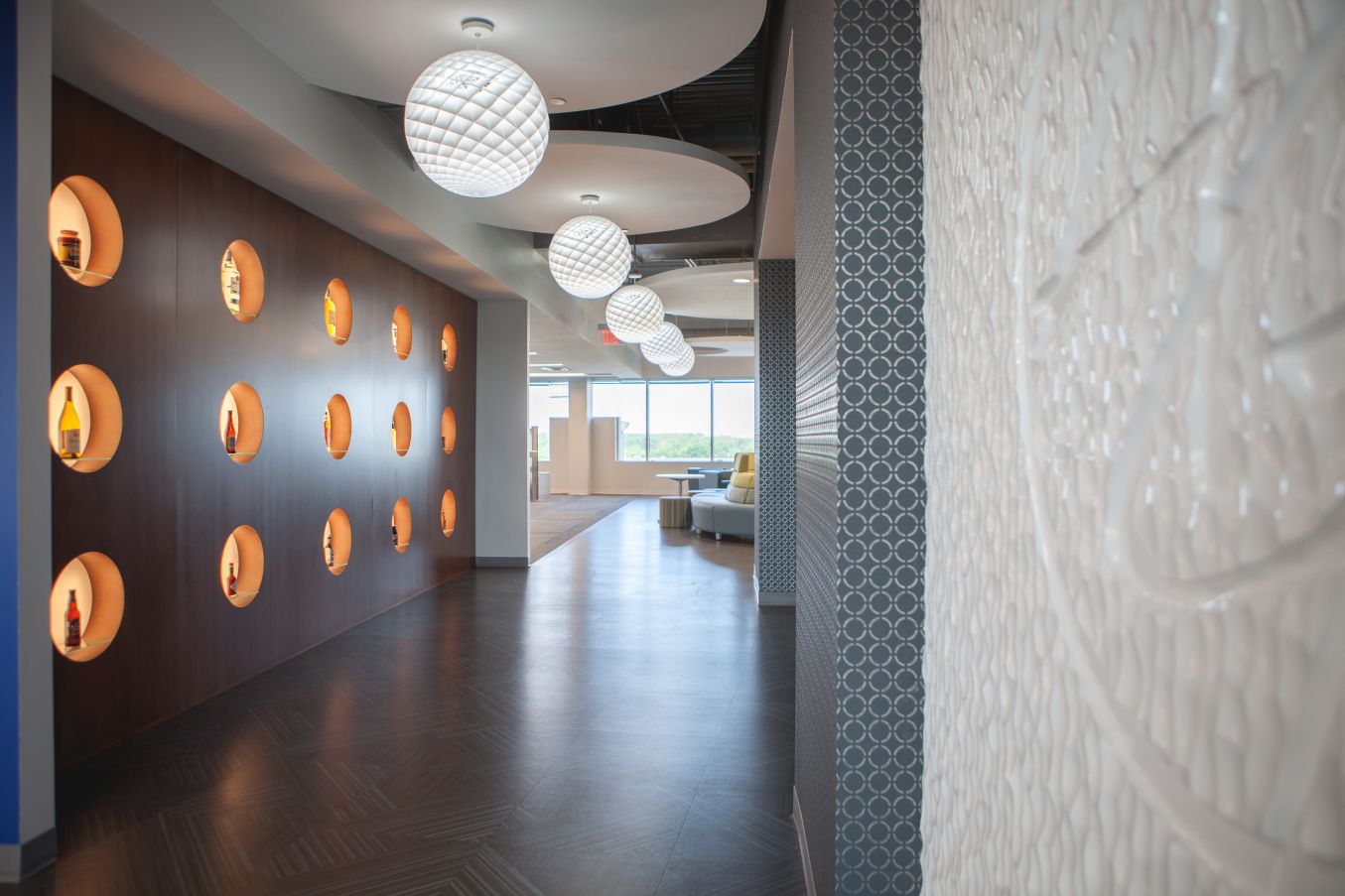 What is one thing that is unforgettable when someone walks through your space?
When colleagues or visitors enter our office space on either floor, they are greeted by our product display walls and customized lighting features, which provide a "wow" factor. The initial view provided to most visitors, also includes a custom wood ceiling and wall behind the reception desk, and those that visit our secondary floor often comment on the large customized, engraved logo that is featured prominently on the wall outside of the centralized cafeteria.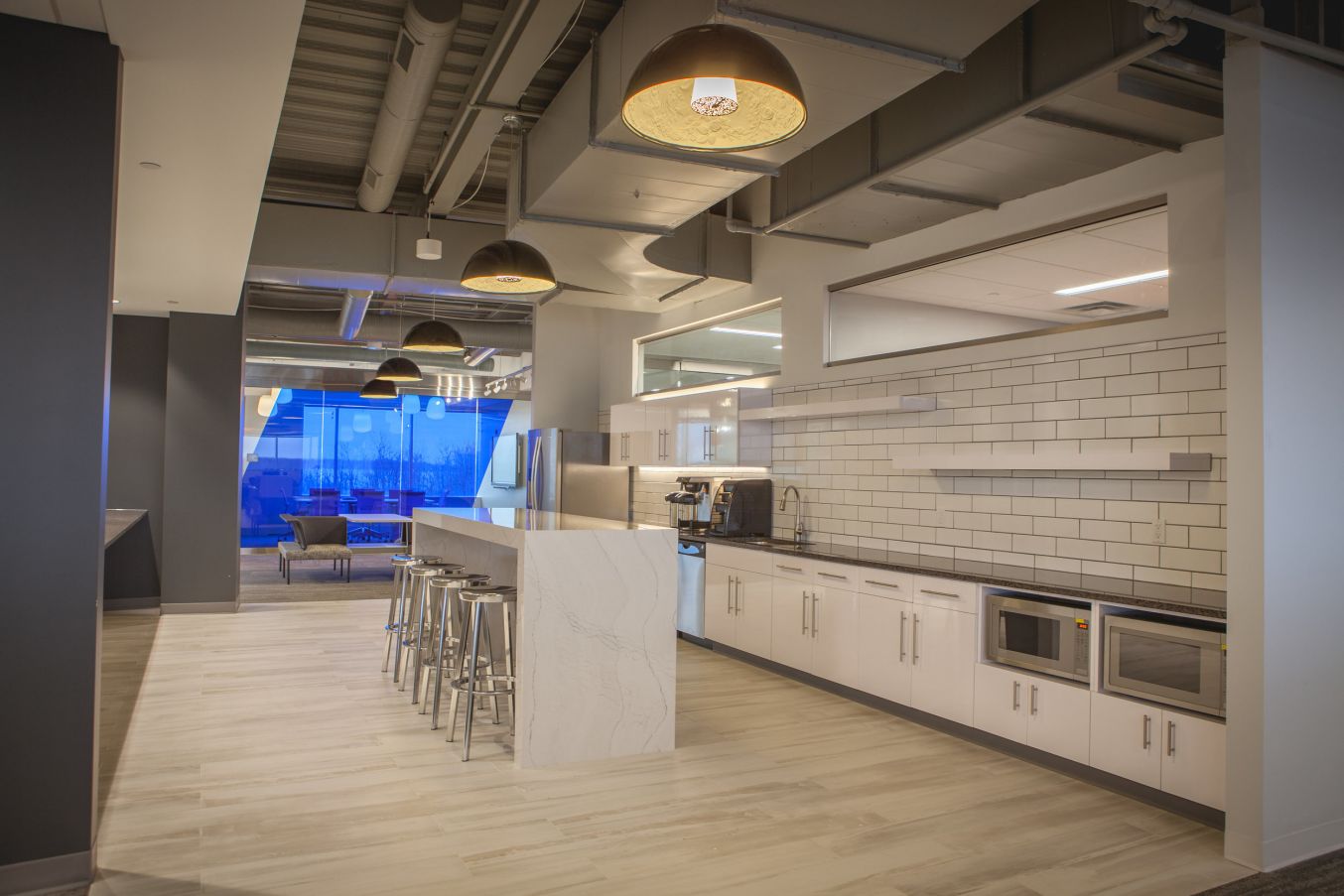 How does your space tell your company's story and reflect its brand?
The creative product display walls provide a glimpse of our varied packaging by featuring some of our customers' products. The open library provides a home for literature, antique samples and equipment that tell the history of our company. The formal meeting/conference rooms are each named using elements of Ardagh Group's core values, and each room can also be recognized by the color-coordinated shelving, seating and unbranded glass bottles and jars that are on display.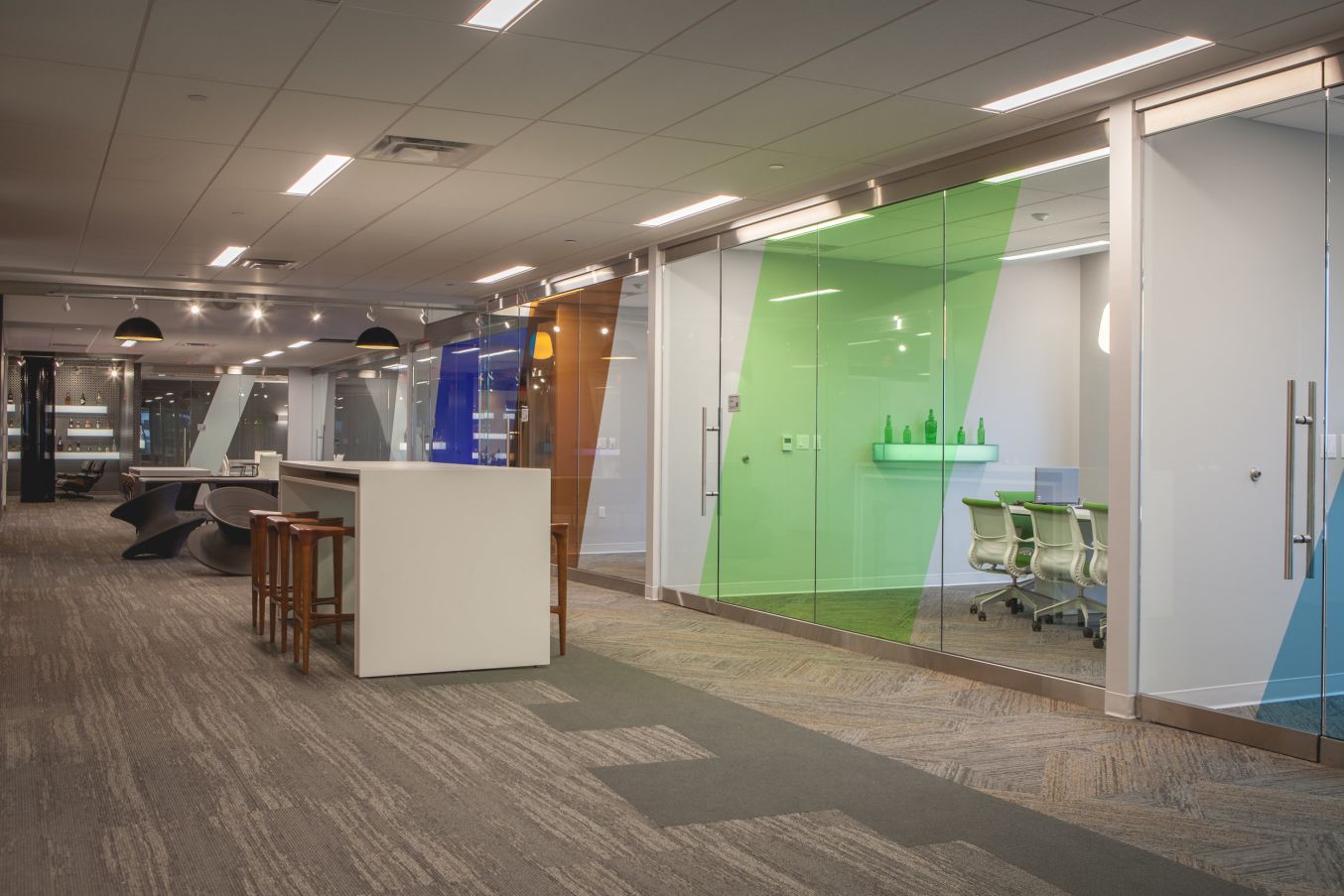 How does your space engage your employee base?
Ardagh Group is an open and transparent organization, and this space reflects that attitude by providing an open, collaborative environment that is full of natural light. The office space features approximately 200 seats – 140 of which are assigned to employees and the other 60 are "hot desks" for those who travel frequently. Each seat, however, provides the same amenities – dual monitors, a storage unit/bench, and the ease of single plug-in for network and monitor access. All employees – from entry level to senior executive – have the same workspace -- no offices, requires no need for an open-door policy.